In what would be her final act of love, Beth Chapman's stepdaughter, Lyssa, has now revealed, she had texted her ailing stepmom to ask what she could get for her  — a mere hour before the beloved matriarch was rushed to the hospital for the final time.
Beth, who passed away at age 51 in June after a battle with stage 4 lung cancer, had her last few months to live captured on film in the family's latest reality series, "Dog's Most Wanted," and during the Season 1 finale last week, Lyssa, aka "Baby Lyssa," took to Twitter to share the text screenshot she was still hanging on to:  "Heading into the store let me know if there's anything else that I can get for you but you can think up see you soon," read the text, sent June 22.
Read More
Lyssa, 32, never got a response. Beth was soon rushed to a hospital in Honolulu after experiencing difficulty breathing and was placed in a medically induced coma. She passed away later that week.
RELATED: DEALING WITH ANGER AFTER LOSING A LOVED ONE — DOG CHAPMAN'S CANDID INTERVIEW WITH SURVIVORNET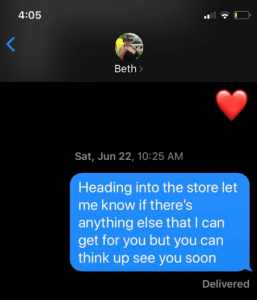 Fans have since expressed their support for Lyssa's heart-felt message to her stepmom.
In recent weeks, the spotlight has been redirected at the family's tragic loss as Lyssa has been candid about how difficult it is to carry on since Beth's death,  and the final message, which tragically Beth was not able to answer, is garnering much love and prayers from the family's fans, who have flooded her feed with love and well-wishes. They offered condolences and shared that Beth is still in their prayers.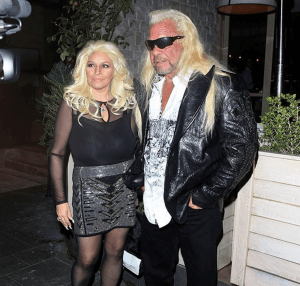 "Hugs to you. My heart aches for you and your family," wrote another named Kassie.
In the month's since Beth's passing, Lyssa has shared publicly the many ways she's handling her grief, from focusing on the good times to posting tributes to both Beth and her dad, Duane "Dog the Bounty Hunter."
Prior to Beth's death, she and Lyssa had been involved in a very public spat,  tweeting not-so-subtle jabs at each other. It began after Beth took to Twitter to claim that Lyssa had not only failed to wish her a happy Mother's Day, she had failed to invite she and Dog to their granddaughter Abbie's graduation, and had blocked her on social media.
Lyssa denied the allegations and called Beth an "attention-seeking liar." The feud carried on for a few weeks, which unfortunately were some of the final weeks in Beth's cancer battle. Lyssa has made it clear, however, that despite the arguments, she and Beth were still extremely close.
Lyssa joined the rest of the Chapman family when Beth's health took a turn for the worse, and was by her stepmom's side during the last moments of her life. After Beth passed, Lyssa even got a tattoo in honor of her memory, which she shared in an Instagram story in July after a fan asked if she planned to get any ink to honor the late bounty-hunting extraordinaire.
Lyssa also regularly shares updates to social media that detail how she and the rest of the Chapman clan are coping. On the night of the season finale, she posted a video to Twitter in which she's crying (though she tries to conceal the tears through the use of a flowery filter) and thanking her fans for being there for her during such a difficult time.
#ThiSLIFEIsForBeth pic.twitter.com/bNv253tv9i

— Lyssa Chapman (@BabyLyssaC) November 7, 2019
"I've been through a lot with the fans," Lyssa says in the video. "I got married, I got divorced, I had a baby, I got arrested … and this is definitely by far the hardest thing I've ever had to share with you all so thank you for being here for us. We love you all — and we love you, mom."
Learn more about SurvivorNet's rigorous medical review process.