Dog the Bounty Hunter star Beth Chapman's stepdaughter showed off some ink she got to honor the late family matriarch. Lyssa Chapman, 32, has been really candid with fans about how hard it's been in the weeks since Beth passed away after a battle with lung cancer.
We all have different ways of coping with the grief that comes with the loss of a loved one. Lyssa — the daughter of Duane (Dog the Bounty Hunter) Chapman and stepdaughter to Beth — got some new ink to deal with hers. In the time since Beth sadly passed away at age 51 after a brave battle with lung cancer, Lyssa has been regularly updating her various social media accounts to talk about how inspiring Beth was, and how much she could use her maternal guidance. Yesterday, she shared with fans that she decided to honor Beth in quite a permanent way — with a new tattoo.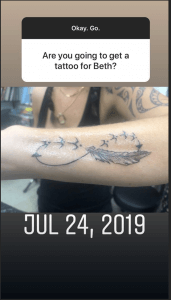 Read More
Lyssa showed off the ink in an Instagram story in a response to a question from a fan about whether she was "going to get a tattoo for Beth." Lyssa's response was a photo from July of some ink on her arm that appears to be the infiniti symbol, along with birds and a feather.
In addition to the tattooed ode to Beth, Lyssa has been regularly updating her Instagram with throwback photos of the family together in happier times. On July 30, she posted a photo of Beth and herself on a beautiful beach with the caption, "I miss you as deep as the ocean. I'm going thru some shit and I just need you to tell me how dumb I am for worrying. Around you all my problems seemed menial, I used to hate that. I miss sitting next to you and OG on the couch. You always listened to me, heard every word I said. You'd digest my thoughts thru your head and spin them out to me in a way I could never understand."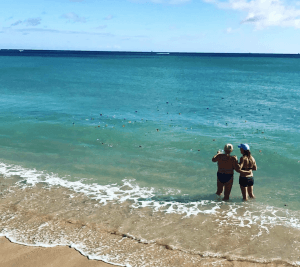 Lyssa, who also appeared in Dog the Bounty Hunter alongside Dog and Beth, went on to say that she misses Beth's wisdom — even though the two women were having a bit of a family tiff at the end of Beth's life. The spat began when Beth accused Lyssa of failing to wish her a happy Mother's Day and blocking her and Dog on social media. Lyssa denied the allegations, but it set off a public feud that had many fans worrying that the stress would have an affect on Beth's cancer battle.
However, in the last days of Beth's life, when she was put into a medically-induced coma, Lyssa joined the rest of the Chapman family to sit by her bedside and just be with the family matriarch in the last moments of her life.
Beth had been battling cancer for a while. She was first diagnosed with stage 2 throat cancer in 2017. She underwent treatment at the time and was declared cancer-free a few months after the diagnosis. However, her cancer returned at the end of 2018 — and by the time it was detected it had spread to her lungs. The reality star was really candid with fans about the ups and down of dealing with cancer in the public eye. She even seemed to suggest that she would not be undergoing chemotherapy this time around, but would be using some form of treatment that would be less disruptive to her life. It's not clear if Beth underwent some sort of alternative treatment, or opted to simply live out the life she had left as comfortably as possible, sans treatment.
Typically, with advanced lung cancer, doctors will want to treat the whole body to destroy every last remnant of cancer. This could mean precision medicine — or adjusting treatment based on the biology and characteristics of an individual's cancer. But Beth remained mum about whether she was seeking out this or any other type of treatment. She did let fans know that, like so many survivors, she turned to faith to give her the strength to take on the cancer battle.
During Beth's final months, the Chapman family was filming their new show Dog's Most Wanted — another series that follows the bounty hunting family as they take down some of the country's most notorious criminals. According to a trailer for the series, which will debut on Sept. 4 on WGN America, Beth's battle with cancer also plays a big role in the show's first season.
Learn more about SurvivorNet's rigorous medical review process.