An Arkansas mother found herself living every parents' worst nightmare when her 7-year-old daughter was diagnosed with childhood cancer.
Then, her 2-year-old son was diagnosed with cancer.
Read More
That mother is Alyssa Lewis, and she tells
Fox 24
that it all began with her daughter Abigail.
The child would often wake at night with extreme pain in her back, which Alyssa would treat with epsom salt bats and low-grade Tylenol.
RELATED: The Impact of a Childhood Cancer Diagnosis on the Whole Family: Jayne Wexler's story
That pain became more persistent over time, prompting Alyssa to take Abigail, now 11, to Arkansas Children's Hospital.
"The pain was getting really extreme at the end and it was like really scary to not even know what's happening with you," recalls Abigail.
Doctors determined that a large mass was causing the pain, and soon after diagnosed Abigail with with Ewing sarcoma, a cancer of the soft tissue.
Alyssa says there was some small relief in finally learning what was causing her daughter's pain, while Abigail remembers not knowing what childhood cancer was at the time.
Abigail began receiving treatment both at Arkansas Children's Hospital and Arkansas Children's Northwest, a facility just over 200 miles from the family's home in Springdale.
It was while they were at Northwest that Abigail's little brother Kendryck, then 2, had to be hospitalized with a severe respiratory infection.
After running tests for a few days, doctors determined the best course of action would be to send Kendryck to Arkansas Children's Hospital for treatment.
The toddler was admitted into the Intensive Care Unit, but in less than a week was transferred to oncology – in the room directly next to his big sister.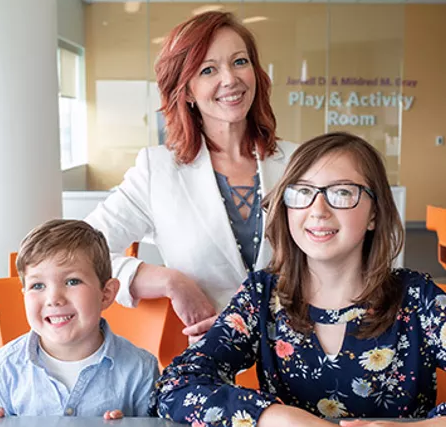 Doctors soon informed Alyssa that her son had leukemia, just 10 months after her daughter's cancer diagnosis.
"At the beginning, I was really just in survival mode," recalls Alyssa, who notes that she had yet to fully process Abigail's diagnosis when she got the news about Kendryck.
Four years later, the story has a happy ending. Abigail is in remission and Kendryck, now 5, is in the maintenance phase of his disease.
RELATED: Childhood Cancer & Future Fertility: What One Mom Wishes She'd Known
"Abigail's done with treatment, Kendryck's getting close to it, so it feels kind of like senior year and you're ready to say goodbye and you're ready to be done with cancer," says Alyssa.
The family is now showing their gratitude for the staff at both ACH and ACNW by helping to raise money for the two medical facilities as Abigail and Kendryck serve as the 2021 Virtual Color of Hope Gala Champion Children.
Despite the harrowing journey, Alyssa now says: "The only real reason I can feel that they both have this is because they are such great ambassadors."
Understanding Ewing Sarcoma
Ewing sarcoma is a rare type of cancer that occurs in bones or, as with Abigail, in the soft tissue surrounding the bones. It is most commonly found in adolescents, but younger children, as well as adults (in their 20s and 30s) can also be diagnosed with this disease.
According to the Mayo Clinic, some signs and symptoms of Ewing sarcoma include:
Pain, swelling or tenderness near the affected area Bone pain
Unexplained tiredness
Fever with no known cause
Sudden weight loss
Treatment for Ewing Sarcoma depends on the location of the cancer and the size of the mass. A doctor's course of action may involve a combination of chemotherapy, radiation and surgery. Sometimes the aggressive nature of these treatments can cause both short-term and long-term side effects.
It is a lifetime journey for people like Abigail regardless of whether or not the go into remission as lifelong monitoring is suggested by oncologists to make sure no complications arise down the road and the disease does not return.
What's Next in Childhood Cancer
Because of treatment advances in recent decades, 84% of children with cancer now survive five years or more, according to the American Cancer Society. This is up from 58% from the mid-1970s. But when it comes to treatment for childhood cancers, doctors still rely on chemotherapy.
"There are also targeted treatments and different immunotherapies that have been studied in adults and have now moved into clinical trials for children and there has been a great deal of excitement in the community about that," Dr. Elizabeth Raetz, director of pediatric hematology and oncology at Perlmutter Cancer Center, previously told SurvivorNet.
Sarah Stapleton, a clinical social worker at Montefiore Medical Center says social workers can connect patients with resources and provide support during the treatment process.
According to the National Pediatric Cancer Foundation, in the U.S., only 4% of the billions of dollars spent each year on cancer research and treatments are directed towards treating childhood cancer. This funding lag has a ripple effect: Since 1980, fewer than 10 drugs have been developed for use in children with cancer while hundreds been created exclusively for adults.
In addition, the organization notes, most survivors of childhood cancer will have a significant health-related issue by the time they reach age 45, often a side-effect of treatment. Even more discouraging, since 1980, fewer than 10 drugs have been developed for use in children with cancer, compared with hundreds that have been created exclusively for adults. And pediatric cancer treatment is expensive: The average cost of a stay in a hospital for a child with cancer is $40,000.
Contributing: Constance Costas
Learn more about SurvivorNet's rigorous medical review process.
---