'I'm a character actor, but I look like a leading man." That's what Val Kilmer told a newspaper reporter 15 years-ago in an interview entitled "A Solitary Man."  That was before cancer and before Kilmer started his journey to a new life as a cancer survivor, artist, and yes, still an actor.
A generation of Americans grew up with the actor Val Kilmer as the embodiment of masculine potency and artistic daring. The Iceman fighter pilot, the renegade singer Jim Morrison, a slick but sympathetic Batman. The film characters were vidid and alluring. Now after extremely challenging treatment for throat cancer, the 59-year-old actor is continuing to reinvent his public persona by simply doing what he loves. Over the weekend, Kilmer appeared at Camp Mabry in Austin, Texas for a special screening for his 1986 movie "Top Gun." The star, known for playing Tom "Iceman" Kazansky in the film, is finally returning to the public eye, after being very protective of his privacy during most of his treatment.
Read More
When Kilmer is in public he wears a scarf to cover a breathing aid in his throat. His clothing resembles a carefree artist and his instagram is made up of art gallery photos and posts about his poetry.
Kilmer, much to his fans' excitement, will be returning to the big screen as Iceman once again come 2020, when the long-anticipated "Top Gun" sequel, "Top Gun: Maverick" will hit theaters. Kilmer will join cast member Tom Cruise, who will play captain Pete "Maverick" Mitchell.
Kilmer seemed vibrant during the "Top Gun" screening, to which he wore a pink button-down shirt covered in writing and a collection of accessories around his neck, where he has a tracheostomy tube inserted in his neck to help him breathe.
RELATED: "Top Gun" Actor Val Kilmer is Living With a Tracheostomy; What is it and What Are The Next Treatment Steps?
Val Kilmer's Journey With Throat Cancer — What We Know
It's encouraging for fans to see Kilmer out and about and in high-spirits, because for a while, Kilmer's health condition remained a mystery. The star had kept his cancer journey a secret for two years after his diagnosis — initially denying he had cancer at all in a 2016 Facebook post, after the actor Michael Douglass—who has been battling throat cancer himself—told the press about Kilmer's condition.
RELATED: "Top Gun" Star Val Kilmer, 59, Makes Rare Public Appearance With Neck Covered By Scarf And Binoculars After Brave Battle With Throat Cancer
The denials continued until 2017, at which time Kilmer bravely admitted in an interview with the Hollywood Reporter that he did indeed have throat cancer, and that he'd had surgery on his trachea, which affected his breathing and left his voice raspy and labored. He revealed shortly thereafter that he'd had a "healing of cancer," and that his "tongue was still swollen," but did not explicitly say whether he was cancer-free.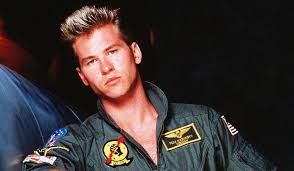 RELATED: Get the Facts: What Do We Know About HPV-Linked Throat Cancer?
Although Kilmer did finally confirm he had throat cancer, he has been keeping the details—including the type and stage of his cancer and the treatment he's received—to himself. The star told the Hollywood Reporter that the disease had "taken its toll" on him, but did not elaborate.
RELATED: "Top Gun" Actor Val Kilmer Embraces Artistic Passions During Cancer Recovery — Many Survivors Find Solace In Art

As he appears in public for more events such as the Austin "Top Gun" screening—which follows his award at the United Nations NOVUS Summit this past summer and several other recent public appearances—Kilmer is sending a message to fans that he is doing well and taking his throat cancer recovery in stride.
Fans have also been encouraged to see Kilmer embracing his passion for art, sharing on Instagram that he had opened a gallery in Los Angeles. And just this past week, the star shared that several pieces of his original artwork were on display at Lumberyard Gallery in Malibu.

The actor has also been heavily involved with another passion project, the TwainMania Foundation — his charity which educates young people about writer Mark Twain's legacy.
Members of the SurvivorNet community have also turned to art to deal with the sometimes tumultuous feelings that come with a cancer diagnosis. Indulging in the healing powers of art, whether you're making it yourself or admiring the work of others, is becoming more and more common with cancer survivors — and for a good reason.
Learn more about SurvivorNet's rigorous medical review process.
---