Importance of Comprehensive Medical Records
CommonSpirit Health experienced IT outages during a security breach that began around October 3 and led to many of its facilities taking their Electronic Health Record (EHR) systems offline as a safeguard.
Although CommonSpirit Health revealed to patients on November 10 that most of the hospitals and clinics impacted by the ransomware attack now have access to their EHR systems, security experts have reportedly warned that millions of Americans remain at risk of "dangerous" healthcare.
Federal laws protect the privacy and security of your information, even in this electronic age.
A comprehensive medical record lowers the risk of medical errors and unnecessary (or incorrect) care.
CommonSpirit Health, which runs 140 hospitals and more than 1,000 care sites, experienced IT outages during a security breach that began around October 3 and led to many of its facilities taking their Electronic Health Record (EHR) systems offline as a safeguard.
However, despite CommonSpirit Health revealing to patients on November 10 that most of the hospitals and clinics impacted by the ransomware attack now have access to their EHR systems, security experts have reportedly warned that millions of Americans remain at risk of "dangerous" healthcare.
Read More
"Most patients can again
review their medical histories
through the patient portal and we are working to restore appointment scheduling capabilities to the portal in cases where that feature exists," CommonSpirit Health said in a statement on Wednesday, according to Health IT Security. "In the meantime, patients should contact their provider's office directly to schedule an appointment."
Security experts told DailyMail.com that more than 20 million Americans are now at risk from the attack. Additionally, the FBI, Department of Justice and CommonSpirit have not opened up about how many sites were affected by the cyber attack, according to the news outlet.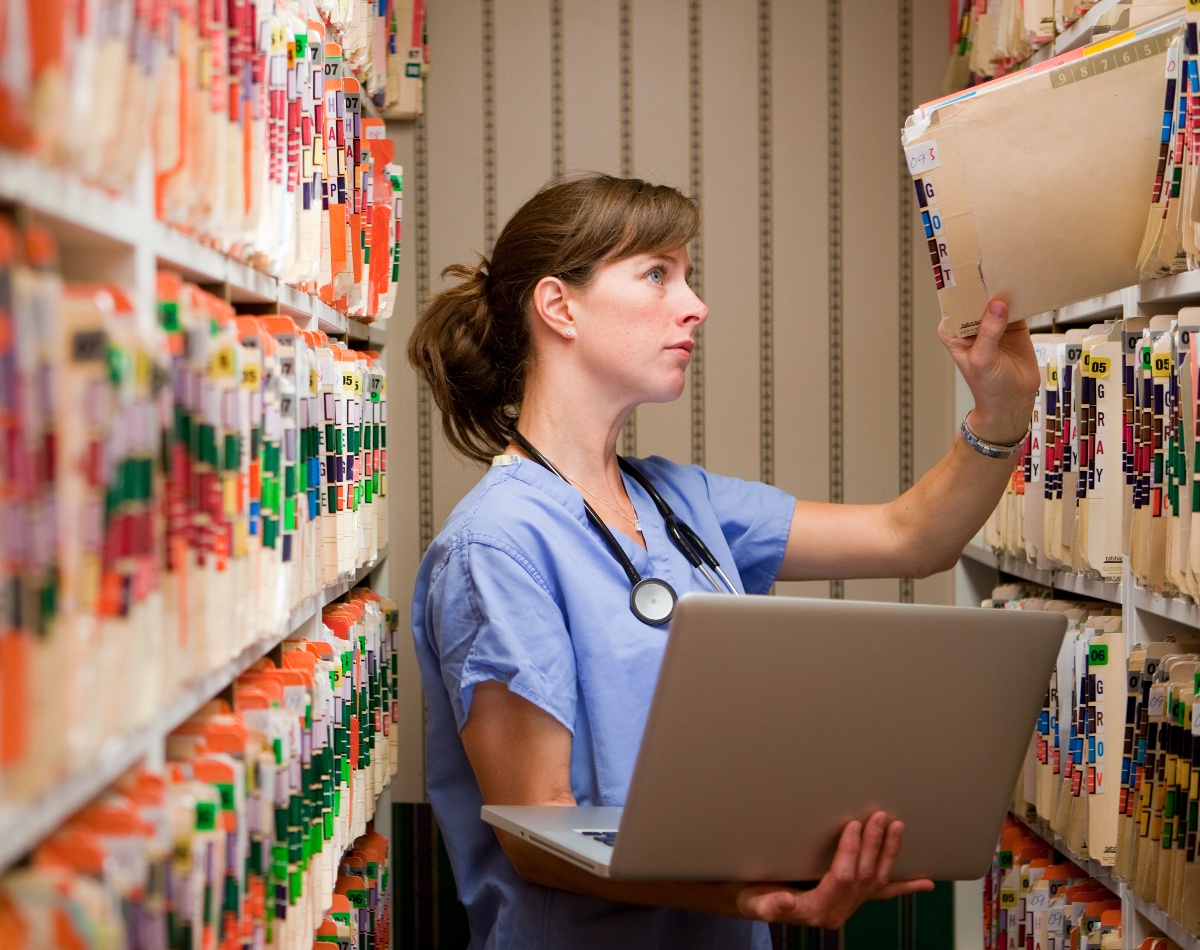 According to DailyMail.com, patients across 21 states may still be vulnerable to defective care and some have already been victimized by the cyber breach.
At MercyOne Children's Hospital in Des Moines, Iowa, a 3-year-old boy was given a "megadose" of pain medication after a tonsillectomy on October 4 when the computer system used by doctors stopped working.
"And other patients, including those with brain bleeds, ovarian cysts and cancerous tumors, saw their surgeries delayed by up to a month, despite being referred for 'urgent' care," the DailyMail.com explained. "Ambulances were also diverted away from a struggling hospital which was hit by the cyberattack to one not run by CommonSpirit."
Alleged workers at CommonSpirit hospitals reportedly revealed in social media posts that patient care since the attack has been "terrible and unsafe" and treatments are continuing without complete access to medical records.
Cybersecurity expert Ken Westin said the cyber attack could have "significant" impacts on patients without them being aware.
Westin explained, "We're seeing cases where doctors didn't have access to some of the information needed for the care. Cases where people have been over prescribed drugs as a result of that, a lot of surgeries have had to be rescheduled. So far, it hasn't cost human life, but it does cause potential issues if you have potentially life- saving surgery and you have to delay it by two weeks because of the ransomware incident."
"It's starting to get pretty serious, because the ransomware groups used to have some ethics around this, they wouldn't target hospitals or schools. But there's so much competition now and they're just becoming much more brazen and greedy," he added.
Former cybersecurity expert James McGibney told DailyMail.com, "They know they still need to treat the patient, but they're going based off what the patient is telling them… there are so many things that could go wrong. Next thing you know, something catastrophic happens with the patient."
McGibney continued, "Patients need to be vigilant, there might be follow-on attacks. If patient information was compromised, that information could be sold on the dark web."
Meanwhile, some appointments at St. Joseph Medical Center in Tacoma, Washington, had to be rescheduled.
Kathy Kellogg's surgery to have a cancerous tumor on her tongue removed was rescheduled and a man couldn't obtain a planned CT scan at St Michael Medical Center to monitor a brain bleed.
According to the Des Moines Register, MercyOne hospital shut down its e-health records amid the breach. At the time, five ambulances from the MercyOne hospital's emergency department had to be diverted to Iowa Methodist Medical Center on October 3.
The CommonHealth cyber hack comes after the first half of 2022 saw approximately 337 breaches, leading to more than 19 million records being compromised, the Fortified Health Security's mid-year report revealed.
Electronic Medical Records for Cancer Patients: Everything You Need to Know
When you are diagnosed with cancer, one of the first things you'll need to do is gather up all of your medical records to share with your new cancer care team. They will need quite a bit of information from you, so they can create a complete picture of your current (and past) health. It's important to include everything from past injuries to allergies and more, getting it all in one place, so that your doctors can provide the most effective treatment. It's these medical records that will serve as the through-line for your many providers, keeping your team in lock-step so you get the most efficient, appropriate and coordinated care.
"A thorough health record will ensure that care is seamless and can help determine future management based on prior care," says Dr. Allen Ho, MD, Director of the Head and Neck Cancer Program at Cedars-Sinai in Los Angeles. "It will also minimize the time a doctor spends shuffling through incomplete records and allow them to spend more time with the patient."
Fear, Anger, Anxiety – You're Entitled To Your Emotions
A team of providers are working together to take care of you. Besides your medical oncologist, a care team may include a surgeon, a radiation oncologist, a nurse, a pharmacist and others. With so many people coordinating to help you get better, a medical record that keeps all your information in one place is a blessing. But, in an era of constant concerns about the privacy and security of our personal data and information, it's normal to have questions about the safety of it all. And, it's your right to know where your information goes and how your care team will use it.
Information & Records Your Oncologist Needs
Before your first appointment, the people taking care of you begin gathering information for your medical record. They might call or email asking you to sign a form that gives your other healthcare providers (past or present) permission to release your records to them. They're going to want:
Past lab results
Images from x-rays, MRIs, CTs or other scans
Pathology reports and slides from biopsies
Any other records that might offer more insight into your condition
Your medical records and history can give care providers a better idea of your prognosis and which treatments will work best for you.
Depending on where you get your care, and where you've received care in the past, you might have to make the arrangements for your doctors to send your records to your current care team. In some cases, you may need to pick up and drop off the file yourself.
Your oncology team is also going to need a complete list of all the medications you take. That's not only prescriptions but also vitamins, supplements and other over-the-counter products. They'll want to know how much of each you take, too. Some cancer medications could have a bad interaction with something you're taking right now so your providers will want to know, up front, what's in your daily medication regimen. They might even ask you to bring all your medication bottles with you to the first appointment rather than have you try to write down (or remember!) all the drug names and doses.
At your first appointment, you'll answer a lot of questions about your medical history to make sure your records didn't leave anything out. You'll talk about:
Past major illnesses and surgeries
Current or ongoing health conditions
Allergies
You'll also answer questions about cancer in your family. Take some time before your appointment to find out if any close relatives have had cancer, what type, how old they were, and what the outcome was.
It's likely you will also be asked to tell your "cancer story." You might want to review this in your mind, or write it down before the appointment, to make sure you include the following milestones and when they happened:
What symptoms prompted you to get checked out in the first place
Any other symptoms you've had since then
What tests you've had and the results
Any other specialists you've seen
Is My Information Safe?
Most – if not all – cancer centers capture your health information in an electronic medical record. This allows your providers within the cancer center (or health care system) to easily share it with each other. This is crucial so that everyone taking care of you is on the same page. But, don't worry, they can't share it with anybody outside the facility without your written permission. People who have access to your records are required to protect them under the federal Health Insurance Portability and Accountability Act of 1996 — or HIPAA.
"Some people may be concerned that EMRs (electronic medical records) are less secure than paper records. But, it is worth noting that in addition to HIPAA privacy rules, there is a HIPAA Security Rule that requires specific protections to safeguard electronic health information," says Monica Bryant, a lawyer and COO of Triage Cancer, a Chicago-based organization that educates patients on legal issues related to living with cancer.
The security rule requires health systems to put in extra safeguards of your information, such as password protection, encryption and other barriers. The law also says that the health system has to tell you about any security breaches.
Related: The Difference Between Integrative Medicine and "Alternative Medicine"
Of course, when it comes to storing information in computers, there's always the chance of a security breach—like the recent ransomware attack on Common Spirit Health. But, studies show that they are very rare. The Journal of the American Medical Informatics Association says that data breaches affect about one in 100,000 patient records.
Your Records: Important to Remember
The beauty of an electronic medical record is that you usually have direct access to it, or some part of it, through an online portal. That's a good thing. Portals let you message your caregivers and usually get a quick reply. You can also see test results without waiting till your next appointment. But keep this in mind: Sometimes "abnormal" test results can cause you a lot of unnecessary anxiety when you review them alone and don't have a healthcare provider available to provide an immediate explanation.
"It's hard not to get anxious," says Nina Shah, MD, a hematologist at the UCSF Comprehensive Cancer Center. "More than half the time, 'abnormal' results, especially on laboratory values, are not urgent. Try to remember that this is just data and the interpretation of that data is best done through a partnership between you and your doctor."
'Ask Any Question That's on Your Mind': Giuliana Rancic Talks Advocating for Yourself and Having Kids After Cancer
But, don't be afraid to look up your results on your own between appointments, says Jorge Nieva, MD, a medical oncologist at Keck Medicine of USC in Irvine. Then prepare a list of questions for your next doctor visit. "Coming prepared with questions is a great way to educate yourself and increase understanding of your illness.  This leads to better treatment decisions and a better relationship with your doctor."
Benefits Outweigh Risks
"The biggest risk related to health records is not having them" – or having incomplete or incorrect records, says Nieva.
When you're getting treatment for cancer, doctors might have to switch you to a new drug if the current one stops working. If you have an incomplete medical record that doesn't include the last course of treatment, your doctor could try you on a drug that already proved ineffective. Incomplete medical records can also lead to duplicate, unnecessary, or wrong tests and treatments.
Cancer treatment often involves many different providers, including surgeons, medical oncologists, radiation oncologists, pharmacists and primary care. A single, thorough medical record allows all these members of the care team to work together to provide the best care for you.
Contributing: SurvivorNet Staff
Learn more about SurvivorNet's rigorous medical review process.
---