Coping With Cancer and Your Relationship
Actress Shannen Doherty, 52, is leaning on friends and loved ones for support amid her divorce and ongoing breast cancer battle.
Doherty was first diagnosed with breast cancer in 2015 after finding a lump in her breast that was cancerous.
Stage 4 breast cancer means that your cancer has spread to distant areas of the body.
The current treatment options for late-stage breast cancer include hormone therapy, chemotherapy, immunotherapy, and targeted drugs. Sometimes surgery and/or radiation are considered.
Many cancer warriors know the impact a diagnosis can have on not just them, but their families. In many cases, embarking on a cancer journey can bring families, partners, and spouses closer together, but not always.
Couples battling a cancer diagnosis should remember to maintain open communication, keep up the intimacy where possible, and find support from loved ones.
Actress Shannen Doherty is keeping a warm smile on her face despite some tough challenges ahead of her, such as her divorce during her ongoing breast cancer battle. One thing the cancer warrior has through it all is the love and support of her friends.
Doherty, 52, rose to fame by starring in shows like "Beverly Hills, 90210" and "Charmed". Along with her career accolades, she's developed some incredible resilience in her personal life.
Read More
She recently filed for divorce from her husband, Kurt Iswarienko, after 11 years of marriage — all while battling stage 4 breast cancer. She was first diagnosed with the disease in 2015 after finding a lump in her breast that was cancerous. Doherty's agent
told
People Magazine, "Divorce is the last thing Shannen wanted." Fortunately, the cancer warrior is not weathering the storm alone. In a recent Instagram post, Doherty is seen surrounded by friends, all of whom are bursting with glowing smiles.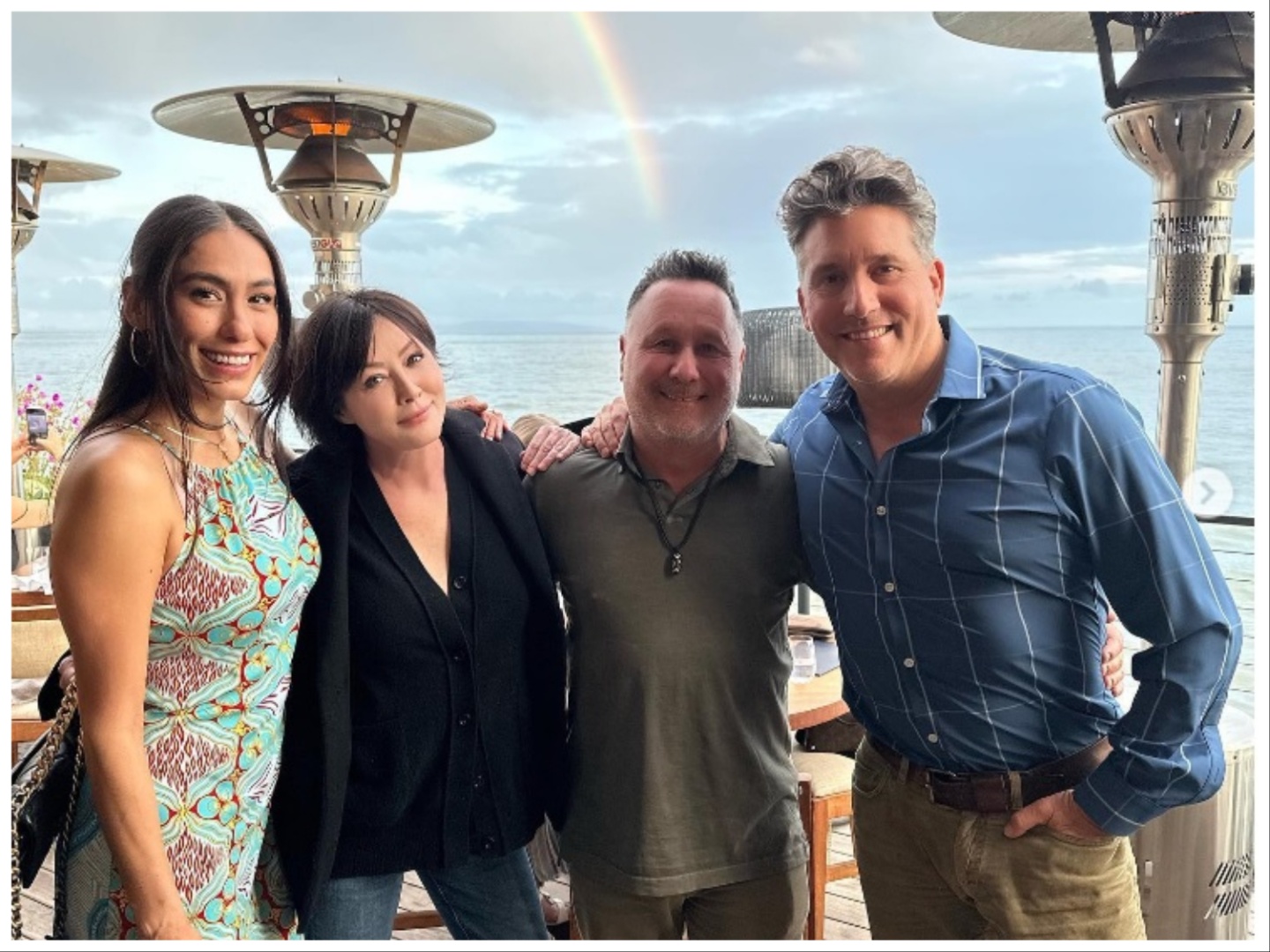 "Rainbows and friends," Doherty captioned a post standing on a waterfront with friends.
In an Instagram story, Doherty is cheerfully seen surrounded by her girlfriends at a restaurant.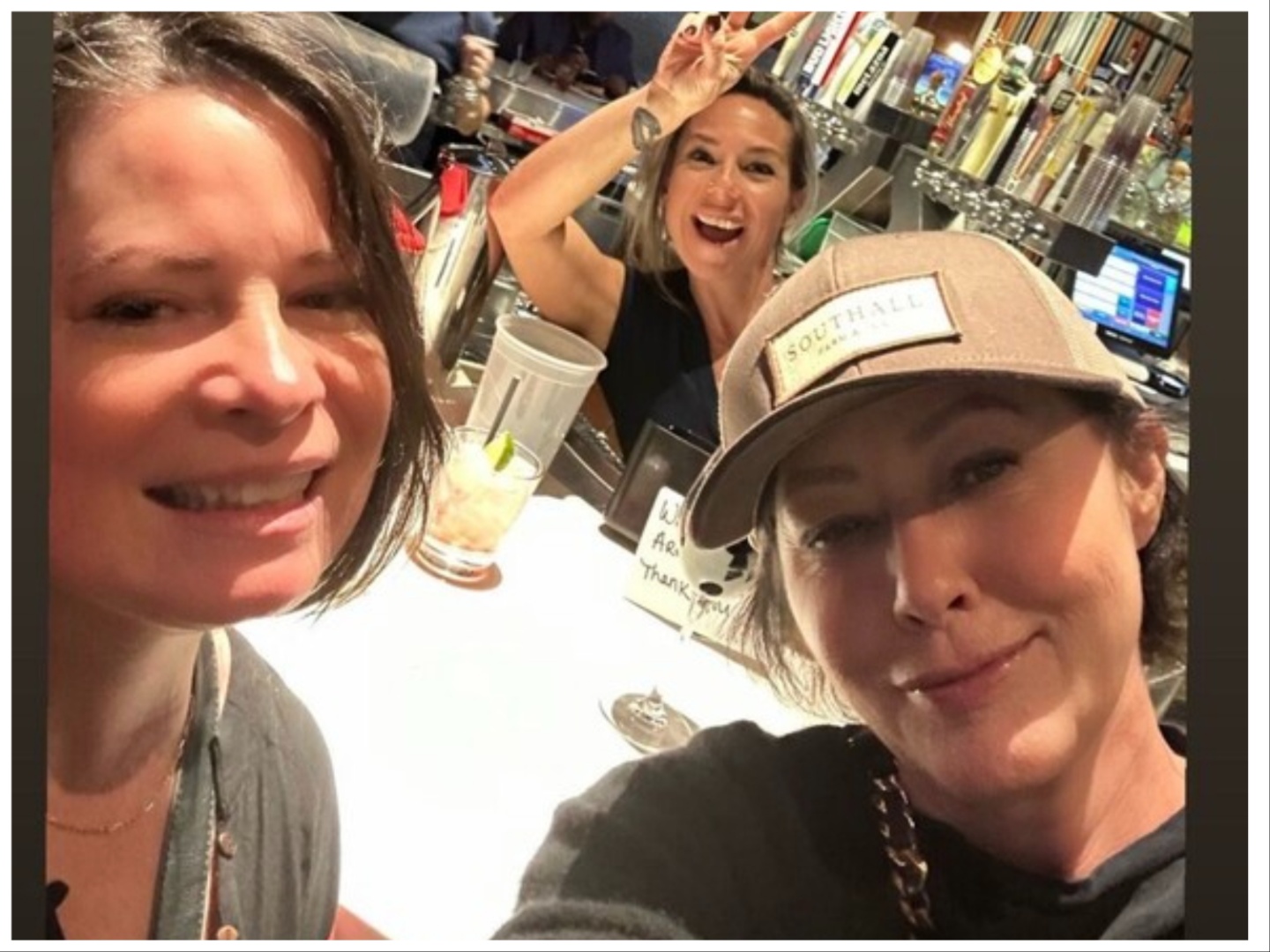 Doherty shares many photos with friends on social media, showing how much they are part of her life. In the past, she has said these friends help her "escape" during hard times.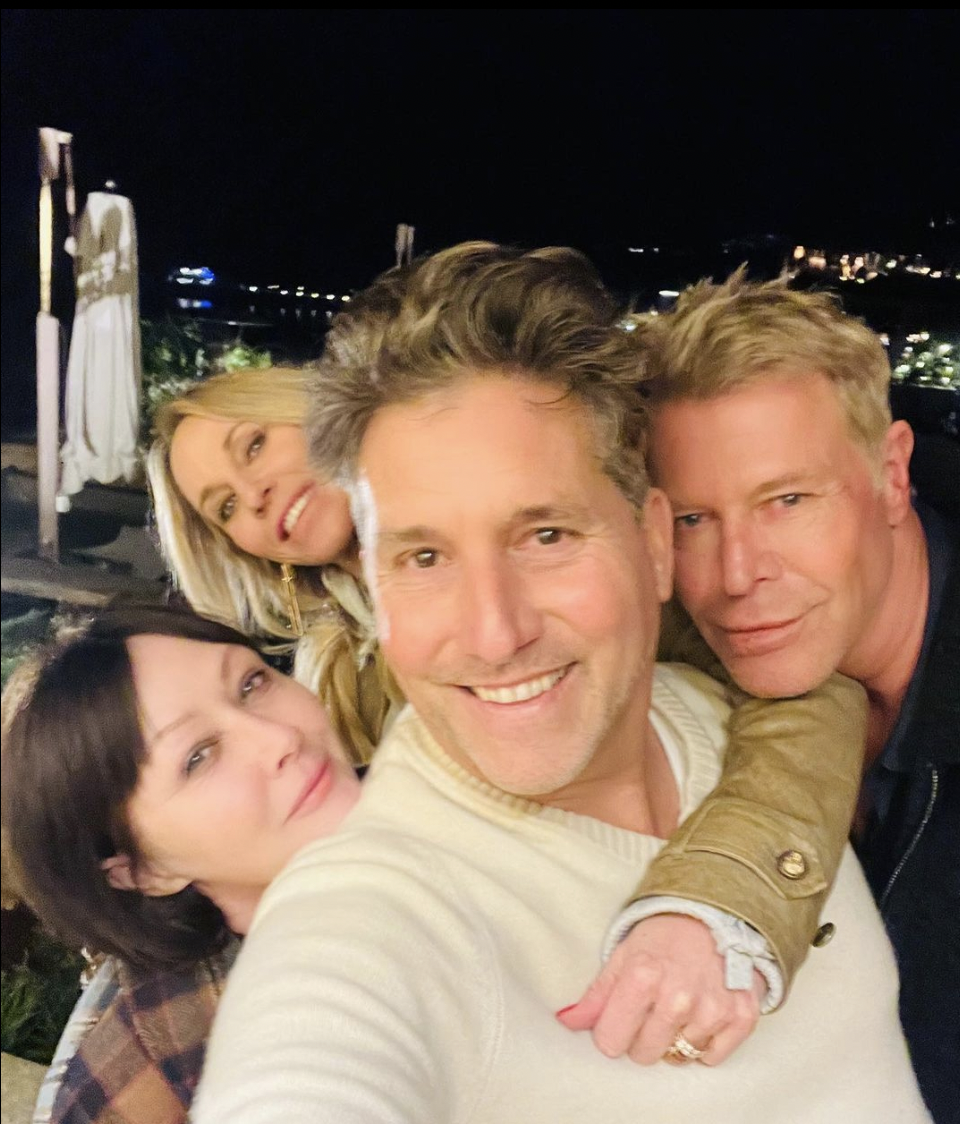 Dr. Shelly Tworoger, a researcher at Moffitt Cancer Center, shared with SurvivorNet the value of having a strong support group for cancer warriors.
"There's a number of common things cancer patients can experience, such as anxiety, depression, financial toxicity, social isolation," Dr. Tworoger said.
But knowing that you have loved ones by your side, like Doherty clearly does, can help ease those fears and anxieties. So it's no wonder she's leaning on these supportive friends right now.
Stage 4 Breast Cancer
Metastatic breast cancer is when cancer cells spread from the breast to other parts of the body. It may affect the bones, liver, lungs, brain, and other parts of the body.
Metastasis can occur in any form of cancer, although some types are more likely to metastasize. This includes HER-2 positive and triple-negative breast cancers, which tend to be more aggressive.
While stage 4 breast cancer is not curable, several treatment options can extend your life. With metastatic breast cancer, the primary goal of treatment is to control its spread.
WATCH: Treating late-stage breast cancer.
Treating Stage 4 Breast Cancer
Doctors have a lot of options to treat this advanced stage of the disease — and more options are being studied and developed constantly.
The current treatment options include hormone therapy, chemotherapy, immunotherapy, and targeted drugs. Sometimes surgery and/or radiation are considered.
New treatments have improved the outlook for stage 4 cancer, according to the leading medical experts SurvivorNet consulted.
For women with HER2-positive breast cancer, meaning they have high levels of a protein called HER2 on the surface of their cancer cells, targeted treatments are available. The drugs trastuzumab (brand name Herceptin) and pertuzumab (brand name Perjeta) have transformed the outlook of some women.
These therapies, which are often combined with chemo, are very effective at controlling breast cancer once it has spread.
Another big advancement has come in the treatment of triple-negative breast cancer. This has historically been one of the most aggressive and hardest-to-treat forms because it lacks any of the main drivers of breast cancer: the estrogen receptor, the progesterone receptor, and the HER2 receptor. Without these receptors, treatments that target them don't respond well.
In addition to chemotherapy, immunotherapy has been approved to treat triple-negative breast cancer. In studies, this new therapy has been shown to extend the lives of women with this type of cancer.
WATCH: Is immunotherapy effective at treating breast cancer?
Judy Perkins is the first person to be declared free of metastatic breast cancer after a course of immunotherapy. That's a big deal.
In 2003, Judy was diagnosed with early-stage breast cancer and had a mastectomy. In 2013, it came back as metastatic. Standard treatment was not working and in 2015, Perkins learned of an immunotherapy clinical trial at the National Cancer Institute, which is part of the National Institutes of Health, in Bethesda, Maryland.
Doctors removed some of her immune cells, identified the ones that could recognize the cancer, and then harvested those in the lab. Several months later, the cells were infused back into her body to attack the tumors. Incredibly, Perkins has been cancer-free since 2016.
The Judy Perkins story is quite an incredible one. She was the first person with metastatic breast cancer to be declared cancer-free after a round of immunotherapy.

Her story demonstrates just how amazing modern medicine can be. https://t.co/BDO1sFAObI #cancerawareness pic.twitter.com/7ndQ3Z1LFS

— SurvivorNet (@SurvivorNetTeam) July 19, 2019
The Impact of Losing a Partner During a Cancer Journey
Many cancer warriors know the impact a diagnosis can have on not just them, but their families.
In many cases, embarking on a cancer journey can bring families, partners, and spouses closer together. Breast cancer survivor and actress, Rita Wilson previously said, her cancer battle strengthen her relationship with her husband, fellow actor Tom Hanks.
Unfortunately, that's not always the case.
A study published in Science Daily by the Fred Hutchinson Cancer Research Center found women are "six times more likely to be separated or divorced soon after a diagnosis…than if a man in the relations is the patient."
"Why men leave a sick spouse can be partly explained by their lack of ability, compared to women, to make more rapid commitments to being caregivers to a sick partner and women's better ability to assume the burdens of maintaining a home and family," the study said.
Family psychologist Susan McDaniel shared with the "Today" show the impact a cancer diagnosis can have on couples. She said it can either strengthen healthy relationships or widen the divide for couples already facing conflict.
For healthy couples confronted with cancer, "they recognize how they feel about each other, the petty stuff drifts away. There's a certain kind of intimacy in having to face something real serious," Dr. McDaniel said.
"For couples where there's already significant difficulties that haven't been resolved, and if the illness hits at some of that, then it's really hard," Dr. McDaniel added.
Mind-Body therapist Michael Uhl shared with "City of Hope," a national medical research institution, some tips to keep your relationship strong during your cancer journey.
Keep an open line of communication.
Rely on developed skills such as coping strategies to handle stress together.
Allow some alone time or a "time out" for each other.
Try to keep your intimacy intact and remember this doesn't necessarily mean sex.
Do things you both love together.
Boost your support network including friends and family to help with new tasks while caring for your partner.
Find support groups in a similar situation to yours.
Hold each other accountable which includes making healthy lifestyle choices.
Don't blame each other.
Find a therapist to help you through this new chapter in your life.
Learn more about SurvivorNet's rigorous medical review process.
---