So many people in the SurvivorNet family are wondering how rocker Eddie Van Halen is doing with his treatment for throat cancer. While some of us undergoing treatment have been sharing our quarantine activities with the public, Van Halen has been keeping quiet about how his health is during the coronavirus pandemic. However, luckily for him, his wife Janie Liszewski Van Halen has been keeping spirits high with positive messages for those suffering during this uncertain time.
Except for the occasional happy birthday post to his son, Wolfgang Van Halen, the guitarist hasn't shared any health updates concerning his battle with throat cancer amid Covid-19. However, his wife Janie Liszewski Van Halen, has been active on social media and sharing uplifting posts on Instagram.
Read More
Related: Eddie Van Halen 'Is Not Doing Well' — David Lee Roth Drops a Cryptic Health Update About the Legendary Guitarist's Throat Cancer
"Train your mind to see the good in everything," the post read. "Positivity is a choice. The happiness of your life depends on the quality of of your thoughts."
Eddie Van Halen's Battle With Cancer
Van Halen's current cancer battle is not his first, as the rocker was diagnosed with tongue cancer back in 2000 and had part of his tongue removed as part of treatment. He was declared cancer-free in 2002. However, in the years since, Van Halen was again diagnosed — this time with throat cancer.
The Van Halen guitarist has rarely shared his cancer battle and treatment with the public. Reports have speculated that Van Halen apparently went to Germany to seek treatment, but there's been no confirmation as to whether that's true or not. Van Halen has theorized that years of putting copper and brass guitar picks in his mouth caused his throat cancer. But SurvivorNet has found no sufficient evidence that copper and brass cause cancer.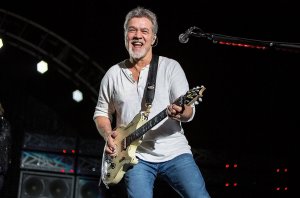 Related: Eddie Van Halen Reportedly Back Home After Complications From His Cancer Treatment Put Him in the Hospital
"I used metal picks—they're brass and copper—which I always held in my mouth, in the exact place where I got the tongue cancer," he previously told Billboard. "This is just my own theory, but the doctors say it's possible."
However, SurvivorNet found that U.S. Centers for Disease Control and Prevention (CDC) and Environmental Protection Agency (EPA) do not classify copper or the metals in brass (an alloy comprised of copper and zinc) as carcinogenic to humans. So, there's no evidence to support the picks could have caused Van Halen's cancer. Additionally, Van Halen has admitted to being a lifelong smoker after starting when he was only 12 years old.
Related: As Eddie Van Halen Faces His Own Cancer Journey, Wife Janie Reveals Cancer Scare of Her Own
How Drinking May Be Linked to Some Cancers
Van Halen has also discussed his extreme drinking throughout his career, which researchers have told SurvivorNet may be linked to different cancers. A study published by the Journal of the National Comprehensive Cancer Network surveyed 38,000 people with a known diagnosis of cancer, and found of those who drank, one in five reported binge drinking, while one-third reported drinking more than moderate levels. Additionally, extreme alcohol intake has been directly found in breast cancer diagnoses and other cancers such as colon cancer.
Dr. Elizabeth Comen talks to SurvivorNet about how alcohol may be linked to different types of cancer
Learn more about SurvivorNet's rigorous medical review process.