The Importance of Mammograms
Florida Gov. Ron DeSantis revealed his wife Casey DeSantis had "fought" to get a mammogram before getting diagnosed with breast cancer.
Casey knew "there was just something wrong," he said.
Screening for breast cancer includes getting annual mammograms and performing self-exams at home regularly to check for lumps.
Signs and symptoms of breast cancer can include a breast lump or thickening that feels different from the surrounding tissue, a change in the size, shape or appearance of a breast and changes to the skin over the breast such as dimpling.
Risk factors for breast cancer include: being a woman, getting older and family history.
Florida Gov. Ron DeSantis revealed that his wife Casey DeSantis, 42, had to push to get a mammogram before learning she had breast cancer.
The 44-year-old attorney and former military officer spoke about his cancer warrior wife in a recent interview, explaining how she suspected something was wrong with her body even after her doctor reassured her that what she felt in her breast was nothing to worry about.
Read More
"She went to the doctor, she felt something, but the doctor cleared her. They did a physical exam, said that 'You didn't have anything, don't worry,' and like me, if the doctor said I'm OK, I would never think twice about it. She had a feeling that there was just something wrong," Ron said of Casey's intuition. "So, she really fought to get a mammogram and so a couple of weeks later, we got it," the 44-year-old politician, who previously dealt with the death of his younger sister Christina after she developed a pulmonary embolism in 2015 at age 30, said. "I told her, 'You're fine,' and then it came back (positive) and that was really, really difficult," he continued. "It totally changes your life, changes your family's trajectory."
While there are stories in the news that include people of all political affiliation, SurvivorNet cares about providing helpful and expert information on cancer, screening and treatment options. So we want to share Casey's story to help women understand the importance of screening and prevention.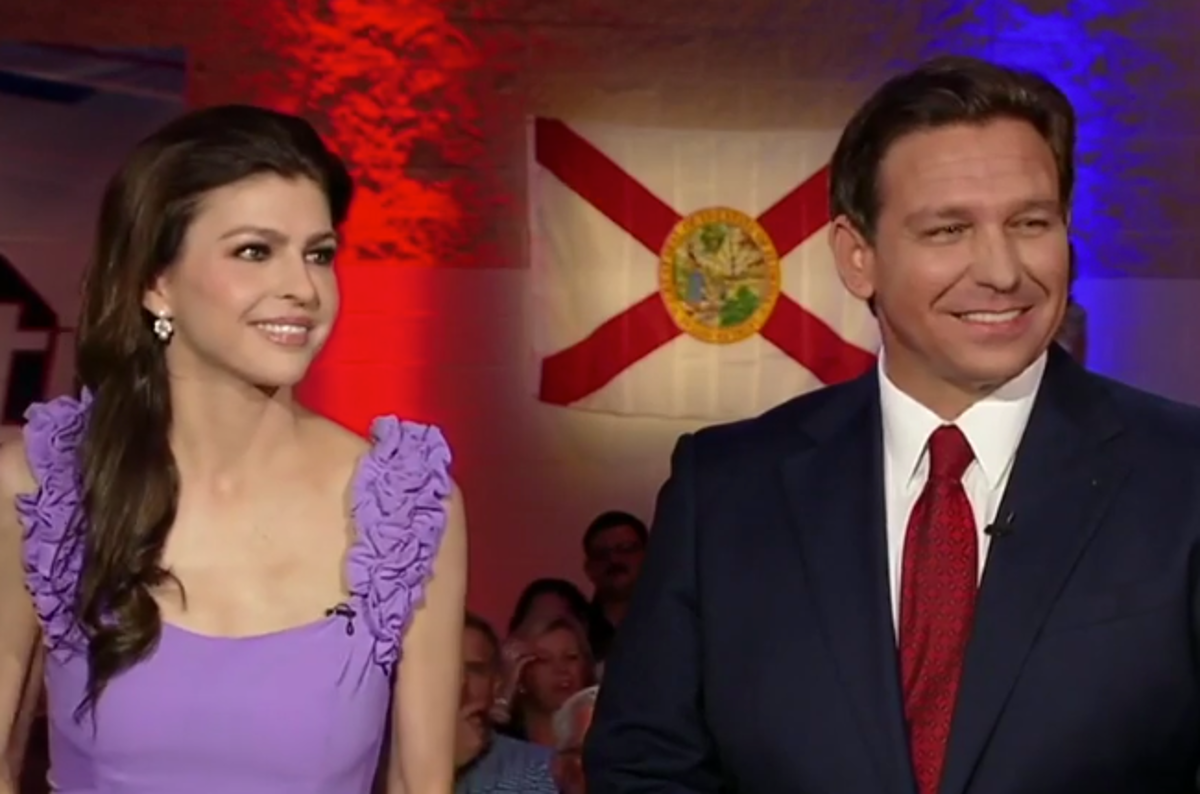 "You always have that fear, but I'm a data guy and went and looked it up and I said, 'You're gonna beat it' and she didn't necessarily want to hear that because she was so scared just like anyone would be, but I'm like, 'I looked at the data, I'm looking at the treatments, you're gonna be OK,'" Ron DeSantis told opinion columnist Piers Morgan for the New York Post.
"So, I really felt confident and the doctors had a plan, I talked to doctors all around the country and they all said to do the things that we ended up doing," he added. "I knew it wouldn't be easy, but I absolutely thought she was gonna beat it."
Casey DeSantis' Breast Cancer Battle
Casey DeSantis first addressed the public about her diagnosis and detailed her cancer timeline in December 2021 — but the stage and type of her breast cancer remain unknown to the public.
Speaking to a crowd gathered at the Moffitt Cancer Center in Tampa, Florida, Casey admitted she initially didn't notice any symptoms. However, a vague feeling of uneasiness led her to schedule a visit with her OB-GYN.
And although her doctor didn't think her symptoms were anything to worry about, Casey still sensed that something was off.  She called and requested a mammogram just one month later. That was when she received her breast cancer diagnosis.
RELATED: Florida's First Lady Casey DeSantis is Officially Cancer-Free!
Casey began chemotherapy treatment shortly after, and both she and her husband announced in January 2022 that her breast cancer treatment had concluded. Her treatment consisted of a total of six rounds of chemotherapy, surgery (unspecified as to what type), and six weeks of radiation.
I love you, Casey. pic.twitter.com/HKID5TolyM

— Ron DeSantis (@RonDeSantisFL) October 10, 2022
"After going through both treatment and surgery for breast cancer, she is now considered cancer-free," the governor said in March of last year. "For all the women out there who are going through breast cancer right now: you can overcome this.
"I know it's very difficult, but my wife is proof positive. If you wound back six or seven months, this is exactly the type of news that we had hoped for… She still has more to do, but I'm confident she's going to make a full recovery."
Related: Florida First Lady Casey DeSantis Says 'I'm Fit To Fight' And Thanks People Who Prayed For Her During Her Cancer Battle
Casey, a 42-year-old mom of three, was previously featured in a video advertisement in support of Ron's re-election campaign.
In the footage, Casey talks about Ron's continued support throughout her fight with cancer.
"I get asked all the time, who is Ron De Santis? He's the kid who grew up right here in Florida working his tail off paying his own way through school and volunteering to serve in the Navy and deploying to Iraq," Casey says in the powerful TV and digital campaign video titled: "That Is Who Ron DeSantis Is." 
"He's the man who I fell in love with from the moment we met," she continued. "And he's the dad of three very rambunctious, energetic children: Mamie, our two-year-old little comedian, Madison, our beautiful sweet five-year-old, and Mason, our four-year-old athlete."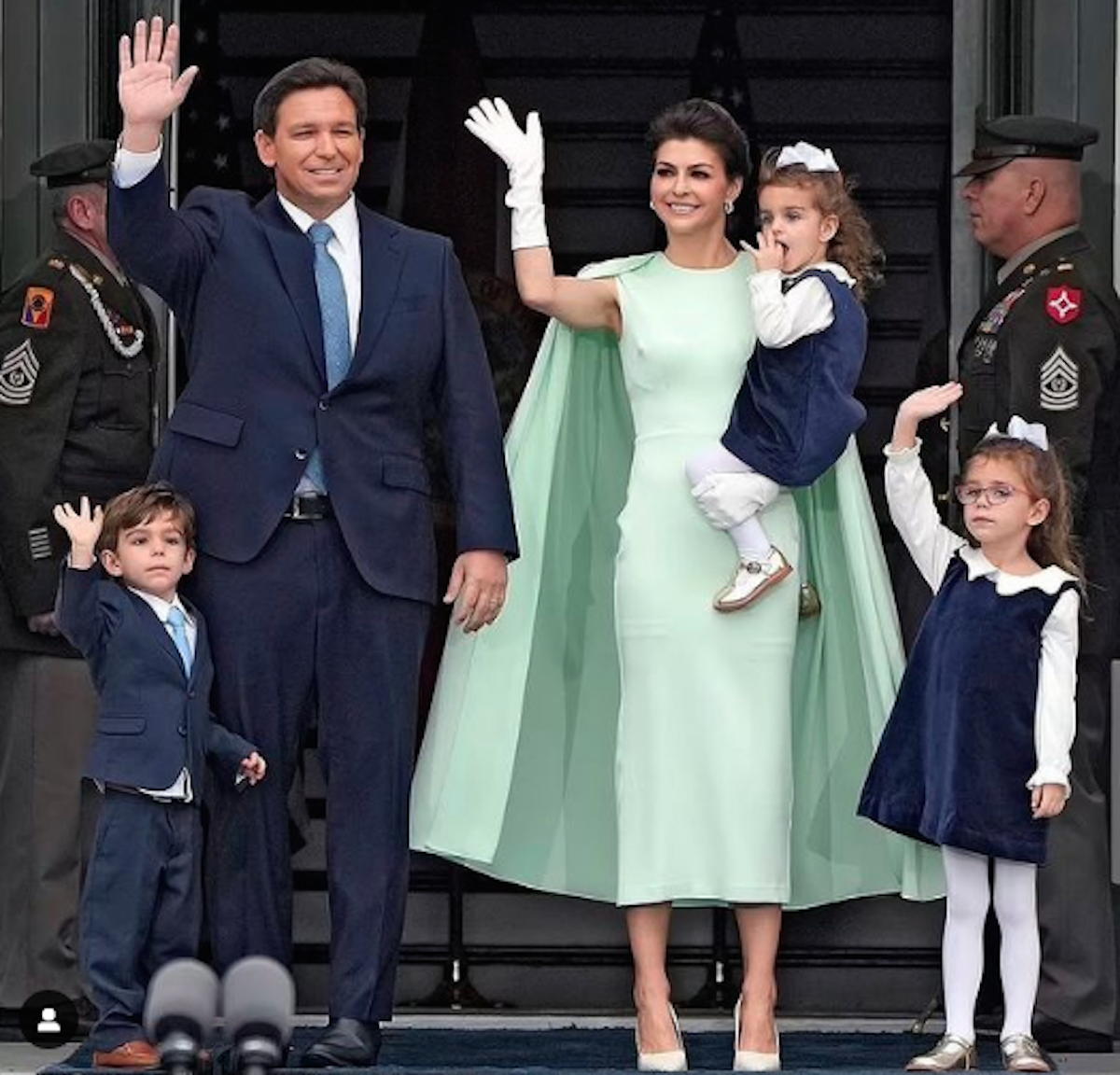 Casey, who recently launched the Florida Cancer Connect initiative, then explained "who" her husband really is, saying, "When I was diagnosed with cancer and I was facing the battle for my life, he was the dad who took care of my children when I couldn't."
The Importance of Breast Cancer Screening
Breast cancer screenings are typically done through a mammogram, which checks for lumps in the breast tissue and other signs of cancer. As Casey DeSantis showed, it's important to get them and stay current with regular screenings.
According to the American Cancer Society (ACS), women should start their annual mammogram screening for breast cancer at age 45 if they are at average risk for the disease. Additionally, the ACS says those aged 40-44 have the option to start screening with a mammogram every year, and women aged 55 and older can switch to a mammogram every other year, or they can decide to continue yearly mammograms.
Mammograms Are Still the Best Tool for Detecting Breast Cancer
For screening purposes, a woman is considered to be at average risk if she has no personal history of breast cancer, a strong family history of breast cancer, a genetic mutation known to increase the risk of breast cancer such as a BRCA gene mutation or a medical history including chest radiation therapy before the age of 30.
Beyond genetics, family history, and experience with radiation therapy, starting menstruation before age 12 or having dense breasts can also place you into a high-risk category. If you are at a higher risk for developing breast cancer, you should begin screening earlier.
In an earlier interview with SurvivorNet, Dr. Connie Lehman, chief of the Breast Imaging Division at Massachusetts General Hospital, said people who have not yet reached menopause must prioritize getting an annual mammogram.
When Should I Get a Mammogram?
"We know that cancers grow more rapidly in our younger patients, and having that annual mammogram can be lifesaving," Dr. Lehman said. "After menopause, it may be perfectly acceptable to reduce that frequency to every two years. But what I'm most concerned about is the women who haven't been in for a mammogram for two, three or four years, those women that have never had a mammogram. We all agree regular screening mammography saves lives."
Staying on top of self-breast exams is essential in cancer prevention. If you ever feel a lump in your breast, you should speak with your doctor immediately. Addressing your concerns as soon as you notice anything can lead to earlier cancer detection which can lead to better outcomes.
What's Your Breast Cancer Risk?
The risk of developing breast cancer can depend greatly from person to person, so it's necessary to talk about your specific risk level with your doctor. On that note, there are some major risk factors to be wary of.
RELATED: How to Avoid False Positive Cancer Results in Women With Dense Breasts: Ultrasounds Used in Addition To Mammograms
Dr. Senayet Agonafer, a radiologist at Montefiore Medical Center, previously told SurvivorNet, "One of the most frustrating things that I see in my office, and my practice is when a patient … comes in with a huge, golf ball breast cancer that could have probably been diagnosed at an earlier age if they were receiving their annual screening mammogram."
If you're unsure about when you should begin screening for breast cancer, Dr. Agonafer recommends reaching out to your doctor and getting all the facts you need for risk assessment. "You should absolutely be tested for your risk of breast cancer starting at the age of 30," Dr. Agonafer says.
Learn Your Risk and Listen to the Guidelines: An Important Message About Breast Cancer Awareness
In a previous interview with SurvivorNet, Dr. Elizabeth Comen, an oncologist at Memorial Sloan Kettering Cancer Center and medical advisor to SurvivorNet, listed several risk factors for breast cancer. The risk factors include:
Being a woman: Women are at a higher risk for breast cancer, though men can get the disease too.
Age: "Breast cancer becomes increasingly more common as women age," Dr. Comen said.
Family history: "Some people think that breast cancer is only inherited through genes on the mom's side,' Dr. Comen said. "But it can also be related to genetic mutations that could be found on the father's side."
Having had a prior biopsy on an abnormal area: "There are different markers, that if a woman has had a biopsy, it's important that she talk to her doctor about whether those markers are lending themselves to an increased risk of breast cancer," Dr. Comen said. If you've had a biopsy that indicated atypical hyperplasia, for example, you are at an increased risk of breast cancer. Atypical hyperplasia isn't cancer, but it is a precancerous condition that describes an accumulation of abnormal cells in the milk ducts and lobules of the breast.
Radiation exposure: Cancer survivors who've had radiation to their chest are at an increased risk of breast cancer.
Lifetime estrogen exposure: "About 2/3 of breast cancer are driven by the hormone estrogen," Dr. Comen said. "So, that means if a woman has had her period at an early age and started to go through puberty at an early age, at seven, eight, nine, and potentially a later age of menopause, means that her lifetime of having had menstrual periods and being exposed to higher levels of estrogen is higher, and therefore her risk of breast cancer is slightly higher."
Not having a child before age 30 or never having children
Obesity
Drinking alcohol
Lack of exercise: "While there's more research to be done in this area, it looks like if a woman is not exercising, she may also increase her risk for breast cancer," Dr. Comen said.
Major Reduction in Cancer Risk by Following Old Standbys Diet and Exercise
Symptoms of Breast Cancer
Signs and symptoms of the disease can include the following:
A breast lump or thickening that feels different from the surrounding tissue
Change in the size, shape or appearance of a breast
Changes to the skin over the breast, such as dimpling
A newly inverted nipple
Peeling, scaling, crusting or flaking of the pigmented area of skin surrounding the nipple (areola) or breast skin
Redness or pitting of the skin over your breast, like the skin of an orangeIt's important to keep an eye out for these symptoms while remembering that having one or many of them does not necessarily mean you have breast cancer.
Regardless of the type of symptoms you experience, you should always speak with a doctor promptly if anything feels unusual or if you're experiencing one or more of the signs listed above. You never know when addressing symptoms with a doctor can lead to a very important diagnosis.
Contributing: SurvivorNet Staff
Learn more about SurvivorNet's rigorous medical review process.
---