"Find a way" are words former NFL running back Merril Hoge, who played for the Pittsburg Steelers and the Chicago Bears before moving on to a broadcast career with ESPN, has lived by for nearly his whole life. It's the title of his first book, it motivated him to do whatever it took to make it to the NFL and it helped him through his battle with non-Hodgkin's lymphoma.
In a wide-ranging interview with SurvivorNet, Hoge says it was actually his daughter, who was 9 at the time the former footballer was diagnosed in 2003, who reminded him that he would, indeed, have to find a way to get through treatment and get back to living.
Read More
"I've always used that as a parenting tool," Hoge tells SurvivorNet. "Everybody has issues. Everybody has circumstances that need to change. It became a parenting tool for me in that, when they have a problem, or they're dealing with something or want to accomplish something, I'm not going to sit there and tell them what to do. I'm going to get them to think about it and then inspire action. I didn't realize it would be reversed on me."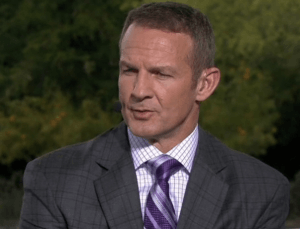 RELATED: How Football Legend Jim Kelly Realized the Value in Sharing His Cancer Story
"When she did that, it transformed me. Dying wasn't an option. Being sick and tired, feeling sorry for myself, laying on the couch — not an option," he adds. "I knew going bald was gonna still be an option. But the energy that changed in me, the way my mind started to work — how can I beat this? What am I dealing with first?"
Hoge was diagnosed non-Hodgkin's lymphoma, a type of white blood cell cancer that forms in the lymphatic system. One of the scariest things about his diagnosis, he says, was that doctors warned him that the treatment they had at the time may not be successful. The uncertainty really took a toll on him.
"In the environment that I have lived in most of my life — sports — you're always fighting something and there's a way to heal it and you have to do A and B to get back," Hoge says. "To hear that there was no guarantee that the treatments they had at that time could work, or would work. There's two things that consumed me, that overwhelmed me — the thoughts of chemotherapy and dying."
RELATED: What is a Blood Cancer? How is it Different?
A Positive Attitude Goes a Long Way
However, Hoge soon learned — with a bit of help from his nurse — that attitude played a huge role in the cancer journey.
"Just before Becky, who was my nurse most of the time, before she put what ends up being the most toxic part of my treatment — the nickname is red death — she told me just before she hooked me up and started to push, 'What I'm about to do is 20% of your success, 80% is up to you,'" he says.
And he carried that mindset with him all throughout his six-month treatment process.
"Aside from being bald, you might not have even known I'd gone through chemotherapy had I not told you," Hoge says.
Being bald, though, was initially something that caused the athlete a bit of stress — especially as a public figure who had to appear regularly on television.
"I was working with ESPN at the time and I had to do the NFL draft halfway through my treatment," he says. "There were a lot of doctors thinking I wasn't going to be able to do it. If I could, though, I wanted to. But I also wanted to hide it — being on national television bald was not the most inspiring thought."
To hide what he was going through, Hoge made a deal with Reebok. He would wear the hats of different NFL teams every time he appeared on TV — promote the products and hide his head. That is, until his producer and pal Jay Rothman called him out on it.
"He said, 'You need to go out there like you have been doing all the last three months, because there are people out there going through what you're going through,'" Hoge explains. "'You didn't ask for this. You didn't deserve this, but you might be able to give someone else some hope that's dealing with the same thing you're dealing with.' I'm telling you right then, it put me in my place. I was like — how foolish and selfish."
RELATED: With Cancer, Positivity Matters
So Hoge took off the hats on TV (but still displayed them during the broadcasts, to hold up his deal with Reebok, of course) and let his story be an inspiration to other survivors.
'We're Going to Run Your Body Over With a MAC Truck,' — Hoge's Treatment Plan
One of the big messages Hoge wants to emphasize is how the cancer journey reminded him just how important it is to invest in your health.
"The treatments that I had, with the blood cancer ones, there's a lot of targeted therapies, so that helps avoid all the free-radical chemo. They told me, 'Listen, the treatments you're going to go through, we're going to run you over with a MAC truck. We're going to give you 21 days, see if you recover and then we're going to do it again."
"That's a really brutal way to explain it, but I understand," Hoge adds. "That's why investing in your health is so important. You never know when you're going to need it. Let's say I had not invested in my health for my entire life, which I have. At that moment in time, you can't go down to Target and purchase it. It is what it is. You can't go get yourself in shape."
Hoge adds that paying attention to anything that may be off about your body, and taking care of yourself in general, are two important things to have in your corner should something like a cancer diagnosis come along.
"So, early detection and taking care of yourself. Those two things you are fully responsible for. They are on your side if you just use them," he says.
Joining the Roundup Case
Hoge decided to join one of the cases against Monsanto after seeing a couple commercials that linked the company's weed killer Roundup to the exact type of non-Hodgkin's lymphoma that Hoge had.
The former footballer said he didn't make the choice to sue lightly.
"I worked on a farm. I moved pipe. I worked on a ranch. My daily routine for four years as a kid — about age 12 to 17 — was I sprayed Roundup around our tanks, our propane tanks and our pumps, to keep the weeds down. I lived in Roundup, I did that on a daily basis for four years," he explains. "…so when I hear these commercials, a light switch went off."
There's been a lot of back and forth between Monsanto and the many people who claim that a chemical in Roundup, glyphosate, has caused their cancer. While the Environmental Protection Agency (EPA) doesn't label glyphosate as a carcinogen, when the chemical is combined with others in Roundup, there is evidence to suggest it can penetrate the skin, and be a cause of cancer, Hoge points out, noting that the fact that the weed killer doesn't even come with a warning is baffling to him.
"The combination, which is in Roundup, can penetrate the skin and cause that cancer. When I heard that, that it does cause and they knew it caused, and yet they do nothing about giving a warning … that is just grotesque harm right there — to do that is criminal," he says.
Despite the recent legal cases claiming Roundup causes cancer — glyphosate is still not listed as a carcinogen, and Bayer, the pharma giant that acquired Monsanto in 2016, still maintains that its products are not directly linked to cancer. One of the reasons they can make that claim is simply that it's very difficult to scientifically prove, without a doubt, that any one thing is responsible for someone's cancer.
"Establishing that a given agent causes a health outcome is close to impossible," Dr. Melissa Furlong, an environmental health expert from the University of Arizona College of Public Health, told SurvivorNet in a previous interview. From an ethical standpoint, it's hard to conduct studies on the harmful effects of a chemical without exposing people to that potential harmful chemical. And without definitive data, it's really hard to change regulations around consumer goods.
Hoge's goal when joining the suit, he says, is to force Monsanto to take notice, and either disclose the health risks associated with Roundup so people can take the proper precautions — or pull the product from the shelves altogether.
"Preferably pull it from the shelves," he says. "Until you create a chemical that just kills weeds and doesn't create harm to the human body. That is the ethical thing to do."
Learn more about SurvivorNet's rigorous medical review process.