In a heartfelt Instagram post, Mandy Gonzalez, who has played the role of Angelica Schuyler in Lin-Manuel Miranda's smash Broadway hit Hamilton since 2016, revealed that she has been battling breast cancer for the past few months. And although her treatment continues, Gonzalez has no plans to take a break from performing.
"Over the course of my life, I have played many roles that I am very proud of: singer, actress, author, daughter, sister, wife and mother," Gonzalez wrote in her post. "To this list I look forward to adding one more: Mandy Gonzalez, cancer survivor."
Read More
RELATED: The Mammogram Debate–Should Women Start Screening at Age 30?
View this post on Instagram
The 41-year-old singer told People that she was diagnosed after going in for a routine check-up and being offered the option of getting a mammogram. There's some debate around when the best time for women to begin getting mammograms is, though American Cancer Society recommendations say that women between the ages of 40 and 44 should be given the option of getting mammograms, women 45 to 54 should get one every year, and women 55 and older can make the decision between screening every year or switching to every other year.
Gonzalez — who has also appeared in another Miranda musical, In the Heights, as well as Wicked — told People that when given the option, she chose to get a mammogram because she knew that Latina women were more likely to develop breast cancer at a younger age. The decision turned out to be the right one — Gonzalez's cancer was caught early enough that she had more options when it came to treatment.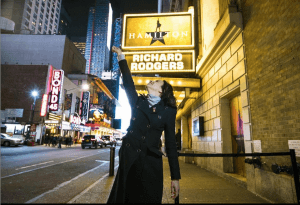 RELATED: Risk Factors That May Increase Breast Cancer Risk
"I had surgery last fall and am still currently going through treatment," the singer told People, while also assuring the publication that she had no plans to step down from the Hamilton stage. Gonzalez will also be performing at Carnegie Hall for the first time ever this Valentine's Day with the New York Pops.
"Singing has been my strength through this," she told People. "It has been my release from all of the stress. It's the place that I know and I've been doing since I was a kid. So to sing, to perform through this has been a comfort to me."
In her Instagram announcement, Gonzalez signed off by giving a shout out to all the other brave souls fighting their own battles.
"There is no going back to the way things were before," she wrote. "I can only go forward, courageously with you. And I know I am not alone in this battle; as I go through this I am sending so much strength and love to others out there like me fighting this challenge. Keep going! We got this!"
When Should I Get a Mammogram?
Gonzalez's cancer was detected early because she decided to be proactive and get a mammogram before her 45th birthday, but this is not the best choice for everybody. The decision of whether to screen before age 45 is one that can be made with your doctor — and risk factors like family history, lifestyle factors, and exposure to radiation should all be considered.
In a previous conversation with SurvivorNet, Dr. Connie Lehman, director of the Breast Imaging Clinic at Mass General Hospital, said that the important thing for women to remember is consistency. If you are between the ages of 45 and 54 or you know you have some increased breast cancer risk, annual screening is incredibly important.
Dr. Connie Lehman explains current mammogram guidelines.
"We know that cancers grow more rapidly in our younger patients, and having that annual mammogram can be lifesaving," Dr. Lehman said. "After menopause, it may be perfectly acceptable to reduce that frequency to every two years. But what I'm most concerned about is the women who haven't been in for a mammogram for two, three, or four years, those women that have never had a mammogram. We all agree regular screening mammography saves lives."
RELATED VIDEO: Understanding Your Breast Cancer Risk
Dr. Elizabeth Comen explains some of the risk factors when it comes to breast cancer
Learn more about SurvivorNet's rigorous medical review process.