All for Mom
KJ Morgan, 17, graduated from high school over the summer a full year early, and celebrated the feat by penning a touching tribute to his mother Teresa Colbert, who died of cancer in 2019.
To top it all off, KJ also shared images from a photoshoot he did of himself and his mother in which he posed wearing a custom stole which was decorated with images of his late mother.
While there is great pain and loss caused by cancer, those experiences can also become a motivating factors to help people achieve great things.
Two years after watching his mother lose her battle with cancer, 17-year-old KJ Morgan is honoring her by graduating early from high school.
The Georgia teenager, who did all this while also holding down a job and getting his associate's degree, is also paying tribute to his mom in the wake of this extraordinary accomplishment by sharing his heartbreaking tribute to her on Facebook.
Read More
Teresa Colbert would tell her son how excited she was to see him one day collect his diploma, but that dream never came to be after she
passed away in 2019
.
KJ was just a freshman at the time and nearly left school because he had spent so much time at home caring for his mother.
He then realized that the best thing he could do was honor her by getting his degree, a feat he pulled off in just two years thanks to his motivation, smarts and work ethic.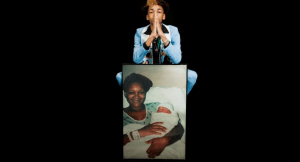 Graduating Early After Cancer Loss
"May 12, 2019 at 10am I seen my mom take her last breath. She was my best friend. My hype man. My partner in crime. My everything," writes KJ.
"We always talked about how she was gonna be screaming and I was gonna be crying at graduation .. here I am … walking the stage ….without my best friend. I'm doing this for you ma."
He then writes: "I accomplished many things this year but graduating a year early with working was my biggest flex."
Among the accomplishments KJ lists are:
Honor Society member
Going into college as a sophomore along with all my freshman core classes completed
Associate's [Degree] in Early Childhood Education
Maintaining my own business
Finished with 26 credits
Paraprofessional
17-year-old, African-American MALE
KJ then concludes his tribute by writing: "Being strong is not always muscle wise … WE DID THAT MA!"
To top it all off, KJ also shared images from a photoshoot he did of himself and his mother.
In one image he is seen posing next to a large photo that shows his mother holding him at birth while in others he can be seen with images of her decorating his custom-made stole.
Lessons Learned From Cancer
KJ used his mother's death from cancer as his motivation to finish school early and honor Teresa.
ABC News' Amy Robach found her own silver lining after she battled cancer, and previously spoke with Survivor Net about how that struggle allowed her to connect with people experiencing pain in a far deeper way.
"Cancer is something that has changed my life forever, something that I will always live with," explained Amy. "There's anger at first because you've lost security … and you've never had it to begin with, none of us actually have security, but you actually are grieving this loss of security because we all feel like there's tomorrow. We all feel like there's another day. When you get to something like this, you're angry that you lost that. That that's been taken away from you. From that anger, I think, grew compassion and empathy."
Robach considers that loss of security one of the gifts that cancer can bring. "You truly, truly can feel other people's pain in a way that you couldn't have before."
Dealing With Grief After Cancer
It's normal to feel sad about changes in your life that might be brought on by a cancer diagnosis.
"Grief comes in waves," Dr. Scott Irwin, a psychiatrist and Director of Supportive Care Services at Cedars-Sinai Medical Center, previously told SurvivorNet.
Some days can be tougher than others, but Dr. Irwin said that talk therapy can be helpful, which is why it is so important to reach out to a doctor, therapist or attend local support groups.
Learn more about SurvivorNet's rigorous medical review process.
---