Celebrating Survivorship & 'The Big Lebowski'
Actor Jeff Bridges has many things to celebrate, like beating cancer, illustrating a book, and the 25th anniversary of "The Big Lebowski."
Bridges, who starred as Jeff "The Dude" Lebowski in the 1998 cult classic, revealed his battle with lymphoma in October 2020.
Non-Hodgkin lymphoma, the disease Bridges fought, is a cancer of a type of white blood cells called lymphocytes, which are part of the immune system.
Cancer is certainly life-changing, but it doesn't to stop you from reaching your goals. For example, ovarian cancer survivor Marecya Burton discovered a new passion after beating the disease.
A celebration is in order for 73-year-old actor and cancer survivor
Jeff Bridges
as the cult classic film "The Big Lebowski" is now 25 years old.
Bridges, who starred as Jeff "The Dude" Lebowski in the 1998 comedy thriller, has remained a beloved actor of so many fans since the movie's release — following his battle with lymphoma, a cancer of the white blood cells, and COVID-19. As the movie revisits cinemas on select dates next month, we're looking back at how far Bridges has come since the movie debuted and spread laughter across the globe.
Read More
"The Big Lebowski" earned a gross of $18 million in the U.S. and $28.7 million outside the country,  but the father of three revealed in a recent interview that he'd previously hoped the movie would be more successful than it was. "I thought it was going to be a big hit," Bridges told
The Hollywood Reporter
(THR). "I was surprised when it didn't get much recognition. People didn't get it, or something."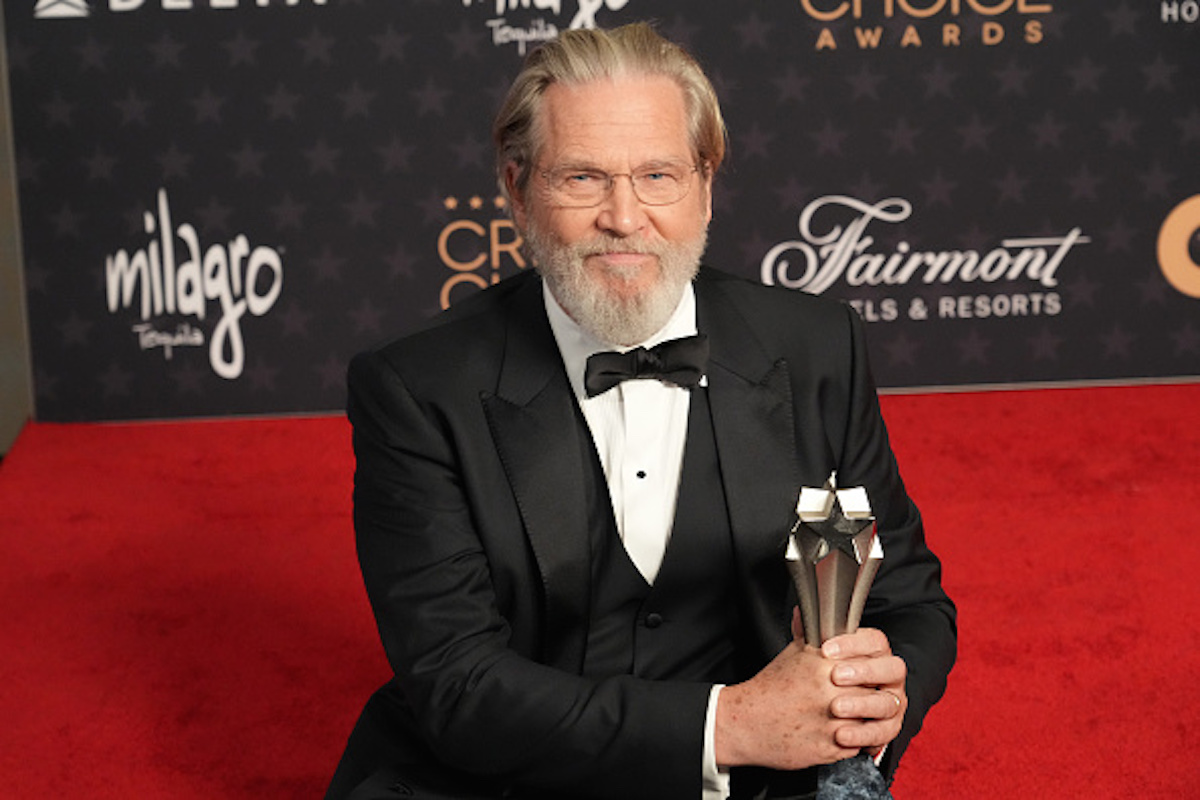 Bridges, who donned a significant portion of his own wardrobe in the film, also recounted having an uncanny connection to his character "The Dude."
"My first impression was it was a great script and I had never done anything like it. I thought the brothers must have spied on me when I was in high school," the Academy award-winner explained, referring to the film's directors Ethan and Joel Coen.
Bridges acted alongside John Goodman, Julianne Moore, Steve Buscemi, Sam Elliott, Tara Reid, John Turturro, and Philip Seymour Hoffman in the movie about his character who is wrongly believed to be a rich man with the same name.
"I'm so happy to be in that movie. I pretty much dug it all, man," Bridges told THR. "There's an aspect of the Dude I aspired to — he's authentic, isn't he? He's who he is, and that's about it. He's a lovely cat."
Bridges, who more recently starred in the FX thriller "The Old Man" and illustrated a book written by his daughter called "Daddy Daughter Day," is truly grateful for having been a part of "The Big Lebowski."
Related: Cherishing His 'Precious" Daughter, Actor Jeff Bridges, 73, Explains What's Really Important In Life
"Ultimate L.A. slacker Jeff "The Dude" Lebowski, mistaken for a millionaire of the same name, seeks restitution for a rug ruined by debt collectors, enlisting his bowling buddies for help while trying to find the millionaire's missing wife," IMBD describes the one-hour and 57-minute motion picture.
As Bridges commemorates the 25th anniversary of "The Big Lebowski," he's also reminding others to "celebrate love" by protecting the forest, reducing their carbon footprint, and preventing child hunger in the U.S.
https://t.co/GcCI5SCOkd pic.twitter.com/Diuud6JUgS

— Jeff Bridges (@TheJeffBridges) February 17, 2023
Bridges took to social media to raise awareness for the Plastic Pollution Coalition, The Amazon Conservation Team, No Kid Hungry, and the Motion Picture & Television Fund.
Jeff Bridges' Lymphoma Battle
Jeff Bridges went public with his lymphoma cancer diagnosis on social media in October 2020, saying, "I have a great team of doctors, and the prognosis is good."
He received his non-Hodgkin lymphoma diagnosis not long after "The Old Man" production was paused in March 2020 due to the Covid-19 pandemic.
Non-Hodgkin lymphoma is a cancer of a type of white blood cells called lymphocytes, which are part of the immune system.
Bridges, who also battled COVID-19 during his cancer treatment, underwent chemotherapy and ultimately became cancer-free after his tumor decreased in size.
By September 2021, the actor revealed on his blog that his lymphoma had entered remission.
"The 9" x 12" mass has shrunk down to the size of a marble," Bridges wrote. "Covid kicked my ass pretty good, but I'm double vaccinated and feeling much better now."
In a previous interview with Esquire, Bridges said the hard times gave him more appreciation for life, saying "I'll be honest. I didn't know if I was going to make it. I was on death's door there for a while in the hospital … When I finally went back to work, after a two-year hiatus, it was the most bizarre kind of thing. It felt like a dream."
"I came back after all that time, and saw the same faces [while shooting The Old Man], the same cast and crew," he added. "It was like we had a long weekend. I gathered everyone and I said, 'I had the most bizarre dream, you guys.' I was sick and out, but all that feels like a gray mush now."
Bridges is the star and executive producer of the FX show, which is based on Thomas Perry's bestselling novel of the same title.
In "The Old Man," he acts as Dan Chase – an ex-CIA member who's being hunted by assassin Gbenga Akinnagbe.
What is Non-Hodgkin Lymphoma?
Non-Hodgkin lymphoma, which has a few different subtypes, starts in a type of white blood cell known as the lymphocytes, which are part of the immune system.  Once a diagnosis is received, a doctor must determine whether the cancer is indolent (slow-growing) or aggressive, and if the lymphocytes being affected are B-cells or T-cells. Diffuse large B-cell lymphoma is the most common subtype of non-Hodgkin lymphoma. And the types of treatment needed are dependent on the type of subtype a patient has.
Dr. Jennifer Crombie Explains How Treatment Is Determined By Looking At Non-Hodgkin Lymphoma Subtypes
"For patients with indolent lymphomas, sometimes patients may not require therapy at the time of diagnosis, if they're asymptomatic or have a low burden of disease, whereas patients with more aggressive lymphoma would require initiation of treatment," Dr. Jennifer Crombie, a medical oncologist at Dana-Farber Cancer Institute, told SurvivorNet in an earlier interview.
Dr. Crombie noted that when a patient is diagnosed with an aggressive type of lymphoma, "we do treat patients with chemotherapy.
"That's the standard of care — and our most common regimen that we use for patients is something called R-CHOP," she continued.
Dr. Nina Shah Explains How Blood Cancer Is Different Than Other Types Of Cancers
Thriving as a Cancer Survivor
As we've seen in Bridges' lymphoma battle, it is certainly possible to thrive following a cancer journey.
For example, college student-athlete Marecya Burton received an ovarian cancer diagnosis at age 20. She had been looking forward to graduation, but her life took a turn when she had to move home to begin cancer treatment.
"That was definitely challenging for me," Burton previously told SurvivorNet. "I was looking forward to graduating."
She also had hoped to obtain a law degree after graduation – another dream she had had to put aside for treatment.
Former College Cheerleader Reinvents Herself After Surviving Ovarian Cancer
She said, "I really had to, in a sense, put my life on hold. Sometimes I look at where I am, and I can't help but wonder, would I be further had I not had my diagnosis?"
Despite not going to law school, Burton found joy in teacher and obtained a job at a high school in Baltimore, Maryland.
"I wouldn't change my career for the world," she said. "It's so fulfilling."
Contributing: SurvivorNet Staff
Learn more about SurvivorNet's rigorous medical review process.
---