Julia Louis-Dreyfus' Battle With Breast Cancer
Julia Louis-Dreyfus, known for acting as Elaine Benes on popular TV sitcom "Seinfeld," initially felt her breast cancer diagnosis was like a "horrible black comedy," but soon after she started crying uncontrollably.
Louis-Dreyfus recently opened up on her reaction to her doctor's phone call about her diagnosis. She was diagnosed with stage 2 breast cancer back in 2017.
Now, "cancer-free" the beloved actress is an incredible example of how laughter can be the best medicine.
Stand-up comedian Jesus Trejo agrees laughter can heal pain, saying, "The effects of it just reverberate through your body, and can change an already bad situation into a better one."
And Dr. Dana Chase, a Gynecologic Oncologist at UCLA Health, says emotional health is associated with better quality of life through a health challenge.
Comedian
Julia Louis-Dreyfus
, 62, whose been immersed into comedy ever since she found her
penchant for comedy
at age 3, knows all too well what it's like to incorporate positivity and laughter through hard times. She beat stage 2 breast cancer five years ago, but her initial reaction to the diagnosis was one she can't forget.
The award-winning actress, also known for her role as Elaine Benes in "Seinfeld," recounted to The Wall Street Journal the morning she discovered she had cancer, something that felt both tragic and funny to the former repertory "Saturday Night Live" cast member.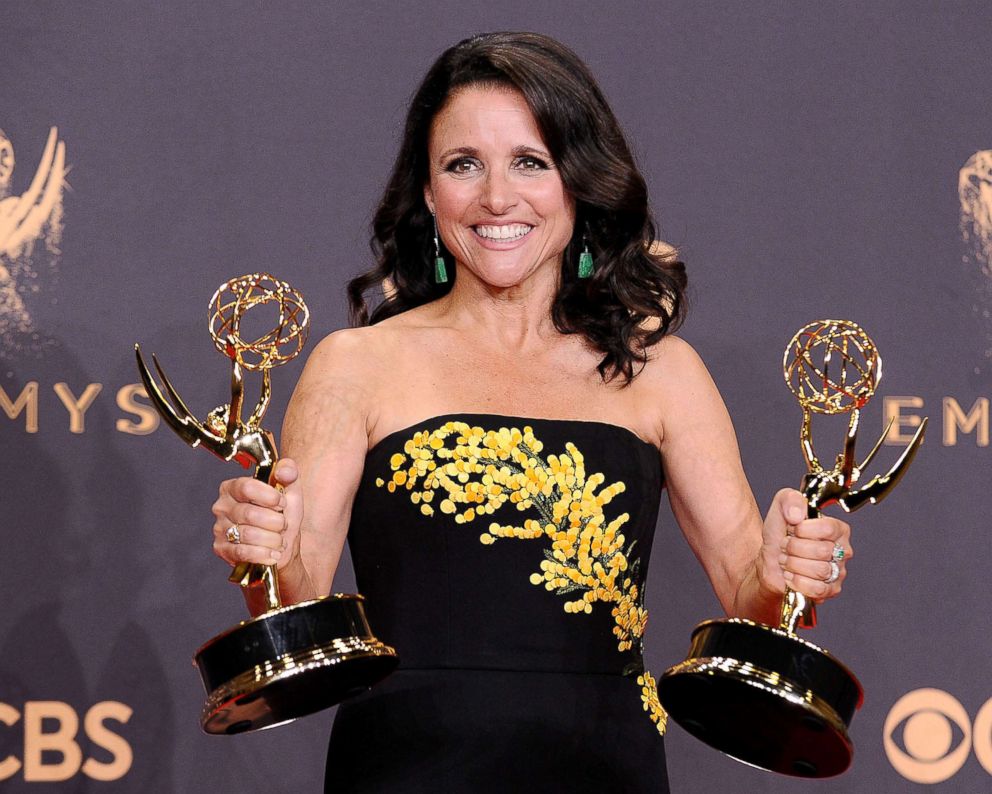 Read More
In her recent interview with
The Wall Street Journal
, Louis-Dreyfus looked back on September 18, 2017—the day she learned she had cancer. Louis-Dreyfus, who won an Emmy the night before, was informed by her doctor during that morning phone call, which she said immediately left her with uncontrollably laughter. She explained to the news outlet, "I mean, it felt like it was written. It felt like it was a horrible black comedy. And then it sort of morphed into crying hysterically."
The mom of two admitted to being scared of what was to come next.
"You just simply don't consider it for yourself, you know, that's sort of the arrogance of human beings," she explained.
"But of course, at some point, we're all going to bite it."
View this post on Instagram
Referring to the new movie "Tuesday," a drama in which Louis-Dreyfus stars as a mother of a terminally ill daughter, she told the WSJ she "I have a lot of experience and I can bring it to bear. And I'm really interested in trying new things."
Meanwhile, about one year before Louis-Dreyfus' won awards for Outstanding Lead Actress in a Comedy Series and outstanding comedy series for "Veep" at the 69th Primetime Emmy Awards in 2017, the actress's dad passed away.
While receiving her Emmy, she said, "I'd like to dedicate this to my father. I'm so glad that he liked Veep, because his opinion was the one that really mattered."
Always incorporating comedy into her life, she told the WSJ how she had a "complaint list" about what was happening to her body amid cancer treatment and what type of things people said to her.
She explained, "When I was in chemo and what was happening to my body as a result of that. It's just, like, horrible. It's medieval.
"And then people do say it comes from a positive place, but sometimes people say incredibly remarkable things that are inappropriate. I think you might find it funny. That's all I'm saying."
We're happy to see Louis-Dreyfus in good spirits five years after her cancer diagnosis, she's certainly an example of persevering, while being maintaining positivity, when faced with challenges.
Julia Louis-Dreyfus' Cancer Journey
Louis-Dreyfus was diagnosed with stage 2 breast cancer back in 2017. Following her diagnosis, she went public with news on her social media channels to an outpouring of support.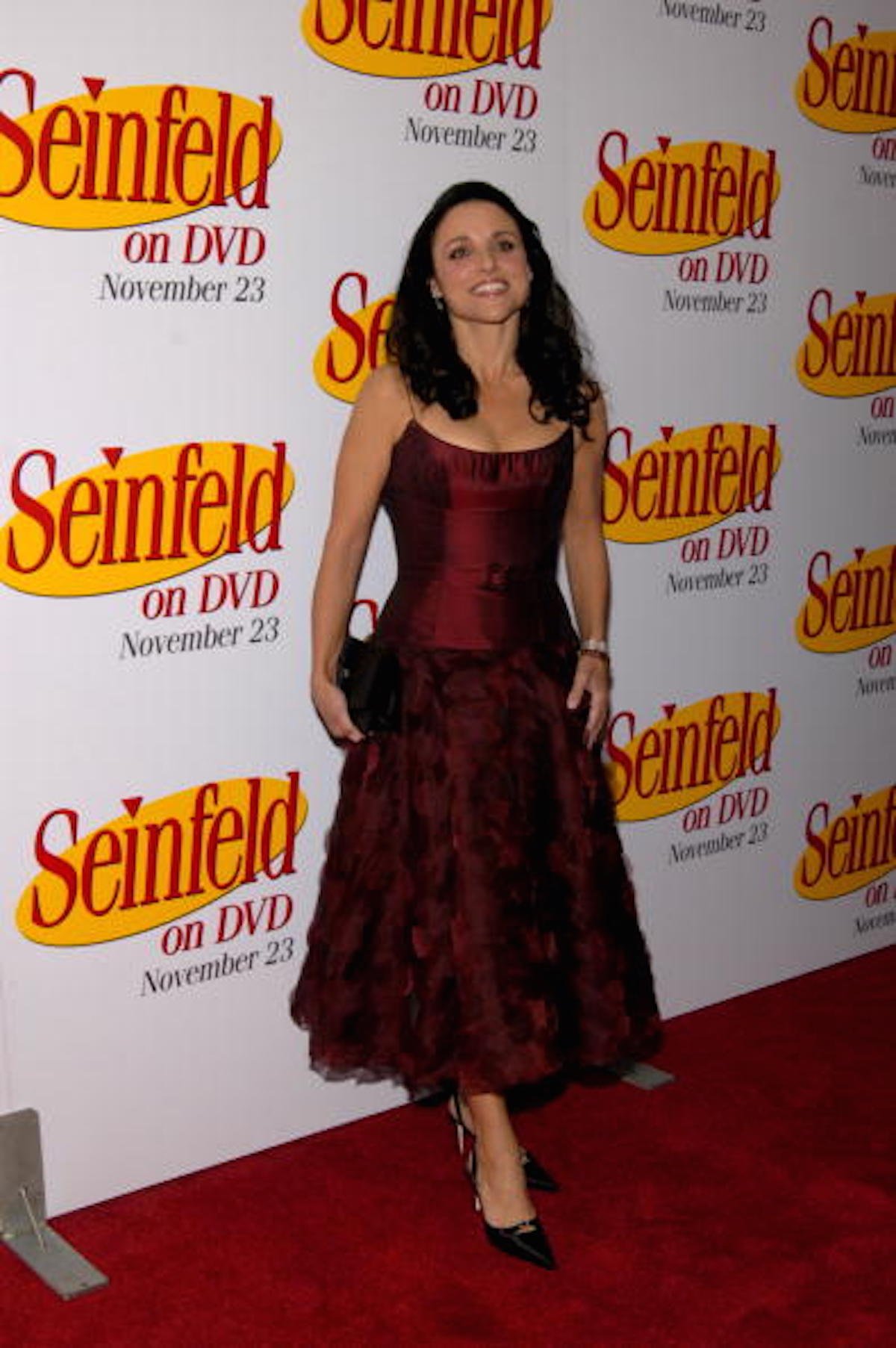 "1 in 8 women get breast cancer. Today, I'm the one," she wrote in her tweet.
RELATED: Julia Louis-Dreyfus, 62, Says It's Hard to Age In Front Of The Camera But Age Has Made Her Care Less About Beauty
Her tweet continued, "The good news is that I have the most glorious group of supportive and caring family and friends, and fantastic insurance through my union.
"The bad news is that not all women are so lucky, so let's fight all cancers and make universal health care a reality."
Just when you thought… pic.twitter.com/SbtYChwiEj

— Julia Louis-Dreyfus (@OfficialJLD) September 28, 2017
As Louis-Dreyfus bravely fought her breast cancer head-on, she underwent six rounds of chemotherapy and a double mastectomy during her treatment. It took roughly a year, but in October 2018, she announced she was cancer-free.
WATCH: Understanding Your Breast Cancer Diagnosis
"I got diagnosed with cancer, and I powered through it," the long-time actress turned cancer warrior told "People" during a 2018 interview.
"I came out the other side. I'm grateful for all of it," she continued.
The Importance of Laughter & Positivity
Julia Louis-Dreyfus is a perfect example of someone who uses laughter and positivity when times get tough.
SurvivorNetTV Presents: Resilient – Never Sell Yourself Short, You're Stronger Than You Know
It's also interesting to note, that according to the National Library of Medicine, research has shown that the amount of pain medication needed for patients is reduced after they watch funny movies.
And perhaps laughter, like Louis-Dreyfus makes sure to have in her life, could also help when someone is dealing with the pain that comes amid a health challenge, whether it's any sort of health battle, like breast cancer.
The importance of positivity amid tough times has been seen through stand-up comedian Jesus Trejo in Long Beach, California.
Trejo became a caregiver for both of his parents after his mother was diagnosed with a cancerous brain tumor and his father was later faced with colon cancer. But instead of panicking and focusing on the devastating nature of the situation, the only child stepped up to care for his parents with love and laughter.
RELATED: "America's Got Talent" Star Alex Hooper Reveals Cancer Diagnosis: "I Will Treat This Like I Do Everything In My Life – With Laughter"
In a previous interview with SurvivorNet, Trejo opened up about how he put his career aside to care for his parents in their time of need while making time to smile along the way.
Stand-Up Comedian & Cancer Caregiver, Jesus Trejo Reminds Us That "Laughter is a Game-Changer"
"The only advice I have for anyone watching this is laugh, and laugh often, laugh at yourself. Don't take yourself seriously. Things are already bad. Because once you do that, it's a game-changer," Trejo told SurvivorNet.
He also says the laughter itself might be brief, but "the effects of it just reverberate through your body, and can change an already bad situation into a better one."
Focusing on hope, and maintaining a positive attitude amid a health battle can always be helpful.
"Laughter's Always Been The Best Medicine": After Cancer Treatment, Shannen Doherty Laughs Her Way Through Recovery
Anecdotal evidence from SurvivorNet experts points to how a positive mindset can impact a cancer prognosis.
Dr. Zuri Murrell of Cedars-Sinai told SurvivorNet in an earlier interview, "My patients who thrive, even with stage 4 cancer, from the time that they, about a month after they're diagnosed, I kind of am pretty good at seeing who is going to be OK.
"Now doesn't that mean I'm good at saying that the cancer won't grow."
SurvivorNetTV Presents: Dave — The Power of Talking About Cancer
"But I'm pretty good at telling what kind of patient are going to still have this attitude and probably going to live the longest, even with bad, bad disease. And those are patients who, they have gratitude in life."
Meanwhile, Dr. Dana Chase, a Gynecologic Oncologist at UCLA Health, also says it's important to try to focus on the good, stay positive, and do things that bring you joy to the degree you're able to do so amid battling a disease like cancer.
"We know, actually from good studies, that emotional health, quality of life is associated with survival, meaning better quality of life is associated with better survival, better outcomes," Dr. Chase said in an earlier interview.
SurvivorNetTV Presents: Maintaining a Positive Headspace
Handling Fear When You Get the Diagnosis
It would be very out of the ordinary if you didn't get scared when face with disease. Anxiety and fear are certainly normal reactions to the news that you have breast cancer.
Acknowledging these emotions can be therapeutic and important to the healing process, according to SurvivorNet experts.
Feel the Fear, and Let it Go — Meditation for Cancer Survivors
Here are some tips on how to confront your fears without letting them take over entirely:
1. Let your family and close friends know and let them help. So many cancer survivors tell us they want and need support but are often too preoccupied to make specific requests. Urge those close to you to jump in with whatever practical help they can offer.
2. Keep a journal. It can be extremely cathartic to let those feelings loose on paper. Grab a pen and a nice journal and chronicle your different thoughts throughout the day.
3. Join a cancer support group. There are groups in nearly every community offering opportunities to connect with others going through a similar journey. You'll learn incredibly helpful insight from others who can tell you about what to expect and how to stay strong on tough days.
4. Consider seeing a therapist. Ask your doctor to refer you to a therapist so you can discuss your fears and concerns in a safe space. Often, vocalizing your thoughts and feelings rather than internalizing them can provide relief.
Above all, just know that there are countless resources and support here for you to turn to at any time. We're fortunate to be in a time where we can rely on so many entities to help us through life's hurdles.
The Importance of Breast Cancer Screening
Screening for breast cancer is typically done via mammogram, which looks for lumps in the breast tissue and signs of cancer. The American Cancer Society (ACS) says women should begin yearly mammogram screening for breast cancer at age 45 if they are at average risk for breast cancer. The ACS also says those aged 40-44 have the option to start screening with a mammogram every year, and women age 55 and older can switch to a mammogram every other year, or they can choose to continue yearly mammograms.
For screening purposes, a woman is considered to be at average risk if she doesn't have a personal history of breast cancer, a strong family history of breast cancer, a genetic mutation known to increase risk of breast cancer such as a BRCA gene mutation or a medical history including chest radiation therapy before the age of 30. Beyond genetics, family history and experience with radiation therapy, experiencing menstruation at an early age (before 12) or having dense breasts can also put you into a high-risk category. If you are at a higher risk for developing breast cancer, you should begin screening earlier.
In a previous interview with SurvivorNet, Dr. Connie Lehman, chief of the Breast Imaging Division at Massachusetts General Hospital, said people who hadn't reached menopause yet should prioritize getting a mammogram every year.
When Should I Get a Mammogram?
"We know that cancers grow more rapidly in our younger patients, and having that annual mammogram can be lifesaving," Dr. Lehman said. "After menopause, it may be perfectly acceptable to reduce that frequency to every two years. But what I'm most concerned about is the women who haven't been in for a mammogram for two, three or four years, those women that have never had a mammogram. We all agree regular screening mammography saves lives."
RELATED: Check Your Breasts Today, and Once Every Month; Survivor Giuliana Rancic Stresses Its Importance
It's also important to be on top of self-breast exams. If you ever feel a lump in your breast, you should be vigilant and speak with your doctor right away. Voicing your concerns as soon as you have them can lead to earlier cancer detection which, in turn, can lead to better outcomes.
Contributing: SurvivorNet Staff
Learn more about SurvivorNet's rigorous medical review process.
---