Finding Support During Treatment Makes a Difference
Actress Shannen Doherty, 52, reunited with some of her cast members of the popular 1990s sitcom "Beverly Hills 90210" at Brian Austin Green's 50th birthday party over the weekend.
Doherty was first diagnosed with breast cancer in 2015. It went into remission in 2017 but returned as stage 4 cancer in 2019. Her breast cancer has since spread to her brain causing her to undergo surgery to remove a tumor in her brain.
Metastatic breast cancer also called "stage four" breast cancer means that the cancer has spread, or metastasized, beyond the breasts to other parts of the body. There is technically no cure, but advancements in treatments can dramatically improve outcomes and that is something to be hopeful for.
Supporting a friend or loved one with cancer can be hard. SurvivorNet suggests offering concrete ways to show the cancer warrior you care, allowing them to talk through their negative emotions with you, cooking them a healthy meal that they'll enjoy, doing activities with them that will lift their spirits and working to better understand their diagnosis if you're taking on more of a full-time caregiver role.
As Shannen Doherty, 52, continues her fight against metastatic breast cancer, she is still enjoying all that life has to offer and recently celebrated her dear friend and former "Beverly Hills, 90210″ co-star, Brian Austin Green, on his 50th birthday.
Doherty, who starred as  Brenda Walsh in the popular 1990s sitcom"Beverly Hills, 90210," star took to her Instagram story over the weekend to recap Green's surprise birthday party.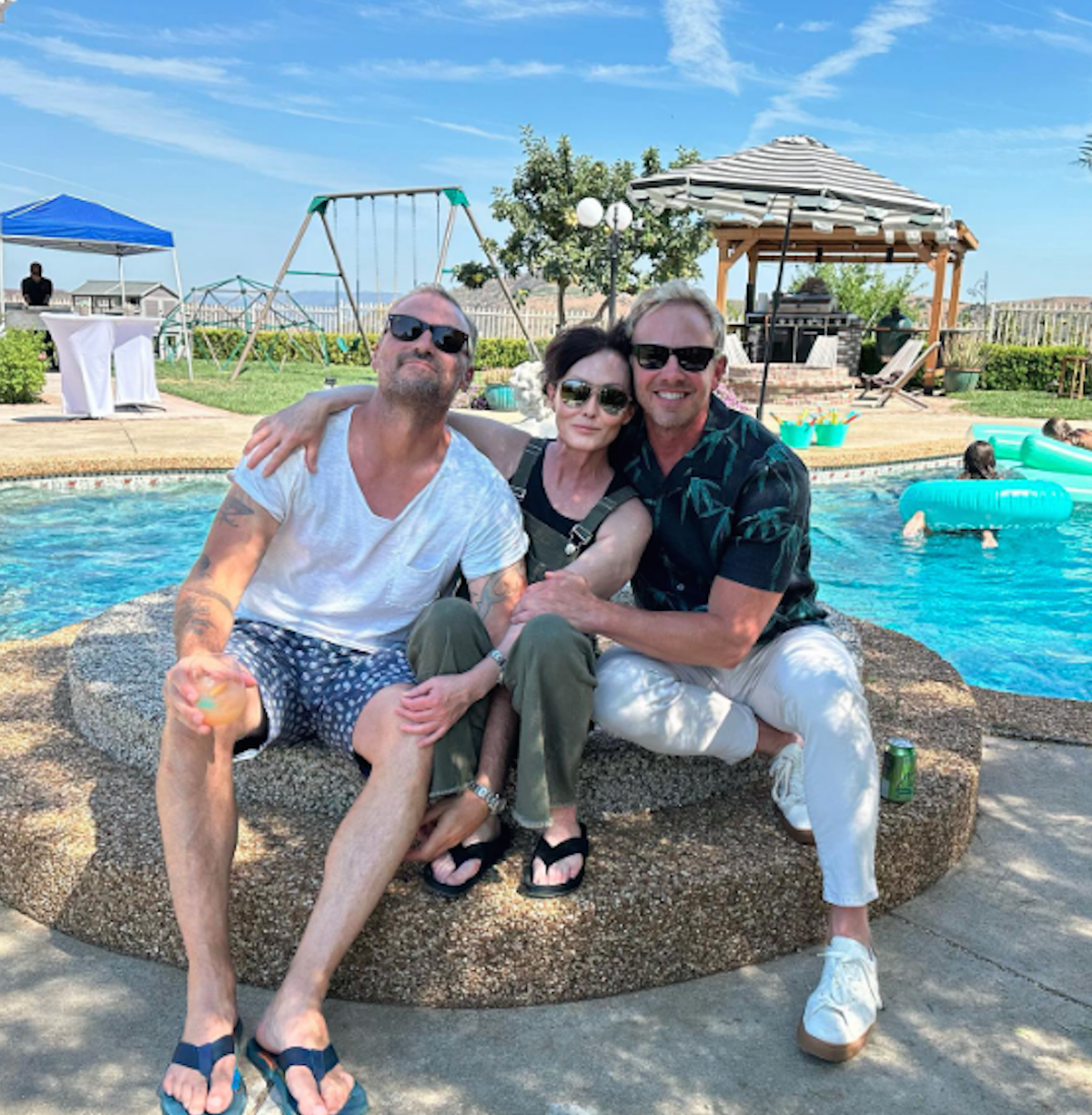 Read More
"Happy birthday B. I love you @brianaustingreen,"
Doherty captioned her post
, featuring herself sitting alongside former co-stars Green, who played David Siller on the teen drama TV series, and 59-year-old Ian Ziering, known for his role on the show as Steve Sanders, near a pool. In second photo she shared, Green's son Kassius, 21, was pictured standing with Doherty, Green and some of their friends.
"Beverly Hills 90210" Cast Reunion Will Actress Shannen Doherty, 52, Join Amid Ongoing Breast Cancer Treatment?
Ziering also took to Instagram to share some sweet photos from their gathering, including a video clip of Green being surprised as he walked into the party.
He captioned the post, "Happy birthday Bri! So happy to celebrate with you and your family! You sure are loved brother! May this be your best year yet!"
Green also recapped the night on Instagram, recounting how his partner Sharna Burgess, 38, set up the gathering with an in-house Casamigos Tequila bar.
'90210' Star Brian Austin Green Encourages Men To Be Proactive About Prostate Cancer Screenings, Insists There's 'No Excuse' Not To Get A PSA Test
He wrote, "So, I turned 50 yesterday and Sharna threw me an amazing surprise party full of great people.
"Casamigos set up a bar and had custom BAG drinks for guests. It was amazing. Thanks @casamigos. George and Rande, you guys really did create some delicious and fun tequila':)))"
Doherty even took to the comments section of his post to say, "The 'Notorious BAG' was a hit!"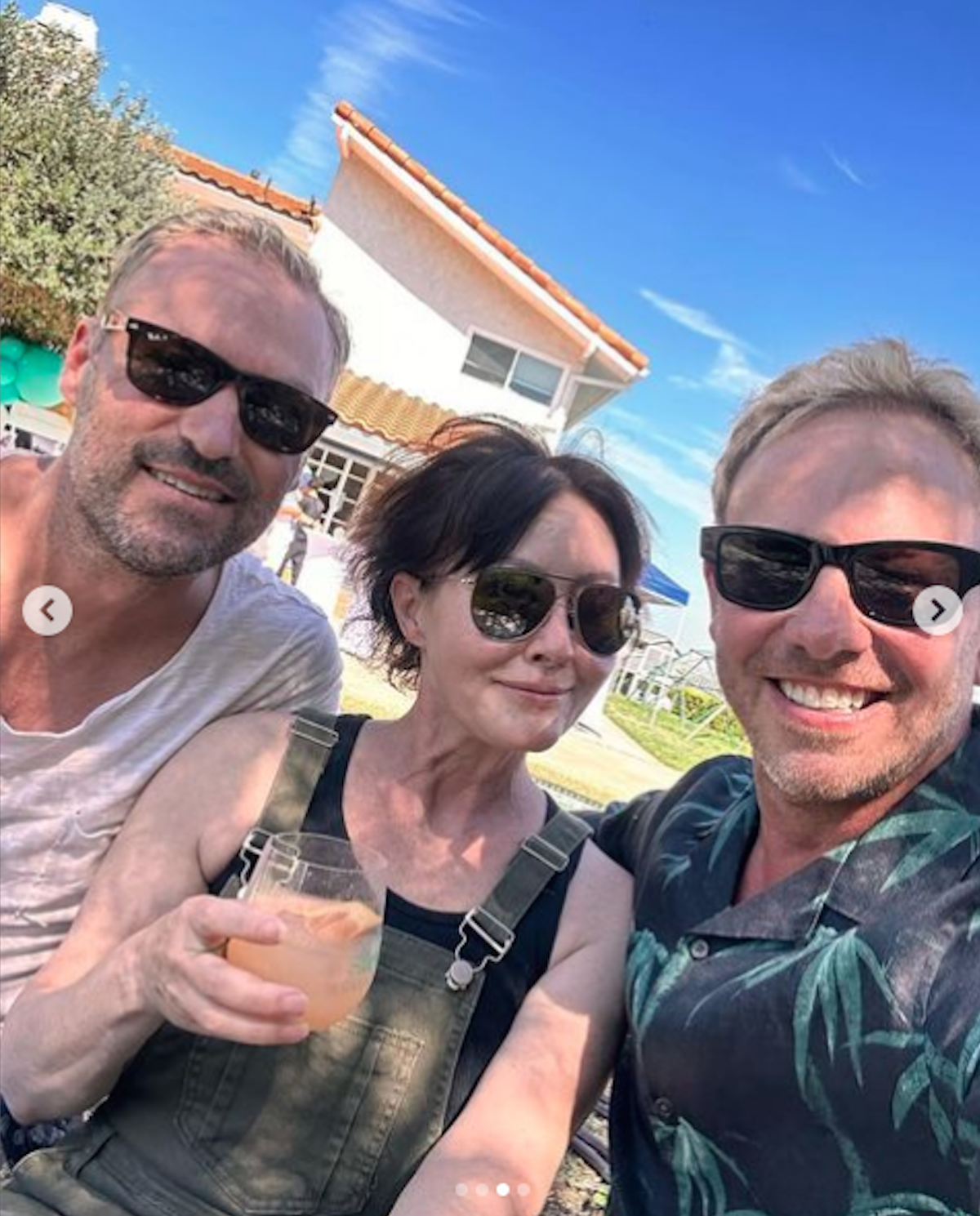 It's great to see Doherty spending time with her friends despite the rollercoaster of a year she's been on, that's involved a divorce and brain surgery stemming from her metastatic breast cancer.
Fans even flooded Ziering's Instagram post to comment on how happy they were that Doherty was in attendance for the party.
RELATED: Shannen Doherty Is Not Letting Divorce Or Breast Cancer Stop Her From Finding Joy Through Hardship
"Love seeing Shannen with you all. Healing thoughts her way," one fan wrote, as another said, "Absolutely amazing to see you all together! Happy Birthday Brian! I don't think you all realize how much of an impact you had on those of us who watched you on 90210 at a critical time in our lives. Thank you!!"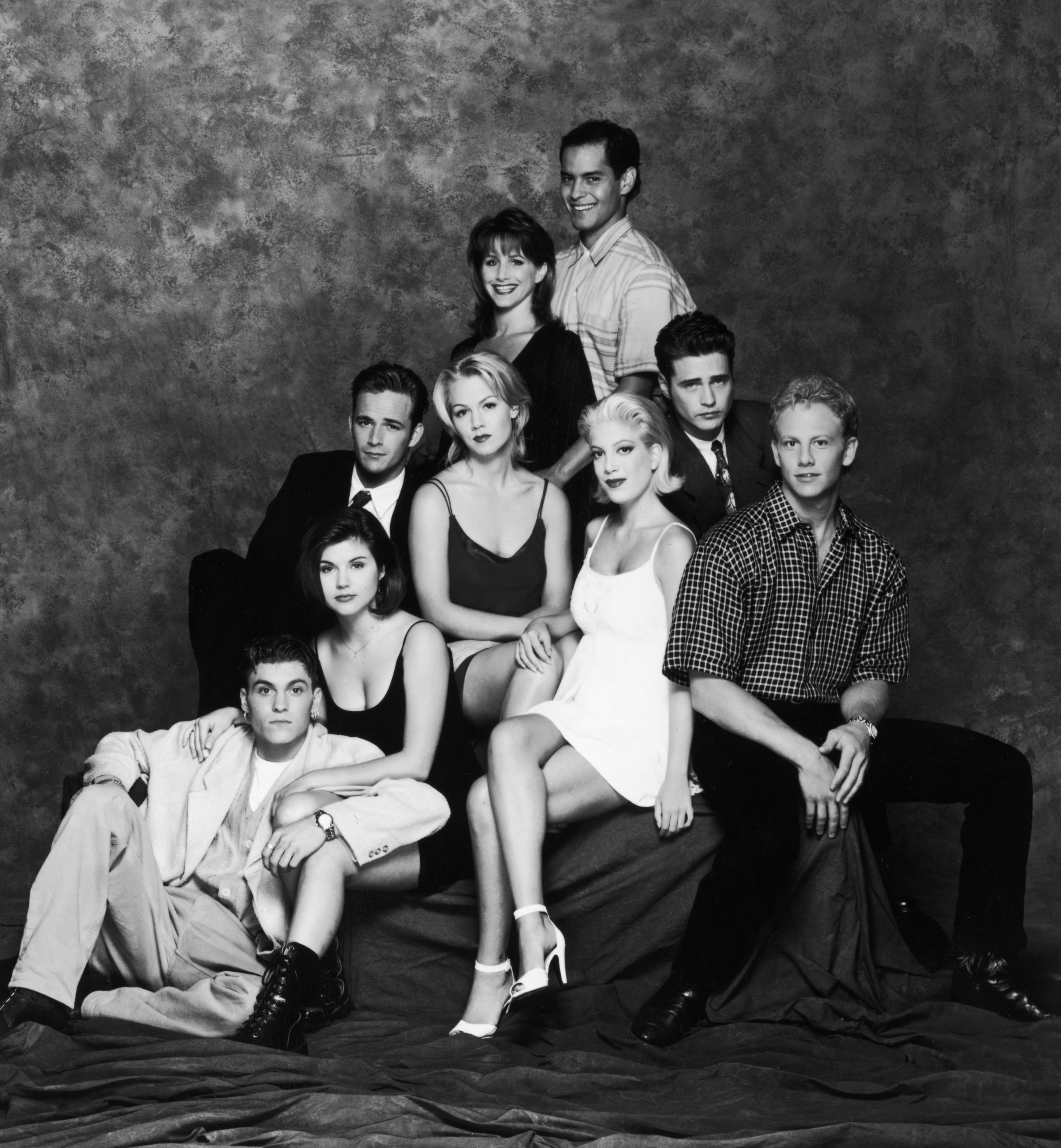 A third fan commented, "This wins the internet- so happy Shannon looks so good," while a fourth fan wrote, "Made me emotional! Love your friendship. And love that Shannen came!!!!"
Green's wife also commented on the post, saying, "I love that you were here!!! Thank you for coming 🙂 Zane loves his Uncle Ian and Bri had the best day."
The summer festivity comes about two months before "Beverly Hills 90210" alums including Tori Spelling, Jason Priestly, Jennie Garth, Brian Austin Green, Ian Ziering, and Gabrielle Carteris are expected to join Shannen Doherty in Tampa for the Sept. 16 and 17 meet-and-greet sessions in Tampa, Florida, according to E News.
The award-winning show lasted from 1990 to 2000. It was based on a group of teenage friends living in Beverly Hills, California navigating high school and college.
The cast has remained in close contact over the years, even after the passing of Luke Perry, who died in 2019. And especially after their beloved friend Doherty was first diagnosed with breast cancer in 2015.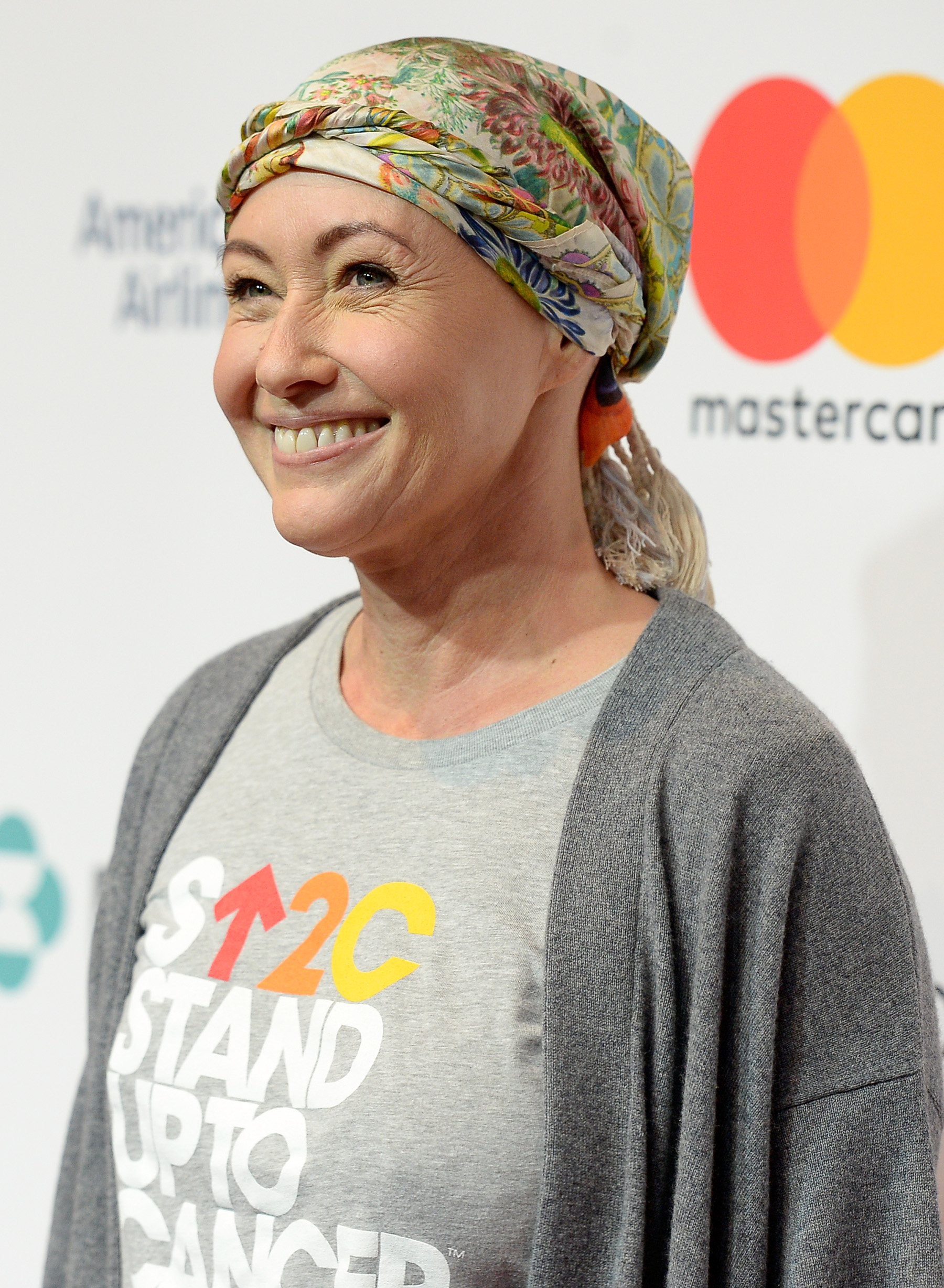 Doherty's breast cancer went into remission in 2017 but returned as stage 4 (or metastatic) in 2019. Metastatic cancer, for which there is no cure, means it has spread to distant areas of the body, like the bones, liver, lungs, or brain. Earlier this year, Doherty revealed her stage 4 breast cancer had spread to her brain and said she had a tumor removed from her head.
Shannen Doherty's Cancer Battle
Shannen Doherty first received a breast cancer diagnosis in 2015 after she discovered a lump in her breast. For treatments the first time around, she underwent hormone therapy, a single mastectomy (the removal of all breast tissue from one breast), chemotherapy and radiation.
Then in 2017, Doherty was deemed to be in remission, however, the cancer returned just two years later in 2019.
This time, her diagnosis was metastatic, or stage four, breast cancer.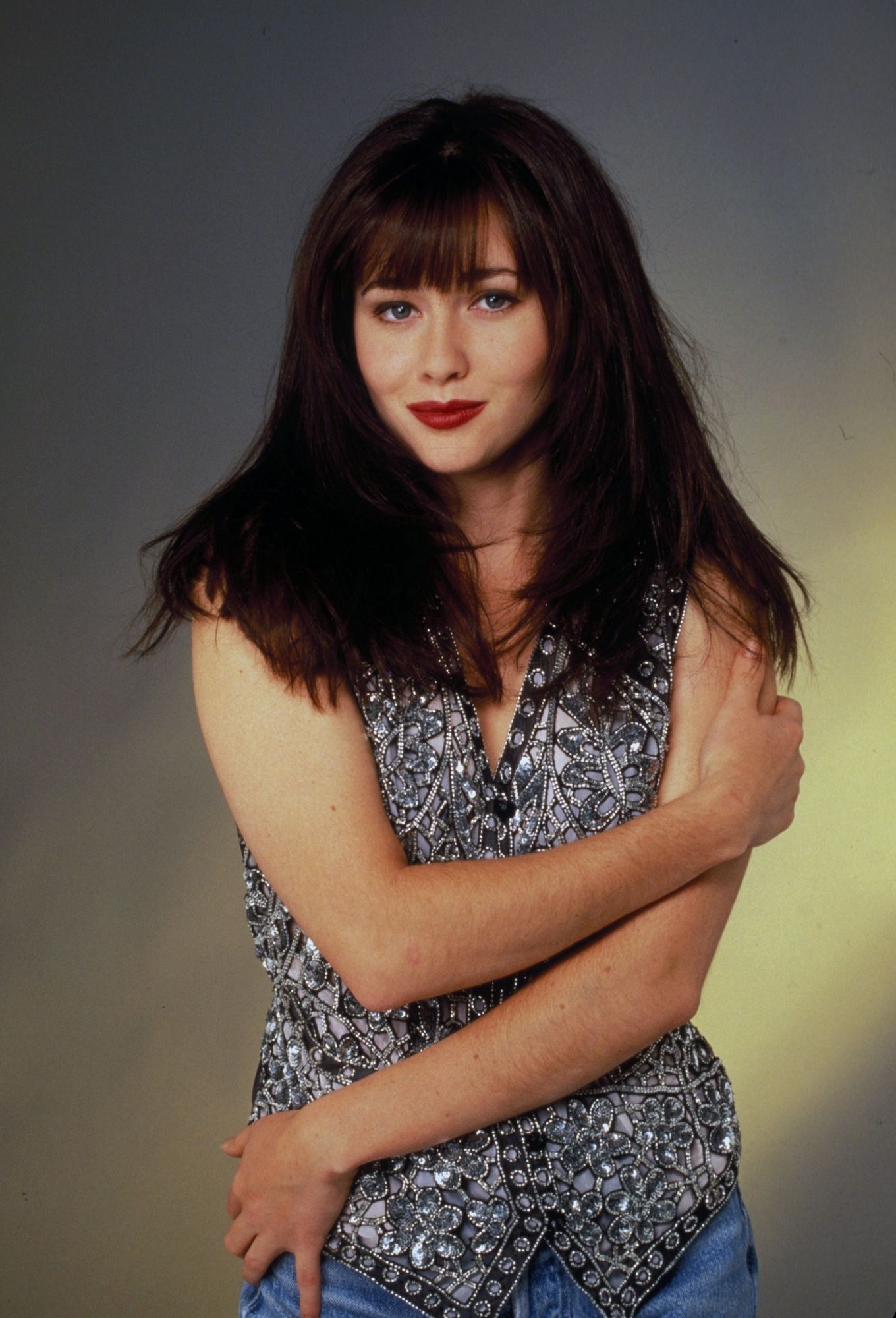 There is technically no cure for metastatic breast cancer, but that doesn't mean people can't live good, long lives with this stage of disease, thanks to hormone therapy, chemotherapy, targeted drugs and immunotherapy, as well as a combination of treatments.
"With advanced disease, the goal of treatment is to keep you as stable as possible, slow the tumor growth and improve your quality of life," SurvivorNet advisor Dr. Elizabeth Comen, an oncologist with Memorial Sloan Kettering Cancer Center, said about metastatic breast cancer management.
"I treat women day in and day out who have metastatic breast cancer, and I see the fear in their eyes, and I also see the hope in their eyes. And I share in that hope. Why do I share in that hope? Because I have so many patients who are living with their cancer… It isn't just about living, but living well."
Doherty took to Instagram last month to recap how her cancer fight is going. She underwent her first round of radiation to her head on Jan. 12, 2023, followed by brain surgery to remove and biopsy a tumor on Jan. 16, 2023. The surgery she underwent is called a craniotomy.
"It's a procedure to cut out a tumor and it can be metastasized or a tumor that started someplace else like the breasts and went to the brain especially if the tumor is causing symptoms or if it's large," Dr. Kimberly Hoang, a board-certified neurosurgeon at Emory University School of Medicine, explained.
RELATED: Shannen Doherty's Cancer Has Spread to Her Brain: Brave Actress Shows Unwavering Strength Amid Stage 4 Breast Cancer
Several neurosurgeons tell SurvivorNet that the procedure can allow patients with cancer in their brain to live longer, more vibrant lives, and this appears to be the case with Doherty seen smiling this week.
"A couple of decades ago, to have a brain metastasis was a very bad prognosis for patients. They didn't live for more than a couple of months, so it was a very terminal thing. Thanks to a lot of advancements in microsurgery we do and radiation…patients are living longer," Dr. Hoang said.
Being There for Cancer Survivors
It is important cancer warriors in the midst of their fight to have a strong support system. So how can you support a loved on in your life who is fighting cancer? SurvivorNet suggests multiple ways you can do so.
Dr. Shelly Tworoger, a researcher at Moffitt Cancer Center told SurvivorNet that "there's a number of common things cancer patients can experience, such as anxiety, depression, financial toxicity, social isolation and sometimes even PTSD." So helping to ease those feelings is a great way to support your loved one.
You can help complete household chores or running errands during the day, which your loved one may not have the time or energy to do. Or, you can simply lend an ear so patients can talk through their feelings, which can help them cope with what they are experiencing during this difficult time.
Meanwhile, there are some practical tips to help you interact with your loved one in a meaningful way. Our experts suggest to avoid asking "how you can help." Instead, be proactive and offer tangible things you can do for them to make their lives easier. That could include bringing them food,  cooking them dinner or playing a board game with them anything that will bring them joy.
READ MORE: Family Love and Support Makes a World of Difference During Cancer Treatment
You may also be interested in sending them gifts to help them through their cancer journey. Our gift guide for cancer patients offers several suggestions for meaningful items you can give your loved one, such as bubble bath supplies for a night of self care or a nice, warm blanket for comfort during a chemo session.
Five Ways You Can Support Someone with Cancer
No matter what role you play, it can be very tough to know what to do when someone you care about is diagnosed with cancer. To help get you started, below are some ways to offer support to your loved ones with cancer.
Avoid asking, try doing. Although it's understandable to not know how to best support your loved one during their cancer journey, it can be equally as hard for them to voice exactly what they need or want from you. Instead of always asking, "How can I help you?" maybe try saying something more concrete like, "Hey, can I come over at 8? I'll bring Monopoly." If you offer specific ways to support rather than ask for things they need, it's likely to come across as more genuine and feel easier for them to accept the support or help.
Stay in touch, but "don't say stupid things." You might never be able to truly understand the battle your loved one is facing, but being a person they feel comfortable talking through some of their negative emotions with can make a big difference. That being said, breast cancer survivor Catherine Gigante-Brown says there are some topics you might want to avoid. "Don't burden us with stories about your Great Aunt Harriet who had breast cancer," she previously told SurvivorNet. "And then you say, 'Oh how's she doing?' And then they'll say, 'Oh, she died.' We don't need to hear the horror stories."
How to Talk to a Friend With Cancer: Don't Say Stupid Stuff
Offer to cook them a meal. Consider inviting them over for dinner, dropping off a special dish, or, if that's not possible, sending a gift basket with some pick-me-up goodies. If you're able to cook for them, perhaps try to make a healthy meal that will bring them joy. Remember that there's no specialized diet that has been found to fight cancer, but it's always a good idea to maintain a moderate diet with lots of fruits and vegetables, as well as fats and proteins. No matter what, it's the simple gesture of providing a meal that will make them feel loved and supported.
Try helping them find joy. There's no one right way to do it, but try to think of activities you can do with your loved one that will lift them up. It could be something as simple as watching a funny tv series together, having a wine and paint night, taking a drive to a beautiful place or starting a book club with them. We've seen in previous studies that patients with better emotional health have a better quality of life when going through treatment and actually tend to live longer than those with worse emotional well-being. Dr. Dana Chase, a gynecologic oncologist at Arizona Oncology, says "better quality of life is associated with better survival, better outcomes… having a good social network can be very helpful."
Dr. Dana Chase explains how emotional health is key during a cancer journey
Be involved. If you've take on more of a full-time caregiving role, work to understand your loved one's diagnosis and help them follow the instructions from the cancer-care team. "I encourage caregivers to come in to visits with my patients, because in that way, the caregiver is also listening to the recommendations what should be done in between these visits, any changes in treatment plans, any toxicities [side effects] that we need to look out for, changes in dietary habits, exercise, etc.," Dr. Jayanthi Lea, a gynecologic oncologist at UT Southwestern Medical Center, previously told SurvivorNet.
Contributing: SurvivorNet Staff
Learn more about SurvivorNet's rigorous medical review process.
---