Living With Psoriasis
As Psoriasis Awareness Month is upon us, Alisha Bridges continues to advocate for darker-skinned people who have the chronic autoimmune skin disease.
She opened up in a podcast about how she sought treatment in her mid-20s and her doctor misdiagnose her.
"Psoriasis is a chronic, auto-immune skin condition where you have red, scaly patches on the skin," Dr. Saakshi Khattri, a Dermatologist/Rheumatologist at Mount Sinai Health System, previously told SurvivorNet. "It is a long-term condition, which can ebb and flow. You can have good days and bad days."
Bridges has been living with plaque psoriasis since the age of 7. Plaque psoriasis is the most common form of the disease and causes dry, raised skin patches that may be covered in scales. The patches may be itchy and tender.
Dr. Junko Takeshita, an assistant professor of dermatology at the University of Pennsylvania who also spoke on the podcast episode, pointed out how a 2015 study found that Black patients were less likely to receive biogenics, which is commonly used to treat moderate to severe psoriasis on White people.
Imagine being misdiagnosed and ignored by doctors since the age of seven. As Psoriasis Awareness Month is upon us, we're reminded of Alisha Bridges' battle with the chronic autoimmune skin disease and the effort she's made to become an advocate for darker-skinned people.
Bridges has been living with severe plaque psoriasis since she was a very young girl, but when she was in her 20s, she visited her doctor for treatment and was told she likely didn't have the skin condition.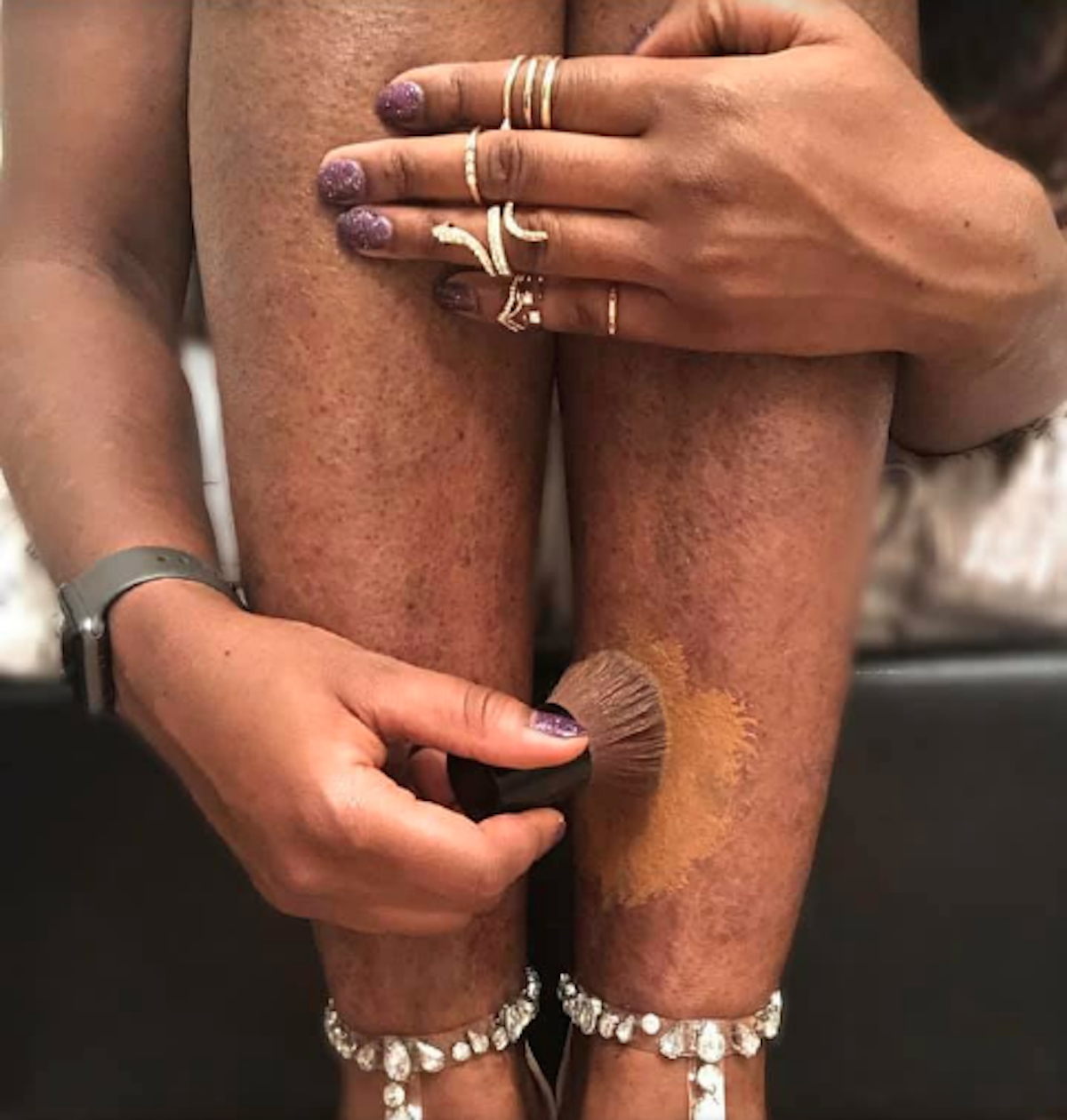 Read More
Speaking on an episode of
WebMD's "Health Discovered" podcast
, Bridges opened up about having patches of dry skin since the age of seven. She didn't receive her diagnosis util after she suffered from chicken pox as a child, prompting the dry skin patches to spread to 90% of her body. Bridges ultimately underwent combined treatments of photo therapy (treatment with lightwaves) and occlusion (when a topical treatment is put on an affected area of skin and covered with a waterproof dressing) until the age of 18. It wasn't until she was in her mid 20s that she decided to see a Black doctor with hopes of getting different treatments for her skin condition.
Bridges explained on the podcast how she was misdiagnosed by that doctor, saying, "I was like, 'OK, she's Black. She's going to get it, right?' And so she looked at my skin and was like, 'Eh, I don't think it's psoriasis because it does not look the way that we've been taught to think it's supposed to be presented.'
"So, what she was referring to is that if you look up psoriasis it's going to describe it as itchy, red, inflamed patches of dry skin. But in African-American people it does not present that way. It could be dark purple, to red, to pink.
"Because that knowledge is not being taught even in the medical field, a lot of Black people are getting diagnosed because their disease is not being presented as it is in a textbook."
According to Bridges' biologics (newer, stronger medicine that treats people with moderate-to-severe psoriasis) is the treatment she later found to help her skin condition, thanks to Dr. Jamie Weisman, whom she met at a National Psoriasis Foundation event.
The biologics treatment ultimately cleared nearly 100% of her skin.
RELATED:  Close the Gap: Racial Disparities in Cancer Care Are Devastating Let's Change Things
Meanwhile, it appears Bridges isn't the only person of darker skin who has had trouble finding the correct treatment for psoriasis.
Dr. Junko Takeshita, an assistant professor of dermatology at the University of Pennsylvania who also spoke on the podcast episode, pointed out how a 2015 study found that Black patients were less likely to receive biogenics, which is commonly used to treat moderate to severe psoriasis on White people.
RELATED: Psoriasis: How to Make Treatment Decisions
The study was published in the Journal of Investigative Dermatology and looked at 799,607 claims in 2011, leading to the findings, which revealed, "The odds of having received biologics were 69% lower among black patients compared with white patients.
"This analysis identified potential financial and racial barriers to receipt of biologic therapies and underscores the need for additional studies to further define the epidemiology and treatment of psoriasis among the elderly."
RELATED: Why Do So Few Black Men Get Colon Cancer Screenings? Closing the Racial Disparity Gap In Cancer 
According to the National Psoriasis Foundation, minorities are less likely to be seen by doctors and less likely to become dermatologists.
"African American and Hispanics represent only 3% and 4.2% of all dermatologists, respectively. In fact, dermatology is the second least diverse specialty in medicine, even though data have shown that race concordant visits result in greater patient satisfaction," the foundation explains.
"There are efforts underway to increase diversity in dermatology, focusing on encouraging underrepresented minorities to pursue higher education careers in dermatology. However, this is not without barriers. A survey of underrepresented minority students showed that those students see multiple perceived barriers to applying for a dermatology residency. Those barriers includes potential risk of not matching, lack of diversity in the specialties, lack of mentorship, as well as GPA and USMLE board examination scores impacts."
What is Psoriasis Disease?
Psoriasis is a skin condition that causes red, itchy patches to develop on the skin. It is a chronic disease, which means that it does not have a cure.
Psoriasis: Understanding the Different Types and Symptoms of This Rare Skin Condition
Fortunately, symptoms can often be managed with different treatment options as well as lifestyle adjustments. And only about 2% of the U.S. population suffers from it, according to the American Academy of Dermatology. Still, there have been major developments in recent years when it comes to the treatment and management of psoriasis.
RELATED: What is Psoriasis? Understanding the Different Types and Symptoms of This Rare Skin Condition
"Psoriasis is a chronic, auto-immune skin condition where you have red, scaly patches on the skin," Dr. Saakshi Khattri, a Dermatologist/Rheumatologist at Mount Sinai Health System, previously told SurvivorNet. "It is a long-term condition, which can ebb and flow. You can have good days and bad days."
Dr. Saakshi explained that while anyone can develop psoriasis, the disease is more common in people between the ages of 30 and 50. Researchers believe genetics, as well as environmental factors, may play a vital role in the development of this disease.
Dr. George Han, a Dermatologist at Northwell Health/Lenox Hill Hospital, told SurvivorNet that psoriasis is also connected with many internal comorbidities.
RELATED: What to Know About SOTYKTU, The Exciting New Drug For Plaque Psoriasis
"The most obvious of which is psoriatic arthritis, which is inflammatory arthritis that if left untreated is quite debilitating…as well as a number of other comorbidities that we are learning more and more about, such as inflammatory bowel disease and metabolic syndrome," Dr. Han explained. "So, there are a lot of different connections, also with psychiatric comorbidities."
What are the Symptoms of Psoriasis?
Psoriasis can often be asymptomatic (without symptoms), so people who have the disease will not be dealing with constant outbreaks or 'flare-ups'.
"Some patients report itching [or a] burning sensation, but that does not tend to be the norm. It certainly can and does happen," Dr. Khattri explains. "Then if you have psoriasis in the genital area, it can feel uncomfortable just because it is in a very sensitive part of the body. But for the most part, it tends to be asymptomatic, generally speaking."
WATCH: There is good news for people out there suffering from plaque psoriasis.
Dr. Han says he sees many patients with itching. "It is interesting because if you look at the older dermatology textbooks, there was this concept that psoriasis is not supposed to itch. And so they made this distinction between the itchy rash, which is eczema dermatitis and psoriasis, which is supposed to be not itchy," Dr. Han says. "But if you actually ask patients and in some of the modern literature now, upwards of 80% to 90% of patients do have itching associated with their psoriasis."
Generalized symptoms associated with the disease include the following:
Red patches of skin covered with silvery-like scales
Small scaling spots
Dry, cracked skin that may bleed or itch
Itching, burning sensation, or soreness
Thickened or ridged nails
Swollen or stiff joints
Dr. Khattri recommends seeing a dermatologist if you notice red, scaly spots on the body so a specialized practitioner can make a proper diagnosis and treatment action plan. Psoriasis patches can vary in how their appearance and location on the skin. The disease may present as just a few spots with dandruff-like scaling or as rashes that cover large parts of the body. The most commonly affected areas are the lower back, elbows, knees, legs, soles of feet, scalp, face, and palms.
Dr. Han says most types of psoriasis can be diagnosed clinically, meaning your healthcare team can determine psoriasis on sight. With more atypical (not typical; rare) forms of psoriasis, a biopsy may be needed.
What are the Different Types of Psoriasis?
There are several different types of psoriasis, with plaque psoriasis being the most common. The types differ in how they present and what they are caused by.
Plaque psoriasis: This is the most common form of the disease (this is what Bridges has) and causes dry, raised skin patches that may be covered in scales. The patches may be itchy and tender.
Nail psoriasis: This disease can affect fingernails and toenails and might cause nails to loosen from the nail bed.
Guttate psoriasis: This disease typically affects young adults and children and is often caused by a bacterial infection, like strep throat.
Inverse psoriasis: This type of psoriasis mainly affects skin folds, so it will often present in areas such as the groin, buttocks, or breasts, and can worsen with friction or sweating.
Pustular psoriasis: This is an atypical (rare) form of psoriasis that causes pus-filled blisters to develop in widespread patches across the body.
Erythrodermic psoriasis: This is also a rare form of the disease. It can cover the entire body with a red, peeling rash that may itch or burn intensely.
Psoriatic arthritis: With this form of the disease, joints may become swollen, irritated, and painful. Sometimes, joint pain is the first or only symptom, while other times other symptoms like nail changes will occur for some people.
The treatment approach will depend on the type of psoriasis a person has, and what kind of symptoms they present with. Dr. Khattri notes that for some people, symptoms may resolve with over-the-counter (OTC) creams or ointments, while others with moderate to severe disease may need a more systemic approach.
"It is hard to generalize and say whether it will be progressive for everybody or whether this will just be like a lesion here and there, which sort of self resolves with some over-the-counter (OTC) or topical treatment options," she says.
"The one thing that I would say as a Rheumatologist is that everybody should know that psoriasis is just not limited solely to the skin. You can have a joint involvement in about a third of patients…with psoriasis you can even go on to developing psoriatic arthritis."
If a patient has developed rashes or scaly patches of skin and also begins noticing other symptoms, such as stiffness or joint pain, Dr. Khattri suggests seeking medical attention right away rather than trying to resolve the issue with mild over-the-counter (OTC) treatments.
"If you have psoriasis on the skin or what looks like psoriasis on the skin, along with the onset of joint pain or tenderness, whether it is sort of stiffness in the lower back or a swelling of the finger or a toe that is inexplicable, do think of psoriatic arthritis and then certainly reach out to healthcare providers sooner rather than later."
Moving Forward Questions to Ask Your Doctor
Could my symptoms be related to another condition?
What treatment options do I have?
Are there any lifestyle adjustments I should make?
How often should I be monitored?
How does psoriasis usually progress? Can it come and go?
How often can flare-ups occur?
Breast Cancer Surgeon Explicitly Lays Out Ways We Can Close the Gap in Racial Disparity: "Access to Care is Key!"
How is Psoriasis Managed?
Psoriasis symptoms can often be managed with different treatments and some lifestyle adjustments. Treatment options basically fall into three categories: topical treatments (which would be ointments or creams you can rub on the skin), phototherapy (using UVB light to treat the disease), or systemic treatments (drugs taken either orally or through an IV that treat symptoms by targeting parts of the immune system).
Topical Treatments
Topicals are considered a mainstay for treating psoriasis, and there are several different options available. When it comes to topicals, the route you go with will depend on what type of psoriasis you have and how symptoms are presenting.
Some of the different topical creams and ointments that may be prescribed include:
Corticosteroids: These drugs may be prescribed to treat mild to moderate psoriasis and can be a good option during flare ups. They are available as ointments, creams, lotions, gels, foams, sprays, and shampoos.  Topical corticosteroids are classified into seven categories based on their potency, ranging in strength from ultra-high to low. Lower potency corticosteroids are typically used on the face, while areas with thick, chronic plaques often require treatment with ultrahigh-potency corticosteroids.
Vitamin D analogues: These synthetic forms of vitamin D can help slow skin growth. The drugs can be used alone or in combination with corticosteroids. Calcipotriene (also known as calcipotriol) and calcitriol are the two commonly used synthetic vitamin D analogues.
Retinoids: Retinoids can come as a gel or cream and be used to relieve some psoriasis symptoms.  Topical tazarotene can be particularly helpful for palmar-plantar psoriasis (palms and soles) and nail psoriasis, the AAD and NPF guidelines say.
Calcineurin inhibitors: These drugs reduce inflammation and plaque buildup. These may be helpful in areas where skin is thin, like around the eyes, but should not be used for long periods of time due to potential side effects. Although not FDA approved for psoriasis, the topical calcineurin inhibitors tacrolimus and pimecrolimus are often used in the treatment of psoriasis.
Salicylic acid: These shampoos and scalp solutions can reduce the symptoms of psoriasis on the scalp. Salicylic acid minimizes scaling and softens plaques. It can also be combined with other topical medications including corticosteroids.
Coal tar: A product of coal, this medication has been used to treat psoriasis for more than a century, according to AAD and NPF. These drugs can reduce scaling, itching, and inflammation and can be included in shampoos, creams, and oils.
Phototherapy
Another treatment option for psoriasis is phototherapy. This therapy is generally used when medications applied to the skin alone do not work and alternative options are needed. It can also be used for patients who wish to avoid medications that can affect their entire body (system medications).  Phototherapy can also be used in conjunction with topical and/or systemic psoriasis treatments.
Phototherapy exposes patients with psoriasis to narrow band UVB light.
"It's a limited spectrum of the sunlight, which we use. Patients generally have to come to a place that does phototherapy. There's a phototherapy box. You go there. It's generally three times a week in the very beginning until your psoriasis is in control. And beyond that we can space it apart to once a week or twice a week as maintenance," Dr. Khattri says.
Dr. Khattri explains how phototherapy is used to treat psoriasis.
A frequency of twice or three times weekly is effective and is recommended, according to the American Academy of Dermatology (AAD) and National Psoriasis Foundation (NPF) guidelines.
Systemic Treatment
Sometimes treatments applied to the skins' surface just aren't enough to clear stubborn psoriasis. That's where systemic treatment treatment that travels through your entire body rather than being aimed at one area can be beneficial for patients. Systemic treatments are available via oral medication and injections.  Some have been around for decades, while others are relatively new to the landscape.
"I have patients who come in after having been to many other medical practices and not really getting much hope or really good treatments for their psoriasis," Dr. Han explains to SurvivorNet. "And we'll give the patient a systemic medicine that these days are very effective. We have treatments where over half of the patients who have moderate to severe psoriasis are getting 100% clear."
Systemic treatments may include oral medications like methotrexate, Apremilast (otezla), or cyclosporine. Biologic drugs, or biologics, which are given by injection or intravenous (IV) infusion (a slow drip of medicine into your vein), may also be given. These drugs target only specific parts of the immune system, while other systemic drugs target the whole system.
There are three main categories of biologics used to treat psoriasis, according to Dr. Khattri. These include:
Injections that target and block TNF, a pro-inflammatory molecule that the body may be producing too much of when a person has psoriasis (includes drugs like Humira, Cimzia, and Enbrel)
Injections that target and block IL-17, another pro-inflammatory molecule that could trigger psoriasis symptoms (includes drugs like Cosentyx, Taltz, and Siliq)
Injections that target IL-12 or IL-23, which are also proteins linked to psoriasis symptoms (examples of these drugs include Tremfya and Ilumya)
"All of these are injections which are approved for psoriasis, and some of them are also approved for psoriatic arthritis," Dr. Khattri explains.
Contributing: SurvivorNet Staff
Learn more about SurvivorNet's rigorous medical review process.
---