The groundbreaking fashion model, Pat Cleveland, 69, says the positive mindset that sustained her through colon cancer is helping her manage the anxiety that many in the SurvivorNet community are feeling through the coronavirus outbreak.
RELATED: 6 Months After Cancer Surgery, Model, Pat Cleveland Walks The Runway Again
Read More
"There's a big lesson in this for us," Cleveland says. As we contemplate days — or months — of social isolation, "we can sink into fear or we can see it as a blessing," she said, in an  interview with SurvivorNet.
As The New York Times tells it, "five decades ago a Vogue editor spotted the 18-year-old Ms. Cleveland on a subway platform, was fascinated by her style, and recommended that she sign with Wilhelmina Models as one of the first African-American beauties to join a major agency." Since then she has had a remarkable staying power as a figure in the fashion world.
Embrace Uncertainty
"The time ahead of us might be very difficult," she acknowledged, "but it's also an opportunity to take a look at what's really important."
RELATED: Coronavirus Guide For Cancer Patients
In a recent Instagram video, Cleveland dances with her daughter and, in conversation, reveals her strategies for coping with uncertainty:
Keep your sense of humor. Watch silly things that make you laugh.
Find a little corner in your home where you can curl up like a cat and nap.
Do little creative projects that you wouldn't have time to try otherwise. Draw. Paint. Write. Make things.
Always have a song in your head and your heart.
Bless everyone that you can. Cleveland endorses "the butterfly effect," the belief that small acts of kindness can create positive change on a grand scale.
Feed yourself. But space it out in little bits throughout the day. Drink water.
Make the choice to ride the river of love and faith. Flow with it.
"All over the world, people are in the same situation," she says. "Embrace our one-ness. We are one energy, experiencing this together. And through this, we are learning to be compassionate."
RELATED: 6 Months After Colon Cancer Surgery, Super Model Pat Cleveland, 69, Walks The Runway Again
Accepting Help
Although social-distancing has created isolation, Cleveland notes, people still need each other. "The whole thing about surviving is that you need people — and t's really hard to ask for help," she notes.
View this post on Instagram
When her cancer required emergency surgery, Cleveland discovered she had more support than she'd ever imagined. Cleveland's Medicaid coverage didn't cover the cost of emergency surgery in France. Her family set up a GoFundMe page to offset her medical debt, which rose to six figures. Donations came in from prominent names in the fashion world, including designers Marc Jacobs, Elsa Peretti, Jean Paul Gaultier, Jonathan Adler, and Anna Sui and models Helena Christiansen and Christy Turlington, among others. "That was a miracle," she said. "I'm very responsible for myself," Cleveland explained. "But I had to give in to this. I had to be humble and admit that sometimes I need help, too. I'm so grateful people were on my side. They helped me stay alive."
Pat Cleveland's Cancer Journey
A lifelong vegan, Cleveland practiced yoga and meditation. She didn't skip checkups or screenings. Her last colonoscopy was clear; no polyps. But last Spring, as she was preparing to leave for Fashion Week in Paris, her gut signaled trouble.
Dr. Zuri Murrell, colorectal surgeon, Cedars-Sinai Medical Center, says cancer patients who live in gratitude have better outcomes, even as navigate late-stage disease. 
She saw a doctor, careful not to ignore her symptoms. "He ran blood tests. Did a scan. But the tests found nothing so he prescribed a laxative and said she'd I'd fine," Cleveland recalls.
RELATED: Mama Mia! Dame Julie Walters Thought Doctors 'Made A Mistake' — Now the Harry Potter Star Is Erasing Shame Around Colorectal Cancer
She left for Fashion Week in Paris, but she wasn't fine. When she went to fill a French doctor's prescription she "fell down in the Champs-Elysees," and woke up in a Paris hospital. Diagnosed with colon cancer, Cleveland had undergone emergency surgery.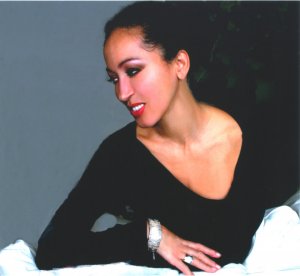 photo: Charles Tracy
"They took my colon out. I'd been a vegan and a yogi for most of my life," she explains. "This hit so unexpectedly."
RELATED VIDEO: Dr. Zuni Murrell on Monitoring After Colon Cancer Surgery
"The worst part was being in intensive care, alone, surrounded by machines."
Cleveland gathered her faith and her strength: "I believe very strongly in a force that is inside of me that is more powerful than myself. You have to prepare, so that your mind doesn't take you into fear, which makes us all anxious and sick."
RELATED: The First African American Rockette, Jennifer Jones, Says She Has Colon Cancer — A Wake-Up Call
Instead, she says, "You have to be so brave. If people are praying for you, tune into that positive energy. It will help get you where you're going. Fear is what makes us sick and anxious. You can't run away from this — you can only run toward it. And you have to believe that you will be okay, whether you're part of life here — or the life ever-after. It will be okay, either way."
Learn more about SurvivorNet's rigorous medical review process.
---