Ruth Bader Ginsburg's Passing
Supreme Court Justice Ruth Bader Ginsburg, a champion of equal rights, has passed away from metastatic pancreatic cancer at 87-years-old.
Ginsburg has battled colorectal cancer, lung cancer, pancreatic cancer, and liver cancer.
Supporters, politicians, celebrities, and more have honored her with touching tributes.
Supreme Court Justice Ruth Bader Ginsburg, a champion of equal rights, has died due to complications from cancer. She was 87-years-old. Fans, politicians, and more are honoring her legacy.
The Supreme Court announced that Ginsburg passed away today after battling metastatic pancreatic cancer. She is a four-time cancer survivor, and diagnosed with pancreatic cancer in 2019. However, in May doctors discovered lesions on Ginsburg's liver during a routine scan in February. After performing a biopsy, they concluded that Ginsburg's cancer had returned. She made a public announcement about the diagnosis in July, and was undergoing a chemotherapy treatment called gemcitabine.
Read More
Related: Ruth Bader Ginsburg's Fourth Bout With Cancer — The Supreme Court Justice Underwent Radiation For Pancreatic Tumors
News of her passing hit supporters, celebrities, politicians from both party lines, and more across the country. People took to social media to mourn, and thank her for all she's done for the country.
Rest in peace Ruth Bader Ginsburg – a true legend, an iconoclast, a glass ceiling breaker, and a feminist icon. She changed the world in so many incredible ways. Prayers, love and strength to her family during this dark time. I hope you have fun with Antonin Scalia in heaven…

— Meghan McCain (@MeghanMcCain) September 18, 2020
Rest in power to a feminist icon and American hero! Thank you Ruth Bader Ginsburg for your service, for working well BEYOND retirement until the very end because our country needed you. Thank you. Thank you. Thank you. https://t.co/cQgTwuafVJ

— Janet Mock (@janetmock) September 18, 2020
A shock. A sadness. A great loss. The passing of Ruth Bader Ginsburg leaves a hole in a nation already reeling. She is an American hero, in every sense. We can honor her by joining to carry forth her legacy of equality, empathy, and justice. May she Rest in Peace.

— Dan Rather (@DanRather) September 18, 2020
May God grant you rest, good and faithful servant, Justice Ruth Bader Ginsburg pic.twitter.com/qdbPBLPaU3

— Michael Steele (@MichaelSteele) September 18, 2020
So sorry for Ruth Bader Ginsburg's family and for our country. She was a fighter and she was firmly on the side of justice. I hope her example and her legacy can inspire us all in the fight of our lives. RIP RBG.

— Beto O'Rourke (@BetoORourke) September 18, 2020
Justice Ginsburg paved the way for so many women, including me. There will never be another like her. Thank you RBG.

— Hillary Clinton (@HillaryClinton) September 19, 2020
Ruth Bader Ginsburg's Undeniable Legacy
Born in Brooklyn, New York, Ginsburg was more than a Supreme Court Judge, she was a champion. She served on the Supreme Court for 27 years, and even during her current battle with cancer, she still worked on opinion writing and court work through treatment.
Related: Could You Benefit From The Cancer Treatment That's Working For Justice Ruth Bader Ginsburg? New Guidelines Announced For Radiation in Pancreatic Cancer
She was one of the few women attending Harvard Law School, and later transferred to Columbia Law School — she was the first woman to be on the law review at both institutions. She served as a law professor at Rutgers University  and earned the reputation as one of the ultimate fighters for equal rights by volunteering at the American Civil Liberties Union (ACLU) and arguing the landmark 1971 Reed v. Reed decision in front of the Supreme Court, which ruled administrators of estates cannot be discriminated against on the basis of sex.
She was nominated to the Supreme Court in 1993 by President Bill Clinton, where she served up until her passing.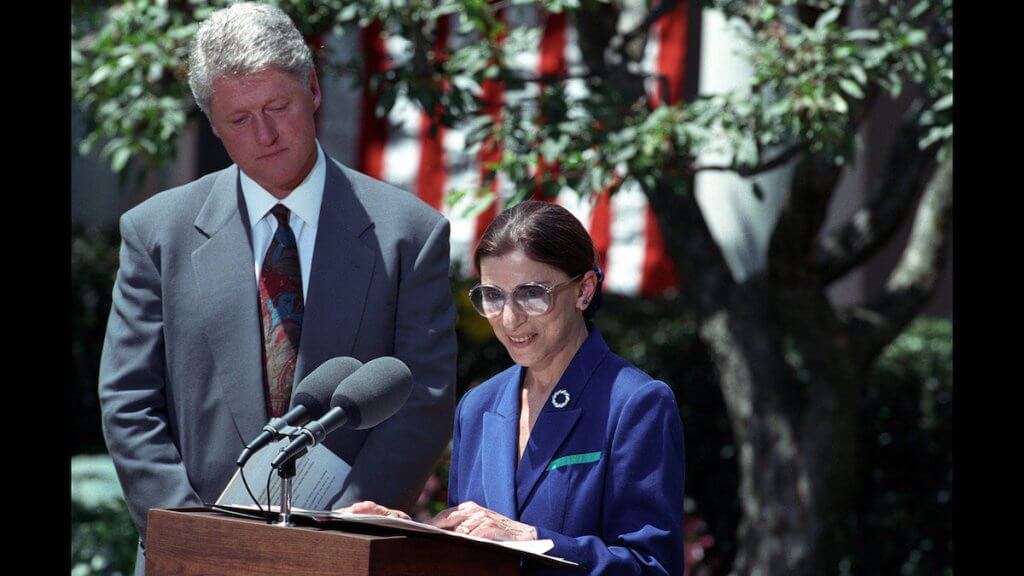 Why Is Pancreatic Cancer So Hard To Treat?
Pancreatic cancer is one of the most difficult types of cancer to treat, with the one-year survival rate expected to be just 18% and a five-year survival rate is just 9%. Research has improved these statistics over the years, but the disease is aggressive and grows fast. Plus, medication often has a hard time breaking through to fight the cancer. This is because of the stroma — a barrier that surrounds the cancer cells and prevents the chemotherapy from breaking through and taking effect to fight the cancer, so administering proper medication can be difficult.
Related: Fashion Icon Karl Lagerfeld Died of Pancreatic Cancer – Soon To Be The Second Leading Cancer Killer in The U.S.
"Think of pancreatic cancer as an oatmeal raisin cookie and the raisins are actually the cancer cells, and the cookie part is actually all the stroma around it," Dr. Allyson Ocean, Medical Oncologist at Weill Cornell Medical Center, explains to SurvivorNet. "And imagine having to navigate through all that stroma for a treatment to be able to get into a cell to kill it. So that's why the treatments just really aren't good enough to penetrate the cancer. But we're improving, we're getting better treatments."
Dr. Allyson Ocean explains why pancreatic cancer is so hard to treat
Learn more about SurvivorNet's rigorous medical review process.