Life After Endometrial Cancer
Original "Real Housewives of Beverly Hills" cast member Camille Meyer (formerly Camille Grammer) enjoyed a night out over the weekend with her daughter and husband at a lavish party from co-star Kyle Richards
Grammer, who previously faced endometrial cancer in 2013 and skin cancer in 2017, seemed to be drama-free and all smiles as she danced the night away with other "RHOBH" cast mates.
"Endometrial cancer starts when cells in the endometrium (the inner lining of the uterus) start to grow out of control," the American Cancer Society explains.
"Cells in nearly any part of the body can become cancer, and can spread to other parts of the body."
Meyer had surgery to remove her uterus and reproductive organs and is now in remission.
"Real Housewives of Beverly Hills" star Camille Meyer, formerly known as Camille Grammer, — who beat endometrial cancer while filming the extravagant show in 2013 — joined her co-stars in all-white outfits in Los Angeles for fellow housewife Kyle Richards' White Party over the weekend, seemingly without any drama.
The 54-year-old TV personality, who also battled skin cancer, shared some photos on social media from the event, which was filmed for "RHOBH"'s upcoming season 13. She even brought her 21-year-old daughter Mason Grammer and husband David C. Meyer for the ride.
Read More
RELATED: Why Are So Many of Bravo's "Real Housewives" Facing Cancer? How Their Fierceness Helps Them Fight Back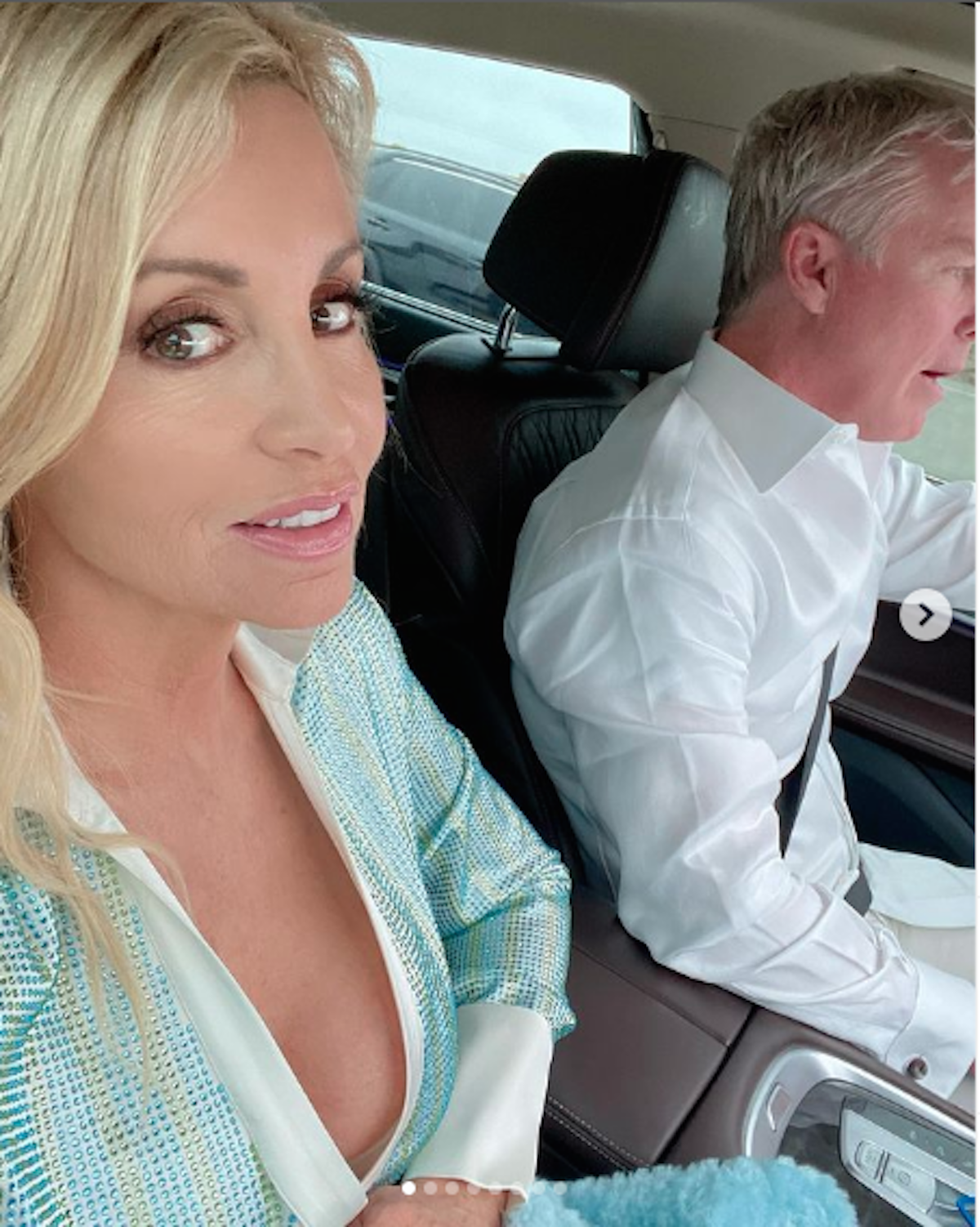 "Party time #rhobh My hubby had a blast! 🍸😂 #whiteparty I was thrilled to have my daughter there with me," she wrote in an
Instagram post
recapping Saturday night. "It's always fun hanging with the beautiful Denise and Aaron. Thank you @kylerichards18 for inviting us to your fabulous party."
Meyer, who said she enjoyed catching up with everyone, also noted in the comments of her post that she is "only a guest" on this season of "RHOBH."
In another post, which Meyer shared from the event, the actress and model is seen dancing in a 360 photo booth, where the camera spins around to take fun videos.
Meyer appeared to be carefree while dancing back-to-back with her daughter Mason, on the floor of the stadium.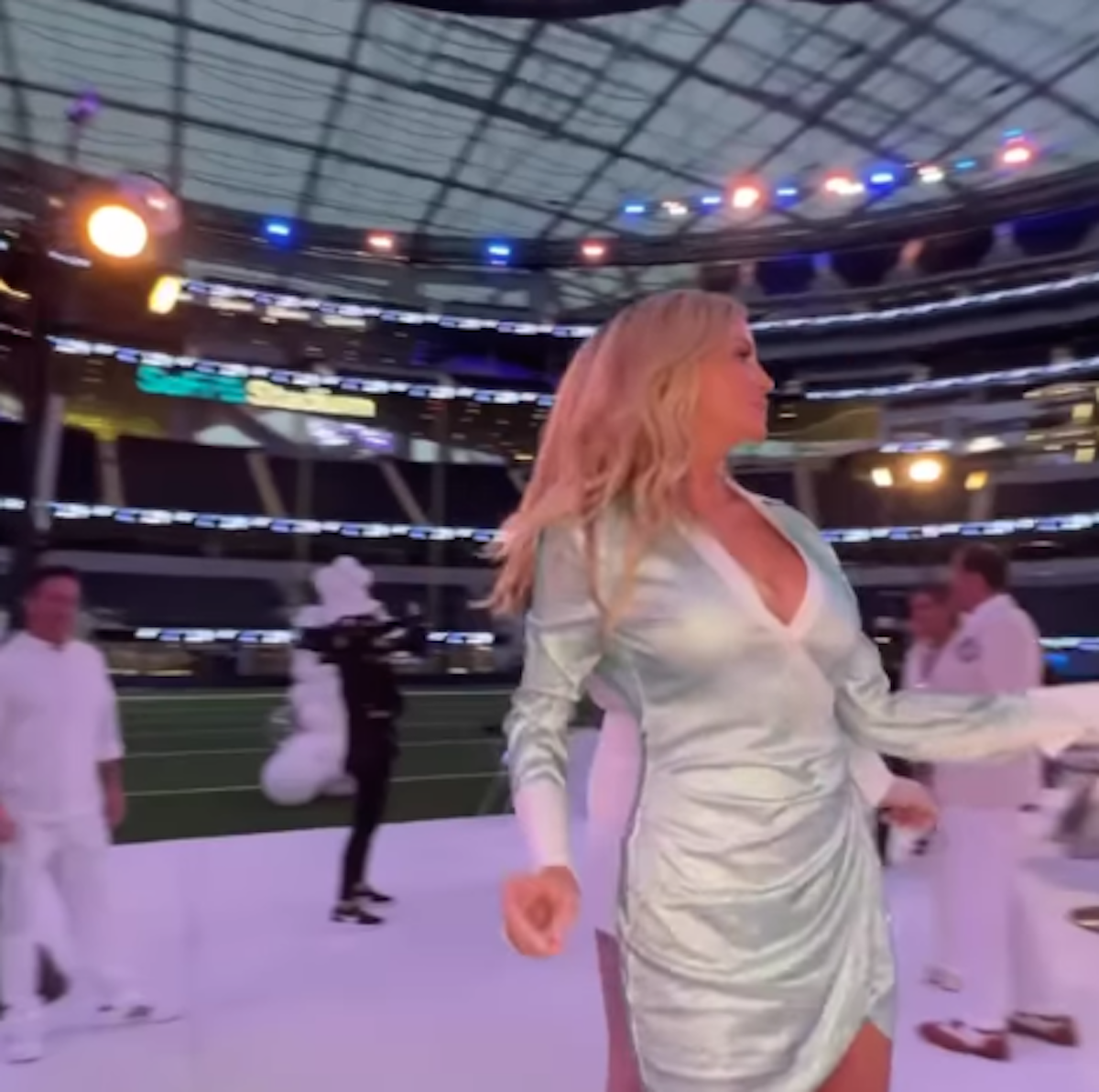 Camille Meyer's Battle With Cancer
Camille Meyer is living life to the fullest after battling endometrial cancer in 2013 and skin cancer in 2017.
After being diagnosed with stage 2 endometrial cancer, a type of uterine cancer, Meyer underwent a "radical hysterectomy," surgery that removed her uterus and reproductive organs.
Following her radical hysterectomy, Meyer's representative told US Weekly, "The surgery went very well and she is expected to make a complete recovery following a significant recuperation period."
The rep also explained that Meyer "was at elevated risk due to genetic issues and has been diligent about regular check-ups and monitoring which explains the early detection and rapid treatment."
At the time Meyer urged "all women to be aware of genetic factors relating to women's cancers and get regular check-ups."
She was ultimately declared to be in remission after undergoing surgery, chemotherapy, and radiation.
Related: 'Ladies, Listen to Your Bodies': After Surviving Cancer Twice, Real Housewives' Camille Grammer Has a Message To Share
Despite successfully beating endometrial cancer, Meyer, who has since become an advocate in raising awareness about gynecological cancers, faced yet a second diagnosis in 2017.
Her second cancer battle was against a type of skin cancer called squamous cell carcinoma.
RELATED: Understanding the Risks and Symptoms of Uterine Cancer 
Thankfully, the skin cancer was caught relatively early, and she was declared in remission after going through surgery to remove the cancerous tumors.
"[Squamous cell carcinoma] isn't an aggressive cancer," Camille previously told People following her surgery in 2017, "But if it goes undetected, it could spread and metastasize to the lymph nodes and other organs close to the area. I'm lucky we found it early."
After her surgery to remove her cancer, Camille shared an Instagram photo from her hospital bed at Cedars-Sinai Medical Center.
Pictured smiling next to her doctor was Dr. Beth Karlan, a gynecologic oncologist now with UCLA Medical Center who has spoken with SurvivorNet about gynecologic cancers and the importance of paying attention to your body.
Meyer captioned the post, "Thank you Dr. Beth Karlan for removing those pesky cancer cells. You are amazing!
"Ladies listen to your bodies. If something doesn't seem right, go for a checkup. Don't put it off."
RELATED: We're Seeing More Cancer Survivors Than Ever, But What's Behind The Huge Increase And Where Do We Still Need To Improve? Here's What Our Experts Have To Say 
The Bravo star's words are similar to what Dr. Karlan previously told SurvivorNet.
"If your doctor says, 'I don't think you need to have anything done, this is all in your head,'… go in for a second opinion," Dr. Karlan advised, on the topic of ovarian cancer (which Meyer didn't have). However, what she said applies to all cancers and how it's important to listen to your body.
Dr. Beth Karlan On Listening To Your Body & Being Persistent
What Is Endometrial Cancer?
Endometrial cancer, like Camille Meyer had, first forms in the inner lining of the uterus, called the endometrium, according to the American Cancer Society.
"Endometrial cancer starts when cells in the endometrium (the inner lining of the uterus) start to grow out of control. Cells in nearly any part of the body can become cancer, and can spread to other parts of the body," the ACS explains.
"The uterus is a hollow organ, normally about the size and shape of a medium-sized pear. The uterus is where a fetus grows and develops when a woman is pregnant."
During a woman's menstrual cycle, the hormone estrogen causes the endometrium to thicken and, if there is no pregnancy, the hormone progesterone causes the endometrial lining to shed and become the menstrual flow.
This year, approximately 66,200 people will be diagnosed with this type of cancer, as per the ACS.
It's important to note that there are a few kinds of endometrial cancer, also called endometrial carcinoma. Those types include:
Adenocarcinoma, which is the most common type
Uterine carcinosarcoma or CS
Squamous cell carcinoma
Small cell carcinoma
Transitional carcinoma
Serous carcinoma
And the stages of endometrial cancer are divided into the following:
Stage 1: Found in the uterus only.
Stage 2: Has not spread beyond the uterus, but cancer has been found in the connective tissue of the cervix.
Stage 3: Spread beyond the uterus and cervix, such as to the outer layer of the uterus, the fallopian tubes, the ovaries, ligaments or vagina. Stage 3C means the cancer has spread to the lymph nodes in the pelvis or near the aorta artery.
Stage 4: Spread beyond the pelvis, such as to the bladder, bowel wall, abdomen, or groin lymph nodes.
In an earlier interview, Stanford Gynecologic Oncologist Dr. Diana English said there are several conditions that may predispose someone to get uterine cancer.
"These patients might not be thinking about this, their primary care providers may not be speaking to them about this," Dr. English explained. Those conditions are:
Hypertension
Diabetes
Polycystic Ovarian Syndrome (which is marked by the absence of regular periods)
Obesity
Hyperandrogenism (elevated male sex hormones)
Lynch Syndrome
Understanding the Risks and Symptoms of Uterine Cancer
New Hope For Advanced Endometrial Cancer
When it comes to endometrial cancer, your treatment can depend on a few factors, including whether it has spread to other areas beyond the endometrium, what the cancer cells look like, and whether the cancer cells are affected by the hormone progesterone.
Surgery is typically the first treatment for endometrial cancer, according to the American Cancer Society. Surgery can include a hysterectomy, or removal of the uterus. It can also include the removal of other reproductive organs like the ovaries and fallopian tubes, like Camille Meyer had.
Those diagnosed at an early stage typically have good outcomes and recovery, according to Cleveland Clinic.
But when it comes to advanced endometrial cancer, more intensive treatment is needed, such as chemotherapy and radiation.
New research is finding hope in other treatment options for advanced endometrial cancer, such as immunotherapy, which uses a person's own immune system to fight cancer.
As of now, immunotherapy has only been approved to treat endometrial cancer after chemotherapy. But two recent studies have found that offering a combination of both immunotherapy and chemotherapy to people battling advanced endometrial cancer could significantly help slow how the disease progresses when compared to chemotherapy alone.
RELATED: Combo Immunotherapy-Chemo Treatment May Help Slow Progression of Advanced Endometrial Cancer: Studies Show Promising Results
The studies, both published in the New England Journal of Medicine, revealed a significant increase in progression-free survival in patients with advanced or recurrent endometrial cancer when they underwent immunotherapy and chemotherapy at the same time.
RELATED: FDA Approves Combination of Keytruda & Lenvima For Treatment Of Advanced Uterine Cancer: What Women Need To Know
'Immunotherapy Gave Me Back My Life'
Even with the promising results of both studies, The Food and Drug Administration (FDA) would have to approve immunotherapy as a first-line treatment for this type of therapy to be offered to patients outside of trials.
Learn more about SurvivorNet's rigorous medical review process.
---