Finding Support During a Cancer Journey
Shannen Doherty, 52, began acting at a young age amid growing up in Memphis, Tennessee, and being raised Southern Baptist. She previously recounted the difficulties she endured throughout childhood, which makes us admire the brave actress even more.
Now, as she continues on her battle against metastatic cancer, she always seems to make time for those she loves most, including her "Tennessee crew."
Doherty was first diagnosed with breast cancer in 2015. It went into remission in 2017 but returned as stage 4 cancer in 2019. Her breast cancer has since spread to her brain causing her to undergo surgery to remove a tumor in her brain.
Facing cancer can be a very vulnerable and emotionally exhausting experience, so it helps to have friends that support you. We've spoken to survivors who've felt their friendships flourish and others who've felt the opposite during their cancer battle. Either way, it's crucial to note which relationships you have the energy for during treatment.
One of our experts says some people may need to look beyond their circle of family and friends to get the extra support they need. For those people, she recommends finding a mental health professional with experience aiding people undergoing cancer treatment.
Going through a cancer journey with friends, family, and loved ones by your side can be a powerful tool when fighting cancer. So, it's wonderful to see 52-year-old actress Shannen Doherty spending time with old friends from her childhood in Tennessee as she battles metastatic breast cancer.
Doherty, known for playing Brenda Walsh on "Beverly Hills, 90210," has been battling stage 4 (metastatic) breast cancer since 2019 and revealed earlier this year that cancer had spread to her brain. Despite the challenges she's been faced with, including going through a divorce from her estranged husband of 11 years, Kurt Iswarienko, the brave actress always makes time to catch up with friends.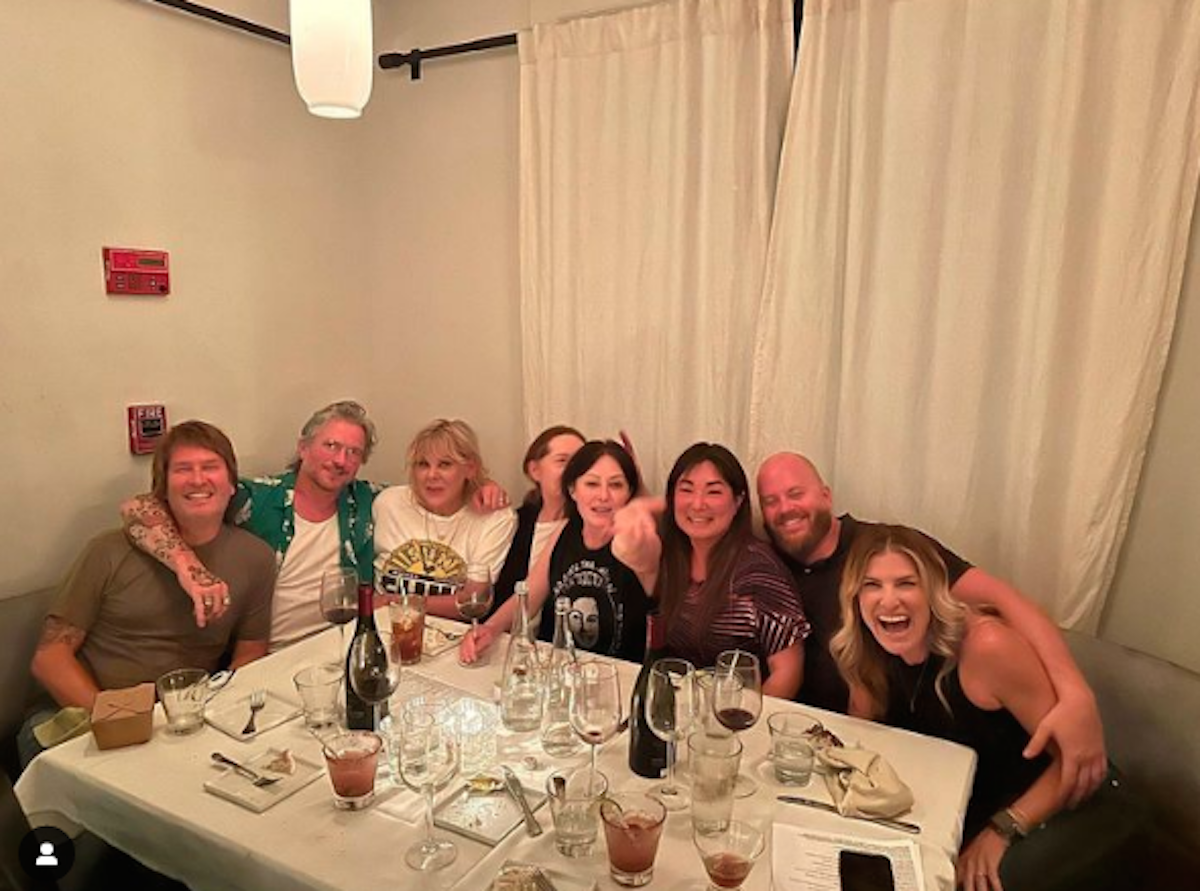 Read More
"The Tennessee crew coming in strong. I love my people,"
Doherty captioned a recent photo
of herself and her close friends huddled up together at a dinner table. Doherty's most recent Instagram post and gathering with friends reminds us of an article, titled "Nobody's Pussycat," published in
PEOPLE magazine
in November 1992 – and it seems that the "Charmed' star's strength stems from her childhood in The Volunteer State (Tennessee).
RELATED: Joyous '90210' Reunion: Actor Brian Austin Green and Shannen Doherty Celebrate, Even As Doherty Fights Breast Cancer
Referring to how some people viewed her as she acted in "Beverly Hills, 90210," Doherty explained to the magazine, "I'm not saying I don't have my moments of bitchiness because everybody has them. But it's never for no reason.
"I think that life is short, you should live it and be happy. I've always been a ballsy kid. I know it pisses some people off, but isn't the end result much better?"
Doherty was born in Memphis, Tennessee and a younger sister to her brother Sean. She was raised by her parents, Tom and Rosa, who led her in the Southern Baptist faith with conservative views. Southern Baptists are the  largest evangelical Protestant group in the U.S.
According to PEOPLE, how she was raised may have led to the actress not being happy with her "90210" character Brenda losing her virginity.
Doherty recounted how she saw "how women were treated" while growing up in the South, insisting, she didn't want to be "treated" like that.
Additionally, Doherty's family endured hard times as well as the good, saying, "We lived in a prestigious area, with an ocean view. Then we had the rug pulled out from under us. There was a time when the doorbell would ring and it might be the utility man there to cut off the power."
"People think, 'She's sitting up there in a nice house and has money,'" she said, referring to how some people viewed her. "Somebody said that to me last night, and I got really pissed off. My parents went from having money to having nothing, to eating rice every single day."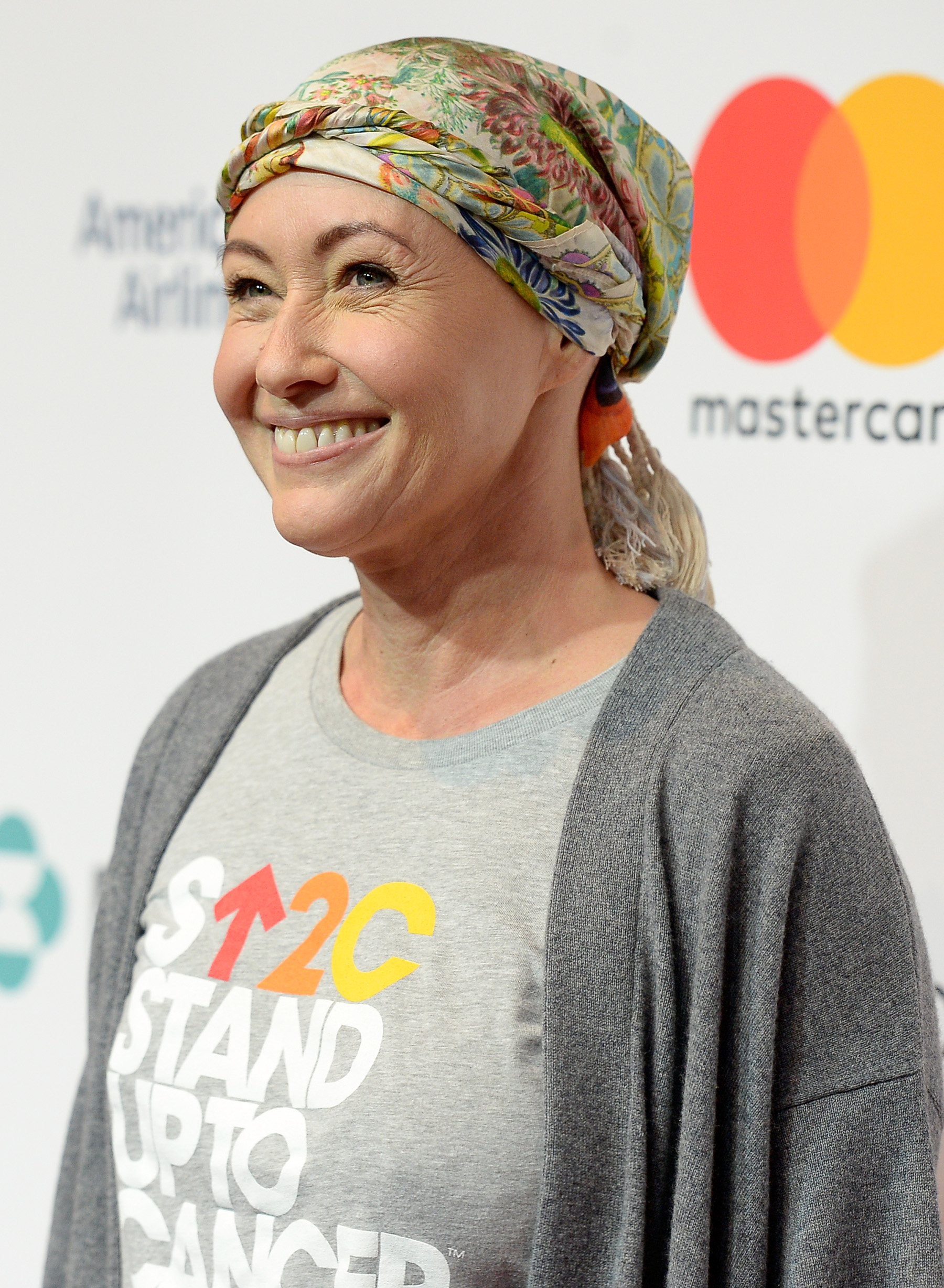 Recounting how the 1974 show "Little House on the Prairie" changed her life, she always remembers actor Michael Landon telling her to, "Always slick up for yourself. Never let anybody walk all over you."
As for the Baptist school Doherty attended and "hated" after her time on "Little House," Doherty told the news outlet, "It was very repressed. They thought that dancing was evil, and I disagreed. I organized a big dance, and the principal called me in. He wasn't pleased.
"He had his Bible out there on his desk and told me how God would punish me. I flipped through his Bible and found references to people dancing and rejoicing. I said to him, 'It clearly shows they danced and rejoiced. Just what the fis wrong with you?'"
Doherty later went on to study at a private school in Los Angeles called Lycée Français.
Shannen Doherty's Cancer Battle
Shannen Doherty first received a breast cancer diagnosis in 2015 after she discovered a lump in her breast. For treatments the first time around, she underwent hormone therapy, a single mastectomy (the removal of all breast tissue from one breast), chemotherapy and radiation.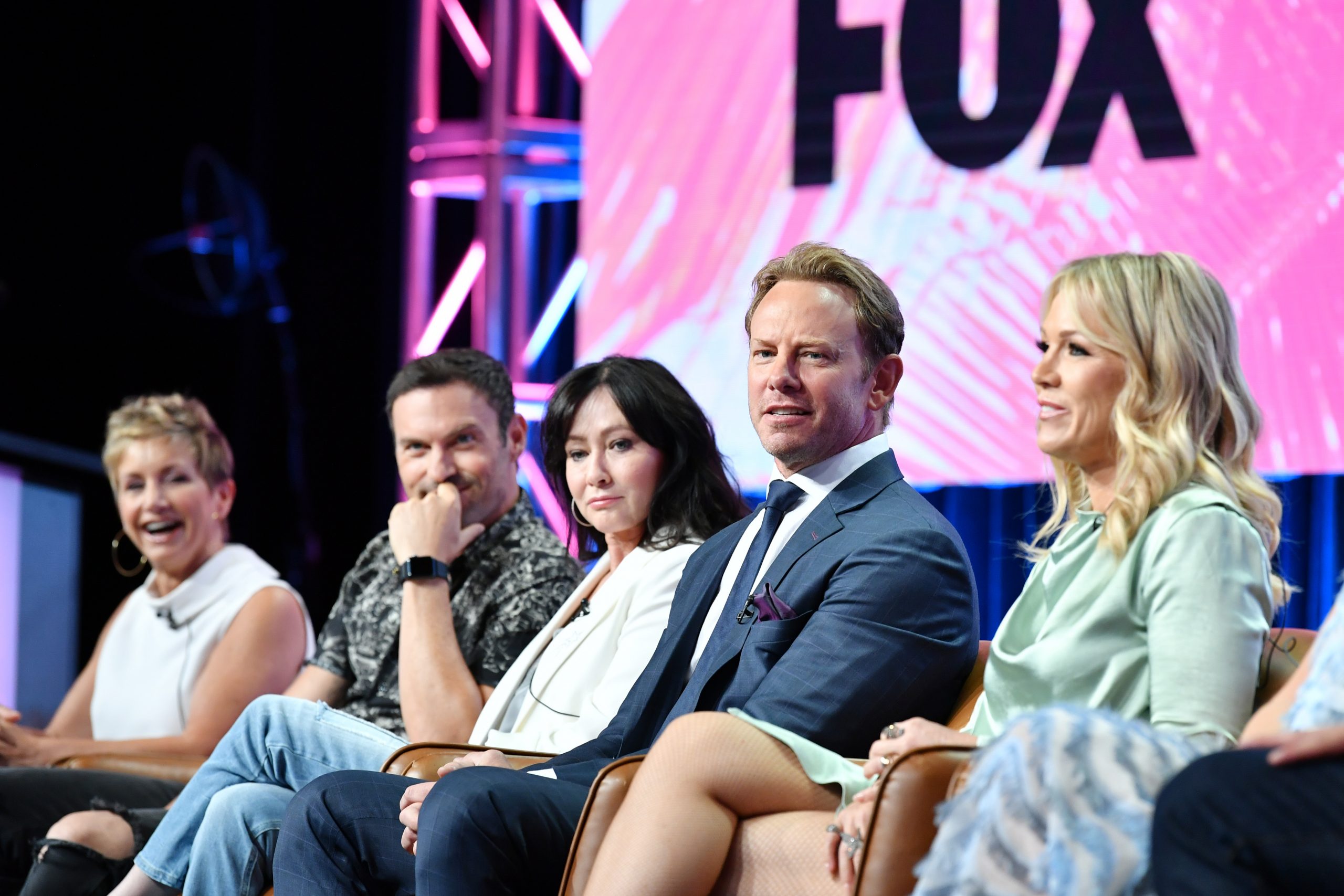 Then in 2017, Doherty was deemed to be in remission, however, the cancer returned just two years later in 2019.
This time, her diagnosis was metastatic, or stage four, breast cancer.
There is technically no cure for metastatic breast cancer, but that doesn't mean people can't live good, long lives with this stage of disease, thanks to hormone therapy, chemotherapy, targeted drugs and immunotherapy, as well as a combination of treatments.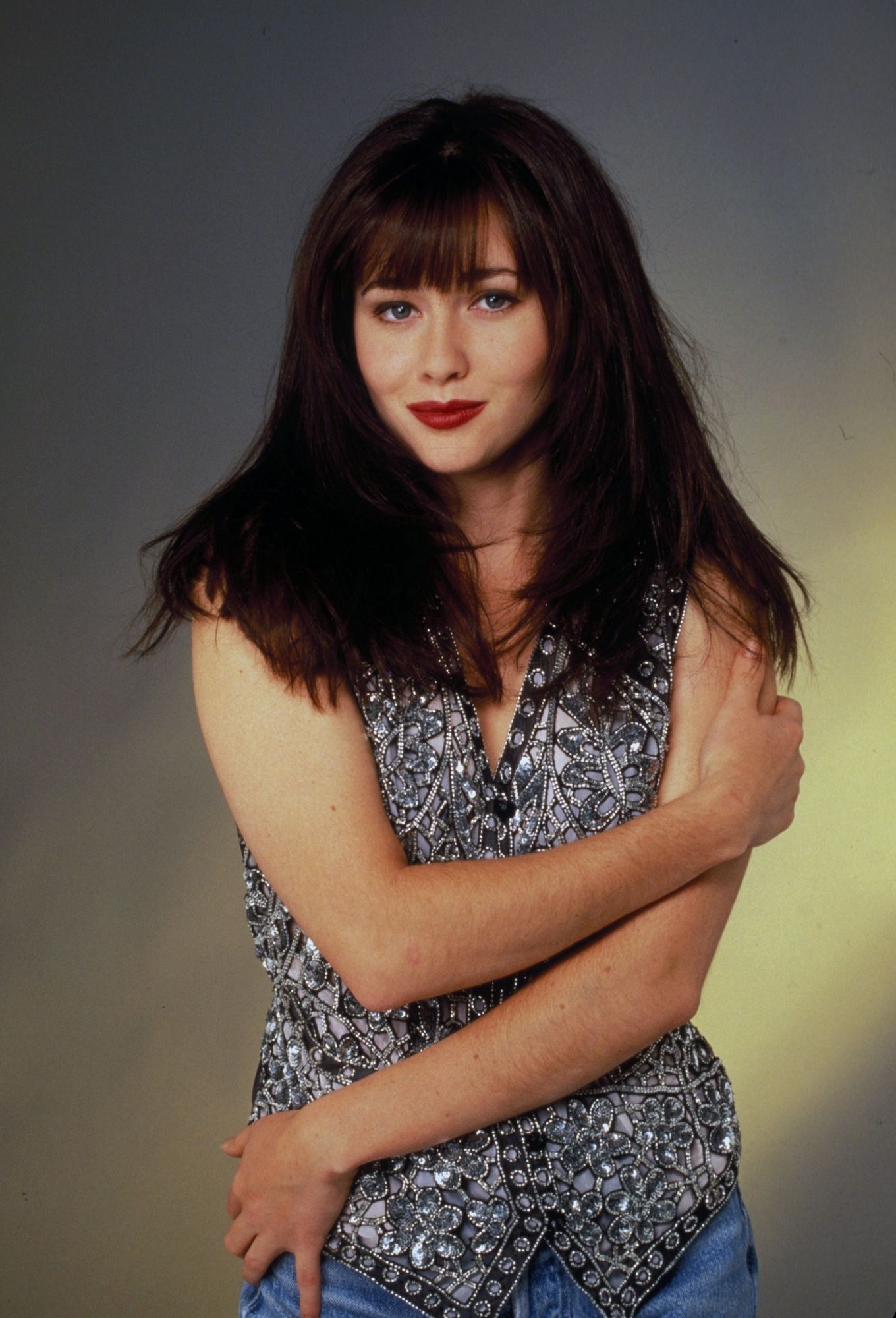 "With advanced disease, the goal of treatment is to keep you as stable as possible, slow the tumor growth and improve your quality of life," SurvivorNet advisor Dr. Elizabeth Comen, an oncologist with Memorial Sloan Kettering Cancer Center, said about metastatic breast cancer management.
"I treat women day in and day out who have metastatic breast cancer, and I see the fear in their eyes, and I also see the hope in their eyes. And I share in that hope. Why do I share in that hope? Because I have so many patients who are living with their cancer… It isn't just about living, but living well."
Doherty took to Instagram last month to recap how her cancer fight is going. She underwent her first round of radiation to her head on Jan. 12, 2023, followed by brain surgery to remove and biopsy a tumor on Jan. 16, 2023. The surgery she underwent is called a craniotomy.
"It's a procedure to cut out a tumor and it can be metastasized or a tumor that started someplace else like the breasts and went to the brain especially if the tumor is causing symptoms or if it's large," Dr. Kimberly Hoang, a board-certified neurosurgeon at Emory University School of Medicine, explained.
Several neurosurgeons tell SurvivorNet that the procedure can allow patients with cancer in their brain to live longer, more vibrant lives, and this appears to be the case with Doherty seen smiling this week.
RELATED: Shannen Doherty's Cancer Has Spread to Her Brain: Brave Actress Shows Unwavering Strength Amid Stage 4 Breast Cancer
"A couple of decades ago, to have a brain metastasis was a very bad prognosis for patients. They didn't live for more than a couple of months, so it was a very terminal thing. Thanks to a lot of advancements in microsurgery we do and radiation…patients are living longer," Dr. Hoang said.
Friendship and Support during a Cancer Battle
It's no secret that fighting cancer can be overwhelming, so having physical and emotional support from friends during your battle is huge. Thankfully, it seems that Shannen Doherty has been able to live her life to the fullest with supportive loved ones by her side.
Licensed clinical psychologist Dr. Marianna Strongin says having people by your side during this "arduous chapter" of your life can be very beneficial.
RELATED: 'Petrified': Shannen Doherty Had Tumor in Head Removed Coping With Intense Emotions of a Stage 4 Cancer Battle
In a column for SurvivorNet, Strongin wrote, "Studies have found consistently that loneliness is a significant risk factor for physical and mental illnesses and the trajectory of recovery.
"Therefore, it will be important that you surround yourself with individuals who care and support you throughout your treatment."
RELATED: 'BS Never Ends': Actress Shannen Doherty, 52, Is Finding Humor Despite Cancer Battle and Divorce
That being said, it's very important to know your limits on what you can handle during treatment.
"Going through treatment is a very vulnerable and emotionally exhausting experience," she wrote. "Noticing what you have strength for and what is feeling like too much… [is] extremely important to pay attention to as you navigate treatment."
Bianca Muniz is both an ovarian and breast cancer survivor. She told SurvivorNet some of her friendships ended because certain people just couldn't understand what she was going through.
Two-time Cancer Survivor Bianca Muniz On How She Found a Support System Amid Treatment
"I've lost a lot of friends … because people don't really know how to deal with what I'm going through," she told SurvivorNet. "I didn't care to talk about what was happening with me. I just wanted things to be normal and they didn't really understand how to do that."
But many people do see their friendships flourish during their cancer journey. For Monica Layton, it was the friendships and community of her church congregation that really gave her the support she needed during her ovarian cancer battle.
Ovarian Cancer Survivor Monica Layton Shares How Her Church Was Her Biggest Support System
"[I've] gone to the same church for a long time, so it's like another family that really supports me," she told SurvivorNet in a previous interview. "We're Episcopalian, and when I was having surgery my priest came to the hospital and stayed and prayed with my family the whole time and it was a long surgery. And then he came back to the hospital every day to pray with me."
In addition to praying for her, Layton's church also sent flowers, cards and a prayer blanket and often visited her.
"They were so kind," Layton said. "I think my faith has been very important, crucial for me. Just the prayer really helps, I think."
Psychiatrist Dr. Lori Plutchik does say some cancer warriors may need to look beyond their existing relationships to find the support they need.
"Some people don't need to go outside of their family and friends circle. They feel like they have enough support there," Dr. Plutchik told SurvivorNet. "But for people who feel like they need a little bit more, it is important to reach out to a mental health professional."
Seeking Support: The First 3 Things to Do after a Cancer Diagnosis
Dr. Plutchik says it's best to find a mental health professional with experience aiding people undergoing cancer treatment.
"Make sure that the mental health professional that you work it is reaching out with your consent to the rest of your team, to the oncologist, to the surgeon," she said. "It can also be helpful to reach out to family, friends, and any other caretakers that may be involved in the person's treatment."
Turning to Faith During a Cancer Journey
Although Doherty didn't love the Baptist school she attended in Memphis, she still remains optimistic through life's challengers. For some people, turning to faith can be a great way to keep spirits high when cancer starts taking an emotional and/or physical toll.
RELAED: The Power Of Prayer: The Remarkable Link Between Religion And Resilience
New York City Presbyterian Pastor Tom Evans previously spoke with SurvivorNet about the importance of finding ways to cope with the complex web of feelings you may be experiencing after a cancer diagnosis.
Faith Perspective: Opening Yourself Up to Others After a Cancer Diagnosis
"It's important to reach out in a simple prayer to God, even if you've never prayed before, you don't know what to say, a heartfelt plea, 'God, help me, be with me,'" Pastor Evans told SurvivorNet. "You can reach out to God and you can reach out to people, your friends and family and say, 'I can't do this on my own. I need you.'
"It's in that willingness to be open and to receive that we can actually find something deeper that we never would've encountered without this hardship."
SurvivorNetTV Presents: 'SN & You Turning To Faith'
Contributing: SurvivorNet Staff
Learn more about SurvivorNet's rigorous medical review process.
---