Mama-Wolf is back! Stage three lung cancer is a very serious deal, but now Ami Brown, 55, is back — strong, confident, and the "heart and soul" of the "Alaskan Bush People" reality show, and to prove it, she's featured as the only member of the wolfpack in a recent promotional push.
RELATED: Joy For Ami Brown As "Alaskan Bush People" Matriarch and Cancer Warrior is Guest of Honor At Son Gabriel's Intimate Second Wedding to Raquell Rose
Read More
"From hunts to homesteading, the heart and soul of the Wolfpack is mother Ami Brown. Watch a special Alaskan Bush People Sunday at 9 on Discovery and Discovery GO," the show's Instagram account wrote alongside the photo of Ami in her warm, fur lined jacket and hat amidst a snowy, outdoor backdrop.
"Looking so good Ami I could watch your show 24-7"
"Beautiful picture of Mama wolf"
"Grandma now!!! Congratulations Ami Brown!!!!!"
Son noah and his wife Rhain welcomed a daughter Elijah, after which many news sources said that Ami was getting in their way, and trying to "co-parent" a little too much. Dynamics like this, which are difficult to navigate for any family, can be even harder after a cancer diagnosis, when emotions have often become more poignant, and relationships have often been strained by the disease.
RELATED: Stressful Family Dynamics And Cancer– "Alaskan Bush People" Stars Bear And Raiven Call Off Engagement As Matriarch Ami Brown Recovers From Cancer Treatment
Because cancer can put such a strain on people who have been diagnosed as well as their families, we wanted to provide a little information about dealing with negative emotions during and after the disease.
Information about dealing with fear and negative emotions during cancer
Anxiety and fear are totally normal reactions to the news of cancer, and acknowledging these emotions can be therapeutic and important to the healing process.
"I think the most important advice I would give to someone who has just received a cancer diagnosis is to find people whom they find as a source of support. To allow themselves to go through all of the different emotional reactions to that news," said Dr. Susan Parsons, Director of the Center for Health Solutions/Center on Child and Family Outcomes at Tufts Medical Center, in a prior interview with SurvivorNet. Dr. Parsons did not comment on this case specifically.
"The anger, the frustration, the fear. The disappointment. Whatever those emotions are, figure out what's important to you and find those people that can help you realize that."
Dr. Susan Parons, Director of the Center for Health Solutions/Center on Child and Family Outcomes at Tufts Medical Center on dealing with fear and anxiety after a cancer diagnosis.
In times of frustration, it can be useful to a little bit of direction on specific ways to deal with it. A few of the most common ways to deal with fear and anxiety after a cancer diagnosis, that have helped people in the SurvivorNet community in the past, include:
1. Let your family and close friends know – and let them help. So many cancer survivors tell us they want and need support but are often too preoccupied to make specific requests. Urge those close to you to jump in with whatever practical help they can offer.
2. Keep a journal. It can be extremely cathartic to let those feelings loose on paper. Grab a pen and a nice journal and chronical your different thoughts throughout the day.
3. Join a cancer support group. There are groups in nearly every community offering opportunities to connect with others going through a similar journey. You'll learn incredibly helpful insight from others who can tell you about what to expect and how to stay strong on tough days.
4. Consider seeing a therapist. Ask your doctor to refer you to a therapist so you can discuss your fears and concerns in a safe space. Often, vocalizing your thoughts and feelings rather than internalizing them can provide relief.
Internet backlash for the Brown's move to Washington to seek cancer treatment
On a recent promotional tweet, she and her husband seem to be receiving a lot of grief for living in Washington, when the show is supposed to take place in the Alaskan wilderness, completely "off the grid."
RELATED: Alaskan Bush People's Ami Brown "Really Wants" Troubled Son Back in Her Life As She Recovers From Cancer– is it Safe?
"Still don't get why they are called Alaskan Bush People? They live in Washington State! They change names of shows all the time they even change the channel it airs on!" wrote one person who is seemingly disappointed with the direction show.
The answer to this question has to do with Ami's illness. Because of Ami's cancer, the family moved from their house on the Alaskan frontier in "Browntown," to a 435-acre property in the North Cascade Mountains of Washington State, where they'd be closer to civilization and to the medical care Ami would need.
The ridicule came after the show posted a photo of Ami and her husband Billy Brown, 66, with the caption "Welcome to Brown Town. #AlaskanBushPeople starts NOW."
Welcome to Brown Town. ????#AlaskanBushPeople starts NOW. pic.twitter.com/OMCO2ux5H1

— Alaskan Bush People (@AlaskanBushPPL) August 12, 2019
Other trolls called into question the integrity of the show in slightly different ways. "Do they actually live on their land? Also wondering why you never see the wives or girlfriends out there helping? If my guy was building us a home by hand, I'd be out there swinging a hammer too. As a sibling I'd ask where's your Bich man???"
But this wasn't the first time Ami had to deal with internet trolls. After some trolls inconsiderately called into question the veracity of Ami's claim that she had cancer, doctors from UCLA Medical center came forward to confirm the diagnosis.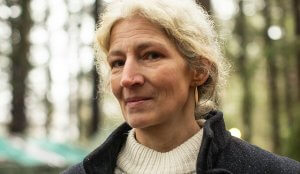 "Amora Brown was diagnosed with Stage III non-small cell lung cancer in April 2017," read the doctor statement in People magazine. "Treatment for her cancer included a four-month course of chemotherapy with radiation. Her disease responded well to the treatment, and, according to her UCLA oncologist Dr. Deborah Wong, she is now in remission.  Although her most recent scans show no evidence of cancer, "Amora will continue to be monitored closely by her medical team over the next several months," UCLA said.
Ami, whose was first diagnosed with cancer in 2017, has been declared cancer free. "It was very scary," Ami told People magazine about her cancer journey. "But I never gave up hope."
How is Lung Cancer Treated?
We don't know everything about Ami's case, but her treatment with chemotherapy and radiation is consistent with standard practices for stage three lung cancer. There are few types of stage three lung cancer, but the disease can be treatable.
Patients diagnosed with Stage 3 lung cancer have tumors that are not only in the lungs but have also spread to nearby lymph nodes. Depending on how advanced this spread is and the patient's health, doctors will choose some combination of radiation therapy, chemotherapy, or possibly surgery.
Dr. Keith Cengel, Radiation Oncologist at University of Pennsylvania on treatment for stage 3 lung cancer
Bone , PET, CT and MRI scans help doctors get an idea of how much the cancer has spread, and then make treatment decisions. If radiation is the treatment of choice, high energy beams are aimed at the cancer. This basically damages the DNA inside cancer cells, preventing them from growing or creating more cancerous tissue.
"There's the opportunity with aggressive therapy to try to cure the cancer," says Dr. Billy Loo, Jr., a radiation oncologist and bioengineer who leads the Thoracic Radiation Oncology Program at Stanford.
Learn more about SurvivorNet's rigorous medical review process.