Kathy Bates, a two-time cancer survivor who struggles with lymphedema, a side effect of her double mastectomy, has not let her health struggles get the best of her  — and she has award show nominations as proof.  And now, the inspiring actor has received a Best Supporting Actress nomination for "Richard Jewel," Clint Eastwood's film about the bombing at the 1996 Summer Olympics in Atlanta, Ga.
RELATED: Golden Globe Nominee Kathy Bates Tells SurvivorNet It's Hard to Even Hold Up a Book after Cancer Surgery
Read More
You "survive," Bates said of her health challenges in a 
SurvivorNet interview
late last year.  "And you need to stay in the moment and not define yourself by the disease."
In addition to being nominated by the likes of the Golden Globes, Critics' Choices Award and National Review Board — she snagged that win late last year — Bates has been getting a lot of love from her fellow actors. Tom Hanks shouted out a thank you to her as he accepted his Cecile B. DeMille award at the recent Golden Globes broadcast and, at the National Review Board fete last week, Adam Sandler, her co-star in "Waterboy," ended his Best Actor speech for "Uncut Gems" by shouting "I love you, Mama!" at Bates.
Sandler did not, however, receive a Best Oscars nod:
Bad news: Sandman gets no love from the Academy.
Good news: Sandman can stop wearing suits.
Congrats to all my friends who got nominated, especially Mama. pic.twitter.com/o1Ep3E7GRB

— Adam Sandler (@AdamSandler) January 13, 2020
Bates Cancer Journey
Bates, who won an Oscar for her starring role in "Misery," was diagnosed with stage 1 ovarian cancer in 2003. At the time, she was working on the movie "Little Black Book" with Brittany Murphy and the treatments made working extremely difficult, she says. But she notes, "I needed the payday [and] I wanted to work with her." She was on set three weeks after her surgery and continued working throughout her chemo treatments.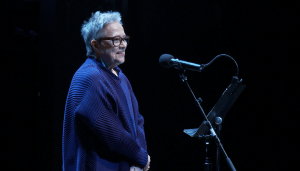 RELATED: 'One of the Lucky Ones' — Cancer Survivor Kathy Bates on Her Big Year
Among other side effects, she said, the treatment resulted in bowel difficulties. "When you're on set you don't want to have to be running to the restroom every time, so that was really hard," Bates says. "I lost patience with people when things would be draggy. You really can't do that on a movie set because things are going to go at the pace they're going to go and yelling about it isn't going to help."
Dr. Erin Salinas, a gynecologic oncologist at Compass Oncology, on why ovarian cancer is detected so late.
She also found post-chemo extremely difficult: "You come off of the steroids, and I just found that the hardest part," she says. "It was like detoxing. I was shaking, I couldn't talk, and I remember I had to go do a voiceover and it was just so, so difficult."
The cancer and her treatment, she says, "knocked the stuffing out of me."
If Kathy Bates doesn't win for @RJewellFilm, I'm gonna scream. Honest to god, one of the most moving performances on film I've ever seen – PERIOOOOD. #OscarNoms

— ????-???? ????✨???? (@iamJAMusic) January 13, 2020
Removed: Both Breasts and 19 Lymph Nodes
Bates ultimately beat her ovarian cancer, but then, in 2012, was diagnosed with stage 2 breast cancer. She underwent surgery to remove both her breasts — called a double mastectomy — as well as 19 of her lymph nodes, which is a common treatment method when breast cancer has spread beyond the breasts.
RELATED: 'I Was Just Falling Through Darkness' — Giuliana Rancic Opens Up About Her Breast Cancer Journey
One of the hardest parts of her journey has been lymphedema, a side effect of her surgery. Because cancer often spreads through the lymphatic system, lymph nodes are often removed. But extra lymph fluid can build up in tissues and causes swelling, usually in the arm and hand.
"I didn't want to have cancer … and I really don't want to have lymphedema," says Bates. The fallout was devastating, she reveals. "I was bitter, I was depressed," she shared. "I thought my career was over, I thought, 'There's no way, I'm done, everything is done.'"
Bates is now cancer-free, But the lymphedema lingers. And the condition, said Bates, can make easy things difficult. But "I feel blessed [to have the condition] because if I didn't, I wouldn't be in a position to use my celebrity to do something that can maybe help people."
RELATED: Actress & Survivor Kathy Bates: Value The Moment & The World Needs to Understand Lymphedema
Bates' challenges with lymphedema precipitated her involvement with Lymphatic Education & Research Network (LE&RN), for which she is now a vocal spokesperson and advocate for better lymphedema treatments.
She has seen progress, but would like to see more.
"It's been an uphill climb and it still is, but researchers are making progress. … It's very exciting — they think this is going to be the beginning in terms of finding better treatments," Bates said.
Understanding and Treating Lymphedema
One of the often-overlooked side effects of breast cancer surgery and radiation treatment is lymphedema. Lymphedema is a condition in which extra lymph fluid builds up in tissues and causes swelling, usually in the arm and hand. There is no cure but it's important that patients recognize the signs and get treatment as early as possible.
Dr. Dung Nguyen, Director of Breast Reconstruction at Stanford Medicine discusses surgical and non-surgical options for treating lymphedema after breast cancer surgery.
There are four stages, with treatment options ranging from compression garments, physiotherapy and exercise to different surgery methods including lymph node transfer and a technique called lymphovenous bypass. Once the patient has recovered from the surgery– and this typically takes a good year to year and a half– then that patient can become a candidate for procedures like lymph node transfer or the lymphovenous bypass procedure to help reestablish the lymphatic drainage system in the extremity.
Learn more about SurvivorNet's rigorous medical review process.
---