Along with all the Hollywood glimmer and glam you expect to see on the red carpet at this weekend's Emmys, some famous faces will also be using the platform to raise awareness and funding for childhood cancer research. Viewers can expect to see all their favorite TV stars — from the Game of Thrones cast (which nabbed 32 nominations this year) to the Marvelous Mrs. Maisel stars (the delightfully quirky series nabbed 5 nominations) — and here's something else to be looking for as the stars show up in their Tinseltown best: a small golden pin in support of St. Jude Children's Research hospital.
A Los Angeles based agency called Red Carpet Advocacy (RAD) is behind the push to accessorize the suits and gowns of the stars at this year's Emmys with St. Jude Children's Research hospital gold pins — the tiny adornments are meant to raise awareness and secure donations for childhood cancer research.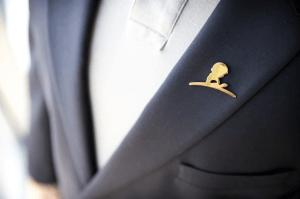 Read More
In an
interview with the Los Angeles Times
, RAD founders, costume designer/stylist Arianne Phillips and luxury marketing consultant Carineh Martin, said that they won't reveal before Sunday's Emmys who will be donning the awareness accessories, but they did confirm they were sending pins to celebrities and behind-the-scenes players alike throughout the month of September — which also happens to be Childhood Cancer Awareness Month.
RELATED: SIX REMARKABLE CELEBRITY CANCER SURVIVORS UP FOR EMMYS IN 2019
"We have a lot of enthusiasm from the nominees and the presenters that will be there [at the Emmys]," Martin told the LA Times. "You'll see the pins not just at the Emmys but around town."
In an interview with The Hollywood Reporter, Martin added, "Who doesn't want to help by simply wearing a pin or saying a few words about a nationally beloved organization that's finding cures and saving children's lives? It's organic and it's purposeful."
How Will The Campaign Help Kids With Cancer?
While advocacy is great — and so important — a lot of people may be curious about how this type of campaign actually raises money for kids with cancer. The goal with the campaign is to raise awareness — many millions of people will tune into the Emmys — and ideally, many people will be moved to donate when they see their favorite star or stylist donning a St. Jude gold pin.
Tune in Sunday to see some of our celebrity friends support the kids of St. Jude on the red carpet! https://t.co/vJpy7cI56f

— St. Jude (@StJude) September 18, 2019
St. Jude has a unique fundraising model. The Memphis, Tennessee, hospital operates with the goal of advancing our understanding of pediatric cancers, and defeating these diseases. Families that seek care at St. Jude are not billed for treatment, housing, or food — so the treatment and the research the hospital provides are made possible with charitable donations. According to the hospital's financial report, about 8,500 children pass through the doors seeking treatment every year from all over the country, and all over the world.
The hospital also spells out clearly on their website how donations are divided up. "For the past seven years, 82 cents of every dollar received has gone to support the treatment, research and future needs of St. Jude. The majority of funds needed to operate and sustain St. Jude must be raised be generous donors, but we also receive some revenue from insurance recoveries, research grant funding and returns on our investments. When you look at total revenue, ALSAC [the hospital's fundraising and awareness organization] and St. Jude are proud that 82 cents of every dollar received has gone to support patients and research at St. Jude today and in the future," the website reads.
Advocacy campaigns like this are important because a lot of people simply don't know about the dangers or the prevalence of childhood cancer. St. Jude has also done its part to partner with celebrities in the past as a means of getting their message out. Actresses like Jennifer Anniston and Sofia Vergara — a cancer survivor herself — have lent their voices to the cause, as has football star turned Good Morning America host Michael Strahan and "Despacito" singer Luis Fonsi.
Learn more about SurvivorNet's rigorous medical review process.