For a lot of people dealing with cancer, one of the major challenges is finding great care, and for a lot of people, that can mean having to relocate or spend a lot of time in somewhere totally new, all while dealing with the pain of a cancer diagnosis. That's exactly what happened when the Oakley family found out that their beautiful three-year-old Eleanor had stage four neuroblastoma. After moving once for cancer care, this family is hoping move again, this time half way across the world from Australia to the US, to find a clinical trial for their daughter.
RELATED: "I Have Everything I Need"– The 8-Year-Old Girl Who Gave Away All Her Birthday Presents After Cancer
Read More
Eleanor's journey began in Tasmania, an island state off the coast of Australia, where she was first diagnosed with neuroblastoma. Within two days, she was being transported to Melbourne in mainland Australia for treatments at the Royal Children's Hospital. Her family moved to Melbourne so that she could receive the care she needed.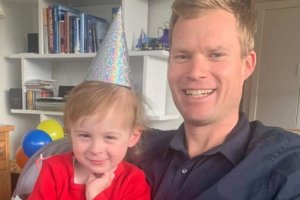 After surgeries, stem-cell transplants, and several rounds of high-dose chemotherapy, the Oakley family wasn't having much luck with the treatments, "She was in intensive care on life support after the chemotherapy overwhelmed her lungs," Mrs. Oakley said.
By April, Eleanor had pulled through and was doing okay, but shortly there after, the Oakleys learned that Eleanor's cancer had returned, her new diagnosis called a central nervous system (CNS) relapse of neuroblastoma.
The family has moved to Melbourne again, not knowing if they'll be able to return to Tasmania, "Up until last week we didn't have a set plan about how to treat her latest tumour," Mrs. Oakley said.
RELATED: Congrats, Grad! Beyonce Howells, Who Survived Early Life Cancer, Graduates High School With Her Mom At Her Side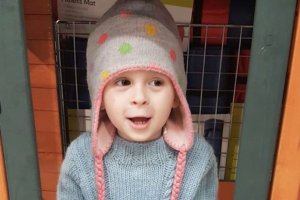 Now, the family is hoping to get Eleanor into a clinical drug trial for the 8H9 antibody treatment in the United States. They are still raising funds, but because the drug isn't available in Australia, the family is hoping to move as soon as possible.
Information about clinical trials
A lot of treatments for cancer are still in clinical trials, and are available only for patients without any other options available, such as patients with stage four, relapsed cancer, who have exhausted other options.
The concept of clinical trials may seem daunting but when it comes down to it, they are the best way researchers have to test new strategies, treatments or devices to find out if they are safe and effective.
Dr. Ben Neel, Director of the NYU Perlmutter Cancer Center on why he'd choose a clinical trial for himself
Considerations include the specific characteristics and stage of your cancer and your medical history (including past treatments for cancer), as well as the potential risks and benefits of this trial in your specific case. The National Cancer Institute lists all cancer trials here.
A lot of the therapies being tested in clinical trials will fail. However, participants in clinical trials are statistically more likely to have better outcomes, according to the Director of NYU Perlmutter Cancer Center, Dr. Ben Neel. Among the large group of clinical trials that are currently underway, there will be some dramatic successes.
Information about childhood neuroblastoma
Neuroblastoma accounts for about seven to 10% of all pediatric cancers in the United States with about 800 new cases identified each year. It accounts for more than 50 percent of cancers diagnosed under the age of one, according to the Children's Hospital of Philadelphia.
Neuroblastoma develops from nerve cells in the fetus, and often affects the small glands above the kidneys called adrenal glands, but can be found in other locations such as the abdomen, chest, neck or spine. The most common primary sight is the abdomen. Some forms of this cancer will spontaneously disappear on their own, but for most children, treatment such as surgery and chemotherapy and/or radiation is required.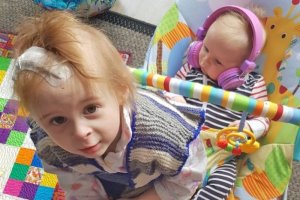 Signs of neuroblastoma vary depending on the size of the tumor and on whether the tumor has spread. If the child has a tumor in the abdomen, they may experience bellyaches, weight loss or a bigger abdomen. Some children only complain of general aches and pains.
For children with what's called "low-risk disease," who are diagnosed under the age of one or who have only small, easily removable tumors, usually undergo a simple surgical procedure with careful follow up.
Children with what's called "Intermediate-risk disease," meaning the tumor is larger and has not spread, or is a baby whose cancer has spread, treatment usually includes a combination of surgery and chemotherapy.
About half of neuroblastoma patients have high-risk disease, either because the tumor has spread to other parts of the body or because test results show high-risk features. For children with this level of risk, treatment may include a combination of chemotherapy, surgery, and radiation therapy including proton therapy, as well as high-dose chemotherapy followed by his or her own stem cell rescue. It may also include immunotherapy, which uses the body's own immune system to fight the disease.
Learn more about SurvivorNet's rigorous medical review process.