Knowledge is Power
Giuliana Rancic, 46, was diagnosed with breast cancer in 2011 when she was 36 years old.
The TV host recently took to Instagram to reflect on her emotional journey, and reminds others facing a cancer battle to stay informed and be your own advocate.
Rancic had a double mastectomy, the removal of her breasts, with reconstruction; A top expert explains the options you have while going through this procedure.
Veteran TV host and entrepreneur Giuliana Rancic is a breast cancer survivor. Like many survivors, it's hard not to reflect back from time to time—or even all the time—on the challenging, and often emotional, journey you went through.
Related: Survivor Giuliana Rancic's Advice for Those Living With Cancer, from Not Being Intimidated to Thinking Ahead
Read More
Rancic, 46, posted an important reminder for people facing a breast cancer diagnosis, which can also serve as advice for those going through a similar battle: "When it comes to your breast cancer journey, it is incredibly important to be informed and know what options are available."
The fashion designer was diagnosed in 2011 when she was 36 years old. She had a double mastectomy, which is when you have both breasts removed.
Related: 'I'll Swim Topless': Comedian Tig Notaro On Owning Her New Body After Double Mastectomy
"It was such a challenging time in my life and I'm incredibly grateful for the great care I received that not only allowed me to move on from my diagnosis but also to have various options to determine what was best for me and my situation," she wrote.
"For those facing a similar journey today, know that I stand with you," she continued in the uplifting post. "Thankfully, there have been so many important advancements in breast cancer treatment over the years and more support and resources than ever before."
View this post on Instagram
Be Your Own Advocate
Rancic recommends getting a second opinion, which most doctors should encourage. If they don't, then you should definitely get a second opinion.
"If you can go for multiple opinions, absolutely [do]," Rancic urged in a previous interview with SurvivorNet. "I think what happens [is], you hear the first thing, 'This is what you have, this is the treatment you're going to get.' But go to a second opinion, and as many opinions as you can get, because there are different options."
Related: Cancer Research Legend Urges Patients to Get Multiple Opinions
For Rancic, those questions also involved asking about fertility preservation, since she and her husband, entrepreneur Bill Rancic, 50, were trying to conceive before she was diagnosed with cancer — and were still hoping to have a child after getting through the cancer journey. Because their fertility options were discussed upfront, the couple was able to have their son Duke, now 8, after Rancic finished treatment, via surrogate.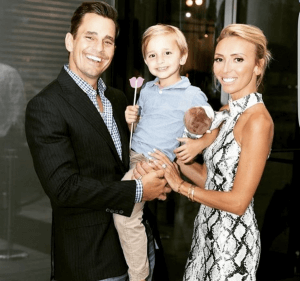 Besides cancer, there are many conditions that can affect your ability to get pregnant, so being aware and potentially freezing your eggs just to be cautious is rarely a bad idea. It's best to speak with your doctor about your options and what may be best for you.
'Ask Any Question That's on Your Mind': Giuliana Rancic Talks Advocating for Yourself and Having Kids After Cancer
Options After a Mastectomy
Getting a mastectomy or double mastectomy during or after a cancer battle should be carefully decided by you and your team. Often, your doctors (and this is when multiple opinions will come in handy!) will know what is best depending on the type of breast cancer you have, your family history, and other determining factors.
Related: 3 British Breast Cancer Survivors Band Together and Proudly Share Their Post-Mastectomy Bodies with the World
Although Rancic does not have a family history of breast cancer, she and her medical team decided to have the procedure, along with reconstruction after. Many women these days are choosing not to have the reconstruction and go "flat," and there is an empowerment in that as well.
For those who will be having reconstruction after mastectomy, Dr. Andrea Pusic, chief of plastic surgery at Brigham Women's Hospital, explains the two options to SurvivorNet.
"Implant reconstruction can be done either in two steps, which you call that the tissue expanders implant reconstruction, or we put the implant in at the same time, which is called direct implant," Dr. Pusic says.
Implant Reconstruction After a Mastectomy The Options
So talking first about tissue expanders implant reconstruction, "at the time of the operation, we put a tissue expander in at the same time as the mastectomy surgery is being done, or perhaps we're coming back for delayed reconstruction and putting the tissue expander in there. The tissue expander is like a breast implant that goes in almost empty, Dr. Pusic explains. "It's like a breast implant that goes in deflated with a little valve, that then we can gradually fill it over time.
Related: To Reconstruct or Not: After Mastectomy, Two Women Take Very Different Paths
Starting about two weeks after the mastectomy surgery, they would start "the expansions."
"The other approach to implant reconstruction would be to place the implant at the same time as the mastectomy, called direct implant," she says. "The patient that is an ideal candidate to that is a patient who has quite small breasts because, in that situation, we're putting in a small implant and we're not going to put a lot of pressure on the skin."
It is best for you to carefully go over all scenarios with your medical team to make the right decision for you.
Learn more about SurvivorNet's rigorous medical review process.