Alex Trebek's battle with cancer has not crushed his generous spirit. The "Jeopardy!" host, who since going public with his stage 4 pancreatic cancer diagnosis has become a spokesperson for awareness about the disease, took time at the start of the show's Tournament of Champions this week to honor Larry Martin, who won the tournament in 2018 and who passed away this year from the same disease.
We opened today's show with a special message about last year's Teachers Tournament champion, Larry Martin. The donation will be going to the Fred Rogers Center. ???? #TournamentOfChampions pic.twitter.com/uBauQzVP6E

— Jeopardy! (@Jeopardy) November 5, 2019
Read More
"Larry was not only a good player, but he was really, really popular with our fans here in the studio, with fans nationwide and with all of his fellow competitors," the 79-year-old Trebek said on the show. "He will be severely missed."
The host and the show's contestants also donned purple ribbons in Martin's honor. Tournament of Champions contestants will wear the purple ribbons for the duration of the competition, which runs from Nov. 4 to Nov. 15.
The tribute comes just a few days after Trebek released a public service announcement to spread awareness about the disease for World Pancreatic Cancer Month.
In the PSA, Trebek says that pancreatic cancer is notoriously difficult to treat, and encourages people to be vigilant about monitoring their health.
"I wished I had known sooner that the persistent stomach pain I experienced prior to my diagnosis was a symptoms of pancreatic cancer," Trebek says in the video, which was shared by the World Pancreatic Cancer Day YouTube page. He went on to list some other symptoms: "Mid-back pain, unexplained weight loss, new onset diabetes and the yellowing of the skin or eyes."

Alex Trebek's Cancer Battle
Unfortunately, pancreatic cancer is often diagnosed in later stages, when it's difficult to treat. Stage 4 pancreatic cancer has only a 3% five-year survival rate, and most patients diagnosed with the disease will pass away within 3-6 months. Trebek announced his diagnosis in March, meaning he's defying the odds. He initially responded quite well to treatment, but in September Trebek announced a reversal of his initial positive results.
In an interview with "Good Morning America," Trebek shared that he would be undergoing another round of chemotherapy after recent tests revealed "sky-high" numbers, and he had experienced rapid weight loss.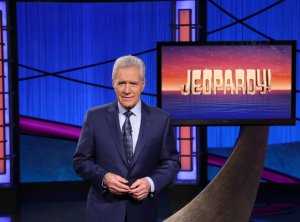 With the latest results, his doctors decided that more chemotherapy was needed. In a recent interview with SurvivorNet, Dr. Dana Simeone, Director of the Pancreatic Cancer Center at NYU Langone's Perlmutter Cancer Center, said that the dramatic change in treatment response Trebek experienced is not uncommon for people with pancreatic cancer.
"Recurrence following what was considered successful treatment is, unfortunately, all too common," Dr. Simeone said.
Despite the setback, Trebek continues to host "Jeopardy!" and  to carry himself with an amazingly positive attitude.
In a previous interview with SurvivorNet, the World Pancreatic Cancer Coalition in a statement said that Trebek's dedication to spreading awareness is having an incredible effect. The more people are aware of what to look for with this incredibly difficult disease, the better the chance that people will be diagnosed earlier, when the disease is much easier to manage.
Learn more about SurvivorNet's rigorous medical review process.