A superfan of singer Chris Young has inspired cancer survivors everywhere by rocking out at the country musician's concert a day after chemo.
The woman, 55-year-old Donna Keith from Cincinnati, Oh. — whose moment in the spotlight has gone viral thanks to the musician descending the stage to hug her — had held up a sign that read "Chemo Yesterday, Chris Young Today."
Read More
Young was in the middle of singing his love song, "Who I Am When I'm With You," when he spotted the sign. He then went into the audience, put his arm around Keith, and the two of them sang the chorus together. The audience burst into applause when he held up the sign for everyone to see.
The video of the touching moment, posted to Chris Young's Facebook page, has since received many thousands of likes, shares, and comments, the vast majority of which are filled with support and prayers for Keith as she faces cancer head-on.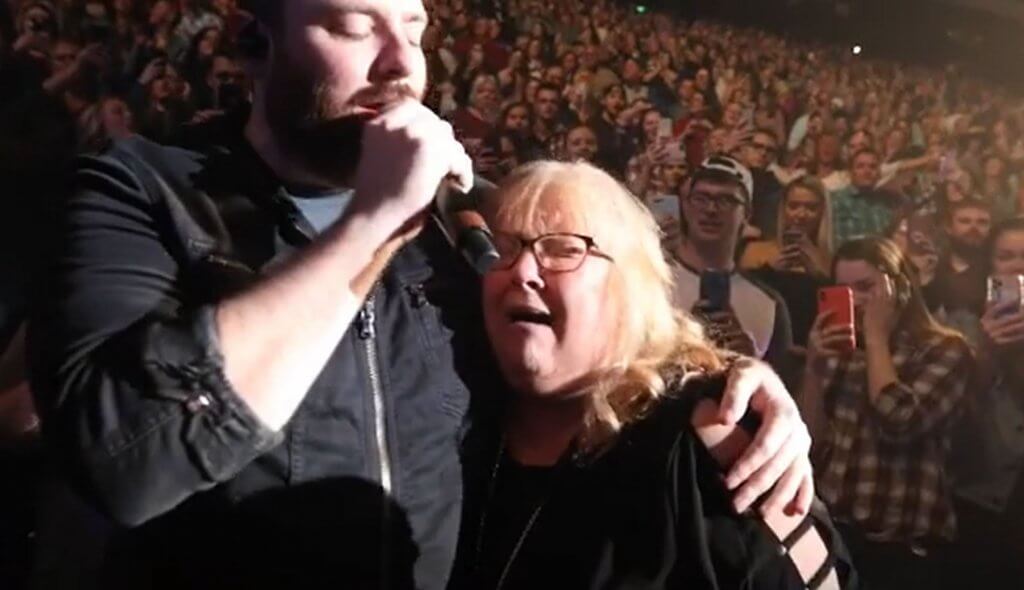 The most poignant of these comments was one posted by Mandi Hoffman, Keith's daughter "That's my mom!!" she wrote. "Thank you so much for making her night! We will never forget that moment!!"
Hoffman told SurvivorNet that her mother had been diagnosed in April with a blood cancer called Acute Promyelocytic Leukemia (APL) and had been receiving chemo five days per week while still continuing to work full-time.
"She's a fighter and we're all so proud of her!" Hoffman said.
In response to Hoffman's post on the video, many Chris Young fans shared their own stories about going through chemotherapy, and those who could speak to the experience — whether their own or their loved ones' — acknowledged how much strength it must have taken for Donna Keith to attend the Chris Young concert.

RELATED: Rock Band Imagine Dragons Wants to Help Families Facing Childhood Cancer — It All Started with the 16-Year-Old Fan Who Would Listen to The Band During Chemo
"My stepmom had cancer and went through chemo," one commenter wrote. "The strength it took for your mom to be at the concert!! My family's prayers with you and your mom."
Living with Chemotherapy: Side Effects Vary
Many members of the SurvivorNet community tell us that one of the hardest parts of chemotherapy is the accompanying fatigue. The side effects of chemotherapy vary significantly from person to person — and can depend on the specific type of chemo drug used. Chemo-related exhaustion can, for some people, get in the way of someone's ability to work, socialize, or attend events. For others, the treatment's side effects may not be as bad as anticipated. The feelings can vary throughout the course of the treatment cycle, too.
Dr. Scott Rushing of Compass Oncology spoke with SurvivorNet about the varying levels of fatigue people may face during chemotherapy treatment. 
"I do tell patients that towards the end of their six cycles, they may not feel quite as spunky at the end of [the first] three weeks because there is a cumulative effect of the chemotherapy," Dr. Scott Rushing, a gynecologic oncologist and surgeon at Compass Oncology in Portland, Ore., told SurvivorNet in a conversation about the effects of chemotherapy.
"Patients will then, when they're done with chemo, they'll just keep getting stronger and stronger. And a month or two after their last chemo, they're back at usually their normal energy level and are able to go about their life again after the interruption of being treated with chemo."
Learn more about SurvivorNet's rigorous medical review process.
---