When it comes to chemotherapy, side effects such as hair loss, nausea and fatigue tend to get the most attention. Far less talked about is how the treatment can also cause side effects in the mouth, ranging from sores and sensitive teeth to swelling of the tongue.
"Your tongue starts to feel super wrong, kind of like you put it against a shredder or something," says Dr. Danoosh Amrooei, a breast cancer survivor and dentist at Monaco Dentistry in Apollo Beach, Fla., who's now on a mission to help others mitigate the painful dental side effects of chemotherapy with the help of her dental care packages.
Read More
RELATED: What Are the Side Effects of Chemotherapy?
"Depending on the chemo, your side effects could be better or worse," Dr. Amrooei tells SurvivorNet. "But I know with the chemo that I underwent that you get really sensitive teeth and gums … even something like brushing your teeth becomes really painful."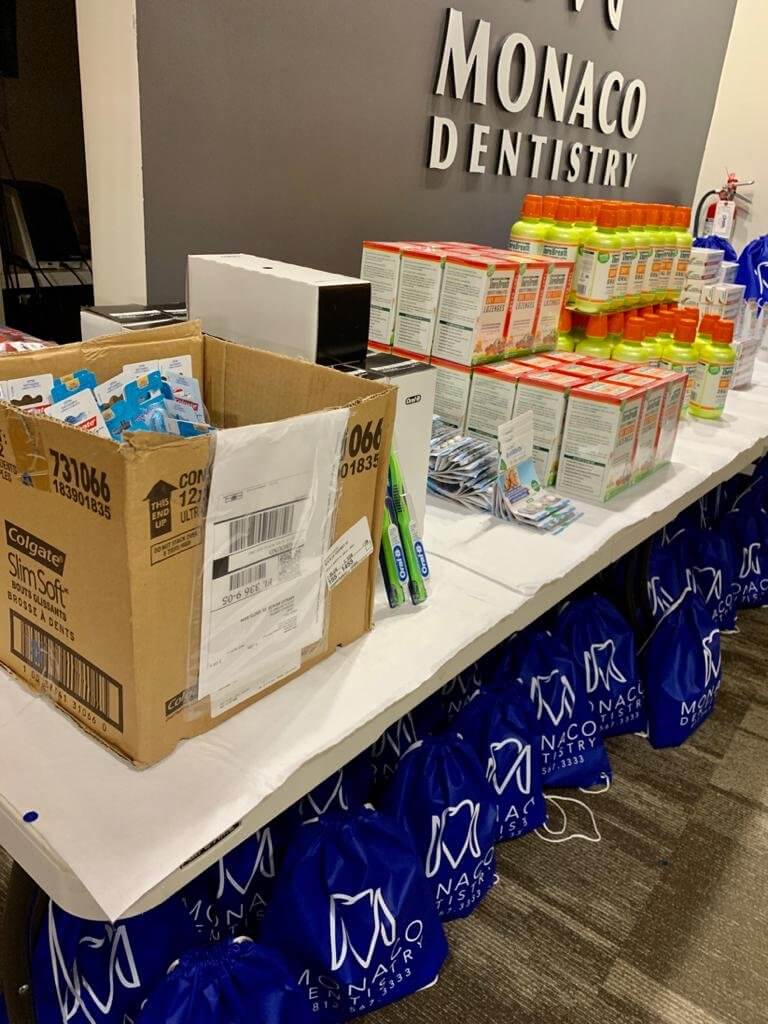 Dental and Oral Side Effects of Chemotherapy
According to The National Institute of Dental and Craniofacial Research, people in chemotherapy often experience:
Sensitive or painful teeth and gums
Burning, peeling, or swelling of the tongue
Dry mouth
Taste bud alterations
Infection
RELATED: Good News: Acupuncture May Offer Relief for Radiation Dry Mouth
Many of these painful side effects occur because of the way chemotherapy drugs work. The drugs target and killing fast-dividing cells — including cancer cells — but in the process, they can kill non-cancerous ones as well. The fast-dividing cells inside the mouth, such as the linings of your gums and cheeks, often fall in the chemo drug's line of fire. This can result in inflamed gums and mouth sores.
RELATED: "Chemo Nails"– An Unpleasant Side Effect for Breast Cancer Patients that No One Wants to Talk about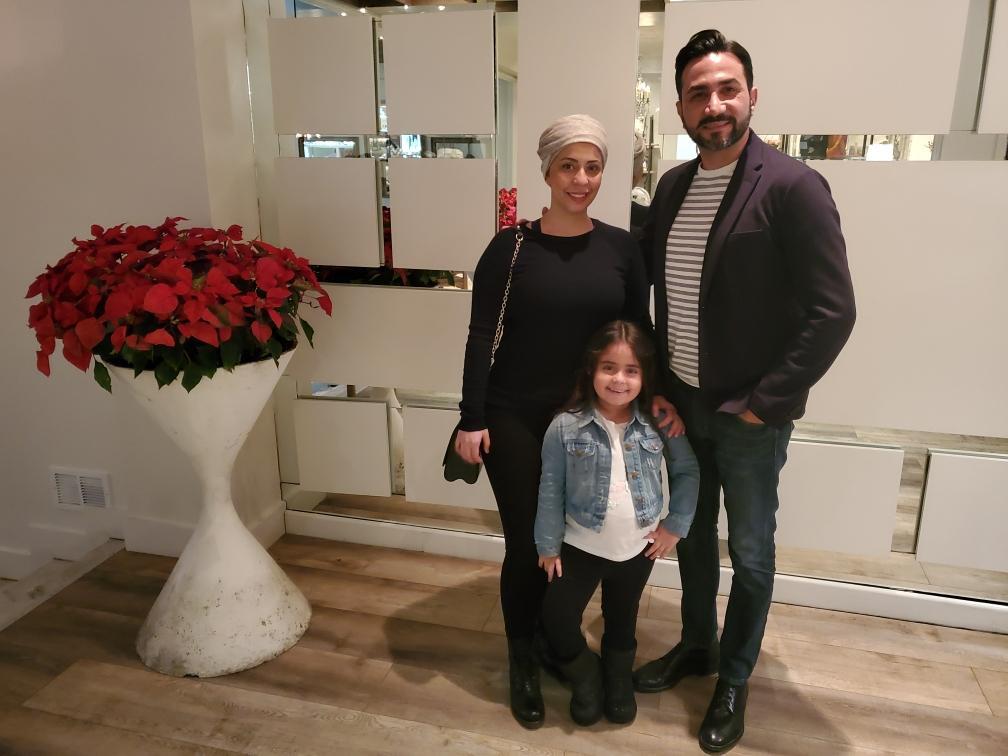 A Dental Care Package Anyone Can Create
Dr. Amrooei, diagnosed with stage 2 breast cancer in June, had six rounds of chemotherapy before she could undergo surgery. It was during the very first round that she began to feel intense pain in her mouth when she brushed her teeth.
RELATED: Does Dental Floss Cause Cancer? No. Debunking the Fake Health News
"We [dentists] always promote electric toothbrushes," Dr. Amrooei says. "So I have our Oral B and I have a Sonicare and I brush with those … and [during chemo] I was like, 'Oh my God, this is killing me.'"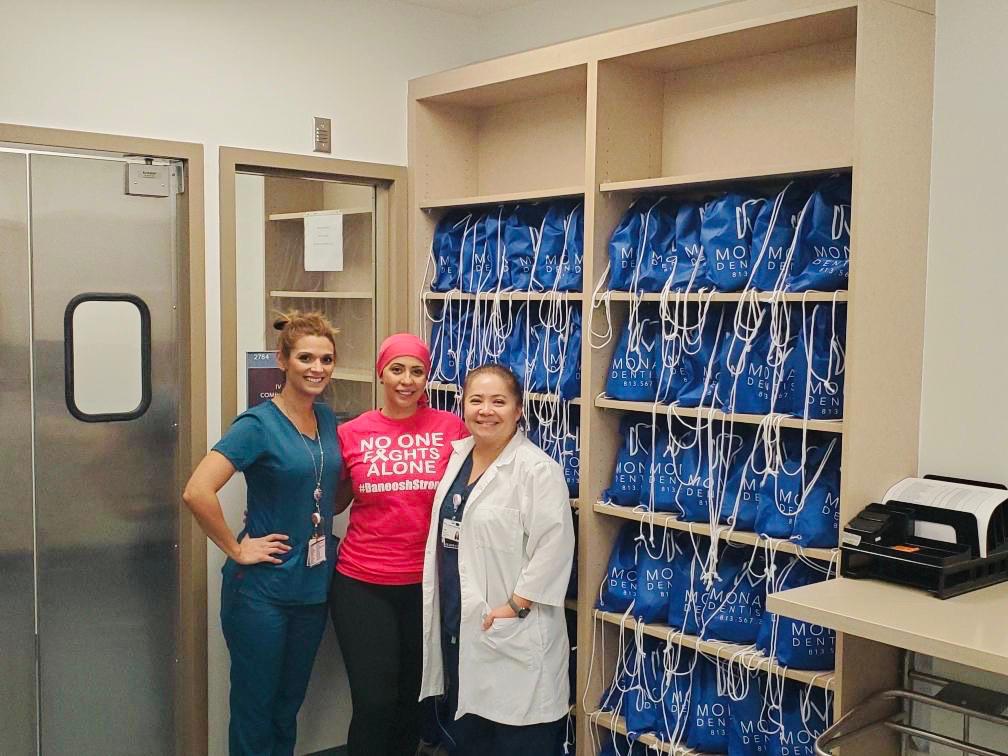 "I realized, 'Wow, this is really serious,'" she continues. "Most people probably aren't thinking about their mouths … they're thinking about their lives.'
And "by the time people start to feel these symptoms in their mouths," Dr. Amrooei adds, "they're probably too tired or their brain is foggy and they can't even think about rearranging their dental hygiene."
So Dr. Amrooei decided to create dental care packages for others going through chemo. Through a combination of the samples sent to her dental office and generous donations, she created 500 packages filled with products that she's donating to patients at the St. Joseph's Hospital in Riverview, Fla. (where she herself is being treated). Each package is filled with:
An extra-soft toothbrush
Two different types of toothpaste meant for sensitive teeth and gums
Several products meant to help with dry mouth, including lozenges and something called  Xylimelt, an over-the-counter adhesive that sticks to the teeth or gums to coat the mouth with lubricants and stimulate saliva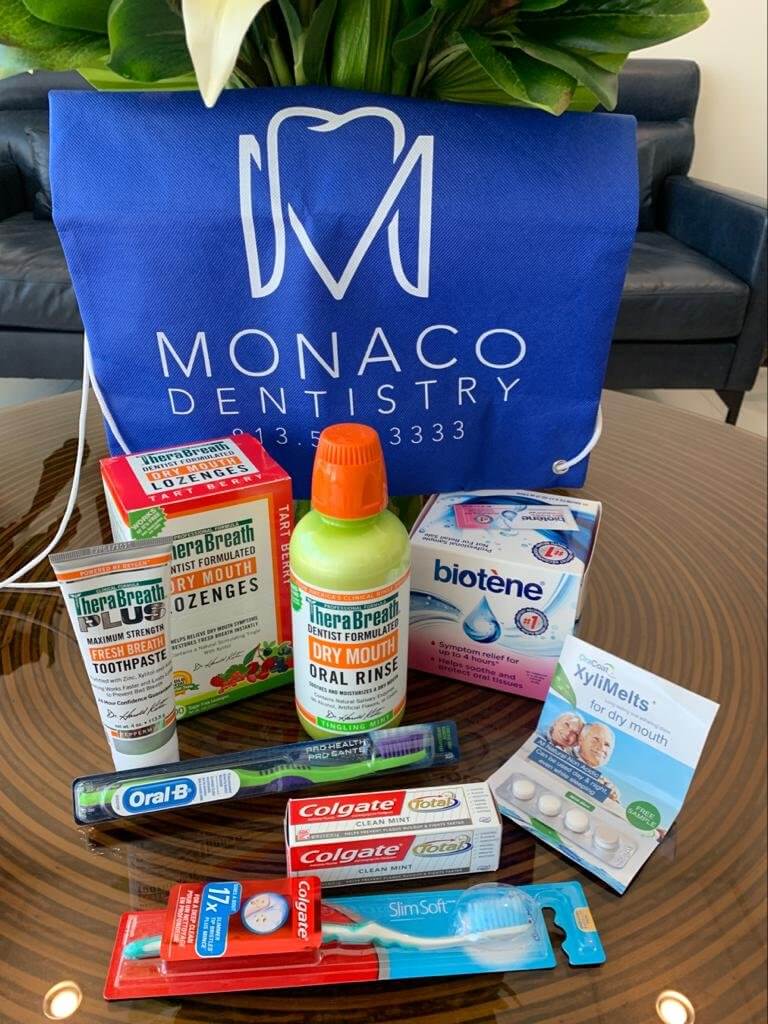 Of the products in her kits, Dr. Amrooei says her personal favorite — and the product that's helped her most during her treatment — is the extra-soft toothbrush.
"It's the best thing," she says. "A lot of people don't know that there are extra-soft toothbrushes. They think there are just soft, medium, and hard." (A quick online search will reveal a variety of options.)
Dr. Amrooei, who took a partial break from her dental work while she was in chemo — she was afraid that another chemo side effect called neuropathy, which causes a loss of feeling in the fingers and toes, could put her patients at risk — says the care packages, along with videos she's been sharing on a YouTube channel, "Chemo Talk," are her way of helping others during her own difficult cancer journey.
The Importance of Keeping Your Mouth Clean During Chemo — Even When It Hurts
Because chemotherapy can affect your immune system, making potential bacterial infections in your mouth all the more serious, it's especially important for people going through chemo to stay on top of their oral hygiene. (Additionally, dry mouth can have the effect of accelerating tooth decay.)
Dr. Christina Wood, a dentist at Willamette Dental Group in Portland, Ore. told SurvivorNet that when it comes to preventing cavities and periodontal (gum) disease during chemotherapy, the best bet is preventative care, meaning before treatment begins. "Try to get dental treatment completed before chemotherapy, if possible, Dr. Wood says, explaining that after chemotherapy, doctors usually recommend avoiding dental work for 1-2 weeks, during which time patients are usually most vulnerable to infection, and can bruise and bleed more easily.
If you go see your dentist before chemo starts, you may be able to have fluoride trays, Dr. Wood added. "These provide a high dose of fluoride for your teeth to help increase mineralization of the enamel [strengthen the teeth] and prevent mucositis [painful mouth inflammation]."
Dr. Amrooei and Dr. Wood shared several additional tips to keep mouths clean during treatment and to minimize any pain:
Try to have a dental exam and teeth cleaning before chemo starts
Steer clear of mouthwash with alcohol in it; this can be extremely painful for sensitive gums and teeth
You might want to stay away from spicy and acidic foods, which can exacerbate pain
Try eating foods that can soothe the mouth, such as dairy items
Keep two or three different toothpaste options on-hand; as your tastebuds change during chemo, certain toothpaste flavors you previously enjoyed might suddenly be unappealing
Steer clear of whitening toothpaste, which has more grit in it — this can further irritate the gums
If your treatment is making you vomit frequently, try mixing 1/4 teaspoon of baking soda with 1/8 teaspoon of salt and 1 cup of warm water as a mouth rinse; this can help make your mouth less acidic, which can protect the enamel on your teeth
Learn more about SurvivorNet's rigorous medical review process.
---