How Iconic Actress Mary Tyler Moore Beat Her Brain Tumor
Actress Mary Tyler Moore passed away at age 80 on January 25, 2017, due to cardiopulmonary arrest complicated by pneumonia.
In 2011, Moore had a benign brain tumor called a meningioma and underwent surgery to treat it.
Symptoms of a meningioma include vision changes, hearing loss, loss of memory, seizures, headaches, and weak arms and legs.
Mary Tyler Moore, who passed in 2017, was the beloved actress best known for her work on her eponymous TV show,
The Mary Tyler Moore
Show
, which was credited with inspiring a generation of women to go after their dreams.
The brain tumor survivor's work had a broad and powerful impact. Oprah has spoken about the show's profound impact on her. When Moore passed, Oprah told People magazine, "Mary Tyler Moore majorly influenced my life and career.  I respected and admired her business acumen, her passion and compassion for all life, and most importantly, the values espoused through her storytelling.  I thank her for being a light that shined so brightly, it let me see myself in her."
Read More
The critically-acclaimed and popular sitcom ran for seven years from 1970 to 1977. Moore portrayed a young career woman living in Minneapolis and working as a producer on an evening news program on the area's lowest-rated news station.
Related: Remembering 'The Mary Tyler Moore Show' Star Ted Knight Who Died from Cancer 35 Years Ago at 62 Years Old
Moore died on January 25, 2017, at age 80 from cardiopulmonary arrest complicated by pneumonia. She passed away at Greenwich Hospital in Greenwich, Connecticut.
Mary's Brain Tumor & Health Battles
The Dick Van Dyke Show actress also battled a brain tumor in 2011. She had surgery to remove a meningioma, which is a benign brain tumor located at the meninges (membranes that line the brain and the spinal cord). "At the recommendation of her neurologist, who has been monitoring this for years, and a neurosurgeon, Mary decided to proceed with this fairly routine procedure," Moore's representative told People magazine.
Related: Halle Berry, 54, Says Bone Cancer Scare & Diabetes Makes Her Extra Cautious During COVID-19
Symptoms of a meningioma include vision changes, hearing loss, loss of memory, seizures, headaches, and weak arms and legs. As a result of her type 1 diabetes, Moore endured declining vision later in life. Moore had heart and kidney trouble later in life, too.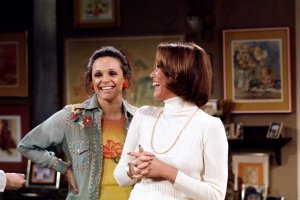 Related: Many Women Say They're Drinking More During Pandemic, 70% Don't Know Alcohol Increases Cancer Risk, According to SurvivorNet Survey
Despite her health issues, Moore remains a role model and a great example of someone who overcame an addiction to alcohol and thrived in life well into her later years. Her legacy lives on through her vast history of entertainment work and advocacy.
Does Alcohol Impact the Risks for Colon and Other Cancers?
Understanding Brain Tumors
Brain tumors can result from brain cancer and other cancers, particularly when cancer metastasizes, or spreads. Cancer can spread from different areas of the body – such as the lungs or the breasts – and affect the brain, too. Metastatic cancer is often called "stage four," and treatment options can be more limited at later stage diagnoses for cancer.
Related: Tom Parker, 32, of 'The Wanted,' Finds Joy In Life's Simplest Moments During Brain Cancer Battle; Shares Adorable Photos of Little Ones
Dr. Melanie Hayden Gephart, a neurosurgeon at Stanford Medicine, explained the spread of cancer to SurvivorNet in a previous interview. She said, "Lung cancer is one of the most common types of tumors to metastasize to the brain. I think the key is that if we can minimize the side effects of the treatment, that's our main goal, and provide effective treatment of the brain tumor. That frequently looks like a combination of systemic chemotherapy, or targeted therapies, focused radiation, and surgery."
Related: Jill Biden's Emotional Response to Losing Stepson, Beau, to Brain Cancer Is Relatable to Moms Everywhere: 'How Do You Make a Broken Family Whole?'
Dr. Hayden Gephart said that certain factors are at play when looking at treatment options. "Surgery's indicated if the tumor is over a certain size, is otherwise limited, and if the patient has a significant neurologic deficit that is associated with that tumor itself," explains Dr. Gephart. "Focused radiation is ideal if there's a small number of small-volume tumors. Whole-brain radiation is indicated if the patient has failed other mechanisms of systemic treatment and has too many tumors that could be treated with focused radiation."
Related: Actress Emily Tyra Was Diagnosed With Brain Cancer, Got Married, And Was Back On The Stage In Less Than A Year
Treatment options for brain tumors are possible. Dr. Gephart says, "Sometimes when patients are diagnosed with metastatic brain tumors, right at the initial time of diagnosis where they're treatment-naive– have not seen any treatments– if they have a particular mutation and can get targeted therapy, even the brain metastases can respond well to systemic chemotherapy."
When Lung Cancer Spreads to the Brain
Learn more about SurvivorNet's rigorous medical review process.