Laughter Through Challenges
British model Cara Delevingne, 30, who lives with psoriasis, shared a video suggesting that laughter is helpful through tough times.
Psoriasis is a chronic skin condition that is characterized by itchy, red, sometimes scaly patches that show up on the skin.
Delevingne is an example of persevering through health challenges and prioritizing your mental health along the way.
Psoriasis is a chronic disease, which means there is no cure for it.
Stand-up comedian Jesus Trejo agrees laughter can heal pain, saying, "The effects of it just reverberate through your body, and can change an already bad situation into a better one."
And Dr. Dana Chase, a Gynecologic Oncologist at UCLA Health, says emotional health is associated with better quality of life through a health challenge.
We love supermodel Cara Delevingne for shining a realistic and comforting light on her battle with psoriasis, a chronic skin condition that is characterized by itchy, red, sometimes scaly patches that show up on the skin. And when it comes to her mental health, she's an example of persevering in the face of challenges.
The 30-year-old British model and actress took to her Instagram this week to share a video of herself mouthing her lips silently to match prerecorded audio about being "funny."
Read More
"People be like, 'Damn, you're so funny!' And I'm like, Thanks! It's Trauma," the "Paper Towns" actress, seen without makeup and appearing to be lying in bed, mouths as the audio plays the words.
Delevingne captioned the post
, "Laughter is the best medicine"  — a phrase that coincides with our SurvivorNet experts' advice.
RELATED: 'Laughter's Always Been The Best Medicine' — After Cancer Treatment, Shannen Doherty Laughs Her Way Through Recovery
It's clear that finding joy in life is always a good thing. And when it's prioritized through life challenges, it's been shown to help people cope with their emotions.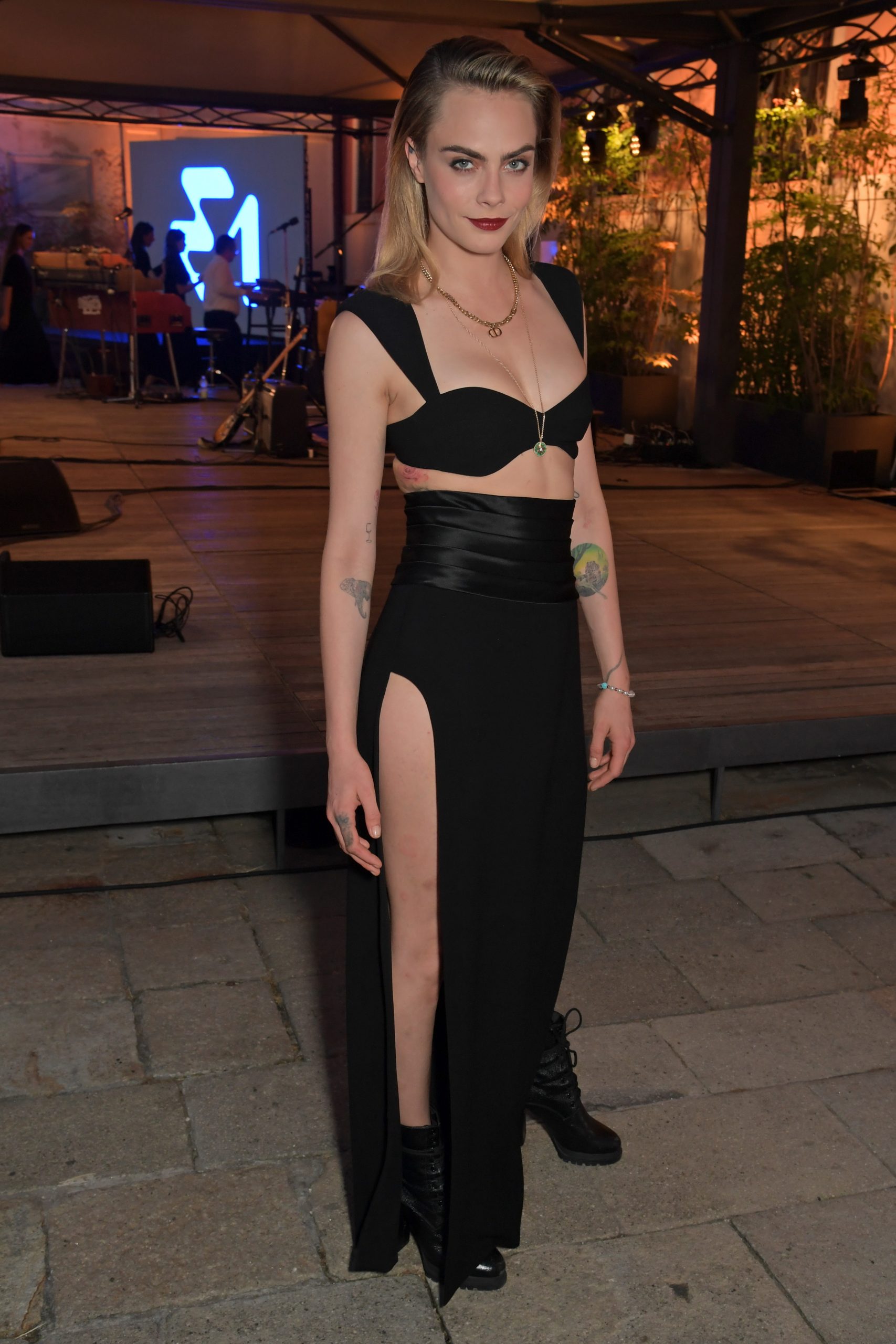 Delevingne, who occasionally takes to Instagram to share herself making funny faces, is an inspiration to anyone dealing with psoriasis as often puts her outbreaks on public display.
For example, photos from the 2022 Met Gala showed Delevingne's psoriasis was clearly visible on her elbow area.
RELATED: Cara Delevingne Isn't Ashamed To Show Scabs On Her Legs As She Enjoys Beach Time With Sienna Miller
And, in other pictures from another formal event last year, psoriasis was seen on her leg by the slit of her dress.
By an event in October, Delevingne appeared to have very little to no evidence of the skin condition in photos. The same goes for all of her recent social media posts and appearances from this year.
RELATED: How One Inspiring Woman Is Overcoming Psoriasis With Mindset and Meditation
It's not clear what type of symptom management regimen or what kind of treatments Delevingne used, however, it's important to remember the socialite's positive attitude throughout it all.
SurvivorNetTV Presents – The Frenchy: A Glorious Film About The Power Of Laughter
Laughter & Positivity Through Challenges
It's interesting to note, that according to the National Library of Medicine, research has shown that the amount of pain medication needed for patients is reduced after they watch funny movies.
And perhaps laughter, like Cara Delevingne makes sure to have in her life, could also help when someone is dealing with the pain that comes amid a health challenge, whether it's psoriasis or even cancer.
RELATED: 4 Ways Famous Women Have Taken Control Of Their Psoriasis & Helped Stop the Stigma Around the Condition
The importance of positivity amid tough times has been seen through stand-up comedian Jesus Trejo in Long Beach, California.
Trejo became a caregiver for both of his parents after his mother was diagnosed with a cancerous brain tumor and his father was later faced with colon cancer. But instead of panicking and focusing on the devastating nature of the situation, the only child stepped up to care for his parents with love – and laughter.
RELATED: 'America's Got Talent' Star Alex Hooper Reveals Cancer Diagnosis: 'I Will Treat This Like I Do Everything In My Life – With Laughter'
In a previous interview with SurvivorNet, Trejo opened up about how he put his career aside to care for his parents in their time of need while making time to smile along the way.
Stand-Up Comedian & Cancer Caregiver, Jesus Trejo Reminds Us That 'Laughter is a Game-Changer'
"The only advice I have for anyone watching this is laugh, and laugh often, laugh at yourself. Don't take yourself seriously. Things are already bad. Because once you do that, it's a game-changer,""Trejo told SurvivorNet.
He also says the laughter itself might be brief, but "the effects of it just reverberate through your body, and can change an already bad situation into a better one."
Focusing on hope, and maintaining a positive attitude amid a health battle can always be helpful.
Anecdotal evidence from SurvivorNet experts points to how a positive mindset can impact a cancer prognosis.
Dr. Zuri Murrell of Cedars-Sinai told SurvivorNet in an earlier interview, "My patients who thrive, even with stage 4 cancer, from the time that they, about a month after they're diagnosed, I kind of am pretty good at seeing who is going to be OK. Now doesn't that mean I'm good at saying that the cancer won't grow."
"But I'm pretty good at telling what kind of patient are going to still have this attitude and probably going to live the longest, even with bad, bad disease. And those are patients who, they have gratitude in life."
Meanwhile, Dr. Dana Chase, a Gynecologic Oncologist at UCLA Health, also says it's important to try to focus on the good, stay positive, and do things that bring you joy to the degree you're able to do so amid battling a disease like cancer.
"We know, actually from good studies, that emotional health, quality of life is associated with survival, meaning better quality of life is associated with better survival, better outcomes," Dr. Chase said in an earlier interview.
What Is Psoriasis?
Psoriasis, like Cara Delevingne has, is a skin condition that causes red, itchy patches to develop on the skin. It is a chronic disease, which means there is no cure for it.
Symptoms can often be managed with different treatment options as well as lifestyle adjustments.
Meanwhile, there have been major developments in recent years when it comes to the treatment and management of psoriasis.
Dr. Saakshi Khattri, a Dermatologist/Rheumatologist at Mount Sinai Health System, previously told SurvivorNet, "Psoriasis is a chronic, auto-immune skin condition where you have red, scaly patches on the skin. It is a long-term condition, which can ebb and flow. You can have good days and bad days."
She also explains that while anyone can develop the skin condition, psoriasis is more common in people between the ages of 30 and 50. Researchers believe genetics, as well as environmental factors, may play a vital role in the development of this disease.
Also, psoriasis patients can be asymptomatic (without symptoms), so people who have the disease will not be dealing with constant outbreaks or "flare-ups."
Dr. Khattri explains that patients have reported itching or a burning sensation, but it "doesn't tend to be the norm."
Separately, Dr. George Han, a Dermatologist at Northwell Health/Lenox Hill Hospital, told SurvivorNet he sees many patients with itching.
"It is interesting because if you look at the older dermatology textbooks, there was this concept that psoriasis is not supposed to itch. And so they made this distinction between the itchy rash, which is eczema dermatitis and psoriasis, which is supposed to be not itchy," Dr. Han said.
"But if you actually ask patients and in some of the modern literature now, upwards of 80% to 90% of patients do have itching associated with their psoriasis."
Generalized symptoms associated with the disease include the following:
Red patches of skin covered with silvery-like scales
Small scaling spots
Dry, cracked skin that may bleed or itch
Itching, burning sensation, or soreness
Thickened or ridged nails
Swollen or stiff joints
Learning to Live With Psoriasis: Opening Up to Overcome Stress & Shame
Contributing: SurvivorNet Staff
Learn more about SurvivorNet's rigorous medical review process.
---