It took six-and-a-half years for Lauren and Michael McAfee, a young couple yearning for a child, to have their prayers answered. In September, after endless paperwork and red tape — and just weeks after celebrating their 10-year-anniversary — the Oklahoma City-based couple traveled to the Hunan Province in China to officially adopt a beautiful baby girl, a 1-and-a-half-year-old orphan they named Zion Laurel McAfee.
Just seven weeks later, they received devastating news: Zion had hepatoblastoma — a tumor on her liver.
Read More
"Zion had just entered our lives," Lauren McAfee tells SurvivorNet in an exclusive interview. "And no one close to me had ever had cancer. I was like, 'I don't even know the first thing about what this means or what to do or where to find resources.'"
"We will not have the first Christmas we had always hoped," Michael McAfee wrote later in an Instagram post. "Pray for us that we would use this unexpected time at home to honor the Lord and find out contentment in Him."
View this post on Instagram
Zion's Cancer Journey
The tumor, the McAfee's say, was discovered while Zion was undergoing an unrelated medical scan.
"We were going through some routine medical exams, since we didn't have any detailed records of her medical history," Lauren says. "We were going through lab work, tests to see if she had any vaccinations … you know, those types of things."
One of those routine checkups was an MRI. That's when doctors first spotted a 6 cm tumor on little Zion's liver — which would later be confirmed as hepatoblastoma, a type of cancer that affects fewer than one in 1 million children. Surgery was needed.
View this post on Instagram
When hepatoblastoma is caught before it has spread beyond the liver, children have a survival rate over 70 percent. The cancer can be cured through surgery along roughly 50 percent of the time, but the other half of the time, more treatment is needed. The McAfees waited to see how advanced the cancer was.
"That was the hardest part," shares Lauren, who says their faith "has been so important in helping us cope with this."
View this post on Instagram

On Nov. 12, Zion had surgery and luckily, the doctors were able to remove the entire tumor. But because they then confirmed "active cancer cells,"  Zion needed a six-week course of chemotherapy.
"We had been praying she would not need any chemotherapy," Michael wrote in an update on Instagram. "God answered that prayer with 'no.'"
RELATED: "This Is Childhood Cancer": Viral Photo of 4-Year-Old Boy Battling Leukemia Touches the Hearts of Millions While Spreading an Important Message
View this post on Instagram
Zion's Treatment and a Difficult First Christmas
Zion, whose last round of chemo is hopefully the day after Christmas, is effectively quarantined. That's because the treatment has wiped out her immune system, leaving her body vulnerable and likely unable to fight off viruses. The family will need to keep her inside their home through mid-January, with minimal contact with others.
Lauren says she's looking at the bright side: The time alone with Zion, she says, gives them the chance to bond with their new child, an extremely important step in the adoption process.
View this post on Instagram
"It's just the three of us at home right now, and [Zion] sees that we're taking good care of her when she's not feeling well," Lauren shares. "And so that's been one of the biggest, I guess, blessings in disguise."
The three of them have also had the chance to decorate Christmas cookies together, play silly games, and successfully teach Zion — who had never heard English before September — how to say 10 different words.
View this post on Instagram
Coping Through Faith
The McAfees are active members of the Christian faith community; they met in Sunday School at the Council Road Baptist Church in Oklahoma when they were only 7 years old. Michael is now a teaching pastor at that same church as well as the director of Community Initiatives at the Museum of the Bible. Lauren works for Hobby Lobby corporate and is pursuing a Ph.D. in public theology.
Together they have authored several books on faith and the Bible, including their most recent book, "Not What You Think," which places the Bible in a modern context and attempts to address some of the skepticism for the religious text among Millennials.
RELATED: The Impact of a Childhood Cancer Diagnosis on the Whole Family — Jayne Wexler Shares Her Story
What's Next for Baby Zion?
After Zion's next round of chemo, Lauren shared, the doctors will do lab work to determine if she is completely cancer-free. Until then, both Michael and Lauren have been turning to their community as well as those beyond their community — including those they reach on Instagram and Twitter — to say prayers for their new daughter.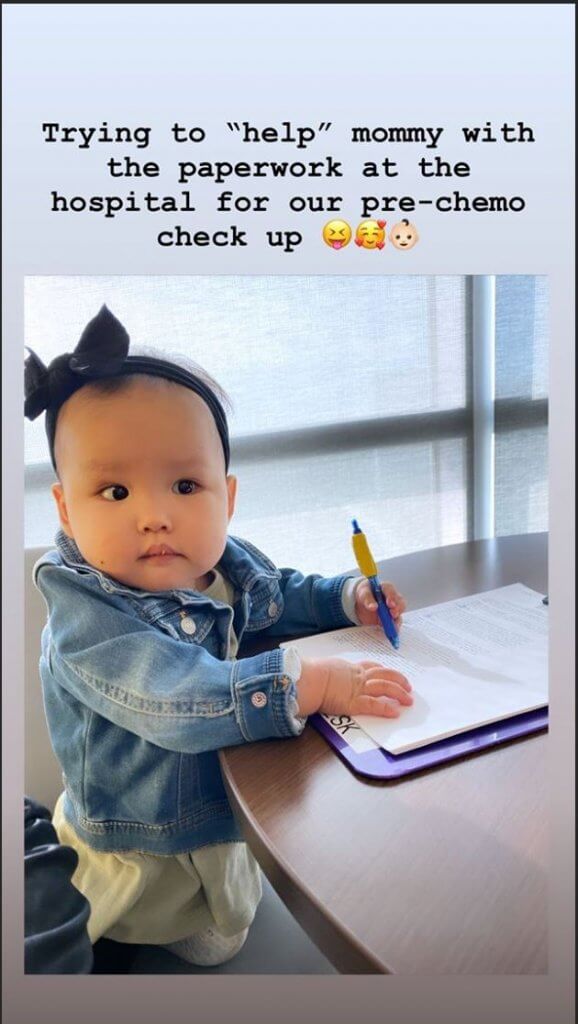 "Right after her surgery, I posted on Instagram," Lauren says. "And people from all over the world reached out to say that they were praying for her. It was like, people from North Africa, Brazil, Ireland, England, New Zealand. … There were, I believe, 12 countries from around the world who someone from that country has reached out and said, 'I don't know you but I'm praying for your daughter.' It's been encouraging and mind-blowing."
RELATED: 'All He Needs Right Now Is to be Loved' — The Important Life Lesson That Terminal Cancer Taught This Young Mom
Learn more about SurvivorNet's rigorous medical review process.
---