Sarah Jessica Parker's Responsibility
Actress Sarah Jessica Parker says that she knew about her late Sex and the City co-star Willie Garson's pancreatic cancer battle while filming sequel series And Just Like That…
 Parker says she felt responsible for keeping an eye on Garson's health while on set of the show, especially considering the COVID-19 pandemic.
Pancreatic cancer is known as one of the most difficult types of cancers to treat, and a lot of it has to do with the fact that early-stage diagnoses are extremely rare.
Actress
Sarah Jessica Parker
, 56, is opening up about her late 
Sex and the City 
co-star
Willie Garson
's private battle with
pancreatic cancer
, and how she looked after him while filming the iconic series' sequel 
And Just Like That…
Parker and Garson's friendship began on the set of Sex and the City, where she portrayed the legendary Carrie Bradshaw and Garson portrayed the witty Stanford Blatch. The two co-stars became extremely close off-screen as well, and Parker revealed that Garson had disclosed his pancreatic cancer diagnosis with her despite keeping it private from the public. "I knew before we started shooting [the sequel] that Willie was sick," Parker told Vulture. "He asked me to keep that confidential, and I honored that."
Read More
Related: 'I'm Not Ready Yet': Heartbroken Sarah Jessica Parker Remembers 'Sex and the City' Co-Star Willie Garson After Passing From Pancreatic Cancer
Because she knew about Garson's cancer battle, Parker took it upon herself to keep an eye on him and make sure he was taking care of himself.
"It was fraught for me to know that he was sick with that particular, terrifying diagnosis," Parker said. "We were a vaccine-mandated show, but nonetheless, a lot of our scenes were with a lot of background players, and I had great concerns about Willie staying as healthy as he could while shooting. I couldn't share that with anybody. I'd only keep track of him, and I felt responsible in some ways for his health, his well-being on the set."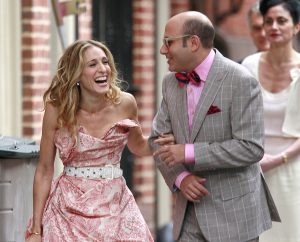 Garson passed away from pancreatic cancer at the end of September after quietly battling the disease. Parker says that even though he was faced with such a challenge, he remained optimistic and full of life through the whole experience. "Anytime there was downtime, I sat with him and talked with him," Parker said. "He really was a raconteur, a famously gifted storyteller. We could hear the same story over and over again as if it were the first time, and he was terrifically good at documenting his life and sharing it with us."
Pancreatic Cancer: A Breakdown
Pancreatic cancer is known as one of the most difficult types of cancers to treat, and a lot of it has to do with the fact that early-stage diagnoses are extremely rare. Symptoms often don't present themselves until the disease has spread. Some of the main symptoms associated with pancreatic cancer may include jaundice, weight gain, back pain or diabetes. This leads to more late-stage diagnoses, and therefore treatment options can be more limited. According to Dr. Anirban Maitra, 80% of diagnoses are caught in later stages since symptoms don't present themselves until the disease has already spread.
One of the main reasons pancreatic cancer is one of the most difficult cancers to treat is because of the stroma — a barrier around cancer cells which prevents medications, such as chemotherapy and radiation, from targeting and killing these cells. If these cells continue to grow, then the disease will continue to progress.
Related: Detecting Pancreatic Cancer Early Is Crucial
"Think of pancreatic cancer as an oatmeal raisin cookie and the raisins are actually the cancer cells, and the cookie part is actually all the stroma around it," Dr. Allyson Ocean, a medical oncologist at Weill Cornell Medical Center, previously told SurvivorNet. "And imagine having to navigate through all that stroma for a treatment to be able to get into a cell to kill it. So that's why the treatments just really aren't good enough to penetrate the cancer. But we're improving, we're getting better treatments."
Dr. Allyson Ocean explains why pancreatic cancer is so hard to treat
The Power of Support During Cancer
For those going through cancer, it's imperative that they're surrounded by support whether it's from friends, family, or support groups. By having people in your corner, it can make a cancer journey a bit more bearable and keep spirits high. This was the case for ovarian cancer survivor Kelly Sargent, who says that her support community helped her tremendously in coping during this difficult time.
Related: 'Faith, Family, and Friends' Helped Beverly Reeves Get Through Ovarian Cancer Treatment
"I have an incredible set of friends that I met after my diagnosis through a Bible study group that have become very, very close friends of mine that are an incredible part of my support system," Sargent previously told SurvivorNet. "That support from those ladies has been life-changing for me. I can't imagine going through it someplace else."
Although Garson kept his diagnosis private, having Parker there surely made his time on set a big more manageable. Friendship is truly a key aspect in remaining positive.
The Benefit of Support Networks for Cancer Patients
Learn more about SurvivorNet's rigorous medical review process.