How Cancer Survivors Use Art As Therapy
Top Gun: Maverick star and throat cancer survivor Val Kilmer, 62, is selling his LA Action Scrapbook, which could be "applauded as his most private and intimate work to date," for $5,000.
Kilmer was diagnosed with throat cancer in 2014; he had a tracheotomy and also underwent chemotherapy to treat his disease. The actor lost his voice to the disease and turned to artwork as a way to express himself.
Throat cancer is a type of head and neck cancer where cancerous cells begin in the throat, voice box or tonsils. The main risk factors for the disease include smoking, drinking alcohol, a diet lacking in fruits or vegetables, acid reflux disease and the human papillomavirus (HPV). So, one way to decrease the chances of developing the disease is to get the HPV vaccine.
Art can be an incredibly important outlet for cancer survivors. Top Gun: Maverick star Val Kilmer, 62, has been staying positive and immersing himself in his diverse collection of artwork since battling throat cancer. And right now, we're admiring the personally created scrapbooks he's selling on his official website.
The actor, also known for his roles in Batman Forever, The Prince of Egypt, and Déjà Vu, is now selling his colorful LA Action Scrapbook for $5,000, a "one-of-a-kind journal" that can be pre-ordered online and is described as something that may be recognized as his "most private and intimate work to date."
Read More
"He has crafted
10 unique, one-of-a-kind, books
revealing a personal account on life in Los Angeles – each bursting with never-before-seen original art, photos, unreleased poems, and expressive autobiography," the product description reads. "Collaging ideas to establish something new and unexpected, Val's work uses this medium to its advantage, creating surreal, thought-provoking scenes. Bending social commentary that seems to exist in multiple dimensions." Each 12-inch by 17-inch" scrapbook includes original collages, hand-selected images, fine-art abstract paintings, handwritten poems, excerpts from Citizen Twain, personal items, and an invitation-only membership card.

"Inverting conventions is an art Val has cultivated throughout his acting career, transforming and re-inventing himself for some of Hollywood's most beloved roles. And it is with that same passion and energy these special books have been produced," the product description adds.
"Val invites you to get a glimpse into a dreamlike world of familiar imagery and objects juxtaposed to illustrate a point. Much like Val's keenly nuanced performances, the message may not be blatant, but can often be found within the context."
Last month, Kilmer took to Instagram to share with his friends a page from one of his scrapbooks. He wrote, "I was looking through my favorite L.A. Action Scrapbooks, which I loved making over the years (and were featured in the VAL documentary too), and I thought some of these pages would make mighty fine images to share!"
"So here we are.. the first selection is called "Women are going to be the new Elvises". I've only printed  5 of them (Giclee cold-press prints on amazing paper)," Kilmer, who starred in My Heart Is Soaring Like A Hawk, continued. "It's been so deeply rewarding to see your response to the artwork I've been producing for the last few years. It really matters to me. I've said words of appreciation before, but it bears saying again – It makes my heart soar like a hawk."
Earlier this year, Kilmer shared a bit about the healing power of art. He even created a Twitter account under the name 'Kamp Kilmer' for the sole purpose of his art and collaboration with artists, musicians, and friends.
"When one thing is taken, though, another is given. With little voice, my creative juices were boiling over and pouring out of me. I started creating again, painting, writing anything I could. I felt the art healing me," said Kilmer, on Twitter.
Thrilled for my art exhibit on 9/24 @niftygateway. Digital & Physical Signed Fine Art Work. Register to bid today 👇Special thanks to my collaborators @TomerPeretzart @RemoCamero @LaurenceFuller @KampKilmer @aalborzi @BLKPRLStudios @baekcreative https://t.co/xPh4xyEuLH pic.twitter.com/OxMixZUl6D

— Val Kilmer (@valkilmer) September 21, 2022
Kilmer rose to fame in the original Top Gun (1986) as Lieutenant Tom "Iceman" Kazansky, a pilot pinned as the rival to Tom Cruise's character Maverick in the original film. Kilmer reprises his role in the 2022 film as a commander.
The hit movie grossed more than $1.4 billion worldwide this summer— reportedly making more than $705.65 million at the domestic box office.
Despite the ongoing success of Kilmer, who has been dealing with lingering health issues following his cancer treatment, the actor will not reprise his role in the newly released Madmartigan in the Disney+ sequel series Willow, Showrunner Jonathan Kasdan told Entertainment Weekly a few weeks back.
Val Kilmer's Cancer Journey
Kilmer was diagnosed with throat cancer in 2015 but didn't speak publicly about the disease until 2017. He wasn't considering conventional treatment at first, thinking his Christian Science faith would heal the tumors, but he eventually agreed to undergo chemotherapy for the sake of his children – Mercedes, 30, and Jack, 27, whom he had with his ex-wife, English actress Joanne Whalley, 61.
Kilmer also underwent a tracheotomy – a surgical procedure that connects the windpipe to a hole in the front of the neck – which greatly impacted his speaking voice. However, Kilmer continued acting as filmmakers were able to help give Iceman a voice again thanks to artificial intelligence technology that used samples of him speaking to recreate his signature speech patterns.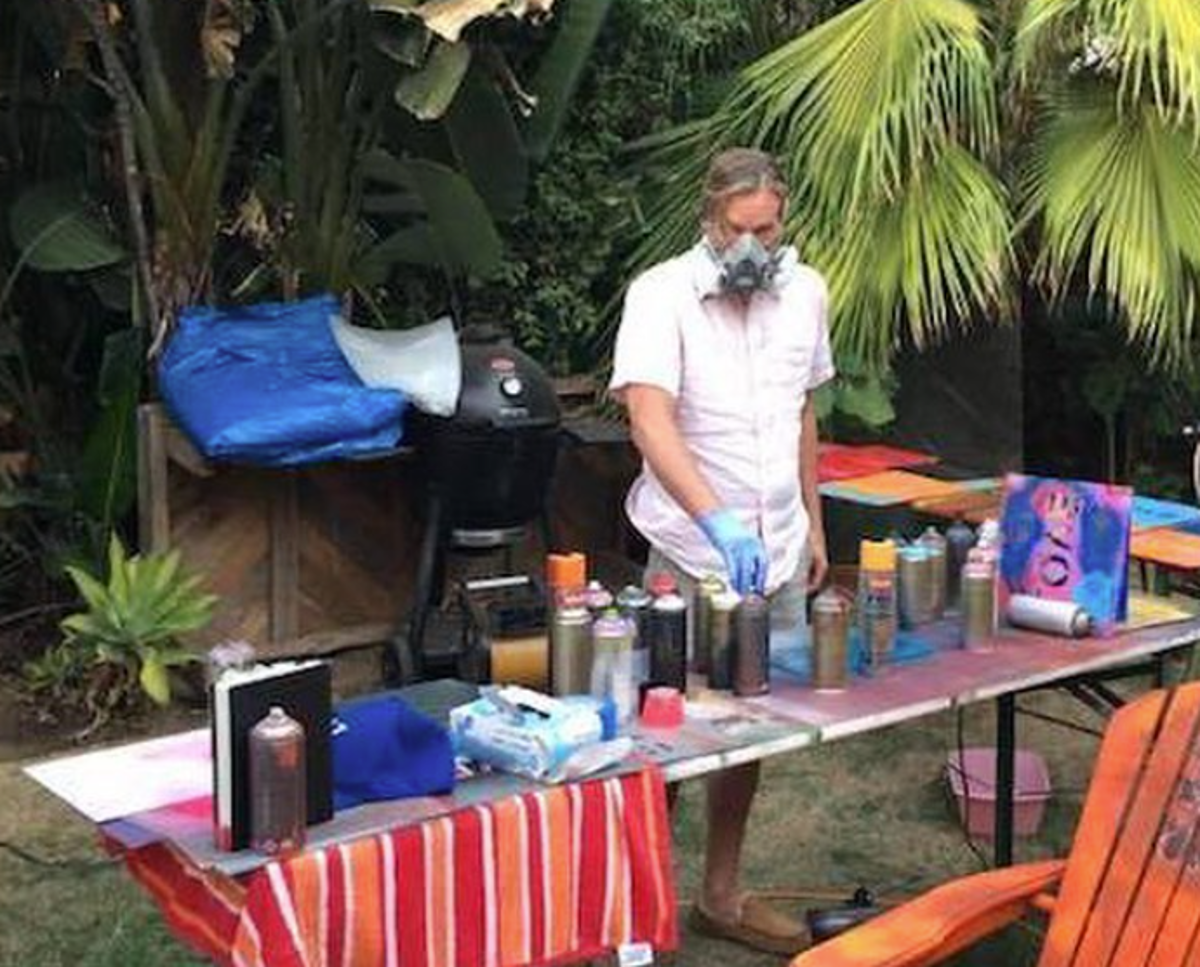 And though he originally kept his cancer battle out of the public eye, Kilmer eventually shared more about his journey through interviews, his autobiography, I'm Your Huckleberry, and his documentary, Val, which is currently streaming on Amazon Prime.
"I have been healed of cancer for over four years now, and there has never been any recurrence," he wrote in I'm Your Huckleberry. "I am so grateful."
Art Through Cancer
As a seasoned actor, Kilmer knows the healing power of art intimately. Alongside treatment – or after beating cancer – some people may turn to various artistic outlets (i.e. singing, dancing, painting, crafting) to help them cope with their cancer journey.
Dealing With Grief After a Cancer Diagnosis
Some people also use art to handle feelings of grief after suffering a cancer-related loss. Whenever and however you turn to art, its healing benefits – in terms of mental health – are well-documented and substantiated. In fact, Very Well Mind reports that a 2016 study published in the Journal of the American Art Therapy Association says that less than an hour of creative activity can reduce stress and have a positive effect on your mental health. And that's true regardless of artistic experience or talent, the author notes.
Causes of Throat Cancer
Although it is often difficult to pinpoint exactly how or why we get certain types of cancer, it is important to stay educated. Throat cancer can be caused by alcohol and tobacco use, and also by the human papilloma virus, or HPV, which is usually associated with women and can be a cause of cervical cancer. However, men can also be affected by this sexually transmitted infection, and it has been proven to cause throat cancer,
Dr. Jessica Geiger of the Cleveland Clinic Cancer Center told SurvivorNet in a previous interview that both men and women can get cancer from HPV.  "The strains of HPV that cause cervical cancer are the same strains of HPV that cause throat cancer. The average patient with HPV-related throat cancer tends to be males in their 40s or 50s, who were never a smoker, or just a very light tobacco user."
Get the Facts: HPV Can Cause Cancer in Men Too
What Is HPV?
Nearly every sexually-active person will get HPV at some point in their lives, but most people with the infection do not know they have it and never develop symptoms or health problems from it. The virus is spread via sexual activity and can manifest as warts on your genitals or mouth.
When people talk about HPV and cancer risk, they tend to focus on cervical cancer. And while it's true that nearly all cases of cervical cancer are caused by HPV, people should also be aware that HPV puts both men and women at risk of developing several other cancers as well including cancers of the vagina, penis, anus and throat.
RELATED: HPV-Related Cancers Are on the Rise And More Than 70 Cancer Centers Call for Urgent Action to Increase Vaccinations; What You Need to Know to Protect Your Child's Health
Oral and throat cancers, for example, are both on the rise in young, non-smoking adults, and Dr. Ho says HPV is the cause.
"The fastest-growing segment of the people developing oral cancers are young non-smokers," Dr. Ho told SurvivorNet in a previous interview. "HPV, a very common virus, one responsible for the vast majority of cervical cancers, is now identified as a cause of this rapid rise of oral cancers."
Which HPV Vaccines Are Available?
Thankfully, there are three types of HPV vaccines – Gardasil 9, Gardasil and Cervarix. All three went through years of extensive safety testing before being approved by the U.S. Food and Drug Administration (FDA), and the CDC reports that HPV vaccination has the potential to prevent more than 90 percent of HPV-attributable cancers.
The HPV vaccines, like other immunizations that guard against viral infection, stimulate the body to produce antibodies that attack if they encounter the HPV infection by binding to the virus and preventing it from infecting cells. HPV vaccines do not prevent other sexually transmitted diseases or treat existing HPV infections/HPV-caused disease, but their implementation can reduce the rates of certain cancers.
And while Dr. Susan Vadaparampil, the associate center director of community outreach, engagement and equity at Moffitt Cancer Center, previously told SurvivorNet there are few medical strategies that totally prevent against getting cancer in the first place, she emphasized that data from countries with high rates of vaccine coverage show decreases in HPV-related pre-cancer and cancer – particularly so in the case of cervical cancer.
RELATED: The Vaccine No One is Talking About: Who Should Get It?
"We have a safe and effective vaccine to prevent HPV-related cancer," Dr. Vadaparampil told SurvivorNet. "It is widely available, and costs are typically covered by private or public insurance."
Adding His Voice to the Chorus — Artist and Cancer Survivor Michael Rees Gets Behind HPV Vaccine Awareness
Eileen Duffey-Lind, a pediatric nurse practitioner at Dana-Farber Cancer Institute/Boston Children's Hospital, echoed Dr. Vadaparampil's sentiment.
"No one should die of a preventable cancer like those tied to HPV, especially since we have a highly effective and safe vaccine available," Duffey-Lind previously told SurvivorNet.
Contributing: SurvivorNet Staff
Learn more about SurvivorNet's rigorous medical review process.
---