Fighting Cancer With Resilience
"Undercover Billionaire" star Glenn Stearns says his challenging upbringing — including growing up with alcoholic parents and becoming a father at 14 — taught him the resilience he needed to survive cancer twice.
Stearns was diagnosed with oropharyngeal squamous cell carcinoma (OPSCC), a type of throat cancer that forms at the base of the tongue.
Stearns underwent surgery, chemotherapy, and radiation to treat his cancer. He also uses a feeding tube.
Doctors said his cancer was associated with the human papillomavirus (HPV), a common virus that is spread through sexual activity and can cause several cancers, according to the CDC.
The lessons Stearns learned are shared in his new memoir, "Integrity: My Slow and Painful Journey to Success."
Glenn Stearns, the 59-year-old entrepreneur of "Undercover Billionaire" fame, is one resilient guy. Before building one of the largest mortgage lending companies from the ground up (and outlasting the 2007 mortgage crisis), he grew up with alcoholic parents and became a dad at just 14 years old.
He credits this adversity for helping prepare him for perhaps the greatest fight of his life: surviving cancer… twice.
Read More
"There's a silver lining in everyone's adversity if you choose to find it," Stearns told SurvivorNet.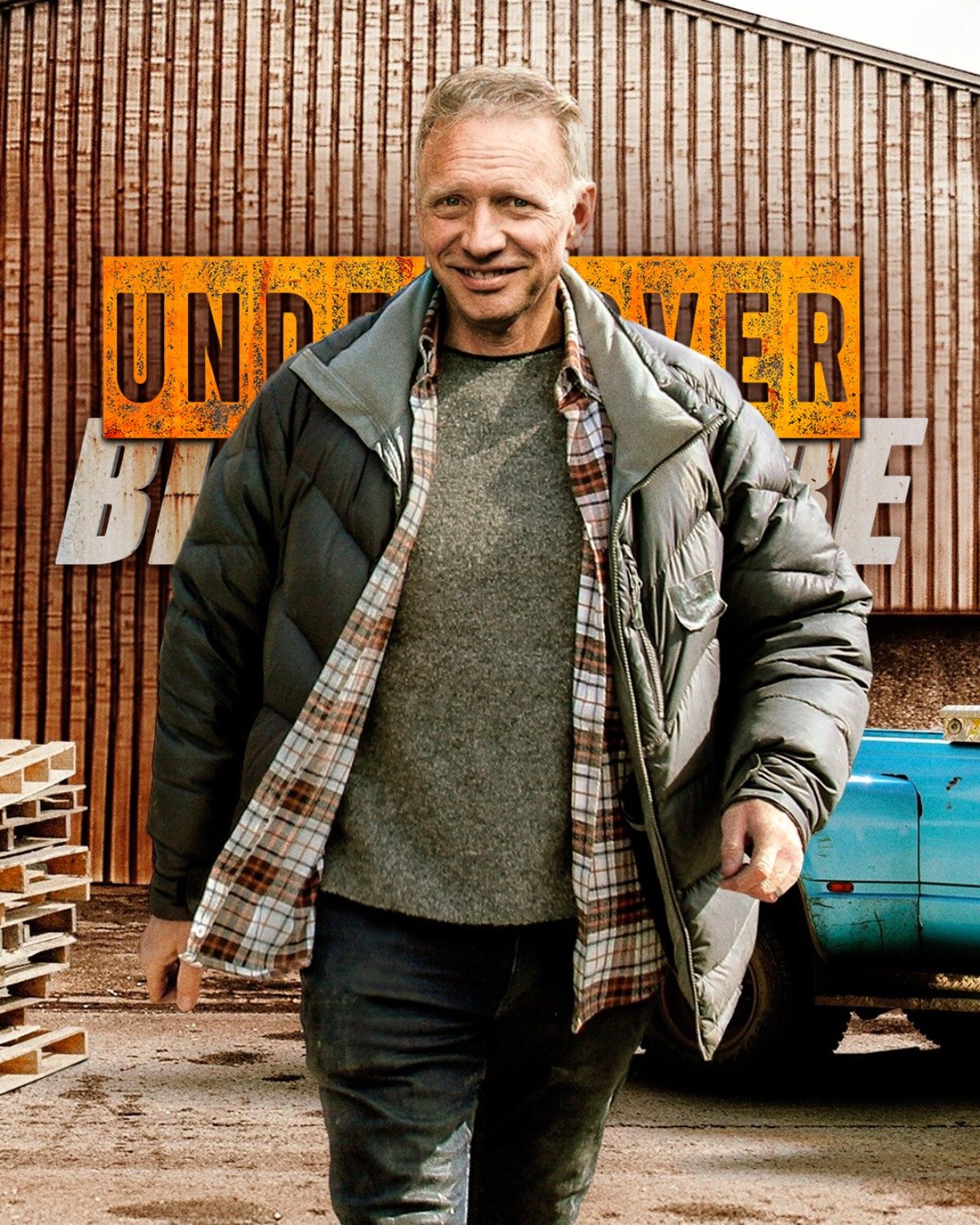 Many people may recognize Stearns from the Discovery Channel show "Undercover Billionaire," which aired in 2019. Stearns had 90 days to build a million-dollar business from scratch starting with only $100. While Stearns wasn't technically a billionaire,
according
to Forbes, the successful businessman knew how to turn a profit despite the odds. Facing tough obstacles throughout his life helped prepare him for two battles with oropharyngeal squamous cell carcinoma, a cancer at the base of his tongue (also called throat cancer).
"It was a very eye-opening experience for me," Stearns told SurvivorNet.
He's sharing his incredible story of struggle and resilience in his new memoir, "Integrity: My Slow and Painful Journey to Success," which comes out May 23.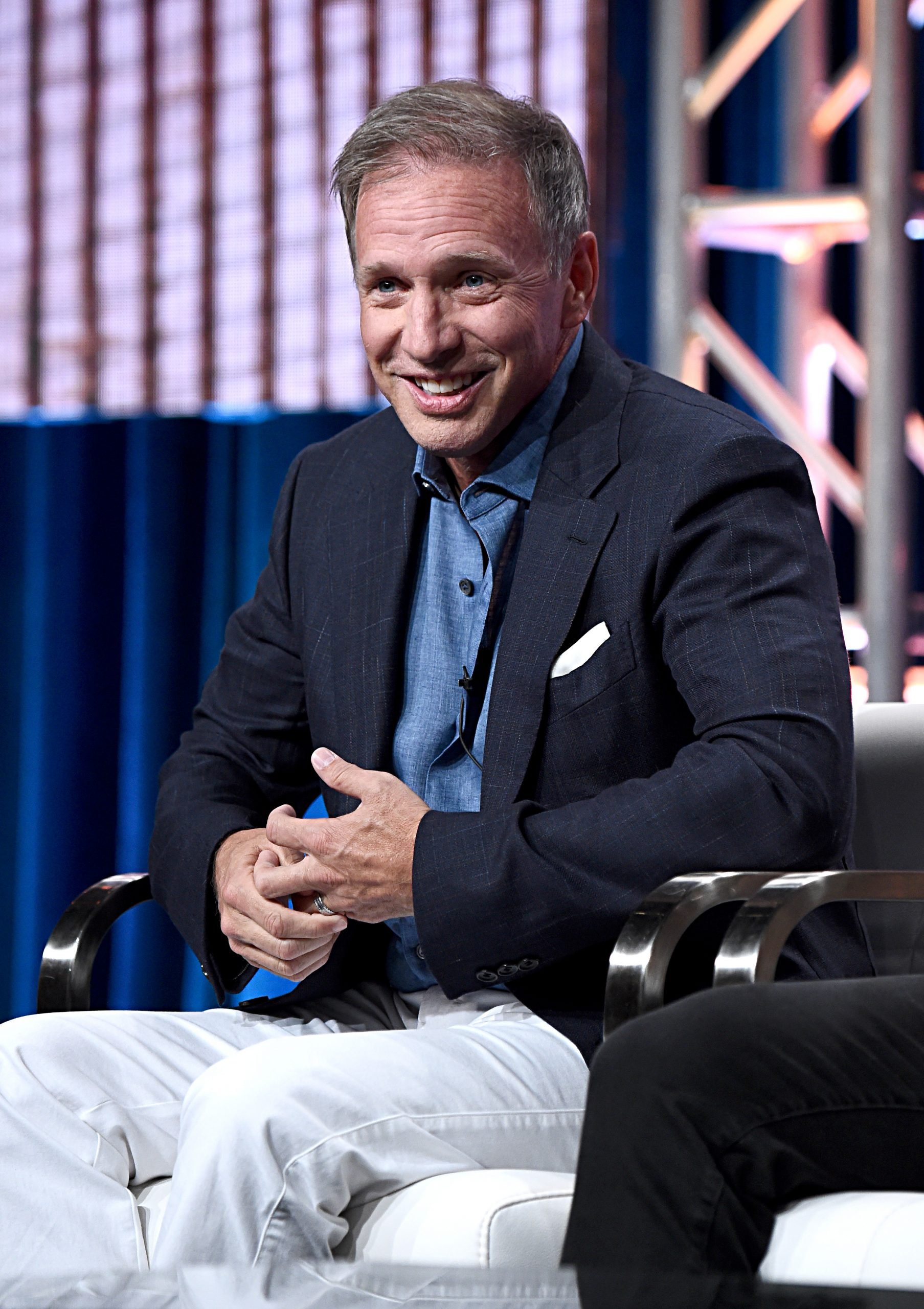 Stearns grew up in Silver Spring, Maryland, in a low-income suburb of Washington, D.C. He admits his upbringing was less than stellar, but he used his experiences to shape his future.
"I had a lot of adversity in my life. My parents struggled with alcohol, I failed 4th grade, I was dyslexic, I had a child in 8th grade, I was 14," he explained.
Stearns' oldest daughter is named Charlene.
During his formative years, he said he lost friends to drugs, alcohol, or prison. He credits some of his mentors at the time for motivating him to change his party-filled lifestyle into something more productive.
He said it all "gave me struggle in my life early," which he used to build the resilience he would need in life later — though he never could have imagined all it would entail.
He went on to start a mortgage lending business "Stearns Lending LLC" at just 25 years old in 1989. In the years after launching his business, he grew his company to earn over $500 million in annual revenues, according to the Orange County Business Journal, and reach nearly $1 billion in monthly funded loan volume. The company filed for bankruptcy in 2019 and was later acquired.
Stearns then launched a new lending company called "Kind Lending" in February 2020 to help make the mortgage process — well — nicer for people.
Stearns went on to have three sons (Skyler, Colby, and Trevor) with his first wife. His second wife, Mindy, shares two young daughters with him.
Despite his success, in 2014 at the age of 50, Stearns realized his health wasn't in the best shape.
Glenn Stearns' Cancer Journey
"I felt like something was wrong for about a month," he recalled.
During a visit with former Vice President Dick Cheney, he referred Stearns to his doctor, who gave Stearns some much-needed answers about his concerning feelings.
After observing Stearns had swollen lymph nodes, his doctor conducted a biopsy, which led to his diagnosis.
"I had squamous cell carcinoma at the base of my tongue," Stearns remembered the doctor telling him. He learned that his cancer was related to the human papillomavirus (HPV).
HPV is a common sexually transmitted infection and can cause several cancers.
"Carcinoma, that's a bad word," Stearns thought.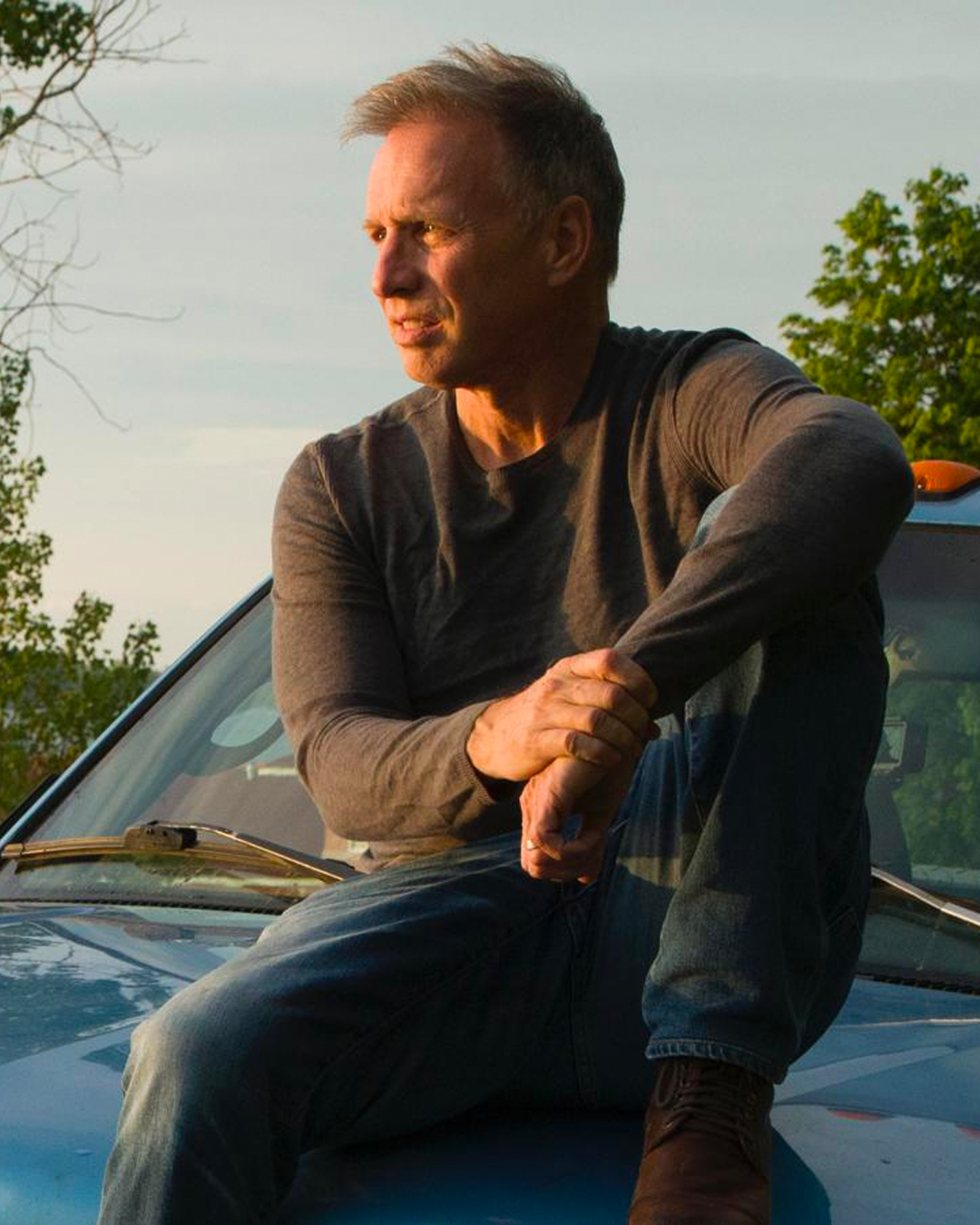 Though Stearns' doctor tried to ease his anxiety and reassure him that squamous cell carcinoma is curable, Stearns became fixated on the survival rate.
He had to young kids at home, after all.
"This is like a 50-50 chance. That's a coin toss, and I immediately thought about my two little girls," Stearns said.
A cancer diagnosis can be shocking and intimidating and can bring a wide range of emotions. SurvivorNet experts recommend learning more about the disease to ease your fears of the unknown.
Also asking your doctor additional questions and even seeking a second opinion can help ease the initial shock and anxiety associated with a new diagnosis.
After his diagnosis, Stearns underwent four years of chemotherapy and radiation to treat the cancer.
While undergoing treatment, he lost 45 pounds because he struggled to eat, due to the fact that his cancer was in his throat.
His doctor recommended he use a feeding tube to help him get the proper nutrition he needed, but Stearns was strongly against the idea.
A feeding tube helps people get the nutrition they aren't getting through regular food. It's a flexible tube that's "inserted through the nose or belly area to provide nutrients by delivering liquid nutrition directly into the stomach or small intestine," according to the Cleveland Clinic.
After coming out the other side of treatment, he realized that he may not have taken cancer as seriously as he should have.
"I didn't give cancer the respect it needed," he said.
Then, while getting ready to film "Undercover Billionaire,", one of Stearns' routine scans revealed the cancer returned on his epiglottis, or the root of his tongue.
Now he was preparing for his second cancer fight, and it changed his perspective. He told Business Insider that the show had to postpone filming due to the recurrence of his cancer.
He said radiation treatment was a tough experience, but thinking about his children encouraged him to persevere. He explained he wore a form-fitting radiotherapy mask on his face for treatment.
"I had to wear a mask … so when they hit you with the radiation, it goes to exactly the same spot," he said.
"I began to freak out. I didn't know it was coming and I didn't understand it. … I just thought, I've got to get through this. … And again, I thought about my little girls," Stearns said.
As the radiation treatments continued, the cancer survivor became more accustomed to the treatment process.
In addition, Stearns said doctors cut out his epiglottis, which is a "small, leaf-shaped sheet of elastic cartilage that protects your larynx or voice box and helps you swallow," the Cleveland Clinic described.
Without a fully functioning epiglottis, doctors again suggested Stearns needed a feeding tube. And he wrestled with that heavy notion.
Stearns came to regret his decision to not use it the first time, realizing that he "suffered greatly" not being able to get adequate nutrition. So he agreed with the doctors to have a feeding tube this time around.
This made the filming of "Undercover Billionaire" particularly challenging. He was building a barbecue restaurant – and he couldn't even eat the food they were trying to make. But as always, Stearns forged ahead for the success of the mission and Underdog BBQ is still open today.
Stearns still uses his feeding tube today, saying he enjoys lots of shakes.
Stearns' second cancer battle has proven to bring longer-lasting success. In April, his doctor at MD Anderson Cancer Center in Houston, Texas, declared him "cured."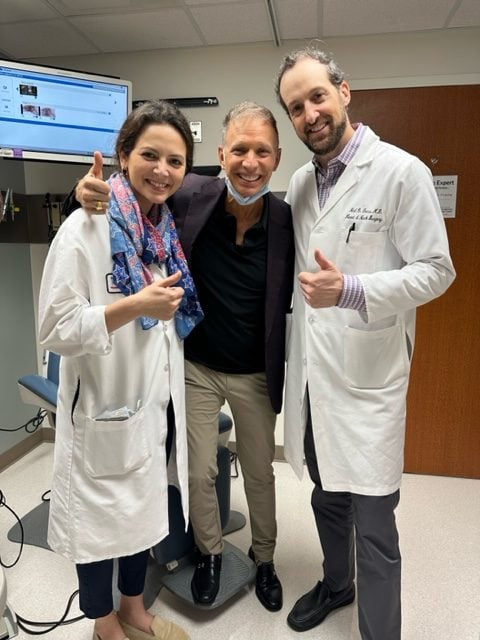 Understanding Oropharyngeal Squamous Cell Carcinoma (OPSCC)
Cancer cells that form in the back of the throat, which includes the base of the tongue, tonsils, the posterior pharyngeal, and soft palate are considered oropharyngeal cancer according to Johns Hopkins Medicine.
OPSCC is often called throat or tonsil cancer and "more than 90%" of oropharyngeal cancers are squamous cell cancers researchers at StatPearls, a healthcare and technology company said.
Cleveland Clinic says HPV, alcohol and tobacco use are risk factors for OPSCC. It goes on to list some common symptoms to include:
Lump or mass in the back of the throat
Throat pain
Neck mass
Difficulty swallowing
Muffled voice
Ear pain
Coughing up blood
Unexplained weight loss
Treating Oropharyngeal Cancer
Treatments for oropharyngeal cancer depend on several factors including the type, size, and location of the tumor. Common treatments include:
Surgery may include "minimally invasive robotic surgery and neck dissection," according to Johns Hopkins Medicine aimed at removing the cancer. As Stearns said, he had his epiglottis removed while undergoing treatment.
Chemotherapy, which Stearns also received, includes cancer-killing drugs that are used to either shrink tumors before surgery or kill any remaining cancer cells after surgery Cleveland Clinic described.
Targeted therapy uses monoclonal antibodies which block proteins necessary for cancer cells to grow, divide or spread.
Immunotherapy uses the body's immune system to attack the cancer.
HPV and Cancer
Glenn Stearns said his cancer was associated with the human papillomavirus (HPV). It is an extremely common virus that is spread through sexual activity, according to the CDC.
HPV now accounts for 71% and 51.8% of all OPSCCs in the U.S., according to a study published in Nature.
Most people with HPV are unaware they have it and never develop symptoms or health problems from it. However, it's important to note the virus can manifest as warts on your mouth or genitals.
"The vast majority of humans in the U.S., both men and women, will eventually get infected with human papillomavirus," Dr. Allen Ho, a head and neck surgeon at Cedars-Sinai, told SurvivorNet in an earlier interview.
WATCH: Most People Will Get This Virus.
When people talk about HPV and cancer risk, they tend to focus on cervical cancer.
Although nearly all cases of cervical cancer are indeed caused by HPV, people should also be aware that HPV puts both men and women at risk of developing several other cancers such as oral cancer and cancers of the vagina, penis, anus, and throat.
Overall, HPV is believed to be the cause of 90% of anal and cervical cancers, approximately 70% of vaginal and vulvar cancers, and 60% of penile cancers.
Thankfully, there are ways to protect people from getting HPV, helping to prevent any cancers linked with the disease.
"We have a safe and effective vaccine to prevent HPV-related cancer. It is widely available, and costs are typically covered by private or public insurance," says Dr. Susan Vadaparampil, the associate center director of community outreach, engagement, and equity at Moffitt Cancer Center.
The HPV vaccine is recommended for all male and female preteens 11 to 12 years old in two doses given between six and 12 months, according to the CDC.
The series of shots can also be started as young as 9 years old.
The CDC also notes that teens and young adults through age 26 who didn't start or finish the HPV vaccine series also need the vaccine. Additionally, people with weakened immune systems or teens and young adults who started the series between 15 and 26 years old should get three doses instead of two.
Meanwhile, the HPV vaccine is sometimes given to adults up to 45 years old. However, the vaccine is not recommended for everyone older than 26.
Still, a person older than 26 could choose to get vaccinated after talking to their doctor about possible benefits, even despite it being less effective in this age range, as more people have already been exposed to HPV by this point.
How Cancer Changed Glenn Stearns' Life
"There's a silver lining in everyone's adversity if you choose to find it," Stearns said.
Stearns considers his battles with cancer another mountain of adversity he had to overcome to get to where he is today. He considers himself blessed for being able to access top cancer care and having his family supporting him.
Cancer warriors need to have a strong support group behind them. Supporters can include family members, friends, therapists, and support groups. It helps cancer warriors ease potential anxiety and depression as cancer treatments become more intense over time.
Dr. Shelly Tworoger, a researcher at Moffitt Cancer Center told SurvivorNet that "there's a number of common things cancer patients can experience, such as anxiety, depression, financial toxicity, social isolation."
Knowing you have loved ones by your side at every step of your cancer journey helps you process those emotions.
Although Stearns does not hesitate to publicly share his cancer journey, he's grown to appreciate that by doing so other cancer warriors may find inspiration from his experience.
He says when battling cancer, "you have an opportunity to see and feel love," from people around you.
"I think there's a blessing in cancer … if you get through it hopefully you can see the silver lining," Stearns added.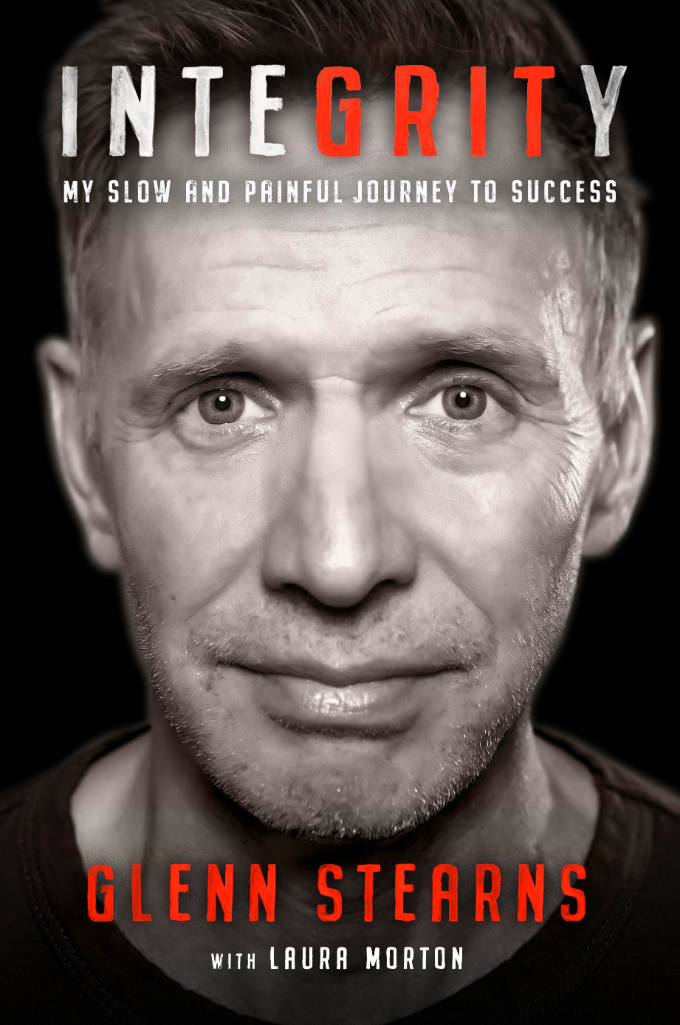 Learn more about SurvivorNet's rigorous medical review process.
---