The memorial being held for Dog the Bounty Hunter star Beth Chapman in Aurora, Colorado, is set to be quite an affair — from its celebrity organizer to its massive security detail. The Chapman family is going to great lengths to ensure that Beth gets a proper send-off and that her many thousands of fans can either be there in person at the memorial, or watch it in a live-stream.
The Chapman family has been very open with fans about how painful it's been dealing with the loss of Beth. This week, family members took to social media to share that they're arriving in Colorado and preparing for the final send-off. Beth and Duane (Dog) Chapman had homes in both Hawaii and Colorado — so the family decided together before she passed that she should be memorialized in both states.
Read More
Lyssa Chapman, Beth's step-daughter with whom she had been publicly feuding in the months leading up to her death, posted the photo featured at the top of this story to Instagram with the caption, "We're here Mom." Lyssa and Beth had a bit of a back and forth over an alleged
Mother's Day snub
— among some other issues — however, Lyssa assured fans that she immediately put the
feud behind her
the second Beth's health took a turn for the worst.
View this post on Instagram
In the weeks since Beth's June 26th death, Lyssa has been expressing extreme remorse and grief — and remembering her step-mom for her strength and love.
Cecily Chapman, Beth's daughter from a previous marriage, also took to Instagram to share that she'd touched down in Colorado for the final send-off. She posted a story on Thursday with a video of a car she'd rented for her time visiting Colorado with the same accompanying message as Lyssa, "We're here mom." Cecily also posted a photo of Dog and Beth, doctored to include angel wings for the latter, with the caption, "Always on our minds/Forever in our hearts."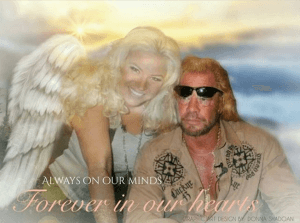 The Colorado send-off will be held at the Heritage Christian Center in Aurora at 1 p.m. The service will begin, and will be live streamed on WGNAmerica.com and the Dog's Most Wanted Facebook page at 2 p.m. (Mountain Daylight Time) for fans who can't actually make it out to the memorial. However, the family is bracing for really big crowds. Countless fans have already taken to social media to say they'll be traveling great distances to be in attendance at Beth's final send-off.
The Chapman family is really pulling out all the stops for the Colorado memorial. The event is being organized by The Facts of Life and Real Housewives of Atlanta star Kim Fields, who never met Beth personally but is a member of the same church; music will be performed by one of Beth's favorite Gospel singers Leah Shafer; and since the family is expecting such large crowds, they have worked with local authorities to enforce a weapons-ban, even though Colorado is an open-carry state.
SurvivorNet also recently learned that the Chapman family has been working with hotels in the area to work out discounts for people traveling to the city. The Chapmans wanted to ensure that local hotels wouldn't be upping their prices due to high demand, as they are expecting thousands of fans to show up for the service.
Beth was inspirational to so many because she found such great success in the bounty hunting field. The way she faced her cancer diagnosis with such bravery and candor garnered her even more admiration from her countless fans. Beth had been dealing with cancer for a few years. She was first diagnosed with stage 2 throat cancer in 2017. She had surgery and was given a clean bill of health just a few months later. However, near the end of 2018, her cancer returned and had spread to her lungs.
For the first half of 2019, Beth was really candid with fans about the struggles of going through cancer in the public eye. Dog and Beth were also in the middle of filming a new show, Dog's Most Wanted, which is slated to air on WGN America — though an official debut date has yet to be released. Dog also spoke openly during Beth's battle about how, despite a grim diagnosis, she wanted to continue enjoying her life and doing what she loved — bounty hunting, and enjoying time with family.
Learn more about SurvivorNet's rigorous medical review process.
---