"It was a weird cycle of events, circling back to, 'OK, now I'm the one feeding my mom,'" actress Carly Hughes tells SurvivorNet, reflecting on acting as a caregiver during her mother's battle with stage 3B breast cancer.
Hughes, who currently stars in the ABC comedy "American Housewife" alongside Katy Mixon and Ali Wong, says that her mom's experience with cancer, and the healthcare system, is what motivated her to get involved with the Breast Cancer Research Foundation (BCRF) when the organization came calling last year. One of the really important messages she and her mother, Valencia, hope to get across by being involved is that advocating for your own health is crucial — for everyone.
Read More
RELATED: Original 'Charlie's Angels' Cast Member Jaclyn Smith Discusses How the Angels Leaned on Each Other During Cancer Battles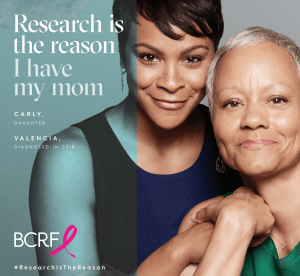 Hughes' mom was diagnosed in the summer of 2018, she says, but it wasn't the first time that she noticed something abnormal in her breast.
"She went to the doctor because she felt a lump in her breast and the doctor didn't do what she should have done," Hughes tells SurvivorNet. "Because technically, if you, male or female, go in and there's a lump, you're supposed to biopsy it. Instead, the doctor just said, 'Oh, go to radiology and look at it.' And the radiologist is not qualified to tell you what it is; they can just tell you what they see. So he said, 'Oh, you know, it just looks like a mass.' But not one person biopsied it. Luckily, it was slow-moving."
RELATED: Family Support Makes a World of Difference During the Cancer Journey
After her mom was diagnosed in the summer of 2018, Hughes says that fortunately her "American Housewife" filming schedule allowed her to fly from Los Angeles to Maryland — where her mom lives — every week for her chemotherapy treatments. After 18 weeks of chemo, Hughes explains that her mom was able to undergo surgery in an attempt to remove the remaining cancer — the actress notes that it was a bit strange, though, to see the roles reversed, and become a caregiver for her mom.
"Luckily, I was able to stay, but to have her come out of surgery frail, with no breasts, looking more like a skeleton than you've ever seen and unable to eat and move with tubes coming out of her. It was a huge thing," Hughes says. "I had to stay with her overnight. We were there duking it out over night, [and I was] feeding her Jell-O. It's a weird cycle of events."
View this post on Instagram
But Hughes says her mom handled those tough times like a true "trooper" — and as soon as she got home from the hospital, she was hitting Hughes up for a ride to the movies.
"The day after surgery her energy was back," she says. "She wasn't in pain. She didn't want to take all the pain meds, to which I had to keep saying, 'Mom, you have to take some. You just had major surgery, had your breasts chopped off.' She was like, 'I wanna go to the movies.' So … I took her to the movies. The doctor said she could go."
Cancer & the COVID-19 Pandemic
Some of that mother-daughter role reversal remained when the current coronavirus (COVID-19) began spreading across the globe. Hughes says her mom, who works with cancer patients in an oncology unit, wanted to continue to go into work despite her recent bout with cancer. This is a phenomenon many younger adults currently seem to be experiencing with their parents.
"I get it," Hughes says. "After you've experienced something like [cancer], you want to feel normal and you want to be treated normal. But I said [to my mom], 'I am treating you normal. Your new normal is you don't have the immune system you used to have — one. You were just in the hospital less than six months ago with an infection — two. Your white blood cell count is not the same — three.' And I was like, 'I know you know this because you do this for a living. Why are we fighting right now?'"
RELATED: Reach Out For Help — Mental Health Resources During the COVID-19 Pandemic
While millions of American, especially those with compromised immune systems, are taking the coronavirus and the health recommendations from the Centers for Disease Control and Prevention (CDC) seriously, Hughes is far from the first person we've heard complain about getting a relative to take the needed precautions.
Luckily, though, she was able to convince her mom to stay home from work for the time being.
Speaking Up — Advocating for Health
When it comes to the advocacy Hughes and her mom are now involved with, the actress says the reason she was so interested in getting involved with BCRF is because she, first off, appreciates that the funding the organization raises goes straight to research. Also, because many people still think of breast cancer as an older woman's disease — and it's not, Hughes says.
"It's not just a cancer that people think happens to your moms anymore. I've had friends my age who have had breast cancer, so it was important to me to help spread the word," Hughes says.

Women in particular, Hughes says, need to be vigilant about speaking up when they notice something out of the ordinary about their health. She notes that women have a long, long history of being ignored when it comes to reporting symptoms — something many of the female survivors we've interviewed in the past can attest to.
"The history, unfortunately, of women in this country is not being trusted," Hughes says, "Statistically, among African-American women as well, [there are] a lot of studies. A huge article came out with Serena Williams after she had her baby about doctors not trusting women and what they're saying, and a huge percentage of black women, what they're saying with what their body needs [is not being believed]."
Hughes pointed out that a lot of us tend to want to believe a doctor if we go in with symptoms and they say not to worry, but if intuition [or your body] is telling you something is wrong — like her mother's was when she first went in after feeling a lump — being persistent can't hurt.
"Questioning your doctors doesn't mean it's anything bad or something is wrong, it just means you're being thorough," she says.
Learn more about SurvivorNet's rigorous medical review process.