We all grieve in different ways when we lose someone close to us. The family of Beth Chapman — the much-loved "Dog the Bounty Hunter" star who tragically passed away at the end of last month after a battle with stage 4 lung cancer — has been keeping in regular touch with Beth's countless fans, and sharing really intimate family memories as they mourn the loss of the family matriarch.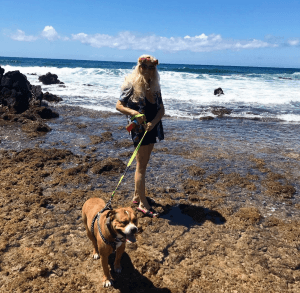 Just yesterday, Jamie Chapman — Beth's daughter-in-law by way of Jamie's marriage to Dog's son (Beth's step-son) Leland — posted a really touching tribute to Beth and really let fans know how much her mother-in-law meant to her. Jamie shared a card that Beth gave to her for Mother's Day — the card outlined a really sweet sentiment about how both women love the same man, and finished with the lines, "You love the man who is my son. For that and for so much else, on Mother's Day and always, I will forever love you."
Read More


Beth even included a note to Jamie on the card where she expressed how happy she was that Jamie and Leland found each other. In a caption for the photo, Jaime detailed just how much she loved Beth, and how much she was struggling with the loss of her mother-in-law. "Let me say, this card means the world to me in ways no one will understand…but she does. Honestly, I think I've read it 2-3 times a day since she gave it to me. Today as I'm reading it, it's hitting me differently due to it being my anniversary. You know, sometimes when I read it I swear I can hear her voice reading the card with me. Then I start crying. No matter how rocky our start was, we sure did make a beautiful finish."

Jamie (second left) and Leland (left) spent Mother's Day with Dog and Beth this year.

Jamie concluded her caption by stating how much she loved her "mom #2." And Jamie wasn't the only member of the Chapman clan to express how much she was missing Beth this week. Cecily Chapman, Beth's daughter from her first marriage, has also been taking to social media regularly to share photos of her mom. Earlier today she shared a beautiful, never before seen photo (featured earlier in this story) of Beth walking her dog at the beach to Instagram. Fans were quick to share their sympathies, and how much Beth meant to them.

Cecily Chapman, seen here with Beth, has been regularly sharing photos of her mother to social media.

"Hang in there sweetie it's hard losing a parent. I won't lie and say it gets better but I will soon see signs that she is with you," wrote one user named Jamie.

Beth Chapman strikes a pose in a publicity still for her new show "Dog's Most Wanted". Her fans fear for her health as she's forgoing chemotherapy.

"Once an earth angel, now a heavenly angel, beautiful for always," wrote another named Ashley.

Beth recently shared this cheeky selfie as she headed out for a walk on the Hawaii beach with her beloved dog.

Since Beth passed away at the end of June, thousands of fans have been mourning along with the Chapman family. The tight-knit Chapman clan were often featured on the shows, and therefore Beth's fans grew familiar with her children: Cecily, 26, Bonnie, 20, and Garry Dee, 19, (Dog is the birth father of both Bonnie and Garry Dee). Beth had another son, Dominic, when she was 17 but he was taken in by Colorado child welfare authorities and not featured on the show.

Beth Chapman in a moment of contemplation.

So, as the children grieve, their many thousands of fans grieve with them — and delight in never-before-seen photos of Beth that the children are sharing on social media. Fans are also welcome to attend a second memorial that will be held for Beth on July 13 in Colorado, and a number have shared that they plan to travel great distances to attend. The Chapmans held a memorial for Beth in Hawaii on June 30th, that involved a more-intimate ceremony and a traditional Hawaiian send-off. The Colorado memorial will be open to the public and will be held in the Denver area. Dog shared information about the event to Twitter.

July 13, 2019 –
Heritage Christian Center
14401 E. Exposition Avenue
Aurora, Colorado 80012 – Doors open at 1:00 Service starts at 2:00 pic.twitter.com/Htw4SKxDDl

— Duane Dog Chapman (@DogBountyHunter) July 1, 2019

The family is expecting a really large turn-out, as Beth was something of an inspiration to her many, many fans. She was respected not only because she was a woman who made a name for herself in the bounty hunting business, but also because she faced her cancer diagnosis with such candor and bravery. Beth had struggled with the disease for a long time. She was first diagnosed with throat cancer in 2017, but was treated and declared cancer-free at the time. However, the cancer came back towards the end of 2018, and by then it had progressed to stage 4 lung cancer.

Dog shared on Twitter that the Chapman family would be hosting a second memorial for Beth in Colorado on July 13.

Over the past few months, Beth was really open with fans about the challenges of facing the disease in the public eye. She shared with fans that she was worried she'd never see the family's latest show, "Dog's Most Wanted" air, and she even went through a very public spat with another member of the Chapman clan, her step-daughter Lyssa. But even with the hardships, Beth relied heavily on faith throughout her entire cancer journey. She shared with fans during a Mother's Day speech that she considered her diagnosis the "ultimate test of faith." Even the last words she shared with her husband before she passed away — "In Jesus' name" — revolved around her faith.

Many people turn to faith and spirituality as they take on the challenges that come with cancer. Plenty of survivors have told SurvivorNet during interviews that in the face of such uncertainty, it really helps to be able to turn to faith for the strength to keep up a positive attitude.

Learn more about SurvivorNet's rigorous medical review process.