Facing Cancer as a Parent
Casey Desantis, 43, recently spoke with Fox & Friends' Ainsley Earhardt, Desantis about how her October 2021 breast cancer diagnosis left her with fear for the future.
The wife of Florida Governor Ron Desantis and  mom of three to her 5-year-old daughter Madison, 4-year-old son Mason, and 2-year-old daughter Mamie, admits she still hasn't explained to children about her cancer battle.
DeSantis first addressed the public about her diagnosis and detailed her cancer timeline in December 2021 but the stage and type of her breast cancer remain unknown to the public.
Facing cancer as a parent can be an incredibly difficult task. But having children who depend on you can also provide another reason to fight the disease with everything you've got.
Telling your kids you have cancer can be exceptionally difficult to do, and Florida's First Lady Casey DeSantis, 43, understands that all too well. In fact, her three kids5-year-old daughter Madison, 4-year-old son Mason, and 2-year-old daughter Mamiestill know don't know what she went through.
As the mom of three and the wife of Florida Governor Ron Desantis, 44, is nearing two years since receiving her breast cancer diagnosis, she has been nothing but honest about the heightened emotions she's felt.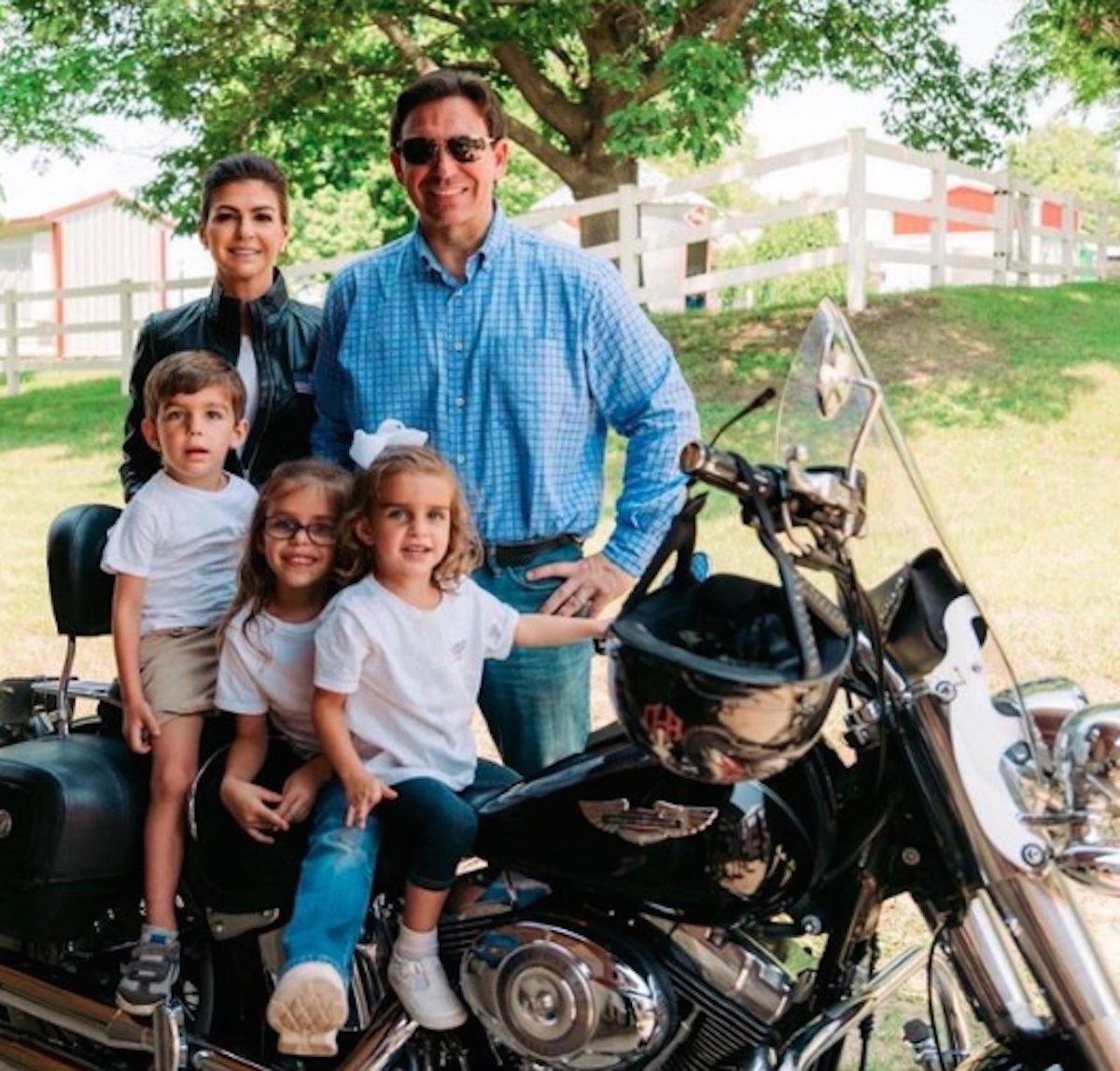 Read More
During a recent interview with Fox & Friends' Ainsley Earhardt, Desantis admitted how her October 2021 breast cancer diagnosis left her with fear for the future. "About a year and a half ago, I didn't know whether I was gonna see my kids graduate from kindergarten," Desantis said, according to
MediaLite.
When asked by Earnhardt on her reaction to her cancer battle, Desantis explained, "Well, you know, anybody will say with a cancer diagnosis, when you start hearing those words, it's not definitive right out of the gate.
"It is 'we see something that's problematic,' and the really hard part for me was that I had a 4, a 3, and a 1-year-old in the house."
She continued, "It's like, very, very difficult when you look at your children and they don't know. And you know, Ainsley, to this day they still don't know. They have no idea what Momma went through.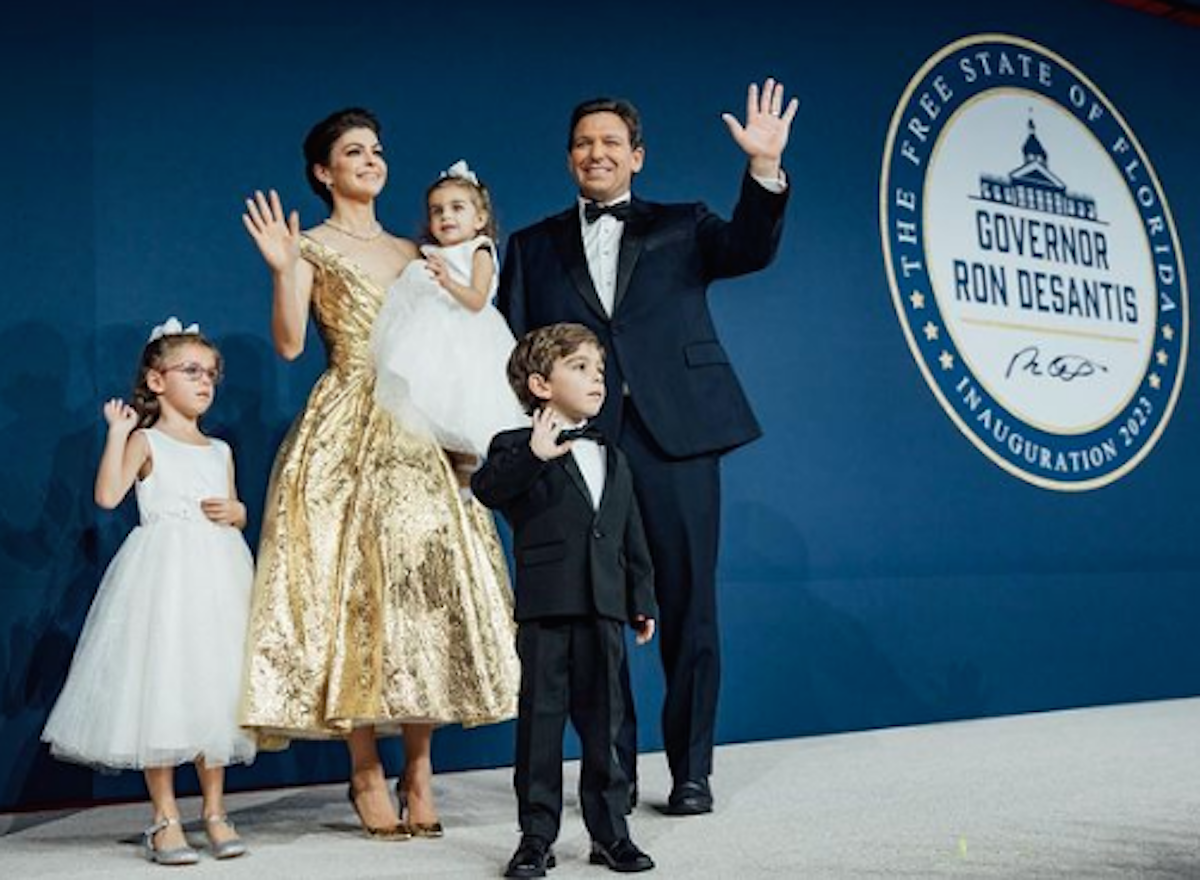 "As a matter of fact, when I was going through six rounds of chemotherapy, six weeks of radiation, and three surgeries, I couldn't really use my left arm. And a lot of times, so I told them, I was like 'I just hurt my arm,' cause I didn't want to tell them."
A teary-eyed Desantis added, "But through God's grace I'm here and this guy [Ron Desantis], this guy helped me more than you will ever realize."
RELATED: Talking to Kids About Cancer: Be Open as Much as You Can
Casey DeSantis' Breast Cancer Battle
Casey DeSantis first addressed the public about her diagnosis and detailed her cancer timeline in December 2021 but the stage and type of her breast cancer remain unknown to the public.
Speaking to a crowd gathered at the Moffitt Cancer Center in Tampa, Florida, Casey admitted she initially didn't notice any symptoms. However, a vague feeling of uneasiness led her to schedule a visit with her OB-GYN.
Handling Fear When You Get the Diagnosis
And although her doctor didn't think her symptoms were anything to worry about, Casey still sensed that something was off.  She called and requested a mammogram just one month later. That was when she received her breast cancer diagnosis.
RELATED: Florida's First Lady Casey DeSantis is Officially Cancer-Free!
Casey began chemotherapy treatment shortly after, and both she and her husband announced in January 2022 that her breast cancer treatment had concluded. Her treatment consisted of a total of six rounds of chemotherapy, surgery (unspecified as to what type), and six weeks of radiation.
I love you, Casey. pic.twitter.com/HKID5TolyM

— Ron DeSantis (@RonDeSantis) October 10, 2022
"After going through both treatment and surgery for breast cancer, she is now considered cancer-free," the governor said in March of last year. "For all the women out there who are going through breast cancer right now: you can overcome this.
"I know it's very difficult, but my wife is proof positive. If you wound back six or seven months, this is exactly the type of news that we had hoped for… She still has more to do, but I'm confident she's going to make a full recovery."
Related: Florida First Lady Casey DeSantis Says 'I'm Fit To Fight' And Thanks People Who Prayed For Her During Her Cancer Battle
Casey, a 42-year-old mom of three, was previously featured in a video advertisement in support of Ron's re-election campaign.
In the footage, Casey talks about Ron's continued support throughout her fight with cancer.
"I get asked all the time, who is Ron De Santis? He's the kid who grew up right here in Florida working his tail off paying his own way through school and volunteering to serve in the Navy and deploying to Iraq," Casey says in the powerful TV and digital campaign video titled: "That Is Who Ron DeSantis Is." 
"He's the man who I fell in love with from the moment we met," she continued. "And he's the dad of three very rambunctious, energetic children: Mamie, our two-year-old little comedian, Madison, our beautiful sweet five-year-old, and Mason, our four-year-old athlete."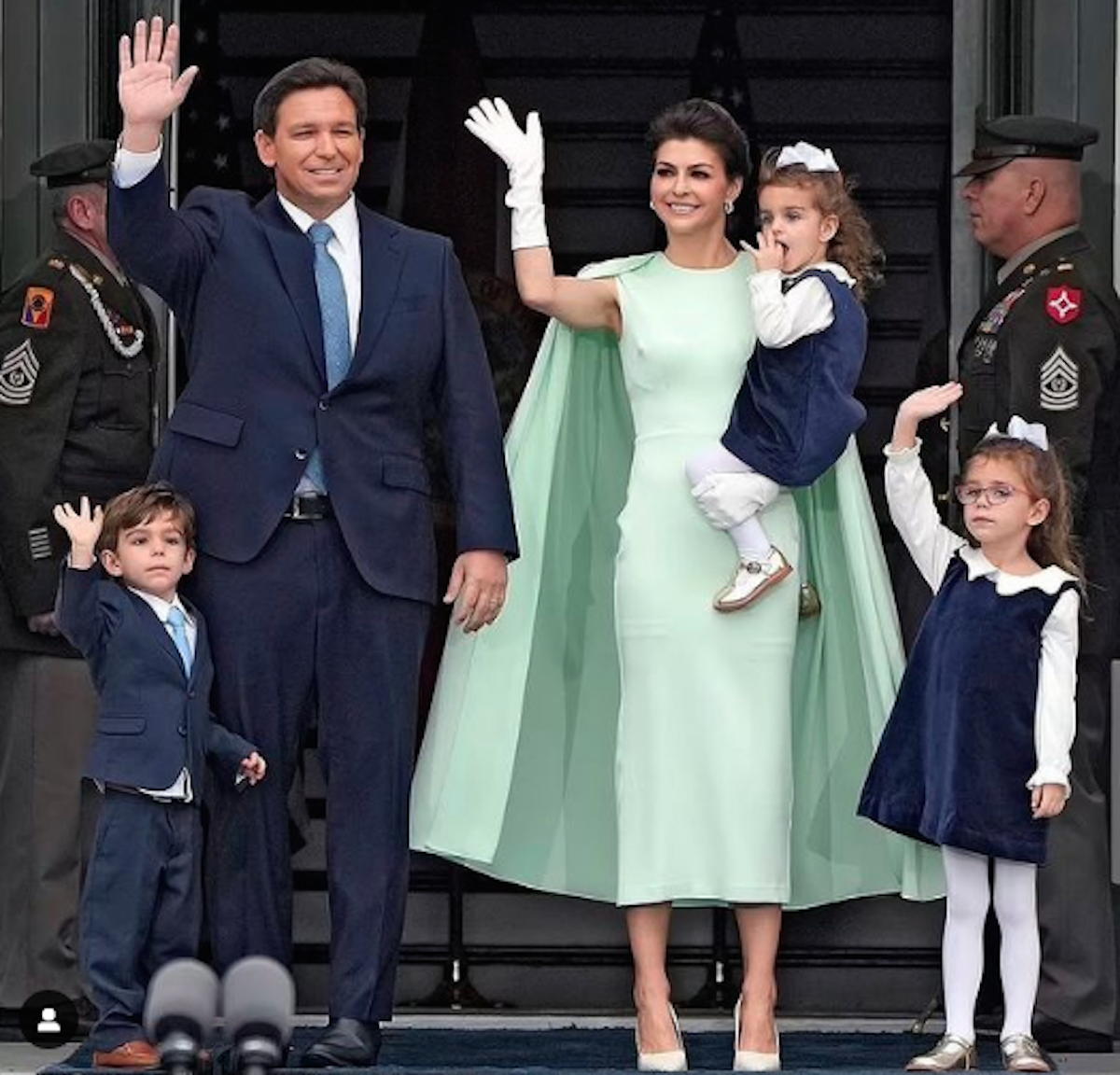 Casey, who recently launched the Florida Cancer Connect initiative, then explained "who" her husband really is, saying, "When I was diagnosed with cancer and I was facing the battle for my life, he was the dad who took care of my children when I couldn't."
Supporting a Spouse Through Cancer
It is important for cancer warriors in the midst of their fight to have a strong support system, just Casey Desantis said she had in her husband.
Having a partner, friend, or family member by your side to help care for and support you through a health struggle can be advantageous.
And when a loved one takes on a caregiving role, it's necessary to understand the person's diagnosis and assist them when following cancer-care instructions.
Dr. Jayanthi Lea, a gynecologic oncologist at UT Southwestern Medical Center, previously told SurvivorNet, "I encourage caregivers to come into visits with my patients because in that way, the caregiver is also listening to the recommendations what should be done in between these visits, any changes in treatment plans, any toxicities [side effects] that we need to look out for, changes in dietary habits, exercise, etc."
If you are a caregiver of a cancer warrior, it is important to maintain your own mental and physical health as well.
"Caregiving is the most important job in the universe because you are there through the highs and lows," Julie Bulger manager of patient and family-centered care at Vanderbilt-Ingram Cancer Center told SurvivorNet.
"You are there to support your loved one, to manage all of the daily tasks as everything is changing in your life."
Two-time Cancer Survivor Bianca Muniz On How She Found A Support System Amid Treatment
Caregivers must also watch out for "caregiver burnout," where stress, anger, fatigue, and illness emerge from putting another person's needs ahead of their own.
If you are a caregiver and find yourself struggling to care for a cancer warrior, you should seek out a therapist, or a support group of their own either online or in person.
Battling Cancer as a Parent
Facing cancer while navigating your role as a parent can be incredibly challenging. And fearful thoughts about leaving your children may be harder to handle than the the actual diagnosis itself.
Telling Your Kids You Have Cancer 'When it Comes to Your Kids, You Want to Protect Them'
Breast cancer survivor Gina de Givenchy previously spoke with SurvivorNet about going through cancer treatment as the mother of a 12-year-old girl.
"I felt it was important to mask it because I really wanted her to know that I was going to be OK," she said. "I didn't want her to see me weak and sickly.
"When it comes to your kids, I think you always want to sort of protect them."
RELATED: Young Mom With Breast Cancer Makes Adorable Superhero Slideshow to Tell Her Kids About Diagnosis
The pressures of parenthood can be daunting during a cancer journey, but having little ones that depend on you can also provide another source of motivation to fight for your life.
Jovannie Lorenzo knows this to be true. When she was diagnosed with colon cancer at 32, she felt an immense amount of fear because she was a single parent of her three kids. Going into her cancer battle, Lorenzo knew she would do everything in her power to be around to raise them.
Facing a Cancer Diagnosis as a Single Parent: "I Knew I Had to Fight for My Life"
"I knew that I had to do everything possible to be here for my children," Lorenzo told SurvivorNet. "They are my saving grace. They are the reason I wake up every morning. They are the reason why I fight every single day and I make a choice to be positive, to be happy, and to move forward."
Resources for Cancer-Fighting Parents Trying To Support Their Kids
There are many resources to look to if you're a parent with cancer who's trying to figure out how to navigate the relationship with your children while you fight cancer, including specific pages on the American Cancer Society and MD Anderson Cancer Center websites.
"Children tend to think in very concrete terms and like to know what's going on and what to expect," a MD Anderson Cancer Center article reads. "If they ask something that you don't know the answer to, it's okay to tell them that you don't know and that you will work on finding the answer. The most important thing is to communicate openly, honestly and frequently."
The American Cancer Society says talking about a cancer diagnosis with your children will vary greatly depending on their age(s).
"Children of different ages will have different concerns," the website reads. "For example, teens, who are testing their independence and limits, will have very different concerns from a 5-year-old who needs parents for basic caregiving. Young children (up to 8 years old) might not need a lot of detailed information like older children (8 to 12 years) or teens."
You'll have to find a balance between sharing too much and too little information about your cancer battle, but children should know how life will change regardless of their age. Most kids of all ages need to know the following basics, according to the American Cancer Society:
The type of cancer (for example, colon cancer or lymphoma)
Where the cancer is in the body
What will happen with treatment?
How treatment might change how the person looks and feels
How their lives are expected to be changed by the cancer and its treatment
Licensed clinical psychologist Dr. Marianna Strongin encourages people with sick parents "to talk about your feelings with your immediate family as well as your parents." She's previously talked about the importance of expressing your feelings in her advice column for SurvivorNet.
"Talking about difficult things does not cause more anxiety," Dr. Strongin said. "It is NOT talking about the very thing that we are all afraid or worried about that causes our body to feel dysregulated (unable to manage emotional responses or keep them within an acceptable range of typical emotional reactions) and anxious."
RELATED: Being The Parent Of A Sick Child Or The Child Of A Sick Parent: Dr. Marianna Strongin Addresses These Topics In Her New Column 'Strong In Cancer'
For some people, therapy could be a good option, too. Though she was not a child when her mother fought breast cancer, singer-songwriter Jazmine Sullivan can attest to the benefits of therapy when a parent goes through a cancer battle.
"Breast cancer changes everything about your life. I've actually started seeing a therapist and I'm taking care of my mental health because that's something that you just need to kind of figure out," she previously told Yahoo Life. "I've been looking up so much since [starting] therapy and getting that pain and everything that I went through out."
In addition, children of certain ages might benefit from attending a local or national camp or joining a support group. Camp Kesem, for example, is a national camp for children whose parents have a cancer diagnosis that has local chapters. If your child or teen needs people to talk to outside of the family, see what groups and organizations are nearest you.
Contributing: SurvivorNet Staff
Learn more about SurvivorNet's rigorous medical review process.
---