Grieving & Healing After Losing A Spouse to Cancer
Emmy-winning actor Damian Lewis, 51, most known for his role opposite Claire Danes in Homeland, lost his wife, Peaky Blinders star Helen McCrory, to cancer in April 2021 when she was just 52 years old.
Now, about a year and a half after Helen's death, Damian has stepped into the world of music and created an album called Mission Creep, which he admits was created in a 'mini midlife crisis.'
After the loss of a loved one to cancer or another illness, it's imperative that you allow yourself time to grieve. People process grief in different ways, and everyone moves at their own speed as well. Be gentle with yourself and take the time you need.
Emmy-winning actor Damian Lewis, most known for his role on the Showtime series Billions and for portraying U.S. Army Major Richard Winters in the Band of Brothers, is stepping into the world of music following the death of his wife last year.
Damian, 51, lost his wife, Peaky Blinders star Helen McCrory, to breast cancer in April 2021 when she was just 52 years old— after a battle which he previously recounted left him "physically drained."
Read More
In the wake of Helen's death, Damian was interviewed by
The Sunday Times,
where he described supporting his wife amid cancer as "physically draining" and "semi-grieving."
"They say that the first day of diagnosis of an illness that could be terminal is your first day of grief," he told the magazine. "You are in a state of semi-grief while the person is still alive because there is always the sense that something might go wrong at any point."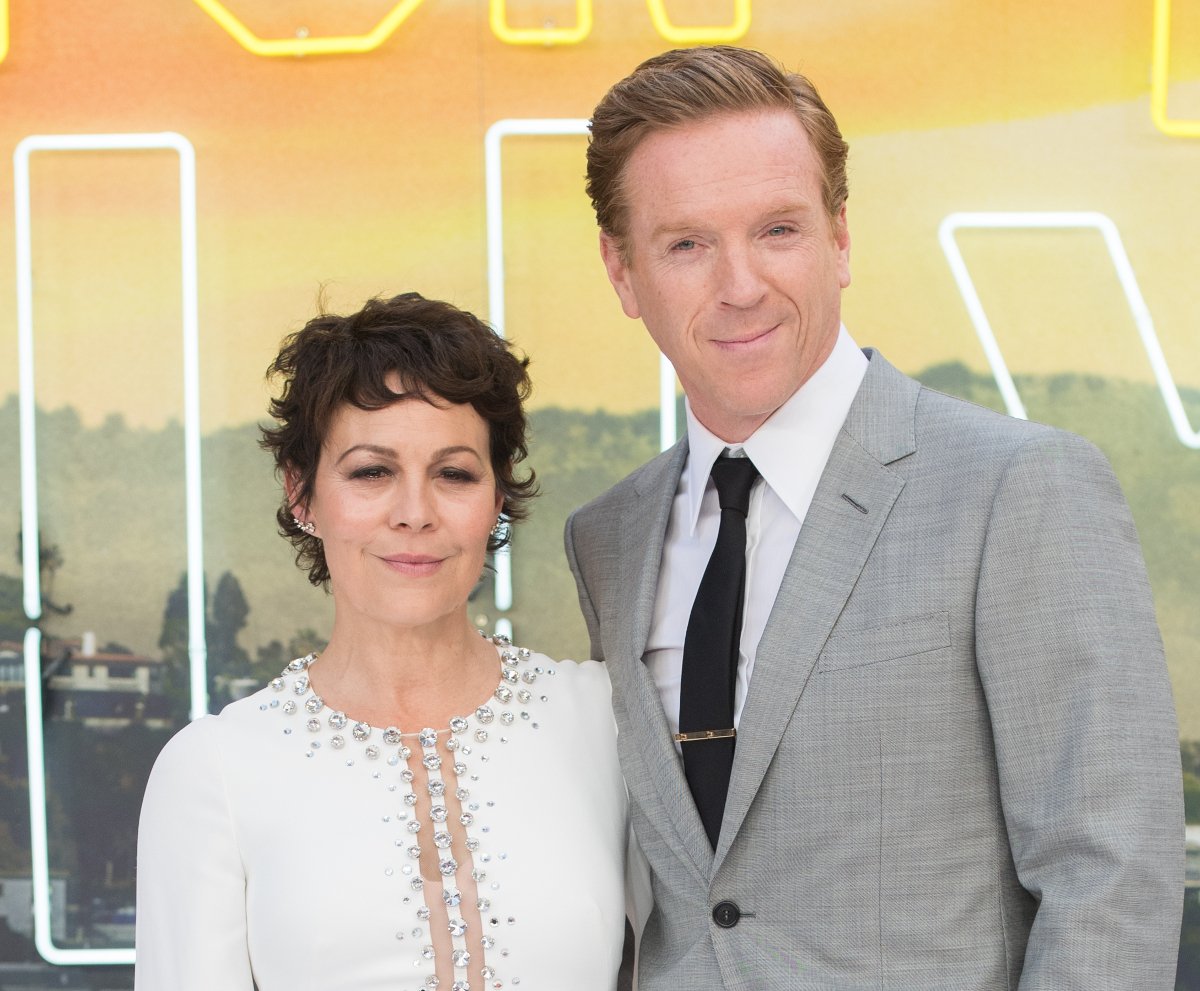 Damian continued, "There's a hyper-alertness and you are incredibly present and charged at all times. You're on a sort of war footing. You've got something to deal with that gives you great focus. Everything is going into getting that person better."
"Until the moment of death you're fully engaged in living the best possible life that can be lived for the person dying, and for you as a family and for the children," he added. "It takes an enormous amount of energy. So the collapse in death, the exhaustion, comes with that."
Related: Damian Lewis, 51, Still Wears Wedding Ring After Tragically Losing His Beloved Wife, 'Harry Potter' Star Helen McCrory, 52, To Cancer Last Year
Now, about a year and a half after Helen's death, Damian has taken up singing and created an album called Mission Creep, in what he admits is a "mini midlife crisis."
"There's nothing more annoying than an actor who thinks he's Bruce Springsteen. By the way, I don't think I'm Bruce Springsteen," Damian, who will be touring the album next year, told the Guardian this past month. This is a mini midlife crisis, but it's not a full-blown midlife crisis."
He explained, "When you've been married to someone and they die prematurely, you're left careering in a different direction. It's a very fertile, very creative, raw, open time, as well as being flattening and difficult and sad. It's all those things at once. Anybody who hasn't been through it won't fully understand, but I think anybody who has been through it will."
Damian credited the Covid-19 lockdown with sparking him to pursue music after jazz musician Giacomo Smith inspired him to write songs. His hard work left him with a "rootsy, jazzy, rock'n'rolly, singer-songwritery-type album."
Earlier this year, Damian said in an interview with The New York Times that he would not be acting for the foreseeable future.  Instead, his focus will be raising his teenage son and daughter.
The passing of his wife was not why Damian decided to exit Billions, having signed on to appear in only five seasons of the popular Showtime series from the start. However, Helen's death is the reason whhy the production team allowed him to film remotely in London during his final season and only required him to fly to New York City to shoot a handful of scenes.
Meanwhile, Damian's British fans maye be lucku enojugh to get another glimpse of the actor on the small screen in the next few years. He has been developing an adaptation of the Cold War espionage thriller A Spy Among Friends, based on the book of the same title by Ben McIntyre.
The Toughest Conversations Losing a Spouse to Cancer
He also plans to star in the series opposite Dominic West. The show would film in London, allowing Lewis to play the roles of both M16 officer and dad.
Audiences in America won't be so lucky. The actor was first introduced stateside in the 2001 series Band of Brothers before playing the decorated-soldier-turned-sleeper-cell-agent Nicholas Brody in Homeland, and amoral-hedge-fund-titan Bobby "Axe" Axelrod in Billions says this might be the end.
Related: Months Before Losing Wife Helen McCroy to Cancer, Actor Damian Lewis Lost His Nephew; How to Cope with Grief
"I don't like closing chapters, but it does feel like it's the end of that for now," Damian said.
He did leave the door open for the possibility of a future cameo on Billions, however, saying: "There's an opportunity maybe for me to return, but for now, broadly speaking, Axe has been vanquished."
Helen McCrory's Breast Cancer
Damian Lewis' late wife Helen McCrory died from breast cancer at age 52, after nearly 14 years of marriage. They had two children together — a daughter Manon, now 16, and son Gulliver, 14.
— Damian Lewis (@lewis_damian) April 16, 2021
And while we don't know much about the wife of Damian's specific case, this disease has been the subject of much research. Many women develop breast cancer every year, but men can develop this cancer too – though it is more rare, in part, due to the simple fact that they have less breast tissue.
After his wife's passing, Damian took to social media to announce he was heartbroken after his wife's "heroic battle with cancer."
"The beautiful and might woman that is Helen McCrory has died peacefully at home, surrounded by a wave of love from family and friends," he wrote. "She died as she lived. Fearlessly."
When Should I Get A Mammogram?
Breast cancer is typically detected via a mammogram, a screening method that looks for lumps in the breast tissue and early signs of an abnormality.
Women aged 45 to 54 with an average risk of breast cancer (i.e. no family history of the disease) should have mammograms annually. Dr. Connie Lehman, the chief of the Breast Imaging Division at Massachusetts General Hospital, says in an earlier interview, "If you haven't gone through menopause yet, I think it's very important that you have a mammogram every year."
"We know that cancers grow more rapidly in our younger patients, and having that annual mammogram can be lifesaving," says Dr. Lehman. "After menopause, it may be perfectly acceptable to reduce that frequency to every two years. But what I'm most concerned about is the women who haven't been in for a mammogram for two, three, or four years, those women that have never had a mammogram. We all agree regular screening mammography saves lives."
Coping With Loss Of Spouse to Cancer
Losing a spouse to cancer is devastating, and working through grief is an ongoing process. For people with children, like Damian and Helen, it can be especially gut-wrenching for a family to lose a wife and mother in one blow.
Following Helen's death, Damian revealed how his late wife urged him to find love again, telling him and their children that she wanted "Daddy to have lots of girlfriends."
Related: The Toughest Conversations—Losing a Spouse to Cancer
Lewis added in the social media post: "She died as she lived. Fearlessly. God we love her and know how lucky we are to have had her in our lives. She blazed so brightly. Go now, Little One, into the air."
Contributing: SurvivorNet Staff
Learn more about SurvivorNet's rigorous medical review process.
---