First Lady Casey DeSantis Inspires A Crowd
Florida first lady Casey DeSantis, 41, made her first appearance since sharing the news of her breast cancer diagnosis, appearing at a fundraising dinner with her husband Gov. Ron DeSantis.
The mother of three children under the age of five did not share any details about her diagnosis or treatment plan, but did tell those assembled: "Never ever, ever give up the fight, ever. I have only begun to fight."
The Centers for Disease Control recommends that individuals battling cancer receive a booster shot while also advising those who are currently receiving treatment to wear a mask covering their mouth and nose while out in public, avoid crowds, maintain a distance of six feet from others when outside the home, and wash their hands throughout the day.
"I'll tell you one thing is for sure: I'm sure as hell not giving up."
A confident and composed Casey DeSantis made it clear over the weekend that she plans to fight and beat breast cancer.
Read More
Florida's fearless first lady, 41, addressed a crowd during a surprise speech at a Republican fundraising dinner in Hernando County. She attended the event with her husband, Gov. Ron DeSantis, the evening's keynote speaker.
It marked her first appearance since sharing the news of her diagnosis earlier this month.
The first lady comes out to a standing ovation from the crowd in a video shared by her husband on Facebook. "First Lady Casey DeSantis is going to fight back against cancer with courage, determination, and trust in God. The outpouring of support we've received from across Florida and the country is heartwarming – there is light at the end of the tunnel and we're going to get there," wrote Gov. DeSantis in his post accompanying the footage.
The video opens with the poised first lady delivering a joke to the crowd, saying: "I hear when you get a standing ovation before you even walk in the door you should probably just leave."
She goes on to address some of the political themes of the night while continuing to shy away from sharing any specific details about her diagnosis or treatment plan with the crowd.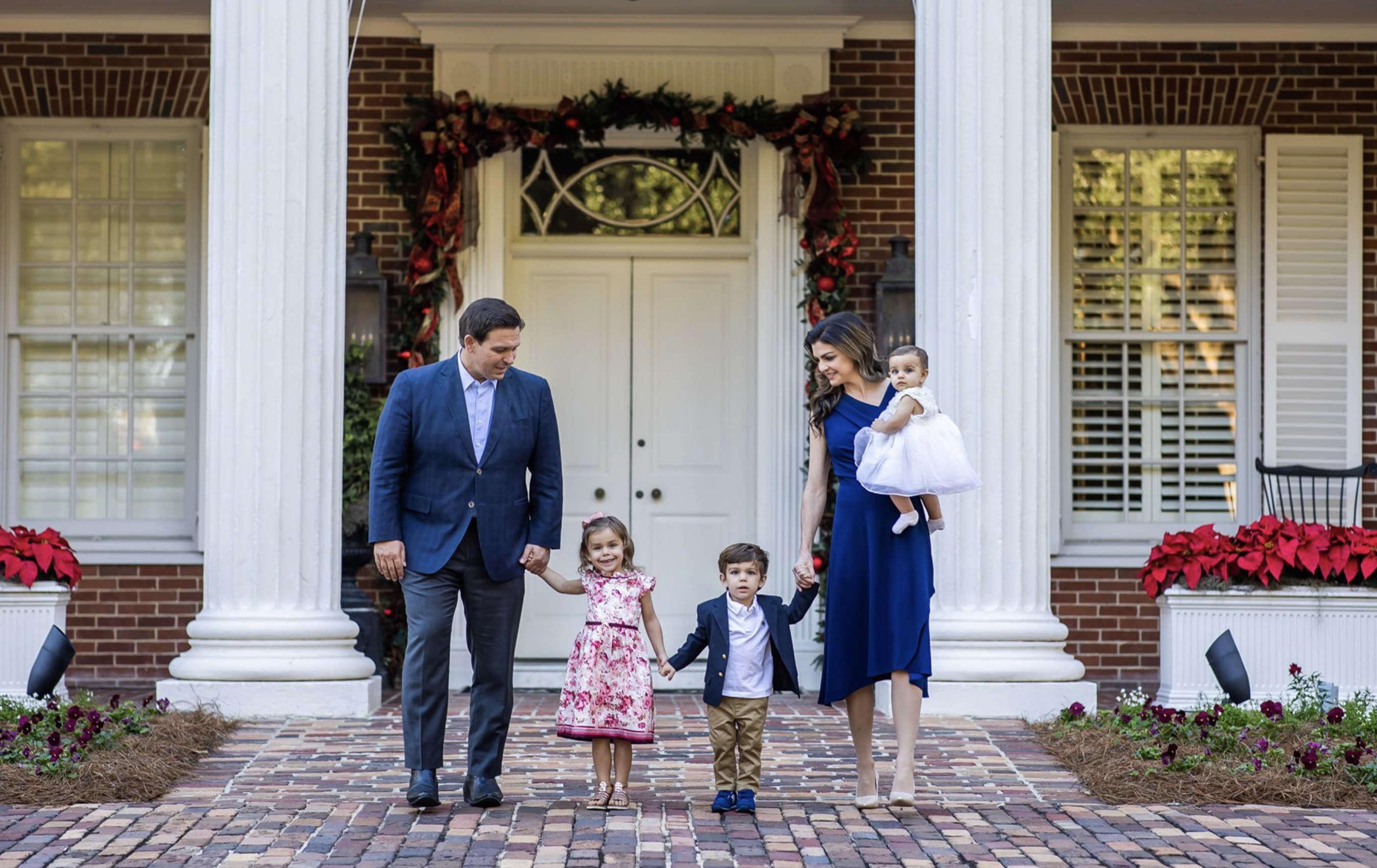 Related: Fox News Host Kayleigh McEnany Says Fears Of Dating Post-Mastectomy Made Her Delay Surgery For 10 Years After Breast Cancer Gene Diagnosis, Drew Strength From Angelina Jolie
The mother of three children under the age of five did have a message though for those gathered at the event, closing out her brief remarks by stating: "Never ever, ever give up the fight, ever. I have only begun to fight."
Gov. DeSantis, 43, had high praise for his wife while introducing her on Saturday, saying: "Probably the most important person that has stood by me is our wonderful First Lady."
He then told the crowd he did not fear the first lady's diagnosis because of his wife's tenacity and his own faith in the lord. That is when he then told the crowd: "In fact, she's doing so well that she wanted to come here tonight and say hello to you, so here she is."
On Monday, Gov. DeSantis once again praised his wife at a press conference while he announcing the news of a $6.1 million grant that would provide workforce training for high school students in Hernando County.
"It was really an inspirational message, an inspirational moment, and basically her message is, this is not something that anyone should have to deal with, but unfortunately these things happen in life," DeSantis told those assembled at the event.
"And so the key is, she is going to respond with courage and determination, and she is not going to be denied."
He went on to note that his wife's fight is "inspirational," adding: "I said it [at the fundraising dinner], she is going to be back better than ever. I don't know when, but I know it's gonna happen."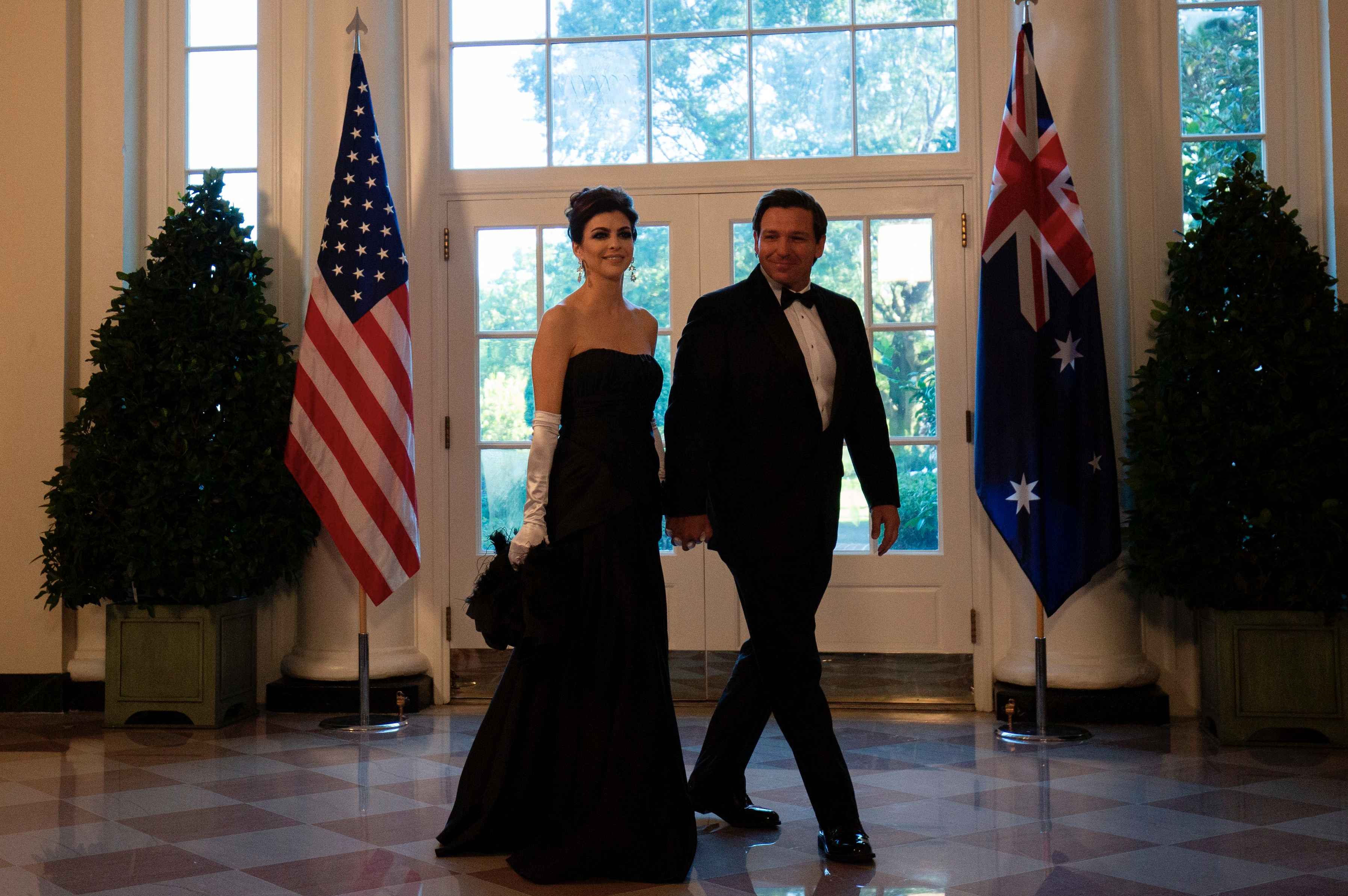 Gov. DeSantis shared the news of his wife's diagnosis earlier this month.
"As the mother of three young children, Casey is the centerpiece of our family and has made an impact on the lives of countless Floridians through her initiatives as first lady," read his statement in part.
"As she faces the most difficult test of her life, she will have not only have my unwavering support but the support of our entire family, as well as the prayers and well wishes from Floridians across our state."
He closed out by stating: "Casey is a true fighter, and she will never, never, never give up."
The first lady is an Emmy award-winning television show host. She married Gov. DeSantis in 2010 and managed a seamless transition into her new role when her husband assumed office in 2019.
In her brief time as first lady, she already launched multiple initiatives, including one that aims to foster economic growth in communities by bringing together members of both the public and private sectors called: Hope Florida – A Pathway to Prosperity.
She also created a program just this year that pairs professional athletes and sports teams with at-risk youth to destigmatize mental health issues.
The Centers for Disease Control recommends that individuals with cancer receive a booster shot. The CDC also advises those who are currently receiving treatment to wear a mask covering their mouth and nose while out in public, avoid crowds, maintain a distance of six feet from others when outside the home, and wash their hands throughout the day.
Related: Brave Girl, 7, Still Smiling After Half Her Face, Jaw And Teeth Are Removed To Extract Softball-Size, Calcified Tumor From Her Mouth
Mammogram Guidelines
Women aged 45 and 54 should have annual mammograms; women with a history of breast cancer in their families should begin screening even earlier.
In an earlier interview, Dr. Connie Lehman, the chief of the Breast Imaging Division at Massachusetts General Hospital, emphasized how mammograms save lives. She says, "If you haven't gone through menopause yet, I think it's essential that you have a mammogram every year. We know that cancers grow more rapidly in our younger patients, and having that annual mammogram can be lifesaving."
The centers for Disease Control echoes this, stating that women aged 40 to 44 years should have the choice to start breast cancer screening once a year with mammography if they wish to do so, regardless of the reason.
Meanwhile, lawmakers in both the House of Representatives and Senate are getting behind a bill that would protect access to free mammograms for women between 40 and 49.
That could have helped First Lady Casey DeSantis possibly catch her cancer a year earlier, given she is not yet old enough to meet the current standards for annual testing.
The Protecting Access to Lifesaving Screenings (PALS) Act was reintroduced this week by Rep. Debbie Wasserman Schultz (D-FL) and Rep. Congressman Fred Upton (R-MI) in the House and Sen. Dianne Feinstein (D-CA) and Sen. Marsha Blackburn (R-TN) in the Senate.
If passed, the bill would guarantee free mammograms at least once a year to all women 40 and over.
The U.S. Preventative Services Task Force (USPSTF) rates mammograms a C for women in the 40 – 49 age range, meaning that they do not recommend annual screenings. That is at odds with the recommendations of the  American College of Obstetrics and Gynecology, the National Comprehensive Cancer Network, the American College of Radiology/Society for Breast Imaging, and many experts in the field of oncology.
"The notion that breast cancer is a risk only for older people puts young women at risk of not getting a screening that could save their lives. The USPSTF guidelines would exacerbate this problem by discouraging women from getting potentially life­saving mammograms and putting them at risk of losing insurance coverage for screenings," said Rep. Wasserman Schultz.
"As a breast cancer survivor who was diagnosed at 41, I know firsthand the importance of ensuring young women have access to the tools and information they need regarding their breast health. That is why I am proud to reintroduce the PALS Act with Congressman Upton, which extends the moratorium on these ill-advised guidelines and is supported by leading clinical and advocacy organizations."
Related: When You're Getting a Mammogram, Ask About Dense Breasts
"After menopause, it may be perfectly acceptable to reduce that frequency to every two years," says Dr. Lehman. "But what I'm most concerned about is the women who haven't been in for a mammogram for two, three, or four years, those women that have never had a mammogram. We all agree regular screening mammography saves lives."
When Should I Get a Mammogram?
Doing a Self-Exam at Home
In addition to regular mammogram screenings, women should also do self-exams at home. The American Cancer Society (ACS) says, "Women should be familiar with how their breasts normally look and feel and should report any changes to a health care provider right away."
This is known as routine surveillance, and one of the many ways advocates like First Lady Casey DeSantis try and encourage early detection.
Related: You Should Be Aware of These Signs of Breast Cancer
The National Breast Cancer Foundation provides the following instructions for an at-home examination:
While standing straight in front of a mirror, place your hands on your hips and look at your breasts for any swelling, bulging, changes in the shape of breast or nipple (inverted), redness, rashes, or any fluid leaking. Then do the same with your arms in the air.
Next, while lying down, use your right hand to examine your left breast and vice versa while using your first three fingers to apply pressure. Ensure you cover the entire breast area, from your collarbone to below your ribcage and from your armpit to your cleavage area. Do the same self-exam standing or sitting up. Be sure to use light to medium pressure for the middle breast area and firmer pressure when feeling deep breast tissue.
Getting to Know Your Breasts with Self-Exams
Learn more about SurvivorNet's rigorous medical review process.