Julie Venables' Cancer Diagnosis
Football coach Brent Venables, 52, has opened up about his 49-year-old wife Julie Venables' battle against breast cancer.
Venables talked about the shock diagnosis during an OU Shooners Media Day press conference on Tuesday, revealing his wife was diagnosed in June and has already underwent a surgical procedure on Friday morning.
They are now waiting for more news from her doctor on whether she will need to undergo radiation and chemotherapy.
Although, Venables and his wife haven't revealed what stage her cancer is or the specific surgery she has already underwent, it's important to note that there's many ways to treat breast cancer, including: surgery, chemotherapy, radiation, hormone therapy, targeted therapy, and immunotherapy.
Brent Venables, the University of Oklahoma's head football coach, has revealed that his 49-year-old wife Julie Venables is battling 
breast cancer.
The 52-year-old football coach opened up about his wife's shocking diagnosis during his an OU Shooners Media Day press conference before his team's 2023 fall camp kicks off this week.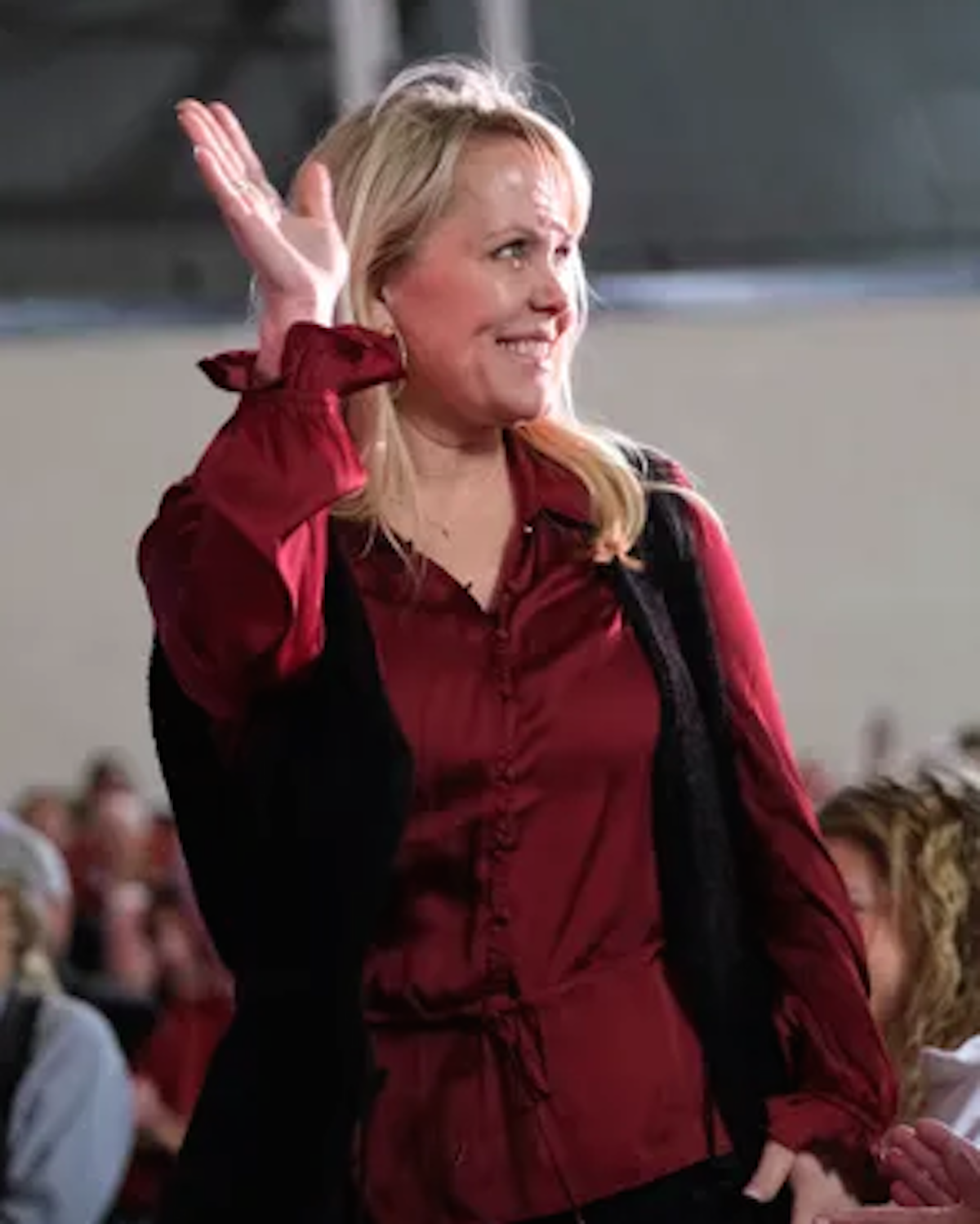 Read More
During the Tuesday media event, Venables shared that his wife received her diagnosis in June and had followup a surgical procedure. "We got a diagnosis on June 16 that was knock-you-off-your-feet," Venables said, according to
OU Insider
. "There's no blueprint on how you handle that. Our sanctuary and our true shelter is our faith and the power of prayer." Recounting the immense amount of support his family has received since her diagnosis, he explained, "It's been nothing short of amazing. The group of people that have helped, whether it's the doctors, the administration, the people I work with, our staff, our players, our players parents, and certainly so many friends and Sooner Nation. It's been great."
His wife underwent a procedure last week in New Orleans, and although he did not go into detail about the surgery, things seem to be going well.
"[Julie] had surgery on Friday morning and we're hopeful that we got everything and maybe can avoid further treatments, such as radiation and chemotherapy," Venables said.
"We will find that out in the next several days. We think it's not in her lymph nodes, so that's a great thing. Right now it's about 'what's contained' and we're trying to strengthen her and get her back on her feet."
Praising his wife, and mother to their four children, as "tough," he continued, "She's a honey badger and she's got a medical background as a former nurse, so she already knows the answer to the question, so, 'get it right doc.' She's amazing."
According to ESPN, Venables, who married his wife in 1997, noted how Julie's breast cancer diagnosis reminded him of his mom, Nancy Schumaker, who passed away from cancer in 2005.
Evaluating Your Treatment Options For Breast Cancer
Although, Venables and his wife haven't revealed what stage her cancer is or the specific surgery she has already underwent, it's important to note that there's many ways to treat breast cancer, including:
Surgery
Most women with breast cancer will have surgery at some point in their treatment. Depending on how far your cancer has spread and your personal preferences, you and your doctor may decide to:
Remove just the cancer and an area of healthy tissue around it (lumpectomy)
Remove one breast (mastectomy)
Remove both breasts (double mastectomy)
WATCH: Plastic Surgeon Dr. Andrea Pusic Offers Advice On Regaining Your Sense of Self After Surgery
Removing your breasts can have a dramatic effect on your self-esteem, which is why some women who opt for a mastectomy then choose breast reconstruction surgery. This is a highly personal choice, and there is no "right" answer as to whether or not to reconstruct.
Chemotherapy
Chemotherapy uses strong drugs to kill cancer all over the body. You may get this treatment to shrink a tumor before surgery, afterward to get rid of any remaining cancer cells, or on its own if you can't have surgery.
Whether or not to have chemotherapy can also be a choice, depending on a woman's age, type of cancer, and stage.
Radiation Therapy
Radiationthe use of high-energy rays to destroy cancer cellsis also used after surgery to lower the chance that the cancer will come back after treatment. Many women undergo radiation as part of their treatment, especially if they opt for a lumpectomy instead of a mastectomy.
Hormone Therapy
The hormones estrogen and progesterone help some breast cancers grow. Doctors refer to these types of cancers as hormone-receptor-positive breast cancers. Receptors are proteins on the surface of breast cells that receive messages from estrogen, progesterone, or both, telling them to grow. Treatments that block these hormones may help stop the tumor.
Testing the tumor sample from a biopsy helps to determine whether hormone therapies such as tamoxifen (Nolvadex) or anastrozole (Arimidex) might work against the cancer. Women with breast cancer that is fueled by estrogen may take one of these drugs as part of their treatment.
Immunotherapy and Targeted Therapy
Immunotherapy and targeted therapies are newer forms of treatment. Immunotherapy boosts your body's own immune response to help it stop the cancer.
As their name suggests, targeted therapies target certain substances that help the cancer grow. For example, drugs like trastuzumab (Herceptin) and pertuzumab (Perjeta) treat breast cancers that have too much of a protein called HER2 on their surface.
Speak Up if You Think Something Is Wrong
Symptoms of Breast Cancer
Being aware of how your breasts normally look and feel is an important factor when it comes to breast cancer detection. Doing regular self-exams is one way to familiarize yourself with how your breasts normally feel so that you will be able to identify anything out of the ordinary like a lump or hard mass.
Some other symptoms to look out for, which SurvivorNet recommends, include:
New lump in the breast or underarm (armpit)
Any change in the size or shape of the breast
Swelling on all or part of the breast
Skin dimpling or peeling
Breast or nipple pain
Nipple turning inward
Redness or scaliness of breast or nipple skin
Nipple discharge (not associated with breastfeeding)
Of course, these symptoms can be due to things other than cancer. For example, a lot of women experience breast tenderness during certain times in their menstrual cycles. If you're worried talk to your doctor about it. They may want to perform an exam, or even schedule a mammogram just to be safe.
Something to Fight For: A Survivor Story
Battling Cancer as a Parent
Facing cancer while navigating your job as a parent can be super challenging. Additionally, fearful thoughts about leaving your children may be harder to handle than the the actual diagnosis itself.
Breast cancer survivor Gina de Givenchy previously spoke with SurvivorNet about going through cancer treatment as the mother of a 12-year-old girl.
Telling Your Kids You Have Cancer 'When it Comes to Your Kids, You Want to Protect Them'
Givenchy said, "I felt it was important to mask it because I really wanted her to know that I was going to be OK. I didn't want her to see me weak and sickly. When it comes to your kids, I think you always want to sort of protect them."
The pressures of parenthood can be daunting during a cancer journey, but having little ones that depend on you can also provide another source of motivation to fight for your life.
Jovannie Lorenzo understand this all to well, as when she was diagnosed with colon cancer at 32, she felt an immense amount of fear because she was a single parent of her three kids. Going into her cancer battle, Lorenzo knew she would do everything in her power to be around to raise them.
MORE: Facing a Cancer Diagnosis as a Single Parent: "I Knew I Had to Fight for My Life"
"I knew that I had to do everything possible to be here for my children," Lorenzo told SurvivorNet. "They are my saving grace. They are the reason I wake up every morning. They are the reason why I fight every single day and I make a choice to be positive, to be happy, and to move forward."
WATCH: Dr. Comen On Options For Treating Advanced Breast Cancer
Contributing: SurvivorNet Staff
Learn more about SurvivorNet's rigorous medical review process.
---