Getting a message of love and support from her fellow singer, actor, and Australian Hugh Jackman has made Olivia Newton-John extremely grateful — and extremely emotional. During a recent The Man, The Music, The Show performance at Sydney's Quodos Bank Arena, Jackman recorded a message for Newton-John, along with about 15,000 fans.
RELATED: HUGH JACKMAN SENDS OLIVIA NEWTON-JOHN LOVE AS SHE BATTLES CANCER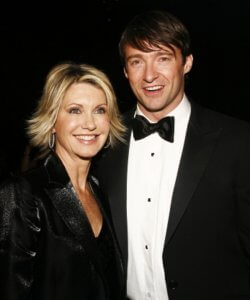 Read More
"Hi Olivia, it's Hugh, with 15,000 of your closest friends and family," he said in the recording. As he twirled around to show Newton-John the crowd, he asked the crowd if they had seen her
most recent interview
on the Australian show
60 Minutes
, which she did with her daughter Chloe Lattanzi, 33.
He then continued, "Listen, you are the most amazing person, the most amazing mum, the most amazing ambassador, singer and dancer. We just love you." Jackman closed out the video by having the whole audience shout, "We love you, Olivia!"
The 70-year-old Grease actress responded by sharing the video to her own Instagram story, with an explanation of how much the shout-out meant to her. "Oh @theHughJackman you are so sweet and thoughtful this made me cry! Say hello to my heart home! Thank you to you and your gorgeous OZZIE audience!"
The 60 Minutes appearance Jackman was referring to aired earlier this month and featured an intimate interview with Newton-John and Lattanzi, where the actress' daughter discussed her struggles with addiction — and how her mom's current battle with cancer gave her the strength to try and recover.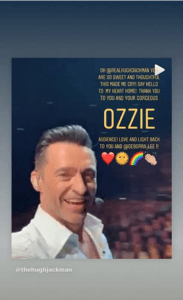 "We all have our cancers," Lattanzi said in the interview. "Mine is my battle with addiction — I have to keep myself sober for the rest of my life. And it's a fight and it takes work … Her illness helped me heal my illness. I knew I needed to be —  I wanted to be bright and happy and available and around for my mom when she was struggling with this. I thought I was okay but I wasn't. I was still struggling with severe depression and whatever, and I faced it, head on."
Newton-John is currently battling breast cancer for a third time. She was first diagnosed 27 years ago. She was treated with nine months of chemotherapy and a mastectomy — which is a surgery where one or both breasts are removed. She was given the OK from doctors after treatment, however, her cancer returned in 2013. When battling cancer for a second time, the actress decided to keep her diagnosis out of the public eye, and didn't discuss her treatment. However, when she was diagnosed for a third time last year, she went public, and shared that this time, her cancer had spread to her spine.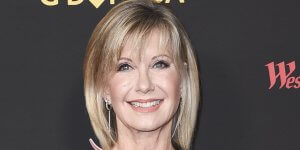 Late last year, the actress said that she was undergoing radiation to treat her disease. She was pairing that traditional treatment with changes to her diet, and experimenting with cannabis oil, according to ABC News. The actress' husband, John Easterling, grows medical marijuana on the couple's ranch in Santa Barbara. Newton-John told People that the oil helps with pain and sleep.
Throughout her experience with cancer, the actress has maintained an incredibly bright attitude. During a recent visit to the Newbridge Silverware Museum of Style Icons in Ireland, which just added an exhibit of over 50 of the actress' most famous outfits, including those skin-tight leather pants from Grease, Newton-John said that after three bouts with cancer — she knows she can live, and live well, with the disease.
"I've had three bouts with cancer and I'm living well with it. You have to believe you'll still be here," the actress said. She also mentioned that she chooses to ignore cancer statistics, which are widely available on the internet, relying instead on her own steadfast belief that she'll keep on living. "Because what you think is what you create, and that's reality."
Information about metastatic breast cancer
Sometimes breast cancers can spread to the bones. Breast cancer that has spread to the bone is often hormone receptor-positive. Women may think when this happens they need aggressive chemotherapy. However, SurvivorNet's medical advisor Dr. Elizabeth Comen, Medical Oncologist at Memorial Sloan Kettering Cancer Center, tells us that in most instances of hormone receptor-positive metastatic breast cancer to the bone, the first line of attack is hormone therapies.
Hormone therapies are often combined with other medications to improve their efficacy. For example, CD4/CD6 inhibitors are a type of oral medications that are sometimes combined with hormonal therapies to help shrink breast cancers.
Traditionally, there's a lot of stigmas that if cancer spreads at all, it can be very detrimental. However, it's important to remember that there are multiple lines of defense in managing breast cancer that has spread to the bones, including participation in a clinical trial. Remember that everyday aches and pains are common, particularly if you're dealing with such a negative life-hurdle. However, if you have a pain that is getting worse and persists, it is important to see your oncologist to rule out anything more serious.
Learn more about SurvivorNet's rigorous medical review process.