It's hard to find a more positive trend in medicine than the remarkable increase in the number of women who, thanks to early detection and life-saving treatment advances, are now surviving breast cancer. According to the American Cancer Society, overall breast cancer death rates declined 40 percent between 1989 and 2017, which translates to 375,900 deaths avoided.
These encouraging statistics wouldn't be possible if not for the tremendous push for breast cancer research funding that has played out over the past three decades. Now that it's October, you'll see the push in full-swing again, from charity walks and races to pink-ribbon-branded products lining the grocery store aisles promising to donate a portion of proceeds to the cure. Money and branding matter — a lot.
Decline in breast cancer deaths over the past three decades
(That's 375,900 deaths avoided.)
"Research is The Reason Women Are Surviving"
Read More
Doctors, researchers, survivors, patients, and advocates will tell you that they've seen this progress first-hand–and that new research into treatment and early detection (and the money that is making that research possible) has been instrumental in the death rate decline.
When research gets funded, things happen. This was proven with the huge support for HIV/AIDS research, which has transformed the treatment of the disease. Now, this is also visible in the breast cancer field. Now, roughly 90 percent of women survive their initial diagnosis.
RELATED: Research is The Reason Women Are Surviving
"Research is the reason women are surviving," Myra Biblowit, the president of the Breast Cancer Research Foundation (BCRF), told SurvivorNet in a previous conversation about the price of progress. "The future is very bright. The advances are coming at a pace that's never been more electrified. But what stands between today and cure, today and resolution, is funding."
Myra Biblowit, president of the Breast Cancer Research Foundation, spoke with SurvivorNet about the importance of funding and research to breast cancer progress.
Myra went onto share her message on behalf of BCRF — that "the public should support funding because that's what's going to give us evidence-based data to impact (lives)."
Money and Branding Matter — A Lot
BCRF is one of the organizations working on behalf of researchers to secure the funding needed to make progress possible. It was founded by Evelyn Lauder (the daughter-in-law of Estée Lauder) in 1993, after Evelyn decided to use her money and public influence to advance breast cancer research. Over the past few decades, many influential figures have followed in Evelyn Lauder's footsteps, founding or partnering with charities, institutions, and various awareness campaigns to support research.
RELATED: Put a Pink Ribbon on it – And Then Do More
The Susan G. Komen Foundation, the world's largest breast cancer charity, has partnered with a wide range of companies to work out campaigns where, for instance, the company agrees to donate a certain percentage of the proceeds from a product sale. (Though it's worth noting that the range of these products has become so expansive that they've even included some unhealthy products such as fried chicken, which some survivors and organizations consider an example of "pinkwashing.")
RELATED: Would You Buy These Potato Chips Because They're Pink? The Breast Cancer "Pinkwashing" Effect, Explained 
Regardless, the explosion of pink has become more than a color. The huge growth in research funding that's come out of these types of campaigns, foundations, and products has had a tangible effect on the field, and, accordingly, a real effect on survival rates.
Ensuring Equal Access to Lifesaving Treatments
Linda Tantawi, the president of the New York City branch of the Susan G. Komen Foundation, told SurvivorNet in an interview that funding research is key, but so too is funding health equity campaigns, which ensure that these new lifesaving treatments and detection methods are actually accessible to everyone who needs them.
"Research is amazing and it's what's saving lives," Linda said. "But if women don't have access to that treatment as a result of the research, then we are not doing our jobs."
RELATED: Black Women Die From Breast Cancer at Shockingly Higher Rates Than White Women
Access to these new advancements, Linda notes, is far from equal, and our country still has a long way to go. "Right now, African-American women are diagnosed at the same rate as white women, yet they die at a rate 40% higher than white women," she said. "And that is unacceptable."
Money is necessary to provide patient navigators to help women access treatment. Money is needed to fund mobile mammography units that provide screenings for low-income, uninsured women. Money is needed to help women travel to their doctors. Without money, research remains at a standstill, and without money, the advancements that come out of that research can't get to the women who would benefit most.
Breast Cancer as a Model For Fundraising's Payoff
Many who have been diagnosed or have lost loved ones to cancers other than breast cancer often lament the funding discrepancies. Money has allowed for a sharp drop in breast cancer death rates, but the same cannot be said for, say, lung cancer or colorectal cancer.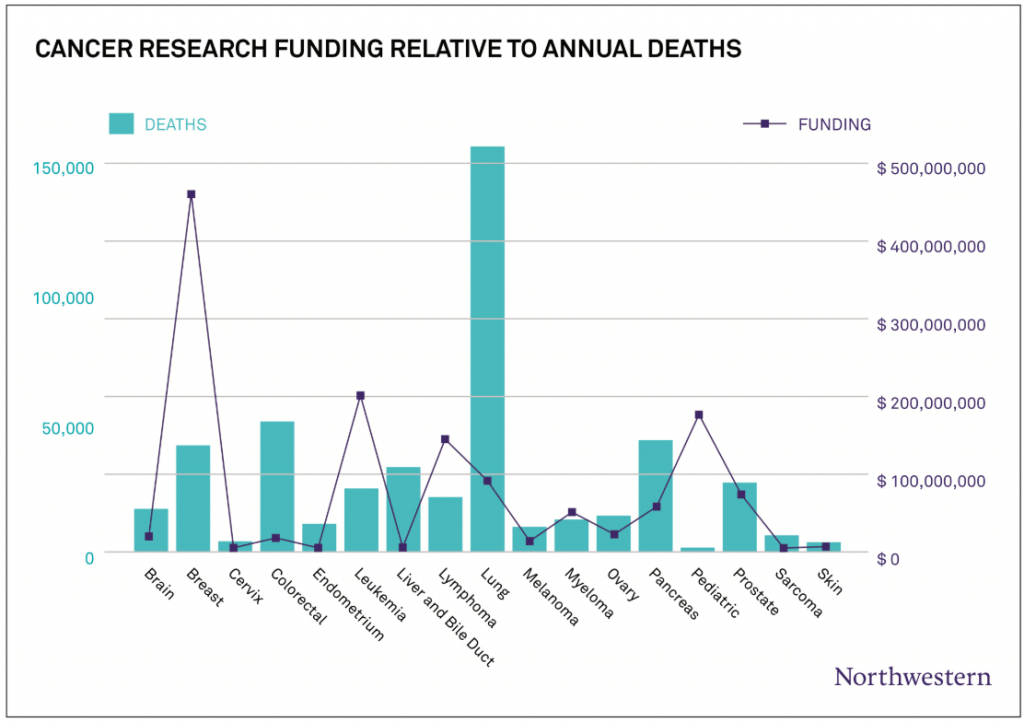 RELATED: Outrage As New Study Finds Some of the Deadliest Cancers Receive Least Funding for Research — Inaccurate Stigmas Partially to Blame
The discrepancies are troubling — and much more needs to be done to advance research across the entire cancer care continuum. But as we put on our pink for breast cancer awareness month and pick up the pink products lining the aisles of the grocery store, it's important to recognize and channel the fact that what the breast cancer community has done is working — and that momentum needs to continue if we are to save the lives of all 40,000 women — and 2,000 men —  in the U.S. who still die of breast cancer each year.
Learn more about SurvivorNet's rigorous medical review process.
---