A Powerhouse Survivor
Screenwriter Greg Russo and his wife, Tricia, documented building a family via surrogacy after a stage 4 cancer diagnosis in their feature documentary, Love Always, Mom.
Tricia is a 10-year survivor. Her stage 3 breast cancer spread to her brain shortly after her first "cancerversary." Wanting to be a mother more than anything, she did not let the statistics stop her from trying to have a child.
Depending on the stage and prognosis of the cancer following diagnosis, many women don't have the time to freeze their eggs. And in Tricia's case, it would have been too risky to go off of treatment to carry a child. That's when Greg and Tricia came up with a plan.
Screenwriter Greg Russo and his wife Tricia have triumphed through the unthinkable: building a family after a stage 4 cancer diagnosis.
Not only is it frequently frowned upon to try to have a child after an advanced cancer diagnosis due to the potentially grim reality of the prognosis, Tricia's chance to have a biological child of her own was stolen like many other cancer patients left infertile from the disease's treatments.
Read More
Related: Woman Fighting Brain Cancer Has a Long-Lost Friend Who Became her Surrogate—The Ultimate Act of Sisterhood
Despite facing every challenge imaginable, the couple prevailed, ultimately deciding on surrogacy from an egg donor, and were given the gift of a beautiful baby boy named Grayson, now 4.
Greg and Tricia's feature-length documentary film, Love Always, Mom, captures this emotional journey and is a must-watch for anyone fighting cancer or other hardships, and fighting for a chance to have a family. The film is available on Amazon Prime.
Related: Sandra Lee Gives Intimate Look Into Her Breast Cancer Battle in New Documentary
Greg and Tricia spoke with SurvivorNet about their present life, Tricia's health and the vast fulfillment that their son brings them.
"He lights up our lives every day," Tricia tells us. "He's just amazing. Watching Grayson grow, being there for milestones that I did not necessarily—I never knew I was going to be here for. That is utter joy."
View this post on Instagram
An Advanced Breast Cancer Diagnosis
Tricia was initially diagnosed with breast cancer in 2011 at 30 years old, not long after she married Greg.
"It was one of those things where it was stage 2B. It's like in between the stage two and stage three," she says. "Lymph node activity." Trish had 12 weeks of chemo first to shrink the tumor, and had a single mastectomy in May of 2012; then reconstruction.
In 2013, the cancer metastasized to her brain and she was told she didn't have much time to live.
"Of course, I had gotten full-body scans, but they don't scan your brain unless you are symptomatic," Tricia explains. "And really painful headaches was what triggered that brain MRI in February of 2013. Who knows how long it had been in my brain before that."
Related: Can You Survive a Stage 4 Cancer Diagnosis? An Expert Weighs In
The brain MRI showed a very large tumor, and she went to NYU Langone Health to have a craniotomy, which is where surgeons temporarily remove part of the skull bone to get to the brain for surgery. And then she had partial-brain radiation.
Related: For Breast Reconstruction After Mastectomy, Women May Choose 'Now,' 'Later,' or 'Never'
In 2014, she had a recurrence in her brain and had gamma knife surgery, which blasts about 200 tiny beams of radiation on to a focused area. And then in 2017, when Grayson was nine months old, there was another recurrence and she had Visualase, a laser ablation to the brain, which uses light and heat to destroy unwanted cells. She has had no evidence of disease since.
"I feel very lucky to still be here," the Cyan Gray Hope Foundation founder shares, "and hope we can continue sharing our story so that we can help other families, or help other people build families, and so that we can help raise awareness for the need for cancer research, so that we can have many more treatments and lead longer lives."
Currently, Tricia takes Tamoxifen, an estrogen-blocking drug, with manageable side effects. "That was my first line of treatment."
Related: Motherhood After Chemotherapy — Yes, It's Possible; Here's What You Should Know About Fertility Preservation
The couple is grateful that they have documented their emotional journey along the way. This story is a reminder to anyone facing challenges, that there is always hope. They made the decision to film this journey to inspire others and as a love letter to their future child, hence the title, Love Always, Mom, and the reality that she may not have gotten through this journey.
"Trish" as her friends and family call her, is beautiful to watch in this film; so full of life, spirited, and strong. Greg, as most caregivers can relate to, goes through his own pain as the pair navigate through the initial blow of the diagnosis, the stage 4 recurrence and being told that Trish cannot have children.
View this post on Instagram
"A lot of times, as the caregiver in this situation, you feel powerless, because you want to stop this thing," Greg explains. "You want to figure out some way to fight back against it, this kind of invisible enemy. And really, there's not much you can do."
Related: SurvivorNetTV Presents: Care to Laugh — A Comedian & Cancer Caregiver's Quest To Make People Smile
Greg's advice is always to take care of yourself too. "There's an instinct to the caregiver to kind of throw everything you have into the ring for that person. And there's nothing wrong with that, but at the same time, you know, you also need to make sure you're taking care of yourself so that you can continue to take care of them, too," he says. "It's an emotional battering that you take, it does begin to take a toll."
For the Mortal Kombat writer (the film premiered last month and has generated nearly $41M at the box offic), his art was one of those ways to distract himself, but also process what he was going through during the surrogate journey.
Related: For Actor Val Kilmer & Millions Fighting Cancer, There's New Evidence Art Helps Reduce Anxiety
"It helped me kind of get out of that world a little bit, and into other worlds," Greg says of writing the screenplay. "And some may call that 'escapism,' but for me it's about resetting my mind a little bit, so when I do come back to the real world I can face those hard truths with fresh eyes. And, so, yeah, I would just say, look for those kinds of activities. For me it was writing, for other people it may be other things, ways to kind of support yourselves and keep your mind fresh, so to speak."
The protagonist of Mortal Kombat that Greg created, MMA fighter Cole Young, was inspired by Greg's own journey.
"The character that he brought into the universe in the story is a father," Trish adds of Greg's art imitating life, "and he wrote that while he was dealing with these feelings, and about to be a father for the first time."
A Journey of Surrogacy
Lucky for Greg, his incredible wife was highly determined to experience motherhood despite her disease, ignoring the naysayers warning her about starting a family amid a stage 4 battle.
So the determined couple searched for an egg donor. It was important for Trish to find someone similar to her look and personality.
Related: A Woman with Stage Three Cervical Cancer Thought her Dream of Motherhood Was Over – Until She Found a Surrogate in the Operating Room
Enter Callie. Trish and Callie bonded on a girls day in New York, and it just seemed right. Greg flew out to California to complete his part of the mission, since he would be the biological father.
Then they found Megan, who would be their surrogate. Megan already had two children of her own, and wanted to help a woman experience the joy of motherhood.
They only had two embryos to work with, and sadly, Megan miscarried the first, which was understandably traumatic for all three of them. Megan felt guilt, and Trish couldn't help but lose a bit of hope.
Related: Young Women With Cancer Who Want Children Do Not Get The Info They Need: Study
"I mean, there were definitely doubts in my mind of …I was the one trying to come up with the plan B in advance," she says. Greg, who has been Tricia's rock, talked her down and made a point to say "let's see what's going to happen first."
There was one final embryo, which was originally deemed unusable by fertility docs. Tricia's doctor reassessed the qualities of the embryo and decided it was possible that it would "take." Grayson would come from that embryo that was almost discarded.
Related: Pop Singer & Breast Cancer Survivor Kylie Minogue Wonders What it Would Have Been Like to Have Children Instead of Cancer
Megan is a birth mother to her own children, but also a birth "other" to Grayson, as they like to call her. Megan has now had an untraditional family-building experience herself, so they're all in this together. "You're not a mother just because you carried the child," Tricia says.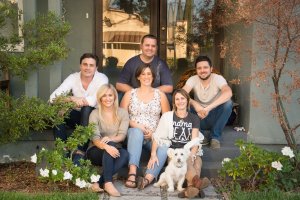 Megan and Callie are now forever a part of the Russos' life. They decided in advance that they would be involved as much or as little as they felt comfortable. It's been difficult to get together during COVID of course, but they all stayed together at an AirBnb for the weekend in Charleston, South Carolina pre-pandemic. They have Zoomed, and envision getting together for birthdays or other milestones.
View this post on Instagram
Grayson's Curiosity
Recently, little Grayson has started asking questions about where he came from, which his mom welcomes as she transitions her son into learning about his story.
"'Where does sperm come from?', and 'Where does the egg come from?' And then he started asking me, 'But, mom, there's two, there's Callie and Megan, there's two women. Why?' And so I was trying to break it down, developmentally," she explains. "It's the first questions he's ever asked. And it's awesome."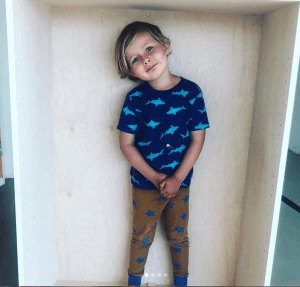 Tricia says it's fun to see Grayson's personality traits blossom.
"It's cool, I see a lot of myself in him. I see a lot of Greg in him, of course, also, both physically and personality-wise," the proud mom says. " … it's just such a cool combination of 'nature' and 'nurture.' There's times where his voice does a thing that makes me think of Callie. So it's cool. She and I both have a psychological interest, so we, from the very beginning, really bonded over enjoying watching these things as they come up and play out."
Scanxiety and A Life of Monitoring
After surviving cancer, the next hurdle is mentally managing surveillance, the frequent medical check-ins to monitor for disease recurrence. Tricia talks about "scanxiety," a popular term in the cancer world, which literally means anxiety in advance of your surveillance scans.
"It always triggers feelings of fear," she admits. "I've gone from every three months, brain scans, to then graduating to six months, which was a nice, joyous milestone, being able to spread out the scans more. And then, during COVID, they were like, 'Yeah, you're far enough away that we'd rather not take the risk of you going to get scanned. So let's take a break now, and if you feel anything, then it will trigger a scan.'"
Related: 'GMA' Anchor and Breast Cancer Survivor Amy Robach Celebrates Positive Scans as a 'Humbling Reset': 'All We Have is Right Now'
Even though the follow-up scans trigger such high emotion, Tricia knows how lucky she is and wants to spread hope to others about surviving the odds. "It's a roll of the dice," she says. "We can only do what we can do."
Trish urges other stage 4 survivors to keep fighting the statistics. "I would encourage them, in terms of hope, to not give up yet, that there are unicorns in the world like us. We're out there."
Related: As Shannen Doherty Fights Metastatic Breast Cancer Her '90210' Co-Stars Remind Us How Strong She Really Is
Every stage 4 cancer survivor is different, and if you want to build a family, that is your personal choice. A long life is possible, not to mention there are more and more breakthroughs for cancer each and every day.
"I never want to say that I'm thankful for cancer, because I'm not thankful for cancer," Tricia says. "But I would do every single step of this all over again if I knew that it would be [Grayson]. I wouldn't want to change a thing, because it wouldn't be him otherwise."
Freezing Eggs or Embryos, What Should I Do?
An Overview of Treatment Options for Advanced Breast Cancer
Learn more about SurvivorNet's rigorous medical review process.