Rod Stewart's Prostate Cancer Battle
Rockstar Rod Stewart, 78, was recently pictured in a rare family photo, which included his third wife Penny Lancaster, 52, and seven of his eight children.
Stewart has four daughters, 59-year-old Sarah, 43-year-old Kimberly, 26-year-old Ruby, and 31-year-old Renee. As for his sons, he has 42-year-old Sean, 28-year-old Liam, 17-year-old Alastair Wallace, and 12-year-old Aiden Patrick.
Stewart diagnosed with prostate cancer during a routine screening in 2016.
Prostate cancer, the most common form of cancer in men, can sometimes be misdiagnosed based on results from a PSA test. Still, our experts maintain that the PSA tests are helpful, and you should talk with your doctor about your own risks for the cancer and screening options.
Legendary rock star and singer-songwriter Rod Stewart, 78, is living life to the fullest as a cancer survivor. He was recently pictured in Spain with 14 members of his family, including his third wife Penny Lancaster, 52, and seven of his eight children.
Stewartwho had a brief battle with thyroid cancer prior to getting diagnosed with prostate cancer after a routine screening in 2016, which he had radiation therapy for and later revealed he was cancer-free three years laterwas spotted in a colorful group photo shared by his wife Penny and his daughter Kimberly (whom he shares with his first wife Alana).
Read More
Both
Penny
and
Kimberly
shared the same photo on their Instagram pages, which was taken as Stewart had some downtime while on his world tour. "Celebrating being together #family #weddings #engagement #babies," Penny captioned the photo shared on her social media page. In the heartwarming group shot, the "Maggie May" singer stood alongside seven of his eight children, without his eldest daughter Sarah Street, 59, who had been given up for adoption by Stewart and his teen girlfriend Susannah Boffey in the 1960s. Stewart later connected with Sarah when she was an adult.
RELATED: Rockstar Cancer Survivor Rod Stewart Brings 94-Year-Old Sister On Stage: 'She Has And Continues To Teach Me About Life'
Also in the family photo were four of his children's partners and his three grandchildren.
Stewart's eight children are shared with five mothers. Additionally, they range in age from 12 years old to 59.
He has four daughters, 59-year-old Sarah, 43-year-old Kimberly, 26-year-old Ruby, and 31-year-old Renee. As for his sons, he has 42-year-old Sean, 28-year-old Liam, 17-year-old Alastair Wallace, and 12-year-old Aiden Patrick.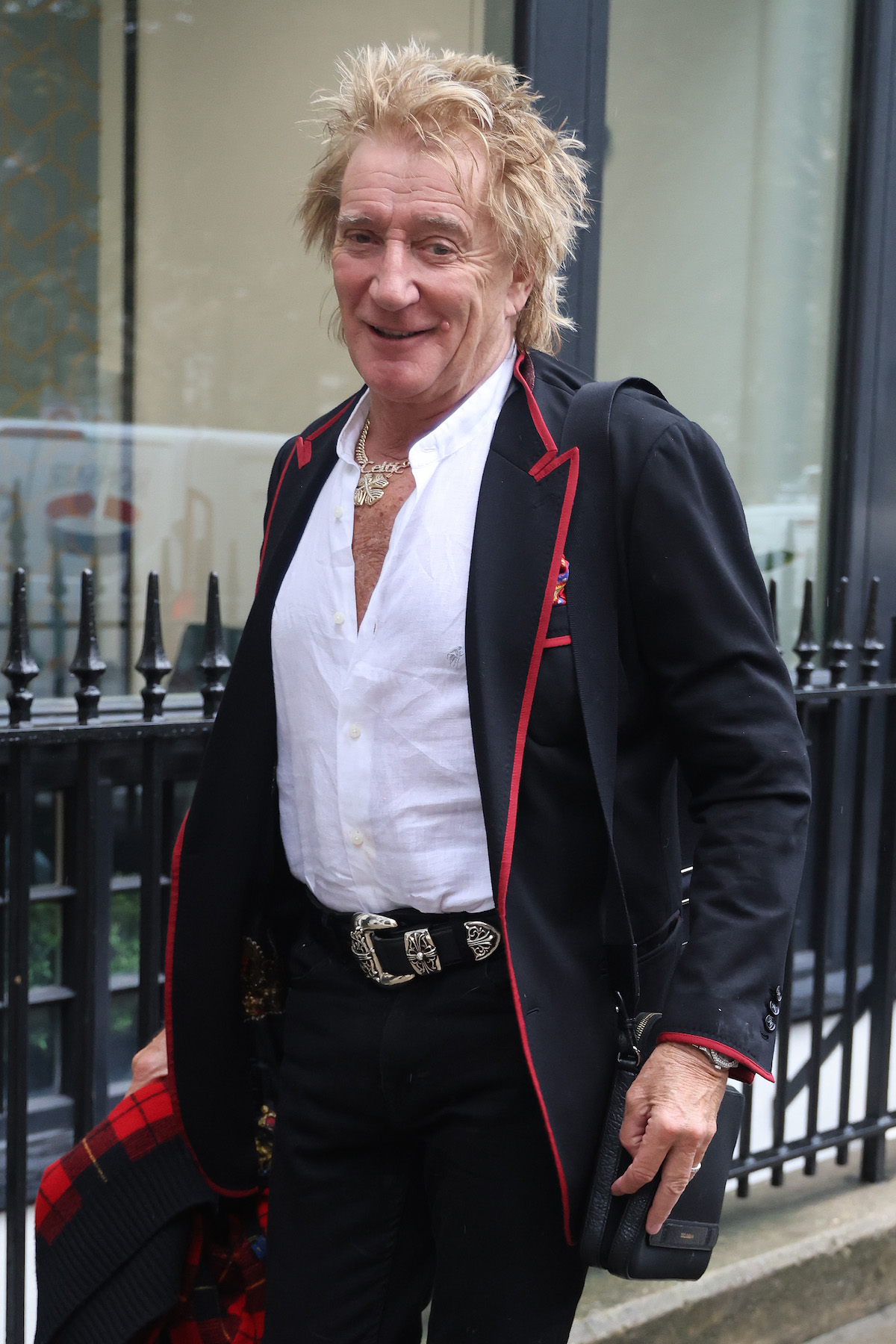 As mentioned above, Stewart had his eldest daughter with Susannah Boffey. He later went on to have Kimberly and Sean with his former wife Alana Stewart. His shares his daughter Ruby with his ex-girlfriend Kelly Emberg. The London-native also had Renee and Liam with his second wife Rachel Hunter. And lastly, he had Alastair and Aiden with his current wife Penny.
Fans took to Penny's Instagram post to comment on how lovely it is to see such a big family making time for each other, with one writing, "Beautiful family and you Penny must play a big part in keeping you all connected."
Another wrote, "This says everything about Rod and Penny. Families are tricky and they work at keeping them together."
"So beautiful that you can all get together for a vacation absolutely joyful," a third fan wrote, while another commented, "So important to have family time."
In fact, Stewart's daughter Ruby took to her Instagram page last year to share a family photo, which she explained to be a rare, but important gathering.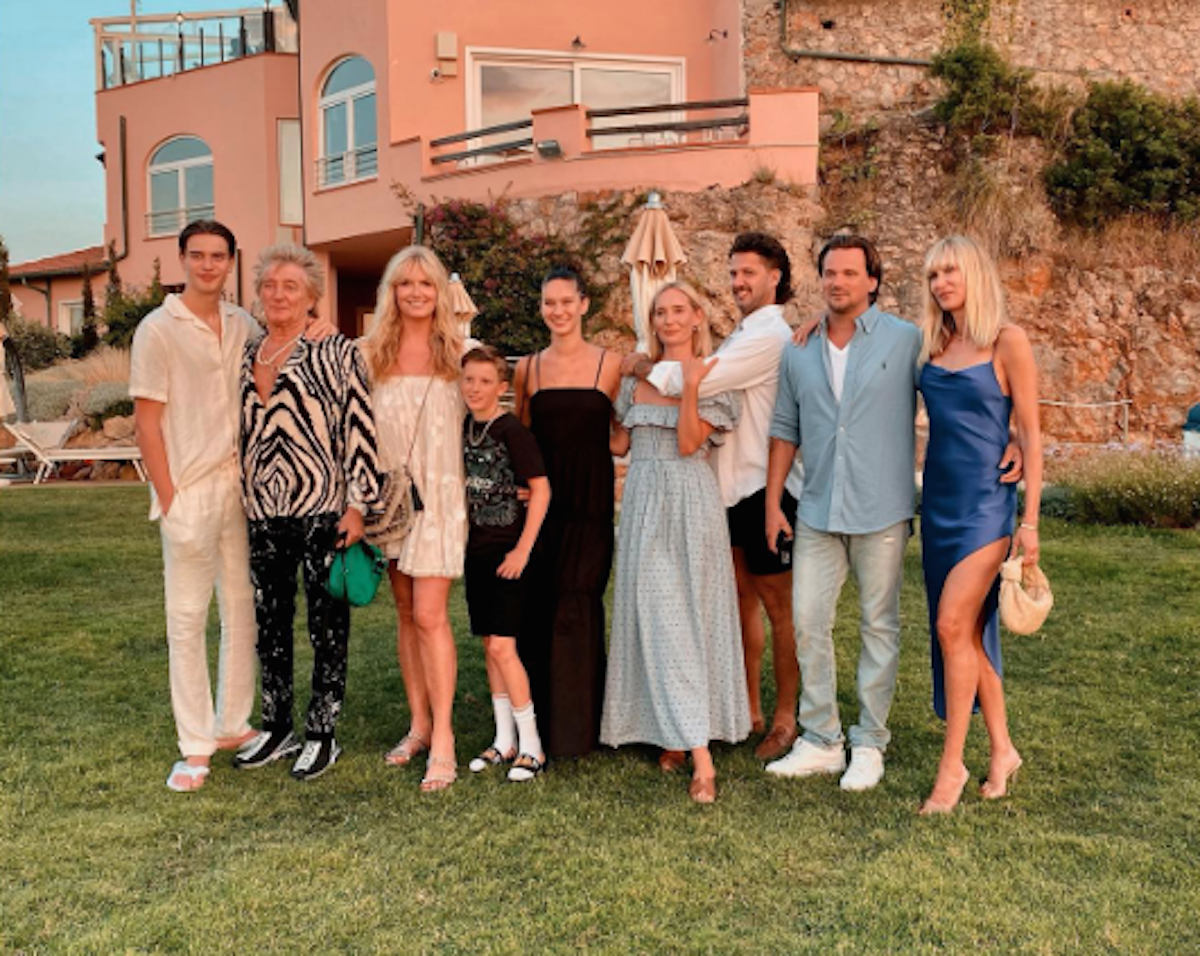 Ruby captioned her post, "I left Italy with my heart as full as my belly….Our last family vacation was in 2015, so this one was well overdue.
"We all live in different places now and sometimes we miss some pretty important milestones in one another's life. It can be difficult getting us all together, but the incredible @penny.lancaster managed to do it this time."
RELATED: Cherishing His "Precious" Daughter, Actor Jeff Bridges Explains What's Really Important In Life
She continued, "This trip was so much more than a vacation, but a bonding experience. We laughed, we cried, caught up on lost time, we sang and danced, even suffered from a few water sport injuries. I am beyond grateful for this mixed batch of personalities that is the Stewart Clan. I don't know where I'd be with out you lot. Love you guys..
"Thank you dad for reminding us of the importance of family and Thank you Penny for always bringing us together again…."
Back in 2021, Stewart opened up to PEOPLE about how he has to be a different type of father to his children as they range in age.
He said at the time, "I have to be several different fathers because of the different age groups of my kids. You really have to treat all of them as individuals with individual problems."
RELATED: In Sweet Photo "Desperate Housewives'" Marcia Cross Poses With Dad; After Cancer, Family Time Is Precious
"What makes me happiest now is seeing all my kids and my wife with big smiles on their faces," Stewart added.
Rod Stewart's Battle With Prostate Cancer
The rockstar was diagnosed with prostate cancer in 2016 at age 71 following a routine check-up with his doctor.
RELATED: Prostate Cancer: Overview
Stewart was given the "all clear" from his doctors in 2019 following successful treatment for the disease. Previously, Stewart's wife, Penny, spoke about her husband's cancer on a British TV talk show.
"It was quite aggressive and it came on really quickly," Lancaster explained. "Instead of remaining in the [prostate] gland, it had left the gland and traveled to the outside tissues."
RELATED: Penny Lancaster Says Husband Rod Stewart's Prostate Cancer Diagnosis Led to 'Moments of Panic'
According to Lancaster, Stewart couldn't be treated with surgery alone. "Knowing it had traveled outside, we couldn't have the gland removed, so he had to have a three-month intensive course of radiation, traveling into London the same time every single day, going to the clinic."
Meanwhile, Stewart was also diagnosed with thyroid cancer over 20 years ago, a diagnosis which led him to briefly fear that the disease would rob him of his voice.
Appearing on the British talk show Loose Women, Stewart talked about the alarm he experienced one morning when he woke up and "couldn't sing a note."
RELATED: "Finger Up The Bum, No Harm Done," Says Rocker Rod Stewart, As He Reveals Successful Prostate Cancer Treatment And Urges Men To Get Tested 
The singer played down his thyroid cancer battle, however, saying: "I had a touch of thyroid cancer; it was over and out within 10 minutes."
Stewart then explained to the hosts that he did not  "want to pretend I fought cancer for months and months" because, in his case, "it was really easy to get rid of."
Understanding Prostate Cancer
Prostate cancer is the most common cancer in men. About one in eight men will be diagnosed with prostate cancer during his lifetime. The disease begins in the walnut-shaped prostate gland located between the rectum and bladder. This gland produces the fluid that nourishes sperm.
Symptoms of the disease are inconsistent and hard to pinpoint.
"Prostate cancer is a very odd disease in that it doesn't have a particular symptom," Dr. Edwin Posadas, director of translational oncology and the medical director of the Urologic Oncology Program at Cedars-Sinai, explained.
But changes in urinary function like urinating more or less often or waking up at night to go more than usual could be a sign of the disease. It's important to note, however, that these potential symptoms could also could be caused by a urinary tract infection or even an enlargement of the prostate gland (which is not cancer).
There's No One Definitive Symptom for Prostate Cancer, But There Are Clues
Prostate cancer screening methods look for possible signs of the disease, but they can't determine for sure if you have cancer. The only way to know for sure if the patient has prostate cancer is with a prostate biopsy a procedure in which small samples of the prostate are removed and examined under a microscope. But generally speaking, screening for prostate cancer involves a PSA (prostate-specific antigen) test and a digital rectal exam to feel the prostate gland.
Doctors that have spoken with SurvivorNet shared a hopeful outlook when considering a prostate cancer diagnosis because there are many treatment options, and there's been significant treatment progress over the past decade.
Surgical and radiation options, for example, have made improvements in reducing side effects of treatment while still providing excellent cure rates. Even for men with an advanced-stage diagnosis, many new options exist to treat prostate cancer and help them maintain an excellent quality of life.
Supporting a Family Member Through Cancer
People like Rod Stewart can feel a wide range of emotions when confronted with a cancer diagnosis. Many may feel depressed, anxious, worried, overwhelmed, and even full of grief. Support your loved one as best you can by being a loving, listening ear and lending support.
Dealing With Grief After a Cancer Diagnosis
Dr. Scott Irwin, director of supportive care service at Cedars-Sinai, explains in an earlier interview the grief that may accompany a cancer diagnosis. "Grief comes in waves," he says. "It often gets better over time, but at certain days, it can look like depression. And other days, people look perfectly normal and can function."
"They're grieving the change in their life, the future they had imagined is now different," says Dr. Irwin, of how a person may feel after getting a cancer diagnosis.
"In cancer care, sometimes, we're actually forcing some body changes that are beyond what would be normal aging, and that can be even harder for people to deal with where they don't feel like themselves."
Family Love and Support Makes a World of Difference During Cancer Treatment
Finding the Support You Need
During or after a cancer battle, it's important to know that you are not alone. Stewart had his large family by his side throughout his cancer battles, but you don't have a large family to get the support you need during your fight with a disease.
Inspiring College Student, 20, Builds Community on TikTok Sharing Her Cancer Journey During COVID-19
There's always people out there for you to be vulnerable with, if you'd like, and connecting with others as you battle the disease can make a world of difference. Another cancer warrior named Kate Hervey knows this all too well. A young college girl, she was shocked to be diagnosed with synovial sarcoma, a rare type of cancer that tends to form near large joints in young adults, after seeing her doctor for tenderness and lumps in one of her legs.
Hervey, a nursing student at Michigan State, had to handle her cancer battle during the COVID-19 pandemic and scale back on her social activities as a high-risk patient. That's when she turned to TikTok as a creative outlet and inspired thousands.
"One thing that was nice about TikTok that I loved and why I started posting more and more videos is how many people I was able to meet through TikTok and social media that are going through the same things," she says. "I still text with this one girl who is 22. If I'm having a hard time, I will text her because she will understand. As much as my family and friends are supportive, it's hard to vent to someone who doesn't know what it's really like."
'I Wanted to Keep Things with My Kids as Normal as Possible' Lisa Scheible Survivor Story
Hervey is now cancer-free and says she couldn't have done it without the love and support of her TikTok followers.
"I feel like I've made an impact on other people and they have made an impact on me through TikTok, which is crazy to say. I can help people go through what I've been going through as well." She has graciously agreed to allow SurvivorNet to use her content in order to help our community.
So while sharing your story to a vast Tik Tok audience might not be your thing, it's important to consider opening up to others during your cancer battle. Even if it's with a smaller group, you never know how much the support can help you or help those you share with unless you try.
Contributing: SurvivorNet Staff
Learn more about SurvivorNet's rigorous medical review process.
---