'Jurassic Park' Star Sam Neill's Battle With Cancer
Actor Sam Neill is "back to work" and playing tennis after announcing he battled a rare form of non-Hodgkin's lymphoma called angioimmunoblastic T-cell lymphoma (AITL).
Now, in remission for the past eight months, Neill has begun filming "Apples Never Fall" with Annette Bening.
According to the National Organization for Rare Diseases, angioimmunoblastic T-cell lymphoma (AITL) is a rare form of non-Hodgkin lymphoma.
Non-Hodgkin lymphoma is a "group of related malignancies (cancers) that affect the lymphatic system (lymphomas)" and lymphomas "are cancer of white blood cells (lymphocytes) and can be divided depending on the type of cells, B-lymphocytes (B-cells) or T-lymphocytes (T-cells)."
"Jurassic Park" star Sam Neill, 75, has returned to work (and playing tennis, too!) after being in remission from stage 3 blood cancer for eight months. His health update highlights a dilema that so many cancer survivors face during their journey: when does life get back to normal?
Neill said he's getting "back to work" just weeks after announcing he was diagnosed with a rare form of non-Hodgkin's lymphoma called angioimmunoblastic T-cell lymphoma (AITL).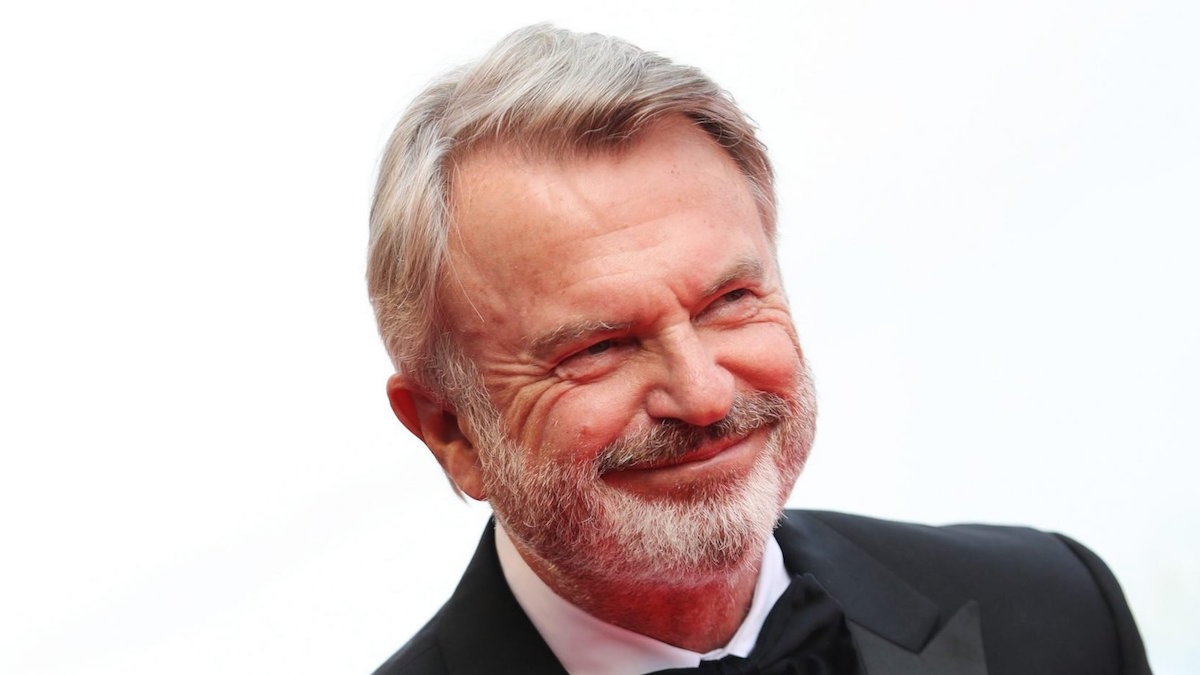 Read More
"I've been in remission for eight months, which feels really good," Neill, who was born as Sir Nigel John Dermot Neill but later changed his first name to Sam, said in a recent interview on the Australian talk show
The Project.
He explained, "I'm feeling really good and I'm back at work. I just came back from tennis lessons. That's how good I am. Things are great. Good to be back at work." Neill, who published his new memoir "Did I Ever Tell You This," is incredibly "grateful for every day," he previously said when he revealed his diagnosis to
The Guardian
.
He recounted to the news outlet how he noticed swollen glands as his first symptoms during a publicity event for "Jurassic World Dominion" back in March 2022. Neill received his AITL diagnosis soon after, which was discovered through a PET scan.
RELATED: 'Jurassic Park' Star Sam Neill's Doctor Had Misdiagnosed Blood Cancer Symptom as COVID – The Sign That Was Missed
The New Zealand actor and father of two underwent chemotherapy treatment to fight the cancer, however, once that stopped helping him, he started taking a new chemotherapy drug, but he did not specify what it was.
Now, Neill continues to take the chemotherapy drug monthly as he gets back to an active lifestyle with Tennis and immerses himself in his acting career.
One day after The Guardian published an article about his cancer diagnosis, Neill took to Instagram to personally confirm the news to fans and give some insight into what he's going to working on.
To accompany the video clip he shared of himself, his caption read, "Hi I'm Sam Neill, actor of sorts, vintner, and an author as it happens. And my news seems to be all over the news at the moment, and it's sort of 'Cancer ! Cancer! Cancer !' Which is slightly tiresome because as you see, I am alive and well and I have been in remission for eight months, which feels really good."
RELATED: Jurassic Park Star Sam Neill, 75, Reveals Secret Cancer Fight — How He Beat the 'Dark Moments'
"And I'm alive and kicking and I'm going to work. I'm very happy to be going back to work. We start filming in seven days time. I'm doing a thing called 'Apples Never Fall' with Annette Bening, and a really wonderful cast," he said.
Neill continued, "So here I am, and I just wish the headline wasn't 'that thing' so much, because the main thing is that I have written this book, it's called 'Did I Ever Tell You This?'. And it does mention cancer because that's the sort of context in which I wrote it. But I didn't really mean to write a book, I needed something to do while I was undergoing treatment, and I am used to going to work and I suddenly couldn't go to work. So that's why I wrote the book, and I have to say there's been great response to it."
Understanding Angioimmunoblastic T-cell Lymphoma
According to the National Organization for Rare Diseases, Angioimmunoblastic T-cell lymphoma (AITL) is a rare form of non-Hodgkin lymphoma.
Non-Hodgkin lymphoma is a "group of related malignancies (cancers) that affect the lymphatic system (lymphomas)" and lymphomas "are cancer of white blood cells (lymphocytes) and can be divided depending on the type of cells, B-lymphocytes (B-cells) or T-lymphocytes (T-cells)."
Learning about Non-Hodgkin Lymphoma
Angioimmunoblastic T-cell Lymphoma is classified as a Peripheral T-cell lymphoma and makes up 4% of all lymphomas.
"It is more common in older adults. It tends to involve the lymph nodes and bone marrow as well as the spleen or liver, which can become enlarged," the American Cancer Society explains. "People with this lymphoma usually have fever, weight loss, and skin rashes and often develop infections."
This type of lymphoma also has a quick progression. And although treatment is usually effective at the start, the lymphoma often is recurrent.
Non-Hodgkin Lymphoma: It's More Than Just One Type
When people are diagnosed with non-Hodgkin lymphoma, they're not talking about one type of cancer, but many. "Non-Hodgkin lymphoma is a big category," Dr. Julie Vose, chief of hematology/oncology at the University of Nebraska Medical Center, previously told SurvivorNet.
Do You Know Your B Cells From Your T Cells?
All non-Hodgkin lymphomas begin in white blood cells known as lymphocytes, which are part of your body's immune system. From there, doctors separate these cancers into types depending on the specific kind of lymphocytes they grow from: B cells or T cells.
Knowing whether you have a B-cell or a T-cell lymphoma is necessary as it will determine what kind of treatment is needed.
The Reality About Going Back To Work After Cancer
There are people who can continue to work during cancer treatment, and those who need to take some time away. The reality is — it really depends on the person, their individual cancer, and the treatment.
Previously, people who work in the oncology field — doctors and social workers — have spoken with SurvivorNet about how they absolutely encourage working during cancer treatment, if you can, because work can really establish a sense of normalcy in a person's life.
However, not everyone can continue working amid treatment. Victoria Rego, a triple-negative breast cancer survivor, said that during her treatment — work simply wasn't possible.
"My treatment went through a year and a half, at which point I had stopped working," Victoria said. "I was on leave for about a year, and when I went back they had hired two people to replace me, so they laid me off. I was actually kind of grateful for it."
Returning to Work After Cancer
In Victoria's situation, the loss of one job was kind of serendipitous. She discovered that SHARE Cancer Support, an organization meant to educate and empower women with breast and ovarian cancer, was hiring.
"SHARE Cancer Support, which helped me out during my treatment, happened to be hiring and I applied," Victoria said. "There are all these other side effects and body image aspects that you don't really hear about when you're diagnosed … People claim they don't discriminate, people try not to discriminate. But they do look at you like, hey, what's going on? So when I was interviewing at SHARE, it was like a relief, almost, knowing that I was going into a place where they would get it."
Working Amid Cancer Treatment 'Creates Sense Of Normalcy'
Some people can still work and go through cancer treatment. What you can do will depend on your stage of cancer, your treatment, and how you feel.  What you shouldn't have to worry about is getting fired for having cancer.
"We always encourage people to continue to work if they are able to," Sarah Stapleton, a clinical social worker at Montefiore Medical Center, who previously spoke with SurvivorNet said.
Working During Cancer Treatment
"I think it creates a sense of normalcy for patients," she explained. If you're able to work, you'll be busy and you won't be worrying all the time about how your treatment is going, she says.
Some people may need to make adjustments, like being closer to the bathroom or having a lighter workload. However, there may be times when you realistically won't be able to work, whether that's because you have to take time off to go get treatment, or you're too weak after treatment to come into the office. In those cases, most people use some of their vacation days or apply for unpaid family medical leave, Stapleton said.
Meanwhile, Laurie Ostacher, a social worker at Sutter Bay Medical Foundation, previously spoke to SurvivorNet about her role in helping people with cancer navigate their job situation after a diagnosis.
"I help folks think about whether it makes sense to work," Ostacher explained. "If you really don't want to but are worried you're not going to be able to make ends meet, then I'll sit down and help them figure out, you know, with your disability insurance, would this be possible?"
Ostacher also shared the questions she poses to people in order to help them consider what their work life might look like while fighting cancer.
"I help them think about what types of conversations do you need to have with their employer? How much information do you want to share with him or her? What type of work schedule seems like it might work for you? Where might you need more flexibility?" she explained.
So, if you need guidance on choosing the right course of action to take when it comes to working during a cancer battle, make sure you ask your care team about connecting you with any resources at your disposal.
Getting Back to Work Can Help You Feel More Like Yourself
"Some women choose to continue working because their work is a significant part of their identity, they enjoy their job, and there's flexibility built in," Ostacher said.
If you are able to work during treatment, you might find that it helps you feel more like yourself. Not only does it provide a needed source of income, but it also reminds you that you have a life apart from cancer – as a valued employee, a great boss, or a trusted co-worker. A work-life also encourage regular contact with others.
Sometimes cancer can make you feel isolated and lonely, and being around people can be a great comfort.
"For women who want to go back to work, I help them think about what types of conversations they'll need to have with their employer," said Ostacher. "I get a sense of how much information they're looking to share, and what type of work schedule they think they can handle—keeping in mind that that can change at different points in their chemotherapy cycle."
She added that "patients need to let their employer know [they're] going to need some flexibility around that. Because there are going to be days when you're not as energetic or feeling as well as other days."
Contributing: SurvivorNet Staff
Learn more about SurvivorNet's rigorous medical review process.
---