There's a whole lot of love in the world for "Jeopardy!" host Alex Trebek, and that love  grows every day. Trebek, 79, was diagnosed with stage 4 pancreatic cancer in March and, in the months since, devoted fans have voiced their support through thousands of letters, tweets and comments on social media posts.
The outpouring of love seemed to reach new heights this week when a woman shared this extraordinary story on SurvivorNet's Facebook page:
Read More
"Prayers for Alex," wrote Carolyn Mitchell, from Boston, Texas. "Have been a fan for years. My great-grandson is named for him."
People cite many reasons for why they're so enamored of the host. One is his unwavering positivity. Trebek has been host of "Jeopardy!" for over 35 years, and his attitude on the game show has filled homes with joy.

"The dude loves to express encouragement," another fan recently tweeted about Trebek. "His enunciation of a simple 'correct' can make you feel like you just discovered the Ark of the Covenant, found the end of π, translated the Voynich manuscript, and identified the Zodiac Killer — all in an afternoon […] I have watched the show every week for 30 years. At some point, Trebek started to feel like a family member. A friend you didn't want to lose."
Trebek's Cancer Journey and Support
Trebek's optimism hasn't seemed to waver in the face of his incredibly difficult cancer diagnosis. He has undergone multiple rounds of chemotherapy, which he's admitted have taken a toll on him, yet hasn't missed a single episode of "Jeopardy!" He returned to the show's 36th season in September and shared that he would continue to host the show for as long as he could.
Even as he undergoes this next round of chemotherapy while continuing to work, Trebek has also, incredibly, made time to share his sense of hopefulness through individual connections with fans and through national campaigns for the disease.
In June,  for instance, a fan wrote to Trebek to say that his grandmother was suffering from pancreatic cancer, just like Trebek. The fan's grandmother loved Trebek, he wrote, asking if there would be any chance that he could write a note to her. The fan posted Trebek's response on Reddit.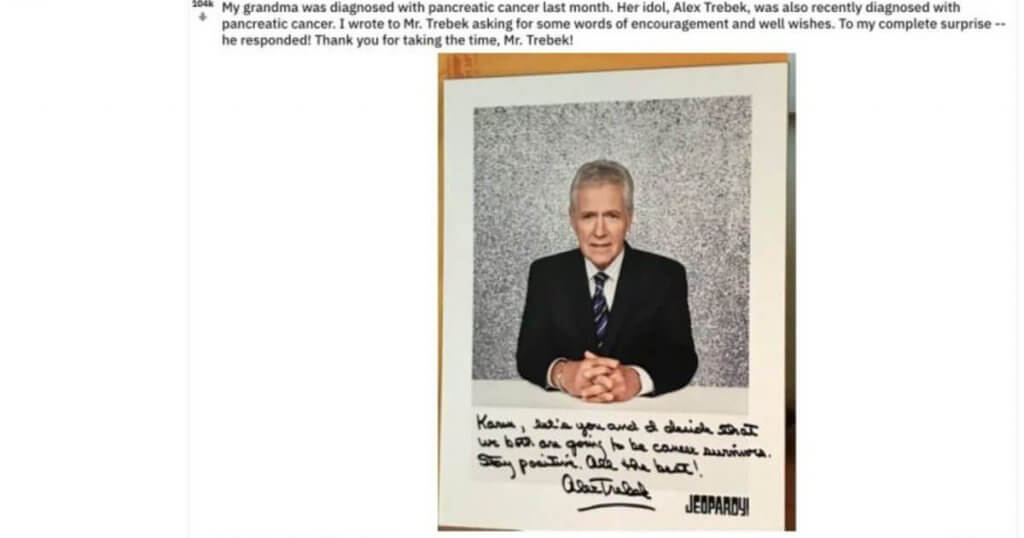 RELATED: "Stay Positive!" Alex Trebek Pens Touching, Private Note to Woman Pancreatic Cancer Survivor Who Worships Him
"Karen, Let's you and I decide that we both are going to be cancer survivors," read Trebek's note. "Stay positive! All the best."
Just last month, Trebek made a personal phone call to cheer up a "Jeopardy!" super fan with autism who had become deeply devastated after learning the news of his favorite host's cancer diagnosis.
RELATED: Alex Trebek Says He Hopes He's Going to Continue Hosting "Jeopardy!" — The Incredible Call to Cheer Up an Autistic "Jeopardy!" Super Fan
This week, on World Pancreatic Cancer Day, Alex teamed up with the World Pancreatic Cancer Coalition to issue a PSA raising awareness about the disease and its unacceptably low survival rates.
"We will never give up hope," Trebek says in the announcement's sign off.

When the official "Jeopardy!" Instagram page shared the video of Trebek's PSA, hundreds of people, once again, shared their love, support and prayers in the comments.
"Alex, I have always enjoyed and respected you as the host of 'Jeopardy!' since you began," one comment reads. "But now I think you are the most amazing and bravest man anywhere! You are doing so much good for others while dealing with your own symptoms and treatments. ❤️"
Learn more about SurvivorNet's rigorous medical review process.
---