Jonnie Irwin's Cancer Battle
Jonnie Irwin, who recently decided to undergo periodic hospice care while living with advanced lung cancer, has once again taken to Instagram to share some heartwarming moments with his children.
Irwin's son Rex had reached a milestone this week and took his last back ride to nursery school, the dad of threes hared.
The 49-year-old TV star was diagnosed with lung cancer in 2020 and since it turned terminal, he's focused on spending time with loved ones, especially his wife and three young sons.
However, Irwin has yet to tell his sons about his diagnosis, something many people battling cancer find to be a really difficult task. You want to be honest with them and you want them to be prepared for what might happen, but at the same time you want to protect them, and be as gentle as possible.
"Having these conversations may bring up deep emotions you may have stowed away. There is nothing wrong with showing our emotions to children as long as we can remain calm and give them a sense of safety," Licensed clinical psychologist Dr. Marianna Strongin said.
Jonnie Irwin, the host of BBC's "Escape to the Country" who is battling lung cancer that has spread, or metastasized to his brain, is cherishing special memories and making the most of the time he has with his children.
The 49-year-old dad of three, to sons Rex, 4, and 2-year-old twins Rafa and Cormac, often takes to social media to share how he's spending his time and this week he shared some adorable photos to commemorate his eldest son's last bike ride to preschool.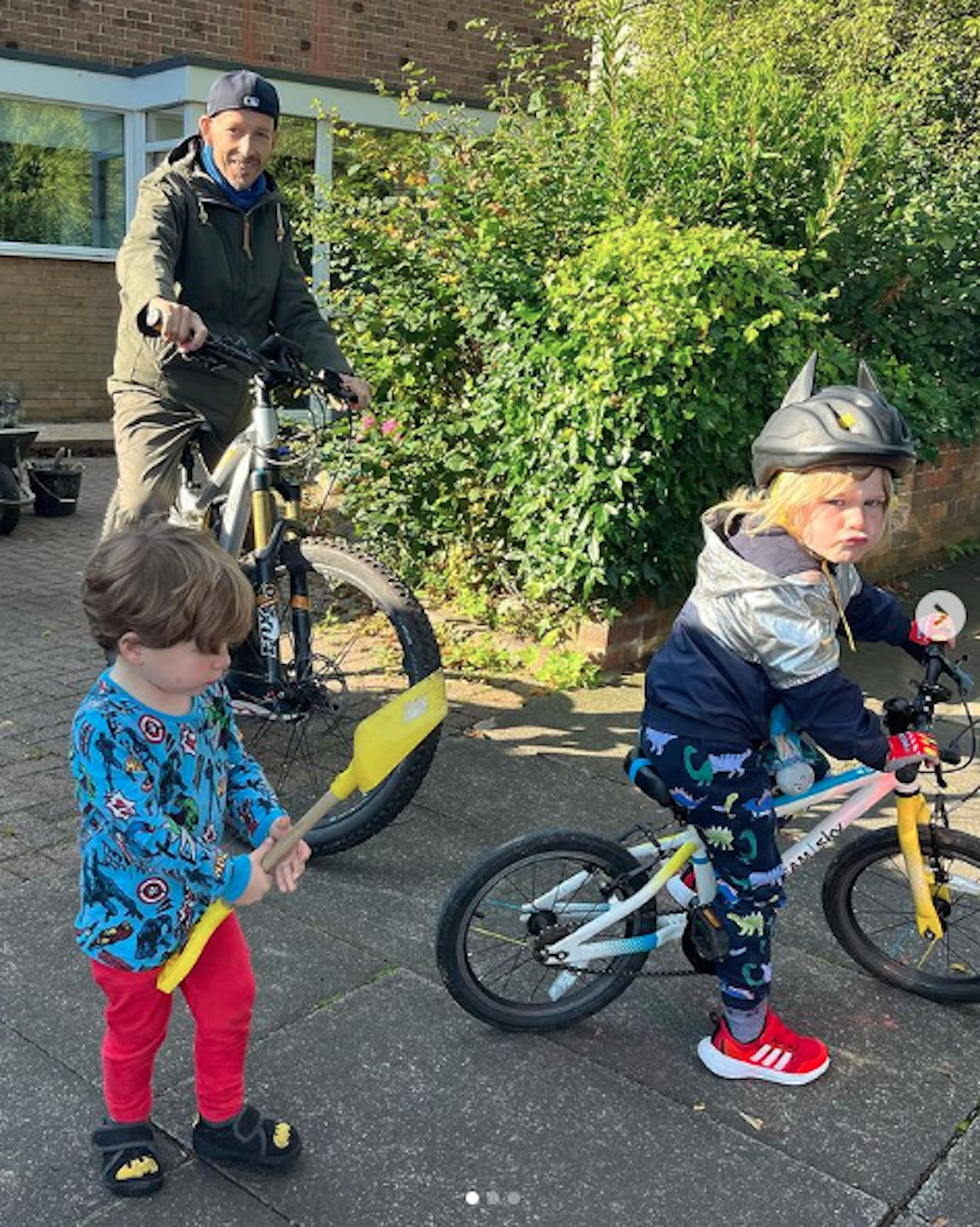 Read More
Irwin captioned his heartwarming Instagram post, "Last EVER ride to nursery with Rex. Suitably waved off by Rafa and his spade and Rex with his game face on!" The post
featured his eldest son Rex,
looking adorable and wearing dinosaur-printed pants, riding his bike to nursery school. In one of the photos, Rex is seen making a pouty face alongside his dad and one of his brothers, but he was smiling in the others.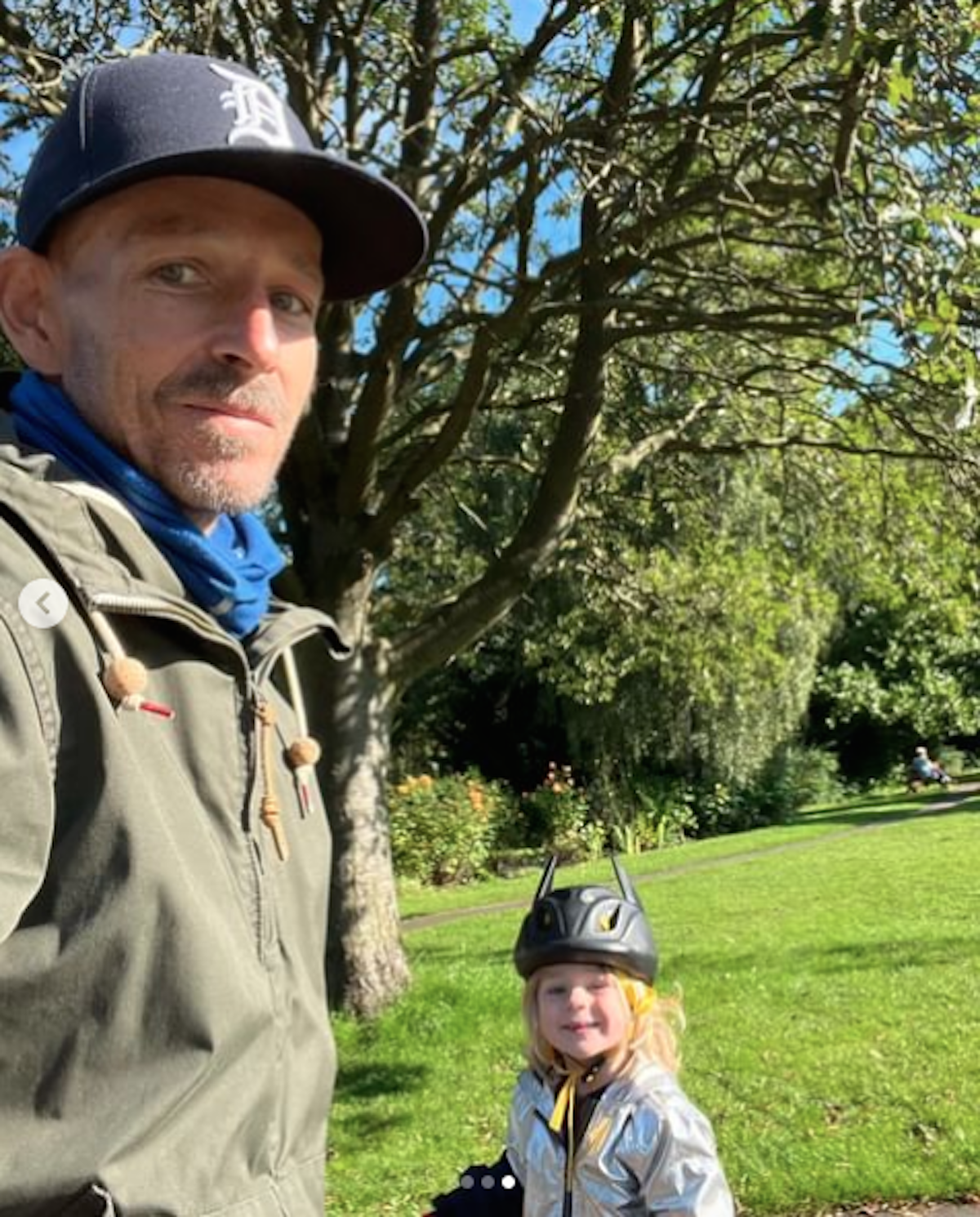 The Instagram post prompted praise for Irwin's fans, with one commenting, "Jonnie those boys will learn so much about your strength & tenacity, memories to last them their lifetime. You're truly inspirational and what a Daddy you have shown them to be."
"You're an inspiration to your boys and to all of us who watch your journey," wrote another fan.
The famous TV presenter also took to his Instagram story to share a close of photo of his son Rex's face as he sat on his bike.
"Suitably waved off by Rafa and his spade and Rex with his game face on!" Irwin wrote.
Irwin, a loving to his wife Jessica Holmes, who he wed in September 2016, has been spending as much time as possible with his beloved family and has been looking well despite his personal health struggles. Although, he hasn't yet told his children about his diagnosis.
In an earlier interview with U.K.-based news outlet The Sun, also admitted it was tough to even share the news with his wife, saying, "I had to go home and tell my wife, who was looking after our babies, that she was on her own pretty much. That was devastating."
In regard to his hesitancy on telling his sons, Irwin explained, "It would be horrible news that they'd have to get their heads around. And it would confuse the hell out of Rex (the eldest) he's got a shocking enough day coming.
"Let's bury our heads in the sand for as long as possible."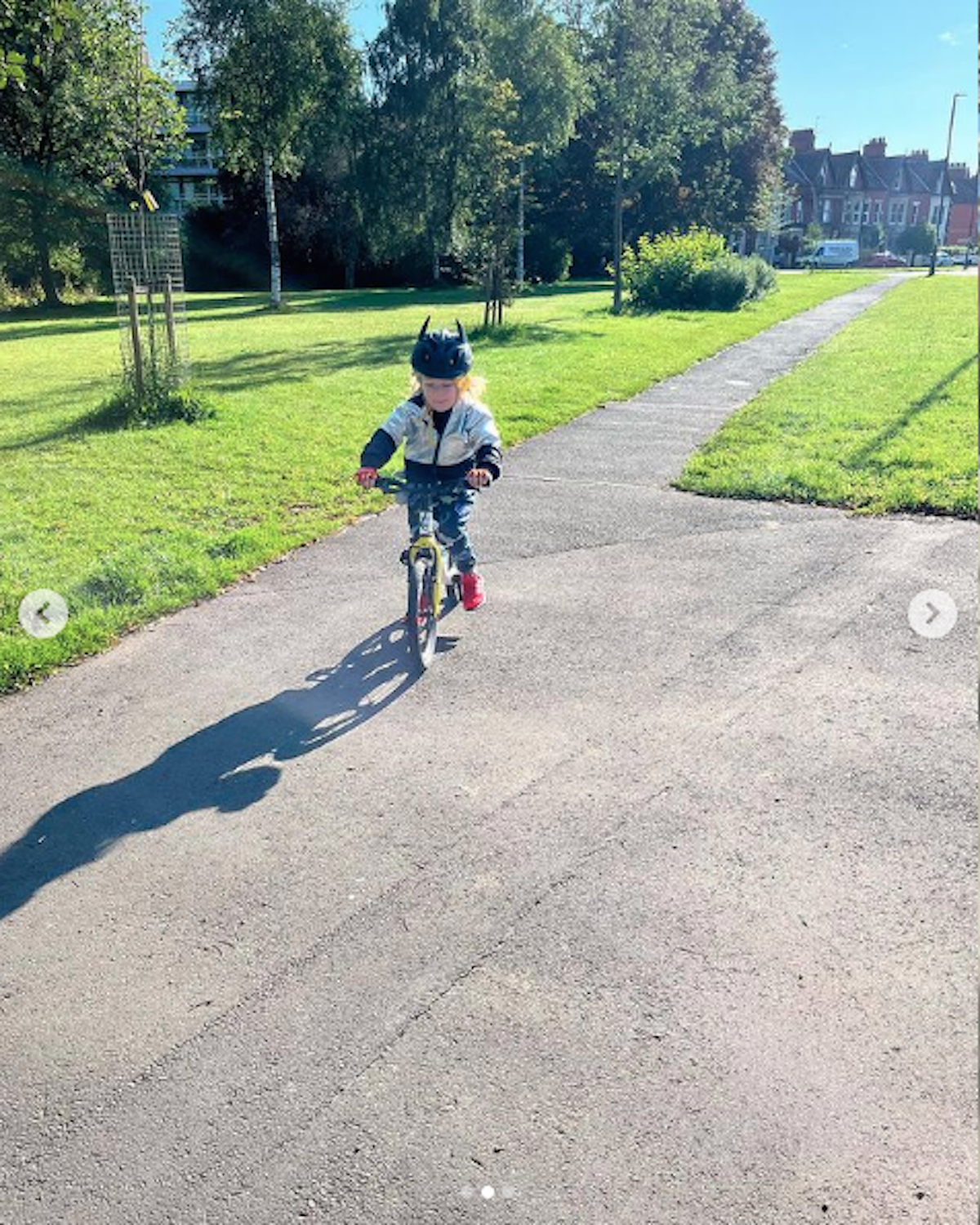 It's clear that Irwin, who recently opened up about his experience with palliative care and hospice, loves his children so incredibly so as he recently purchased 18th birthday gifts for his boys, according to the Mirror.
He told Hello! Magazine earlier this summer, "It pains me to think the twins probably won't remember me. You hear people say: 'I don't remember my dad. He died when I was so young.'
"I think about that and it breaks my heart because that's what I'm destined to be, really – a footnote in their life. So I try to [leave] monuments of my love for them."
Jonnie Irwin's Cancer Battle
Jonnie Irwin's battle with cancer started when symptoms first showed up in August 2020, with the first symptom occurring during a filming trip when his vision went blurry while driving. After he returned home, he was told he had metastatic lung cancer that had spread to his brain.
TV Star, 49, Defies The Odds & Amazes After An Incredible Three Years In Hospice Care Changing Attitudes About What Hospice Means
We should note that we do not know the exact type of lung cancer Irwin has. But there are two main types of lung cancer, which doctors group together based on how they act and how they're treated:
Non-small cell lung cancer (NSCLC) is the most common type and makes up about 85% of cases.
Small cell lung cancer (SCLC) is less common, but it tends to grow faster than NSCLC and is treated very differently.
"Lung cancer kills more patients than prostate, colon, breast, and pancreas combined. And the reason is, it's completely asymptomatic. It causes no issues until it has spread somewhere," thoracic surgeon Dr. Joseph Friedberg tells SurvivorNet.
A chest X-ray that shows something unusual can be the beginning of a lung cancer diagnosis once doctors further examine the anomaly.
WATCH: Diagnosing Lung Cancer
Irwin has taken chemotherapy and other cancer drugs to help prolong his life, but he knows his disease does not technically have a cure. Still, he's focusing on the positive and determined to make as many memories as possible with his wife, and their three toddler-age boys.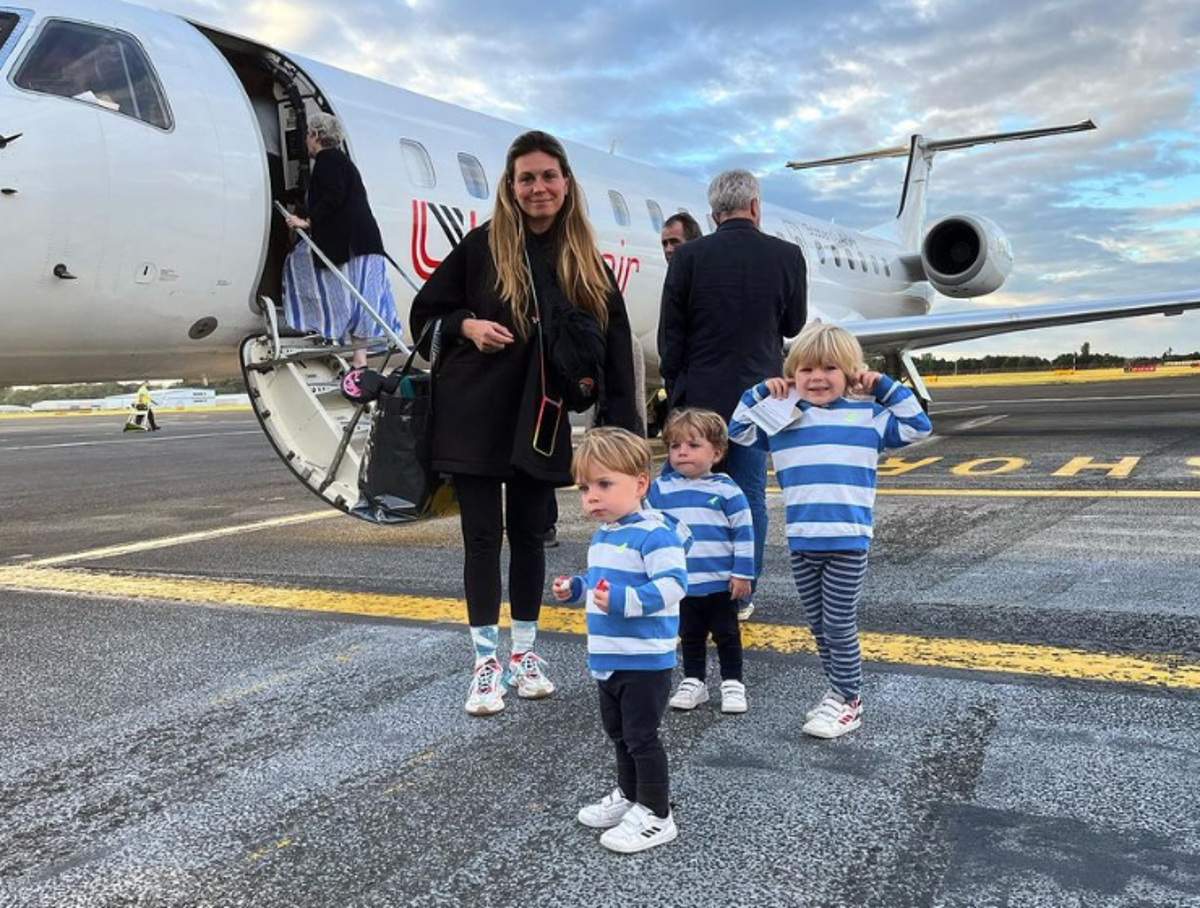 Rather than letting the weight of his cancer diagnosis bring down his outlook on life, Irwin is trying to keep a positive mindset.
"I don't know how long I have left, but I try to stay positive, and my attitude is that I'm living with cancer, not dying from it," Irwin told The Sun.
For Irwin, he is focusing much of his time and energy on creating moments and lasting memories for his sons.
"I want to make plans. I want to make memories and capture these moments with my family because the reality is, my boys are going to grow up not knowing their dad and that breaks my heart," Irwin explained.
"But I'm doing everything I can to hold that day off for as long as possible. I owe that to Jess and our boys. Some people in my position have bucket lists, but I just want us to do as much as we can as a family."
Talking To Kids About Cancer
Opening up about cancer diagnosis with children can be really difficult task. You want to be honest with them and you want them to be prepared for what might happen, but at the same time you want to protect them, and be as gentle as possible.
Facing a Cancer Diagnosis as a Single Parent: "I Knew I Had to Fight for My Life"
John Duberstein, who lost his wife Nina to cancer, explains that he and his wife tried to take a progressive approach and be as open with their kids as possible. But as honest as they were, they ran into some issues with their kids understanding the disease. When Nina started to look healthier, for example, the kids assumed she was getting better … but that wasn't the case.
"It was a real eye-opening moment for two people who felt like they were dealing really head-on with this stuff, talking to the kids," John says.
RELATED: "I Had This Mom Strength Come Over Me": TV Journalist Amy Robach on Telling Kids About Cancer
"So I think it's important to be open with the kids as much as you can, as much as you feel like they can handle. But it's also important to revisit it and not make assumptions … At the end of the night, what Nina had to tell them was, 'I'm not ever going to get better. My cancer is not ever going to go away,' it was hard for them to hear even though they'd already been prepared."
Be As Open As You Can When Talking To Children About Cancer
Obviously, not every parent feels comfortable sharing so much about their diagnosis with their children. Some survivors have even told us that they were afraid to tell their family members but in Duberstein and his wife's case, honesty was the best policy.
Licensed clinical psychologist Dr. Marianna Strongin encourages people with sick parents "to talk about your feelings with your immediate family as well as your parents." She's previously talked about the importance of expressing your feelings in her advice column for SurvivorNet.
RELATED: Being The Parent Of A Sick Child Or The Child Of A Sick Parent: Dr. Marianna Strongin Addresses These Topics In Her New Column 'Strong In Cancer'
"Talking about difficult things does not cause more anxiety," Dr. Strongin said. "It is NOT talking about the very thing that we are all afraid or worried about that causes our body to feel dysregulated (unable to manage emotional responses or keep them within an acceptable range of typical emotional reactions) and anxious."
Specifically, with patients who may be scared to talk to their children about a diagnosis, Strongin said children can pick up on their emotions, so it may help to check in with yourself beforehand.
"Having these conversations may bring up deep emotions you may have stowed away. There is nothing wrong with showing our emotions to children as long as we can remain calm and give them a sense of safety," Dr. Strongin said.
Sharing Your Cancer News
For many people, revealing the news of their diagnosis is a way of coping, and receiving needed support for a cancer journey. However, it's certainly a highly personal decision that should be undertaken on an individual basis.
Some people may choose to keep their diagnosis to themselves or close loved ones, and that's equally respectable. Jonnie Irwin initially felt this way.
Then, Irwin decided to reveal to more people that he was diagnosed with cancer, illustrating that some people may find strength and comfort in letting people know about their struggle. And that's OK too.
Some people might find the process of sharing the news to feel like a burden and opt for something a little more separated from telling people face to face, like sharing the news on a blog.
Deciding When and Who to Tell About My Diagnosis Became a Burden
Health is a deeply private matter, and it's up to you and you alone to determine who has the right and privilege to know about your diagnosis.
For example, veteran NPR correspondent Ina Jaffe underscored this point in an essay she wrote a few years back.
"By the way, I have no issue with people who want to keep their cancer diagnosis a secret to the end. If you have the misfortune to have cancer, you get to have it any way you want," wrote the NPR host.
RELATED: 'I've Been Keeping a Secret' Writes NPR's Ina Jaffe of Her Advanced Breast Cancer Battle; Why Some Choose to Keep Their Battle Private
Jaffe opened up about her decision that keeping her cancer diagnosis a secret "served me well." Doing so meant that she "didn't have to explain myself to friends and strangers while I was still in the hysterical stage,"  she wrote.
Detailing the mental and emotional toll of her diagnosis, Jaffe says she stopped sleeping and eating, and she cried a lot. "I was grieving for my own life," she says.
RELATED: Actress Sofia Vergara Reveals Why She Kept Her Cancer Diagnosis A Secret For Years Privacy Was a Priority
Dealing With Grief After a Cancer Diagnosis
Lean on Loved Ones During Lung Cancer Diagnosis
While it's your decision who to tell about your cancer, it's important to know that keeping your close friends and family members in the loop throughout your treatment journey can help you cope with it all.
It can be one of the stages of accepting cancer.
Share what your treatment involves with them. It helps if your family and friends understand your needs and conditions. The more they know what you are going through, the more they will be able to support you in every aspect possible.
In most cases, friends and family work as a team to offer much-needed support to the patient undergoing treatment. They schedule a time to help out in person and may even connect with you using care coordination apps and other digital health technologies.
Along with this, you can also find and talk to cancer survivors to get much-needed motivation for your cancer treatment. Finding or talking to people who are also fighting lung cancer will offer you a unique source of peace and comfort.
RELATED: Understanding the Lung Cancer Staging Process
Additionally, many caregiving platforms and treatment facilities have support groups. You can become a part of these groups to get insights and referrals.
These groups are also helpful in resolving your concerns regarding the treatment you are taking.
Talking with other cancer patients can help improve your diet regime and lifestyle. If you find it hard to approach an in-person support group, it may be easier to join an online support group instead.
Contributing: SurvivorNet Staff
Learn more about SurvivorNet's rigorous medical review process.
---