They say a picture is worth 1,000 words — and these folks who are living with, treating, or supporting loved ones with cancer sure did lean into that idea in 2019. From a dress made of medical bills to a dancing physician's assistant, these people are helping to redefine how we think about life with cancer. Below are some of the most powerful images from 2019.
A Stunning Dress Made of Bills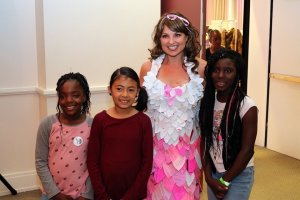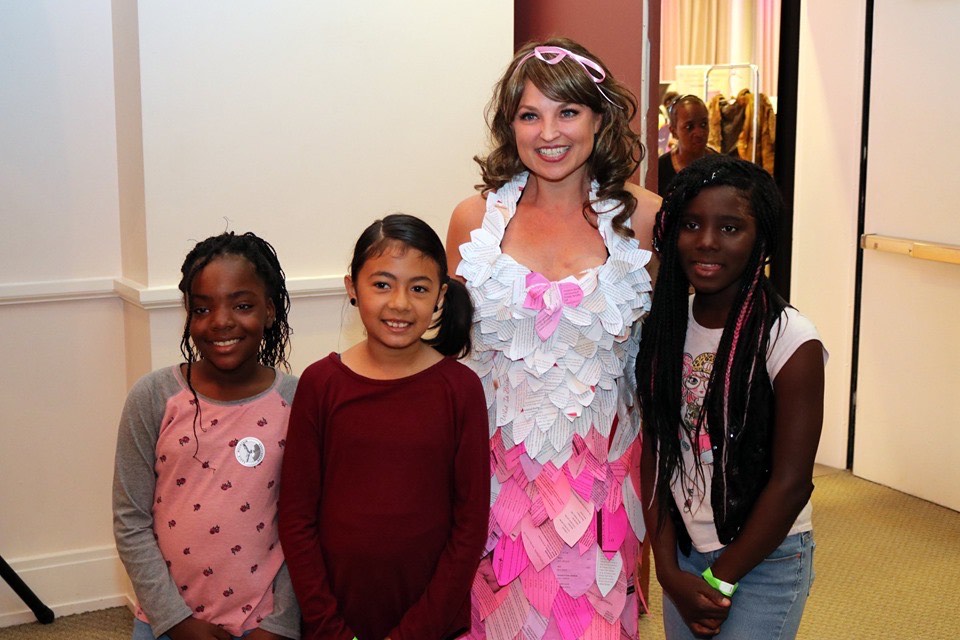 Read More
Cancer survivors deal with an enormous amount of medical paperwork, but instead of throwing it away, one incredible woman, Jennifer Beyer, did something remarkable instead — 
she turned it into wearable art
. The 45-year-old breast cancer survivor from Fort Worth, Texas, then did one better — she debuted the gown the day after she'd had surgery to reconstruct her breasts.
RELATED: Getting Help With Medical Bills
Dabbing Cancer 'Doc'
The infectiously happy physician's assistant who went viral for dancing with kids being treated for cancer, told SurvivorNet he's just "doing the same things I do to take care of myself to take care of them on a personal level, and make sure they're OK."
RELATED: The Role of Faith in the Cancer Journey
Tony Adkins, a pediatric neurosurgery physician's assistant who sees patients at CHOC Children's Hospital in Orange, Calif., explained that he himself finds comfort in music. When choosing music to dance to with his young patients, he has his list of go-to hits, but also invites the children he's treating to request some of their faves.
Praying on the Field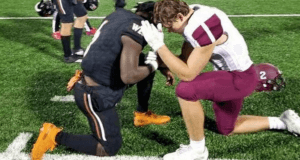 A touching image went viral earlier this year when a high school football player in Texas was seen kneeling on the field with a player from the opposing team in prayer. The two young players — Gage Smith and Ty Jordan — were praying for Jordan's mother, who is battling advanced lung and bone cancer.
After being shared on Facebook, the picture got more than 100,000 likes before it was taken down from public view.
Photographing the Breast Cancer Experience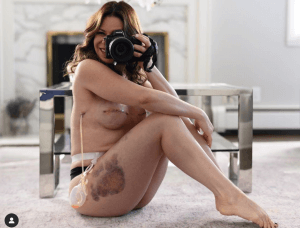 Regaining one's physical self confidence is important for cancer survivors. That's why photographs shared by breast cancer survivor and photographer Jen Rozenbaum are so powerful.
Her photos, which show the drains, scars and bruises that were a result of her mastectomy and reconstruction, offer a window into the reality of living with cancer.
"We think breast cancer affects the breast, but it's a full body and mind experience," Rozenbaum told SurvivorNet. "I wanted to shock people with that and say, 'This is what's really going on.' My hope is that it gives people who support people with cancer a little more empathy."
Rihanna's Lingerie Line Showcases Survivors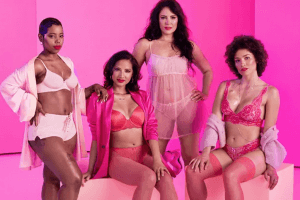 Rihanna's successful Savage X Fenty collection, a lingerie line for all body types and sizes, released a collection of pink lingerie and undergarments to raise awareness and money for women with breast cancer.
RELATED: Feeling Sexy After Cancer Treatment
The campaign and accompanying photos featured four breast cancer survivors — one of whom is a member of the SurvivorNet family, Bianca Muniz, who had been diagnosed with cancer twice by the time she was 22 years old.
The idea behind the campaign was to showcase how women who have been treated for cancer can and should love their bodies.
The Reality of Childhood Cancer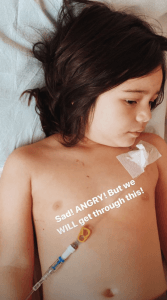 Magician and illusionist Criss Angel recently announced that his 5-year-old son, Johnny Crisstopher, was facing a cancer recurrence and needed treatment again. Johnny was diagnosed with leukemia for the first time before his second birthday. On the day after Christmas, Angel posted some heartbreaking photos to Instagram that show the reality of childhood cancer.
The photos are of Johnny in his hospital bed undergoing chemo. Angel included some heartwarming messages of encouragement, such as, "We will get through this."
A Resilient Christmas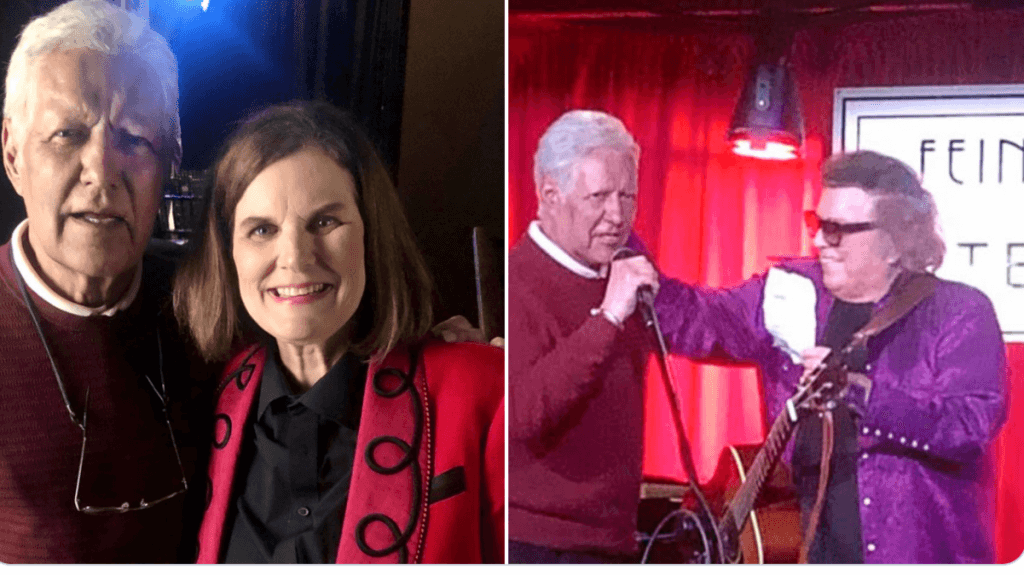 Supporters were thrilled to see that Alex Trebek, who has stage 4 pancreatic cancer, threw a Christmas party for the ages. The party, for "Jeopardy!" staff and crew, included entertainment from comedian Paula Poundstone and one of Trebek's favorite singers ever — "American Pie" musician Don McLean.
Santa Before Surgery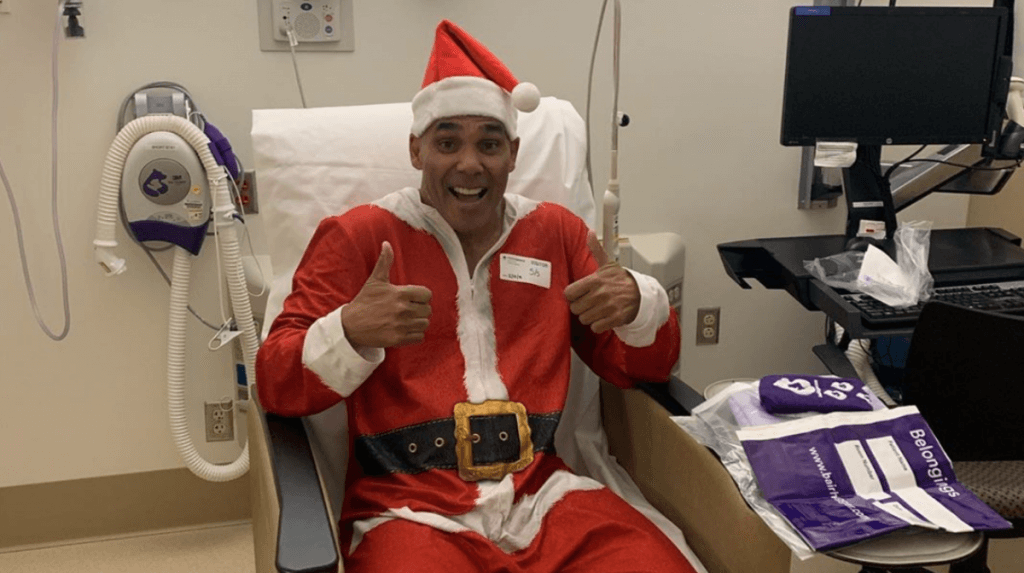 Another great moment around the holidays came when Réal Andrews, 56, who starred on daytime soaps such as "Days of Our Lives" and "All My Children," cheered up himself and others before his surgery. The actor, who was at Providence Holy Cross Medical Center in Los Angeles, donned a Santa Claus sweatsuit and hat and, with his trademark good cheer, gave the thumbs up with a big smile.
"Ready for the big day," he declared in his Instagram post. "It's go time."
Learn more about SurvivorNet's rigorous medical review process.