Cancer During COVID-19
"Hamilton" star Mandy Gonzalez explains the obstacles she faced while battling breast cancer during COVID-19.
Gonzalez was diagnosed with breast cancer in January, and was unable to access treatment in New York City due to the outbreak.
She went through chemotherapy in New Jersey, and was declared "cancer-free" in July.
"Hamilton" star Mandy Gonzalez, 42, faced one of the toughest challenges of her life during the pandemic. While receiving treatment for a
breast cancer
diagnosis, the broadway actress faced numerous obstacles caused by COVID-19, but she eventually came out on top.
In January, Gonzalez revealed that she had been diagnosed with breast cancer, and at the time was going through treatment at Memorial Sloan-Kettering Cancer Center in New York City. However, once the virus hit New York in full force in March, that quickly changed. With the severe number of cases, Gonzalez was unable to keep attending treatment in New York City, and had to be moved to a center in New Jersey. Even though her treatment plan was taken care of, Gonzalez had to go through chemotherapy alone due to visitor restrictions at hospitals — which suspended family visitation in order to keep patients and staff safe.
Read More
Related: 'Hamilton' Star and Breast Cancer Survivor, Mandy Gonzales Sings In 'A Capitol Fourth' On PBS After Finishing Chemo
Despite the anxiety and loneliness she understandably felt, Gonzalez continued to fight and was declared "cancer-free" in July. Now, she's looking back at the past couple of months and recognizing how her life has been impacted.
"I think of everything that I went through in this past year, it's like I'm a different person," Gonzalez tells People. "And you can't not be: You have your life before your diagnosis and then you have your life after. And I think there is a place where you can just say, 'That's okay.'"
Like other survivors, Gonzalez's experience made her passionate about spreading awareness about breast cancer. She's now an ambassador for the Breast Cancer Research Foundation, and is determined to help communities of color receive equal access to treatment. "I needed to use my voice and use my platform so that, if there are young people that have a similar background to me … they know that this is something that can [affect] your life," Gonzalez says.
Dr. Senayet Agonafer shares an important message about breast cancer
Breast Cancer: Know Your Risk
When it comes to early detection, mammograms are the most effective tool in catching the disease early. Currently, guidelines recommend women start scheduling annual screenings at 45-years-old and continue until they're 54. However, guidelines can change depending on whether you're considered higher-risk of the disease, and that's why it's so important to know your family history.
Related: When You're Getting a Mammogram, Ask About Dense Breasts
Women who fit into the high-risk category typically mean they have a first-degree relative (mother or sister) who has had breast cancer, have the BRCA1 or BRCA2 gene mutation, or had radiation to the chest area when they were young. If you fit into any of these categories, experts suggest you should start scheduling mammograms as early as 30-years-old.
Dr. Connie Lehman explains basic mammogram guidelines
Racial Disparities in Health Care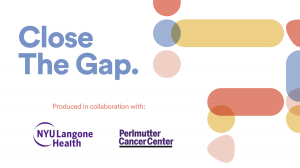 SurvivorNet and NYU Langone Health's Perlmutter Cancer Center are collaborating to help close the racial gap in cancer prevention, cancer care, and survival rates.
Additionally, communities of color are especially at risk due to racial disparities in the healthcare system. This is especially true in large metropolitan cities, where populations are more diverse. Not only is there unequal access in treatment options, but the problem stems from Black and Brown communities not receiving proper screenings.
"The screening guidelines for mammography have evolved over ten years, and so when we look at certain ethnic groups, some of the screening guidelines still fit that ethnic group," Dr. Anita Johnson, a surgical oncologist specializing in breast cancer at Cancer Treatment Centers of America, tells SurvivorNet. "So we cannot wait till the age of 45 or 50 to start screening mammograms. With African American women, a significant portion of them present at a much earlier ages, younger than 45 years old."
Related: Terry Crews, of America's Got Talent, Says Ailing Mother Ignored At Hospital Until A Black Nurse Read Her Chart, She Later Died
To close this racial gap, Dr. Johnson suggests increasing communities' access to clinical trials, healthcare, oncologists, and reviewing a patient's family medical history thoroughly.
Dr. Anita Johnson breaks down racial disparities in cancer treatment
Learn more about SurvivorNet's rigorous medical review process.